Postscript.io is an SMS marketing service that has supposedly been a game-changer for brands and businesses. The software helps e-commerce brands operate and design their SMS programs in an engaging, no-spam way. So, we thought that it would be a good idea if we write a blog post covering all about Postscript Pricing.
If you are looking for a technical aid that enables you to develop your subscriber list, create interesting SMS content, and do much more, Postscript might be right for you!
If you are worried about whether it will punch a hole in your wallet, don't stress; here is everything you should know about Postscripts pricing.
How Does The Postscript Pricing Work?
Postscript charges you with a credit system. Plain SMSs (or text messages) that have fewer than 160 characters cost one credit. It charges three credits for images, gifs, emojis, or MMS files with more than 160 characters. Finally, you are charged ten credits for every international SMS that you send. You can calculate the total cost by multiplying the credits by the total amount of messages you send.
The overall charges that you have to pay depend on the messages you want to send per month. You can select from a minimum of 2,500 messages to over 1,333,000 messages a month. The total cost you pay at the end of the month depends on this particular number of messages. You can also enter a custom number if the number of messages you want to send is not in the options.
Postscript Pricing Plans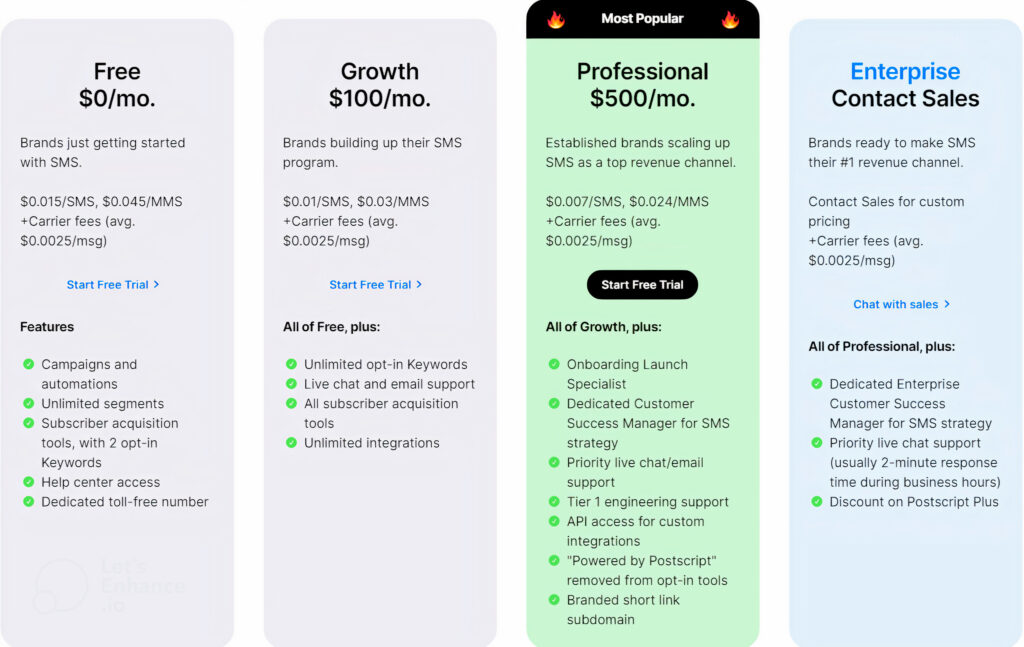 Which Price-Range Should You Go For?
If you have already tried SMS marketing and have a pre-existing subscriber list, you probably know the average number of messages you send in a month. If yes, great! You can start with this average number and then increase or decrease the number of messages per month, as needed.
In case you don't have an average guess and it's your first time trying SMS marketing, start with the minimum. Create a subscriber list using Postscript and determine the lowest number of messages you might have to send to these people. Then start with that number and pay only for them. If you want to play safe and budget is not a problem for you, subscribe to a few additional messages just if you might need some during the month.
A Free Postscript Trial
The best part about Postscripts pricing is that you can always opt for a free trial. If you are not sure about investing in the software, you can try it for 30 days without paying anything. All you have to do is enter a Shopify URL to launch your brand-new SMS marketing campaign.
During these 30 days, you'll receive a usage credit equal to $1,000 that you can use during your first 30 days. This credit applies to message and carrier fees.
If you exhaust your credit before your trial ends or at the end of your first 30 days, you will be charged at the Free package rate for any additional messages sent (unless you select a different package).
During your trial, you will be able to build two unique keywords, set up automations, send out marketing campaigns, create segments, leverage integrations, and respond to customers. And all of this is free during the trial! You can feel the software, try out its features, and see how you like everything before you finally invest in it.
Some Things To Remember About Postscript
Apart from the basic charges and costs of the software, here are some other things that you should know about Postscript pricing.
Minimum Message Limits
There is a minimum number of messages you must subscribe to. You cannot select a number lower than 2500 and a total cost per month of less than $25. However, there is no limitation on the maximum amount of messages you wish to send. While the slider offers the highest number of 1,333,000, you can get in contact with the sales and create a custom plan particularly created for your individual business requirements.
Flexible Pricing
Postscripts prices are incredibly flexible, meaning that you can choose what you wish to pay as well as the features you want to opt for. Depending on your budget limitations or preferences, you can select the number of messages you want to send and only pay for those. You can also change these numbers and charges every month depending on your budget changes.
No Hidden Fees
There are no hidden charges, costs, or taxes anywhere with Postscript. You can calculate the total payment by multiplying the number of messages you send with their individual charges. The total cost you see on the calculator will be the charges that you pay—nothing more, nothing less.
ROI Calculator
Some people are very eager to know their return on investment. If you want to calculate the projected monthly return on investment, you can do so using Postscript's ROI calculator. You can put in your business data and check your monthly revenue along with your total subscriber number.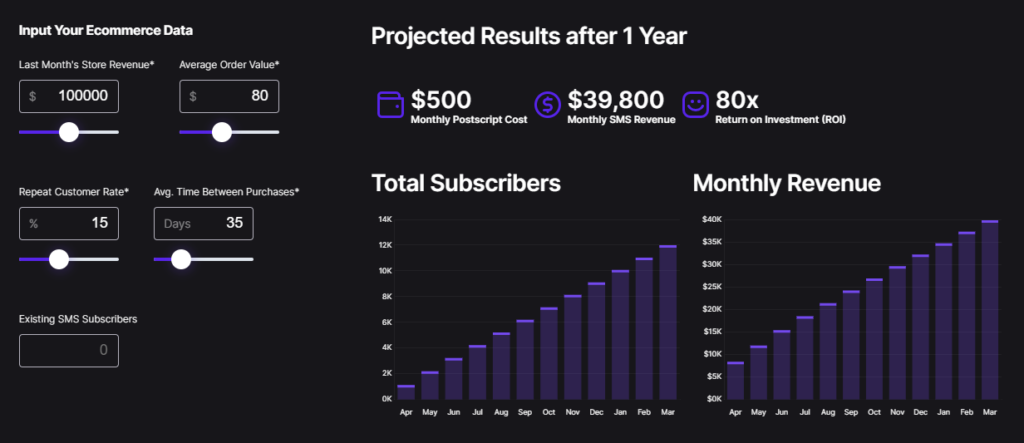 Discounts
Postscript.io also offers discounts to reduce your costs on every message, and you can avail of these concessions in two ways.
You can opt for volume discounts, which means that your costs on each message will decrease as long as your total amount of messages in a month increases. As the volume of your messages grows, your costs will become lower.
If you choose a 12-month commitment with Postscript, you get additional commitment discounts.
No Contracts
You don't have to sign any contracts with Postscript. You will not be locked into any subscriptions, and you have full authority to downgrade or upgrade as you please. You can also uninstall, delete, or cancel your subscription at any time.
Communication With Sales
If you have any questions about the software or wish to create a specific budget for yourself, you can always get in contact with Postscript's sales department. After a one-on-one conversation, you can customize a bundle of messages with monthly costs based on your individual business needs.
In Conclusion
Postscript.io is excellent for people who want to try SMS marketing but have fluctuating budgets. With this software, you don't have to worry about maintaining a particular budget every month. You can pay what you can afford and choose the services that lie within your financial limitations.
Plus, it's not like you are all alone on the application; the sales department is always ready to help you. You can ask them whatever you want, and customize your SMS bundle, and the pricing is as transparent as glass!
FAQs about Postscript Pricing
Do you have to pay for Postscript?
Postscript pricing starts at $25 per month. Pricing is based on the number of messages sent per month. Inbound messages are free, and prices include all carrier fees
What is Postscript SMS?
Postscript is an eCommerce SMS platform that enables brands to communicate and engage with customers through text message marketing. It allows users to easily create and manage SMS marketing campaigns with detailed analytics to improve sales and revenue.
What are the advantages of Postscript?
The overarching and most obvious benefit of PostScript is that it produces better quality and detailing than PCL. Across the board, you'll find graphical objects printed through PostScript-compatible printers to be more detailed and sharper than the same objects printed through other PDLs.