Mailchimp is a marketing automation platform founded in 2001 by a couple of American web designers: Ben Chestnut and Dan Kurzius.
The pair had originally set up a web design company called Rocket Science Group, but as a sideline, they also began work on an email marketing service for small businesses.
Monkey Business
While Mailchimp started life as an email marketing agency, it rapidly grew to offer all manner of services and channels to its customers.
The company's mantra of "look pro and grow" proved to be inspirational, and these days, millions of businesses around the world use Mailchimp abandoned cart email systems as part of their online marketing.
So let's take a tour of this powerful and user-friendly platform, and find out how you can use it to encourage and support your customers, monitor your business's performance, and, most importantly, boost your sales.
What Is a Mailchimp Abandoned Cart Email Series?
In the world of online shopping, an abandoned cart refers to a situation where a potential customer adds products to their virtual shopping cart but leaves the website or app without completing the purchase. 

Abandoned cart emails are an automated email series that allows you to re-engage these potential customers who failed to complete their shopping journey.
Mailchimp is, at its most basic level, an automated platform for businesses to use to reach out to target markets using emails. It is an all-in-one tool that clients can use to:
Manage their mailing lists
Create custom email templates
Automate entire marketing campaigns and email workflows.
It is especially useful for generating abandoned cart email automation. Businesses can use this capability to actualize revenue opportunities, cut down acquisition costs, and better understand user behavior for a more efficient customer journey.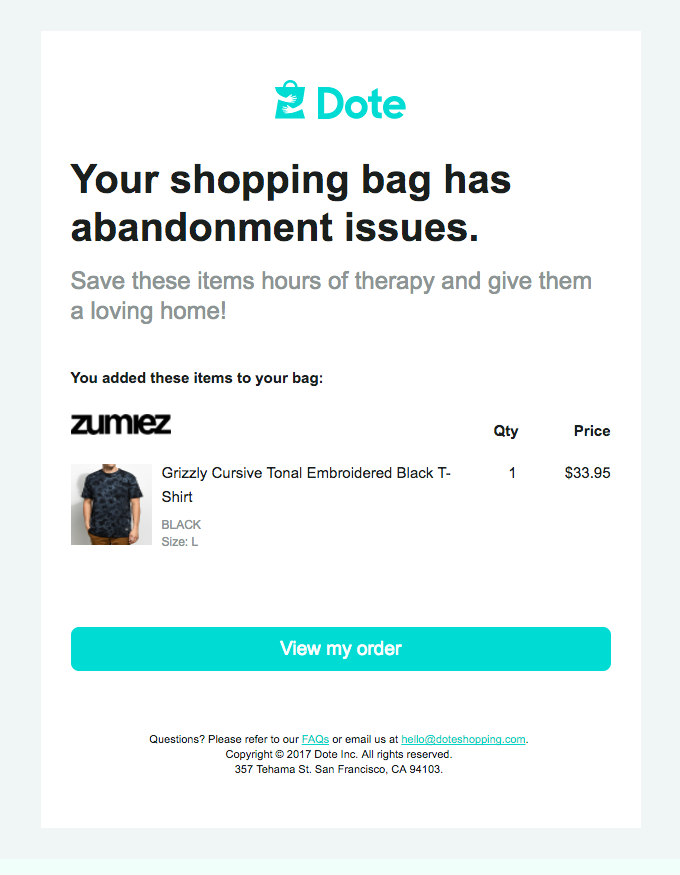 The Mailchimp Tool Kit
From its small beginnings, Mailchimp has grown into a company offering all manner of services to clients, including:
Website hosting
Online store design
Digital advertising
Social media marketing.
Email marketing, however, remains Mailchimp's core business. Based on over twenty years of experience in email marketing, the company knows exactly which email campaign will work for your business.
A Mailchimp abandoned cart series, for example, may just be the perfect tool for encouraging your customers through your company's purchase funnels and helping recover abandoned carts.
How Does Mailchimp's Abandoned Cart Email Work?
Automated abandoned cart email campaigns in Mailchimp work seamlessly to reconnect with potential customers. Here's how they function:
Real-Time Triggers.

Mailchimp's system is designed to detect when a visitor on your e-commerce website adds items to their cart but doesn't complete the purchase. This action triggers the automated email sequence.

Personalized Content.

These emails are highly customizable, allowing you to personalize content for each customer. You can include details about the abandoned items, images, and even special offers or incentives to encourage a return visit and purchase.

Timely Delivery.

Timing is crucial for abandoned cart emails. Mailchimp allows you to set up automated sequences with well-timed follow-ups, ensuring that your emails reach customers when they are most likely to reconsider their purchase.
How to Set up an Abandoned Cart Series With Mailchimp
When one of your customers puts an item into their virtual shopping cart but doesn't complete the shopping checkout process and actually buy it, you need to get in touch with a friendly reminder about what they have sitting in their cart, and what was attractive about those products.
This is where Mailchimp comes to the fore. With your pre-designed email templates set up, Mailchimp automatically begins the process of sending out the emails.
Furthermore, it will monitor the results and report back about the performance of each set of emails.
Let's walk through the process of how to set up abandoned cart emails in Mailchimp.
Open Up "Automation" on your dashboard
Select "Classic Automation" then click on the "Turn On Abandoned Cart Email" option and the "Email Series" button.
Now you're ready to start creating the perfect email campaign.
Enter the campaign's name
Pick a name for your email campaign. Be creative, but not too obscure or too pushy.
Select the store that you want to send the emails from (you may have more than one) and click "Begin". This is getting exciting!
Now it's time to edit your emails. A Mailchimp abandoned cart series is made up of three emails.
You can add or remove emails depending on the circumstances. However, it is a general rule of thumb that three emails is the optimum number to send to a customer. Any less may not quite do the trick; any more may annoy or alienate them.
Mailchimp abandoned cart emails feature a default system that sends out emails with the perfect timing, based on the following triggers:
One hour after a customer abandons their cart
One day after the previous email was sent
Three days after the "Day One" email was sent, if the customer has still not completed their transaction.
Design your email
Input the usual email information (name, subject, preview text, etc.) then select the template you want to use. Then, Mailchimp will automatically add the details about the item or items that the customer has chosen.
So from there, all you need to do is select the "Design Your Campaign" button, and your emails are created…faster than you can say "banana"!
Edit the workflow settings
If you want to track the progress of your email campaign, there are various tools located via the "Edit Settings" button.
These settings allow you to customize your campaign's options, to enable you to further compartmentalize the customer sets and profiles that you wish to target.
Good to Go
And that's it. You're good to go. But before you hit the "Start Sending" button, Mailchimp lets you revise your work, check all of your settings, edit your text, and resolve any issues that might appear.
And now…coffee time!
The Pros and Cons of Mailchimp for Abandoned Cart Email Series
Like all automated systems, Mailchimp has some drawbacks, especially in light of the fact that, at twenty-plus years old, it is now one of the elder statesmen of email marketing automation.
So, let's conclude with a quick look at the pros and cons of using Mailchimp as software for abandoned cart email series.
The Cons of Mailchimp for Abandoned Cart Email Series
Marketing is all about accentuating the positive and eliminating the negative, so we'll keep this short.
Some of Mailchimp's perceived imperfections include:
No access to automated emails on some plans. Mailchimp's free or basic plans are stripped-down versions of the more expensive plans, and may not offer much in the way of customization or feedback.
Does not show the percentage of your revenue generated by abandoned cart emails. Sometimes, it is easier to analyze a percentage figure as opposed to a dollar value. Mailchimp only provides revenue amounts in dollars and cents.
Lack of customizable trigger options. Some email automation flows allow users to set any time trigger filter they like. Mailchimp prefers the simpler notion of offering a small set of options to make it less confusing (and less work) to set up email flows.
The Pros of Mailchimp for Abandoned Cart Email Series
Over the years, Mailchimp has attracted a large following of small businesses to its online marketing services. Among the many things its clients like about the service it provides, three distinct advantages stand out.
These are:
Simplicity. It is vital for new users of any automation system that the interface is well-designed and easy to use. Efficient user experience plays a key role in business today, and Mailchimp offers dozens of easily customizable options and tutorials, to help make creating automated email campaigns as easy as swinging on the monkey bars in the playground.
Economical. Mailchimp is perfect for small businesses and startups because it offers a number of free, or extremely cheap, introductory packages. For example, a company that has less than 2000 email subscribers can take advantage of a free basic plan which will enable them to get up and running.
Detailed Analytics. Knowledge is power, and every marketing campaign needs a detailed set of methods for analyzing the results. Monitoring the metrics can play a key role in the success of an online business, and Mailchimp gives detailed insights into such factors as how many subscribers have opened your emails, which links they clicked on most frequently, the number of people who unsubscribed, and how your campaign compares to the industry averages.
Integrations:

Mailchimp integrates seamlessly with various e-commerce platforms, such as Shopify, WooCommerce, and BigCommerce, making it easier for you to implement abandoned cart recovery, no matter where your store is located.
Swing With the Monkey
Over the years, Mailchimp has established itself as a highly user-friendly and uncomplicated platform for creating and sending abandoned cart emails.
So if you want to get your email automation running like clockwork, give Mailchimp a try, and let them help you and your business swing your way to new heights.
To Learn More About Cart Abandonment Recovery
How to Use Magento to Recover an Abandoned Cart
How to Recover an Abandoned Cart with an Ad Copy
Recover an Abandoned Cart with Retargeting Ads