Email marketing is one of the best channels for your e-commerce business and it is used by many big brands all over the world.
Part of your email marketing strategy is newsletters and email campaigns, but today many companies are setting up automatic email campaigns.
Do you want to know why? This is because when you set up an email automation strategy, the emails are personalized, timely, and relevant to the reader.
This encourages the reader to click on the email more frequently and in turn, it means an increase in revenue through added sales. Read on to find out more.
Why Do You Need Email Automation Strategy?
Email automation strategy works by sending automatic email campaigns to the receiver. It is based on certain triggers, workflows, segments, or schedules which you can create and set.
This means you don't have to type out hundreds of emails per day manually, which takes up plenty of time, energy, and money.
Instead, you can arrange automatic messages and emails to be sent to those who have signed up for your email. Consider the following example.
Suppose you want to send a welcome email to all those who have newly subscribed to your e-commerce site. Without an email automation strategy, you would have to manually type out a welcome email to each person who signed up.
Instead of doing this, once you implement an email automation strategy, you can automatically send the welcome email no matter how many people sign up to your website.
Email automation strategy is used to:
Deliver messages to visitors to your websites and customers before, during, and after the purchasing process
Provide relative information to the website visitors and customers
Provide check-in, reminders, and follow-ups.
What Does a Good Email Automation Strategy Include?
Email automation strategy is usually used for pre and post-sales emails and includes subject lines like "10% off only for you", or "Did you leave something behind in your cart?", or " Thank you for your purchase, leave your review here".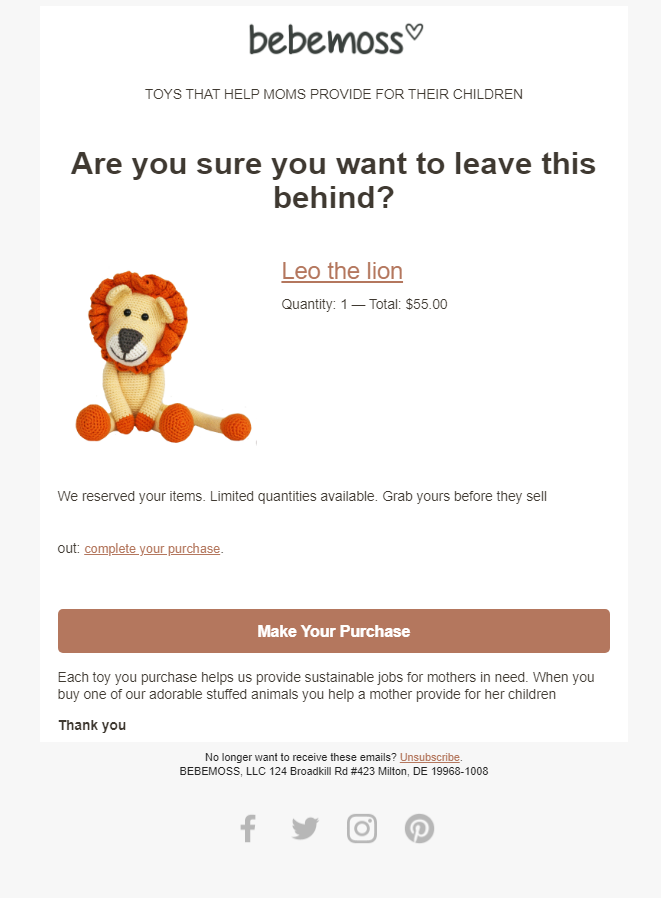 However, to distinguish your e-commerce business from the rest, you need to create catchy emails and send them at the right timing, include offers, and use the right subject lines.
Keep in mind that if you want to add more value to your email automation strategy, you should include content about post-purchase product education, reminders, or even personalizations like happy birthday messages.
A good email automation strategy will allow you to:
Build and improve your relationship and engagement with the customer
Increase efficiency in your business
Increase revenue by increasing sales
Improve the targeting of messages
Get better quality leads
Allow a closer harmony between marketing and sales
Increase web traffic and shorten sales cycles.
How to Build Your Strategy Step by Step
To increase productivity and maximize benefits, you need to follow a method of building up your email automation strategy.
Here are the basic steps that you need to keep in mind.
Select the Right Platform
The first step that you need to do is select the right email marketing automation tool. There are many platforms that will help you to build your email marketing strategy and campaign.
Different tools will allow you to apply different strategies to yield the results that you want.
Examples of email marketing automation tools are:
Sendinblue
Mailjet
Drip
Mail chimp.
The best marketing automation platform will allow you to target the right customers and deliver quality emails that will result in positive outcomes.
Always look for reliability, credibility, and professionalism when choosing an email marketing automation tool.
Segment Your Recipients
Avoid the mistake of sending multiple emails to your recipients every day. This is a huge mistake that many e-commerce businesses make.
Instead of sending the same email to your entire list of subscribers, segment and categorize your potential customers or existing customers in the following way:
Based on their actions
How they discover your service or product
The item that they purchased and so on.
For instance, if you have a few clients who have purchased a particular item from your website, you should email them asking "How are you enjoying the XYZ beauty product? Here is a list of similar products like XYZ".

Personalize Your Email and CTA
If you want your email to stand out, you need to personalize your email. This does not mean only inserting their name.
Personalization goes beyond that. Include information about the products that your customers are looking at.
Segmentation comes into use here because you will have a record of:
What item the customer purchased
How they registered
Their browsing history.
With this information, you can modify your marketing strategy and hit the sweet spot. Personalization allows you to grab your customers' attention and it helps you to create a better relationship.
Create a Mobile-Friendly Design
Ensure that your emails work well on a desktop as well as a tablet and mobile phone. When your email is mobile-friendly, it will increase your sales rate by up to 68%.
Keep your emails to the point and concise, and create catchy subject lines.
There are email marketing experts out there who can help you create relevant and efficient email content.
Use a good email service provider and email automation marketing platform that has sophisticated yet customizable templates for quick delivery.
Analyze Your Results
There is no right or wrong when it comes to email automation strategy. Each brand and business is different and you will have to figure out which one works best for you. What works for one brand may not work for another.
If you do not succeed in the first instance, try a different strategy and change your email content, or your email marketing platform. When you send the first bunch of emails, it is important to check for the following metrics:
View rate
Open rate
Click-through rate
Conversion rate.
Once you analyze your data, and if you feel that another template looks better, use that one. You will have to keep trying for the best results.
Email automation strategy is a smart strategy that you can use for your eCommerce business. It can help grow your business quickly with lesser time and investment.
Keep in mind that using email automation is very easy, but creating the right strategy around it is more difficult, and that's what matters the most. Look for gaps in your strategy and always look for chances to improve.
Learn More