First party data become extremely important for us marketers, so how can you collect it? I'll show you few ways how you can start collecting first party data.
What is first party data?
It's data that you collect yourself on your resources. Typically, it's your website. It's like the minimum is email or phone number. And second, the typical is first and last name.
When you have a opt-in form, people leave their email as well as their name. So this is the basic. However, we encourage you and right now it seems like kind of new trend to collect more information that you need.
However, don't go crazy. Don't collect a lot of information. Collect information that you really need.
I'll start you with examples which we used in our business. We are email marketing agency. If you are e-Commerce, some things might not apply to you, or they might. Also, I'll show you example how an e-Commerce brand do it.
#1 – Discovery Call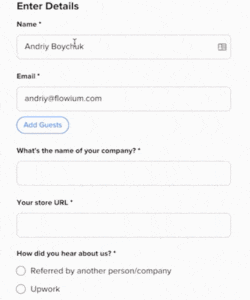 We have a discovery call so if somebody wants to schedule a call with us that they need to pick the time and date. But here's what's important. We are collecting on this form.
We collect name, email, what is a name of your company. Where's your store. It's very important for us.
And also for a very long time, we could not attribute where people are coming from so that's why we start asking, "How did you find about us?" instead of just leaving the blank and type in.
When you give people option, it's easier for them to pick and it will not reduce your conversions as much. Here's a rule of thumb recommendation. Just collect important information, and if possible just do "Yes" or "No".
Maybe like, "Are you married?" "Yes" or "No", something like that. Or who are you? "Male" or "Female". That way it's much easier and faster for them to respond.
So this is example how we do it when they book our call with us. This lead is more valuable for us but also, they are more motivated so that's why we ask more questions.
#2 – Providing a Lead Magnet
But on our regular opt-in where we providing a lead magnet, we are asking for first name, email, which line describes you best. They need to define them who they are, and also same thing, how did you hear about us. Because this thing for us is very important.
It's not easy to stay consistently creative. That's why we created a full-year campaign content idea calendar, to give us inspiration when we need it.
This is the second email. How we do it? On the lead magnets you can do the same thing if you are an e-Commerce or any other brand.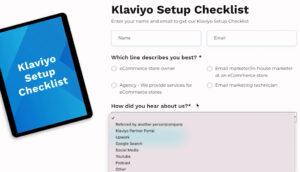 So now let's go to e-Commerce brand and see how they do it. Maison Kitsuné is a French apparel brand. And as you can see, they collect email, first name, last name, birthday, gender, and I'm interest in.
So basically, they collecting a lot of information, which I do not recommend. But for this brand it's important, so that's why they do it.
But for your brand, I would collect birthday as well if you want, but it's not as crucial. If you're selling, let's say clothing, maybe you do care about their gender because it will help you understand which email to send.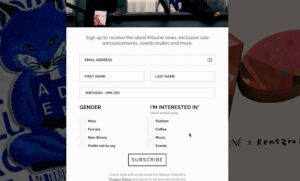 #3 – Quizzes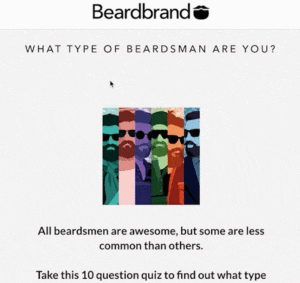 Another great ways is to collect first party data is quizzes. There is quizzes that help them figure out which product to buy from you or quizzes maybe to get some kind of answer.
One well-known brand for this is called Beardbrand, they use quizzes as a opt-in and also product selection. In the process, they collect a lot of information about their customers so it will help them market in the future.
So as you can see, this is their website. Take a quiz. It redirects them to the page with a type form I believe. And you start the quiz. You start answering the question and then you need to leave them email.
And that all information they sync with their Klaviyo account email marketing software and they able to use that information to market to people, to send them better messages, to more relevant messages.
Setting up your Klaviyo account can be tricky. That's why we created a Klaviyo Setup Checklist – so you don't miss any important steps in the setup process.
#4 – Email Preference Page
And the last but not least is email preference page. In most cases majority of brands, when you click unsubscribe or manage preferences, this is what you see.
So this is what you see on unsubscribe. And here's if you do update preference, You are able to update your email, first name and last name.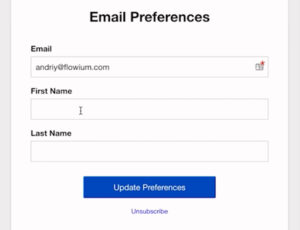 How valuable it is? It's not. So it's not valuable. So what we do for our clients and we recommend for you to do it, and if you want to learn how to do it or you want to ask to do it.
We have a landing page with the service called flowium.com/preference where we develop this kind of pages, or we teach you how to create this kind of pages.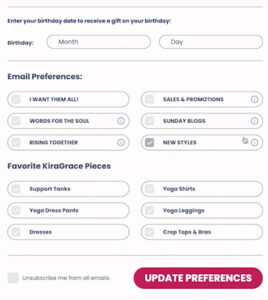 On this preference page, when person click unsubscribe or person click update preference, they will be redirected here and it's additional way how you can collect first party data. So it's very important for you to implement.
So here's where, like my ways, how we help our clients to collect first party data. If you have any other ideas, questions, please let me know. And like this video and subscribe to our YouTube channel if you are not subscribed yet. Thank you, and see you at Thursday. Bye