January is known as one of the slowest months in the eCommerce world (if you're not part of the Health & Fitness Industries). Why? Because people shopped out of their crazy spending in November and December. But just because people are "shopped out" doesn't mean that you can't still engage with them!
In this article, we walk you through our holiday- and event-based email content calendar for January 2023 and share examples of what exactly you can send in your January email campaigns.
Listen to the Email Marketing Ideas on our Podcast
January Email Marketing Ideas
Even though January tends to be a little bit slower in the eCommerce world, that doesn't mean we can't come up with fun January email marketing ideas.
Your subscribers and customers are probably pretty shopped out, so we want to engage and entertain them as much as possible.
January 1st – New Year's Day and National Hangover Day
Depending on your brand and depending on what you guys stand for and what you promote, this is a fun day to send out an email just making sure that people are either nursing their hangovers or doing something about their hangovers.
You can also encourage your subscribers to try something new on the first day of the new year.
New products
New habits
An upgrade.
This is the moment of the year when the majority of people have taken resolutions and made the promise of "new year, new me".
You can seize this opportunity and suggest your outstanding products as a way to break the old routine. You can even make it more convincing with a discount.

January 2nd – Science Fiction Day
January 2nd is the official birthdate of legendary science fiction writer Isaac Asimov. Many science fiction lovers unofficially commemorate National Science Fiction Day on this day.
While not an official holiday, companies like Scholastic and the Hallmark Channel give it credibility.
January 3rd – Mind-Body Wellness Day
Every year on January 3rd, Mind-Body Wellness Day is observed to commemorate and remind people of the significance of maintaining good mental as well as bodily health.
Wellness and health-related industries can use this day to promote a healthy diet, exercise equipment, meditation, and yoga.
January 4th – Spaghetti Day
On January 4 every year, Spaghetti Day is celebrated. Spaghetti is one the most popular foods in the world because it is simple, healthful, and easy to prepare.
Therefore, National Spaghetti Day is the perfect opportunity for eateries to offer dishes and promote orders!
January  9th – Clean Your Desk Day and Gluten-Free Day
Clean Your Desk Day falls on January 9 every year. It's all about getting your workspace ready for the new year and getting things off to a good start.
Having an uncluttered and orderly workspace, whether in an office, cubicle or home helps people to work more productively. It is a great chance for cleaning companies to advertise their products.
The 9th of January is also celebrated as Gluten-Free Day. The purpose of this day was to create a fun and engaging gluten-free awareness campaign for one devoted day of gluten-free living.
January 13th – Sticker Day
On January 13 every year, in honor of R. Stanton Avery, who was born on that date in 1907, Sticker Day is celebrated. It is a day dedicated to all things sticker-related, from custom-made to ordinary labels.
January 14th – Dress Up Your Pet Day and Hot Pastrami Sandwich Day
Dress up your pet day is a great day for pet brands to advertise products for their pet!
Pastrami arrived in the United States in the late nineteenth century, due to Jewish immigrants from Romania and Bessarabia. Today it is celebrated on January 14th.
January 15th – Bagel Day and Hat Day
The formula for producing bagels was originally a carefully guarded secret. Early 1900s Jewish immigrants from New York brought this treat to America.
Hats have been used for centuries, and although they provide warmth and protection, they may also characterize an occasion. This day can be utilized by both the food industry and the clothing and accessories industry.
January 16th – Martin Luther King Jr. Day
The United States celebrates Martin Luther King, Jr. Day on January 16th to commemorate the civil rights activist and Baptist minister's life and legacy of nonviolent resistance against racial discrimination.
Send out a socially conscious email to show that you care!
January 17th – Ditch New Year's Resolutions Day
On New Year's Day, many individuals set new goals, but it might be difficult to keep them up! This is a day when individuals may be truthful with themselves and others.
January 19th – Popcorn Day and Get to Know Your Customer's Day
This is a huge one for us as email marketers. It's a really good opportunity to fully engage with your customers and ask them to contact you back.
I'm personally using this day with my clients as a day to find out from customers what new products or services they're wanting the brand to do.
It's no secret that popcorn is a favorite snack in the United States. People throughout the world have been celebrating National Popcorn Day since it became a national holiday in 2014.
Companies in the food business should take advantage of this day!
January 20th – Cheese Lover Day and Penguin Day
Though we may never know how humans originated cheese, many people today like it. Cheese originated roughly 7000 years ago and now comes in various varieties!
This day is perfect for any brand that deals with cheese or the food sector in general.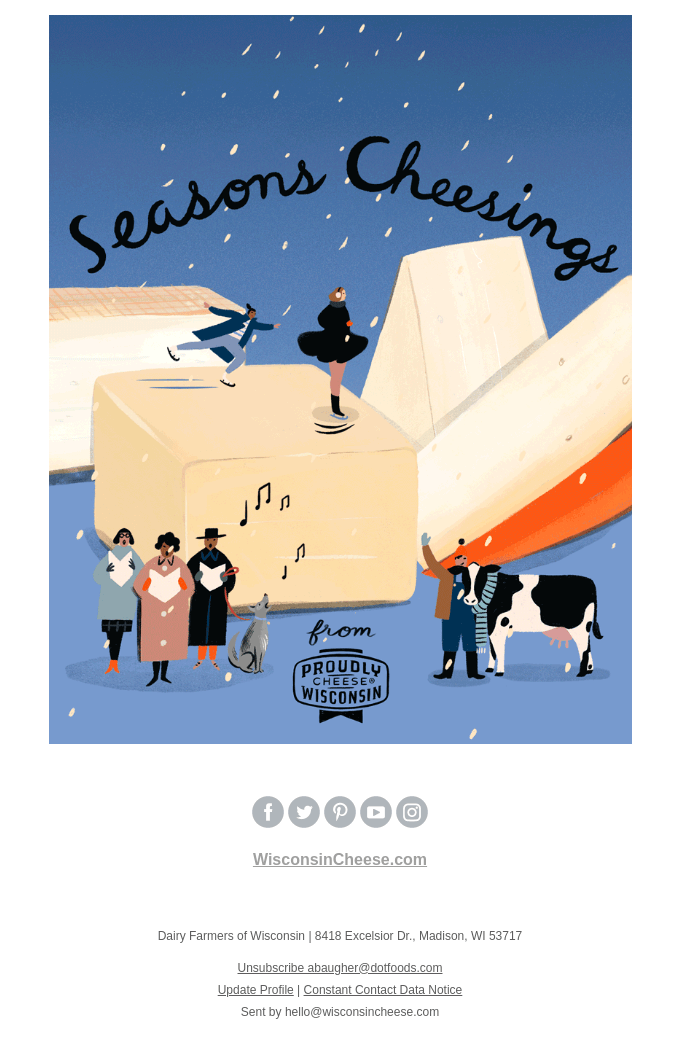 January 22nd – Answer Your Cat's Questions Day
Yet another day for pet companies to entice customers to buy their products, "Answer your cat's questions day" is rather cute, isn't it?
January 24th – Peanut Butter Day
It is peanut butter day, so brands dealing in foods can make the most of it!
January 25th – Opposite Day
On the Opposite day, try something fun and run things differently within your own brand!
Why not send a fun email to your subscriber in opposite text, just to grab their attention?
January 26th – Australia Day and Spouse's Day
This is certainly a day for Australian brands to take matters into their own hands.
It is shared with spouse's day and starting from romantic dinners to jewelry stores, many brands can offer their services and products for customers on January 26th!
January 27th – Chocolate Cake Day
I am sure chocolate cake is a favorite among many! This treat has been around for decades and continues to be a part of American society.
Look forward to an increase in sales, foodie brands!
January 28th – Kazoo Day
On January 28th, the United States celebrates nearly 200 years of kazoo music.  Alabama Vest of Macon, Georgia, invented the Kazoo.
It is also Lego Day and Fun at Work Day and music brands, and games can all be popularized on this day.
January 29th – Puzzle Day
Problems are a terrific method to stimulate the brain, and today there are a wide variety of puzzles to choose from. Let customers solve a puzzle and avail of an offer or discount from you!
January 30th – Croissant Day
While most people associate croissants with France, the croissant's form really originated in Austria, and it was only later that the recipe was modified to include puff pastry.
Brands of baked products, be ready to market!
January 31st – Backward Day and Hot Chocolate Day
On National Backward Day, eCommerce companies can have as much fun as consumers! Maybe you can take advantage of this day and give your consumers a discount, something you may have previously offered as a symbol of moving backward. It's also National Hot Chocolate Day!
Every brand is different, and it is up to you how you want to celebrate each day during your January email campaign!
Whatever you do, be creative, and don't forget to use each day to your eCommerce brand's advantage.