Today, I will reveal all apps that we use in our business and which you might consider for operation of your business. I would like to discuss all the tools we use in our business and divide them in different categories, explain why we use each tool.
If you have a business, I strongly recommend to read it to the end because you will get the idea why we use certain tools, which you might not use yet, and might consider them to either automate your process, improve your marketing sales, or so forth.
So first I will divide it into six categories because there are six different areas of business. Your business, my business, anybody else business, there's like six things.
So the first one is operations. The next two are, sometimes people combine them together, Sales and Marketing. But we have them as separate departments. Marketing, Sales.
Then the next one is Human Resources, Finance, and the Leadership. Some tools and apps we use for a few departments but I will put just in one box and explain if we use that tool in different things.
Top 5 Tools For Your Business
First I would like to cover the five tools which without the business cannot exist and actually, I would not be able to scale with those five apps.
So the first one is Asana, the project management tool. So Asana is project management tool. There's many others like ClickUp, Trello, Monday.com and others but we like using Asana.
It's a well developed company. They're releasing a lot of very useful features and our entire company is built on Asana. If you decide to go with Asana, I strongly recommend to check Paul Minors video about Asana.
He's a Asana consultant. We hired him a few times to set up our processes in Asana and actually you can use it for free. If you don't use your work email, you can use it for free for as many people as you want.
If you start using a company email like @yourcompany.com, they will start charging you money at the increment of five licenses. So you cannot buy just one license, you need to buy five, then 10, then 15, and so forth.
So the next one for operation is G Suite. Basically we have a paid accounts for all our accounts. So it's a cloud storage. It's like Word document but Google document, there's Google Sheets. There's email and all other suite of all apps.
The next one is Pipedrive. It's a CRM that we use to make sales, keep track of all what we sold, keep track who to follow up with, what to sell them, what to upsell them, and so forth.
The other are very useful and helps us to save time or increase productivity, but they are not as necessary as those five tools.
So the next one is Loom. Loom is a screen capture, you click record and you record your screen and you can talk. It record your face, or you can turn off of recording yourself, just your screen. But we are using this Loom in combination with Asana a lot.
All our processes are not written, but in Loom videos explaining people how to do actually, because it's easier to show and it's less mistake when they see it than they read it. And instead of typing responses or replying emails in words, I just click control + command+ L and I started recording.
It's very quick. It's a very responsive app. It's inexpensive, it's like $10 and they have a free plan, but we use it for entire company. We use a paid month. And all our processes, everything built on this platform. So I personally cannot live without Loom.
Last one but not least is Slack. Slack. So it's a messenger app. Yes, there's a lot of alternatives. You can use Facebook messengers, like Telegram, Viber, WhatsApp, but those are personal messengers and they're outside of your company and people can message.
Let's say, if you use WhatsApp for your company and it happened in my previous job in corporate America, we used to use a business for Skype, but my personal Skype contacts could contact me through Skype. So it was not productive.
When my friend from Ukraine messaging me while I'm working. So it was not as good. So that's why we are using Slack, because it dedicated to our company and nobody outside of Slack can message us. So those are five tools.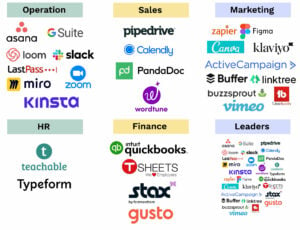 Other Useful Tools
Here are the rest of the apps. It's a lot. I strongly recommend to read until the end because I promise you that you'll find something that you currently don't use, but you will think like, "Oh, it's a good idea and I should implement in my business as well".
So the first one is Teachable. It's a learning platform. Basically it's a platform where people typically sell courses and we do have three courses, which we currently sell on Teachable and make money. However, why we use this? For training.
So we have a training for our project managers, for copywriters, for sales team. For everybody in our company, we use Teachable for training. But what we did in the past, we just simply had Google Docs.
Let's say we want to train project managers and we just outlined like modules and lessons in Google Docs with link to Loom and people can train on Loom. However, we noticed some people were skipping videos, and we were not able to check who skipped what.
On Teachable, we can set up so before they jump to the next video, they have to finish the previous one. So that's why we use Teachable for training.
And the nice thing, you also can make money with us by creating a few courses. At the end of the day, the platform would be for free. At this moment, it's cost us 1200, 1400 per year to pay for Teachable. We use professional plan.
The next one is QuickBooks. Of course, you have to keep track of all of your expenses, income, and you have to report to IRS, or it depends where you live in the world to government how much you make and how much you need to make pay in taxes.
There's a bunch of different alternatives. There's Zero, You Need A Budget (YNAB), and other apps but QuickBooks is inexpensive. The most developed one. And we love it.
So the next one for operation is LastPass. LastPass is a tool to save all of your password and you can share the passwords with other team members in your company.
And the tools also provide you a cybersecurity analytics telling you your password is too weak, or your data was shared on black market and so forth. So mostly it's for protection and password sharing.
The next one is Calendly. We use mostly Calendly for sales and a little bit for marketing, because when we invite people to do interview, let's say for podcast interview, we use Calendly. But mostly we use for sales.
Calendly is a tool so they can check your calendar and check your availability and schedule call in your available slots. And on the back end, you can define how many meetings they can schedule per day, in which time slot, which increment. You can add buffer before the meeting and after the meeting.
So basically, you control when they can schedule a meeting, but Calendly helps you remove that back and forth like, "Are you available this time?" "No, I'm not." "Are you available that time?" And it's like back and forth.
So Calendly is very good. Especially also we use for Sales. Let's say we have, at this moment, for sales advocates, and when somebody's prospect schedules a call with us, it doesn't go to one person, it's like round robin.
It's randomly picking who is available, "Okay. This deal to you, that deal to another person, that deal to the third person." So this way, everything is fair.
This is TSheets. It used to be the standalone application and QuickBooks purchased them and made part of QuickBooks suite, and called differently now. But basically what TSheets does is time tracking.
Everybody on our team, login, once start working, they are tracking time per project, per task, and entering what they did. It help us, first of all, to pay people, based on how many hours they work. Second do hourly reports to figure out if the project is profitable or it's not profitable.
The next one is PandaDoc. It's a DocuSign software where you send something and it's a document where you can fill in, you can put your initials, and you can sign, and it's legally binding signature.
The same as you would do physically writing, but it's online. There's a lot of alternative and the biggest one is DocuSign. But for our purposes for our company, we found PandaDoc is more user friendly and easier to use.
So we use PandaDoc for sales. We use PandDoc a lot for HR, when we onboard somebody new to our team, employee to sign different non-disclosure agreements, contracts, and so forth. And sometimes we use for marketing, let's say content release and so forth.
So the next one is Zapier. Zapier is like digital glue which ties together multiple apps, integrates multiple apps between multiple software between each other. Let's say when we win a deal and I mark in our CRM has won, it can create task in Asana and can inform the team to start working on the project to start onboarding.
Or for example, one person view the contract, it's sent then to Asana to inform the salesperson that that person viewed the contract, so they can go to Pipedrive and start following up with this person.
It's important to find the right new platform for your store and when you do, have an experienced partner guide you through that transition. That's why we created a migration checklist that'll help you transfer your data from multiple apps to Klaviyo without anything falling through the cracks.
So there's a lot of things integrated. And Zapier, it's a hub of all integration. And your imagination, your creativity is the only limit. So this is limitless app. And there's another alternative called Integromat, which we consider maybe to switching, but not at this moment.
Zoom, we use for operations. Zoom, it's teleconferencing, like a transference call, but through video. Theoretically, we can use G Suite and Google Meet, and actually it's part of G Suite, so we don't need to pay extra.
It's a little bit pricey for us because it's like $20 per seat and we have a big team. But we spoke a lot with the team, and at this moment they said it's not worth of saving money because G Suite Meet is not as powerful or user friendly as Zoom.
So we do care about our team and we do not want to save few dollars just to make them miserable, that's why we use Zoom as well. But if you don't have any preference, it's built in G Suite, you don't have to pay anything extra.
The next one is Figma. Figma is basically online Photoshop where people can collaborate. We design all our website, landing pages and everything inside, even thumbnail for this video was created in Figma. So basically it's all for designers and developers.
And the next one on the same topic is Canva. Mostly, you can use it for free, but it's $10 per month. And you can create different banners, presentation, everything in Canva. It's very user friendly, easy to use. And we use for banners and emails and everything else.
Stax is our payment processor. They used to be called Fattmerchant, now it's Stax. And we switch from Stripe to them because of the fee. It was 1% cheaper to move to Stax, but with our volume, I believe we already saving like close to $3,000 a month.
The next one is Klaviyo. Actually, you know what, let's start with ActiveCampaign. So we used to use ActiveCampaign, and still using ActiveCampaign as a marketing automation tool. But now we are switching to Klaviyo.
Klaviyo is mostly for e-commerce and all our clients we serve on Klaviyo. But since we are B2B, business to business, we love to use ActiveCampaign, but there were limitation in terms of design. So we are switched to Klaviyo from email marketing perspective, but from marketing automation perspective, we still kept ActiveCampaign.
The difference between email marketing, marketing automation, and CRM, there's another video where I explain that in detail. But basically we are in process of migration and eventually we want to shut down ActiveCampaign completely.
Setting up your Klaviyo account can be tricky. That's why we created a Klaviyo Setup Checklist – so you don't miss any important steps in the setup process.
Klaviyo is good for email marketing as mass marketing, and also they just release webhooks, which you can use with Zapier and actually integrate with any other platform.
The next one is Miro. Miro is like whiteboard, but digital and people can collaborate. We use for projects when we deliver strategies to our clients, we use for operations to outline our processes, do organization charts and other stuff.  It's a very powerful tool. And it's free. Of course, they have paid version, but it's a free to start.
The next one is Buffer. Buffer is a social media scheduling post. We have a marketing person responsible for that, but we picked this one from bunch of different ones. There's like MeetEdgar, there's CoSchedule, but for our needs, Buffer is the best one.
And Linktree. It's mostly for Instagram, but we use Linktree. We use it for Instagram, TikTok, and for some other platforms, where we have "how to contact us", some offers, and so forth. So we use for marketing, Linktree.
The next one is Buzzsprout. Buzzsprout is a podcast hosting platform. If you don't have a podcast for your business yet, I strongly recommend to start. Pat Flynn from Smart Passive Income, he has like two courses and he has a bunch of free resources which you can use where he walks you through how to start podcasts.
We took his courses and based on his courses, we start podcast two years ago. We get more and more exposure for our business because of that. So the tool is called Buzzsprout.
The next one is TubeBuddy. TubeBuddy is for YouTube videos where we do research different tags, which title to use and what kind of competition we have.
So there's more visibility for our ideal clients, our potential clients who either hire us for our email marketing service or buy our courses. So we use TubeBuddy to do the research.
Kinsta is our hosting platform where we host our website. We switch from other hosting platform. Kinsta are very powerful, user friendly, it does back up your website, it does provide you security and we are very happy with their service.
It's not cheap like other services. Google Host, they advertise for $3 per month, but it has a lot of limitations. We pay, $30 per Kinsta, but it has everything that we need.
It's a payroll company, payroll system. This is how we pay to people and it has all compliances. It pops what you have to do, it's simply "fill out this, sign this," and it's like done for you almost service, but through software and you are complying with all states.
Because we have a lot of employees working from different states, and it's very important to be compliant each state because each state have different set of rules.
Also, we use for marketing, Vimeo. Vimeo is a video hosting platform, similar to YouTube but YouTube you cannot customize the player.
Theoretically, we can use also Loom for hosting the videos, but it's not possible to customize the player on your website, that's why we use Vimeo. We can customize and there's additional bunch of tools you can use which probably should use.
And the last two is Typeform. Why we use for HR? Because for example, when anybody fill out the type form, like our application for a job.
Let's say, we pay $20 an hour and they requesting $60 an hour. So we automatically decline them and say like, "Hey, our start pay is $20 an hour. Do you want to continue or no?"
This saves time to the applicant and saves a lot of time for us. If they don't want to continue plan, they say no and they exit. And it's like that lost candidate. It's worth every penny that we pay for this software.
And the last one it's my personal one. It's Wordtune. Basically what it does, it's like Grammarly, the software which fix your grammar but Wordtune steps further and it does fix your entire sentence.
It rewrites for you sentence based on AI. And it's make you look professional or casually real grammar. So I use Wordtune to improve my English when I send out emails. So it's mostly personal, but I use for the business.
So those are the apps we use. We use a lot. I hope it inspires you to get one of them for your business to improve your process, sales, marketing, and so forth.
Is there any other tools you use that I didn't mention, or maybe some other creative ways, please share it under this video, I would like to learn from you and also other YouTube subscribers would like to learn from you, so we can share and improve our businesses all together.
In case you have any additional questions, please leave under this video. Thank you.