In order to develop a successful plan for converting more leads into customers, establishing email workflows is imperative, and Klaviyo email flows are one of the best ways to do so.
To complete a task, such as signing up for a service or making a purchase, a series of emails are sent back and forth.
Automated emails are sent depending on the subscriber's contact information, activity, or choices in an email workflow.
What is Klaviyo Email Flow and Why Do You Need it?
Customers may be guided through a customer journey by using email workflows that are based on triggered personalization and targeted at the appropriate audience.
In order to send only relevant and targeted messages, you may automate your emails, and the easiest way to do so is by using a Klaviyo email flow.
Several prompting emails within a workflow are included in each process to help the subscriber get closer to converting.
If you'd want to get started with automated email workflows, here are some examples of when you can do so:
Incoming email subscribers like sending welcome emails
Visitors to a given page of a website, or rewarding them for engaging with your brand
People who work for a corporation in a certain industry
Emails on birthdays or anniversaries or a milestone
Those who live in a specific zip code, or segmentation
You can send win-back emails, abandoned cart emails, and so on.
Why Klaviyo Flows Are Great
Klaviyo email flows distinguish themselves from other email service providers since a number of best-practice routines are already integrated and can be activated straight on the "Getting Started" page.
Using Klaviyo email flows has a number of fantastic advantages:
Allows you to send a series of welcome messages
When a consumer signs up for your newsletter, buys anything or chooses to be on your contact list, you should send them a welcome sequence.
Welcome letters from Klaviyo might feature trending or best-selling goods, as well as any other information that you believe your customers will find helpful.
All of your welcome emails may be sent at once, no matter how many there are.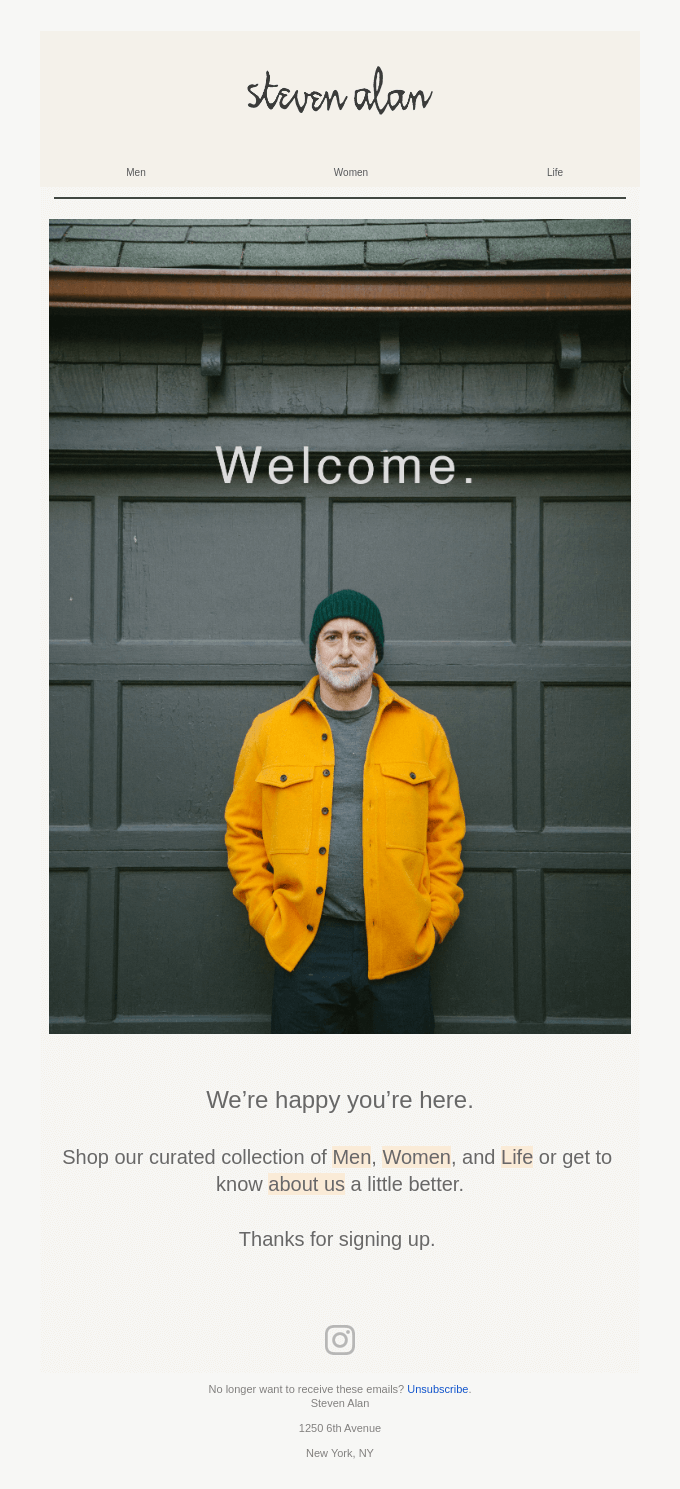 Abandoned cart emails can be set up
Around three emails are used in successful abandoned cart movements.
Typically, the first email should be sent within a few hours of a customer abandoning their cart. You should follow up with a second email one day later, and a third email two days later, and so on.
Including a promo code or a final chance message in the last email may help encourage your consumers to make the final transaction and generate a feeling of urgency.
It sends out excellent product suggestions through email
After a consumer makes a purchase, you may send them an email with links to related items. Using Klaviyo's product feeds, it's a breeze to include product suggestions in each email you send out.
Similarly, you may cross-sell by displaying things that complement what they've already purchased.
When it comes to email marketing, you may send fresh emails based on previous purchases and/or promote new and comparable goods.

Win-back emails may be sent with Klaviyo
As the name suggests, win-back flows are utilized when you want to re-engage consumers who haven't made a purchase or frequented your site in a predetermined length of time.
In order to re-engage clients, you may send a series of emails once you've configured the flow's settings with information about the events that have transpired since they last purchased.
A/B testing is possible
Testing the readability of the label, subject line, and content will assist you in selecting the most efficient emails.
But, unlike campaigns, where testing runs only for a couple of hours, it's vital to remember that Klaviyo email flows are continuous-running emails.
As a result, you must manually select your favorite after you believe the test has run for a suitable period of time.
After selecting the winner of your initial A/B test, you may build up a control email to test your flows.
How to Set Up a Flow on Klaviyo
To begin, here are a few steps to keep in mind.
Create a new flow
Enter your account's main navigation sidebar and then select Create Flow, which will prompt you to enter the name of your new flow.
Browse the Flow Library for unique automation ideas throughout the client lifecycle if you're not sure where to begin.
The Flow may be found in the left-hand column of your account's home page.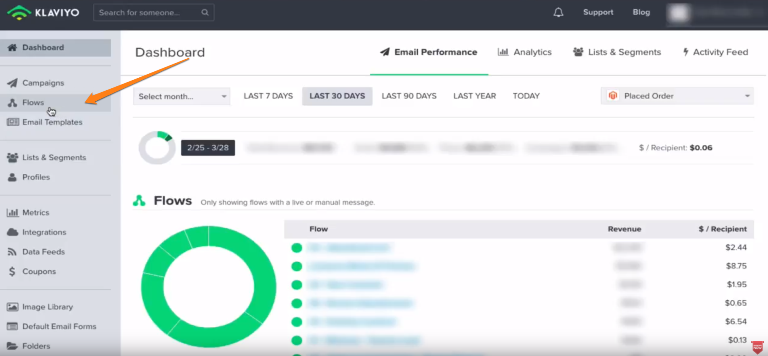 Click Create Flow and name it.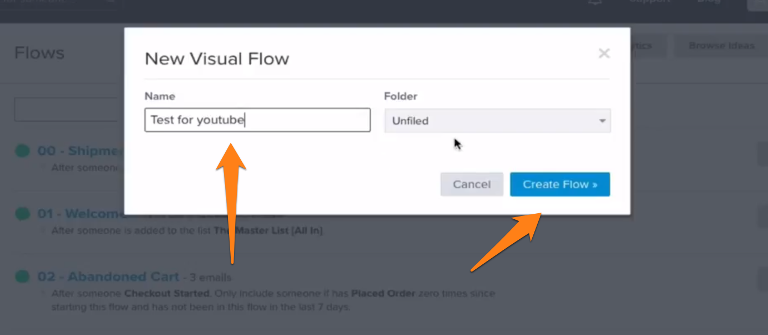 Recently Klaviyo released new Flow Builder and now it's visual and easier!
Trigger Setup
You may then choose from a list, segment, metric, price decrease, or date attribute as the trigger for your new flow.
When a person qualifies for a flow based on the trigger, Klaviyo will additionally check all trigger and flow filters first.
Trigger Setup has five sorts of actions:
Emails get sent when people subscribe to a list
Emails get sent when people join a segment
People are added to the list based on metrics, for instance when they complete a specific action
Emails can be sent when a price drop occurs with an item the customer has previously engaged with
Emails can be sent on a specific date.
There are three types of action in Trigger Setup:
Subscription to a List
Joins a Segment
Takes an Action.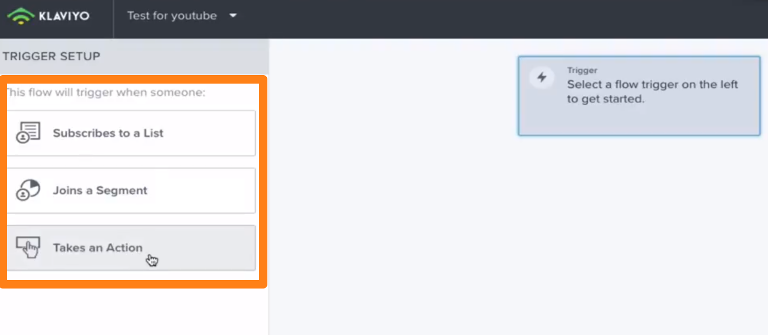 Take an Action
From the list you will have to select an action. For example, if you're using Shopify or Woocommerce, or if you have a bespoke integration, the process may be different.
Your action should have some Trigger Filters added to it such as the action's name, price, or any other relevant information.
Add Flow Filters to limit the flow to a certain group of users.
To complete the process, press the Done button.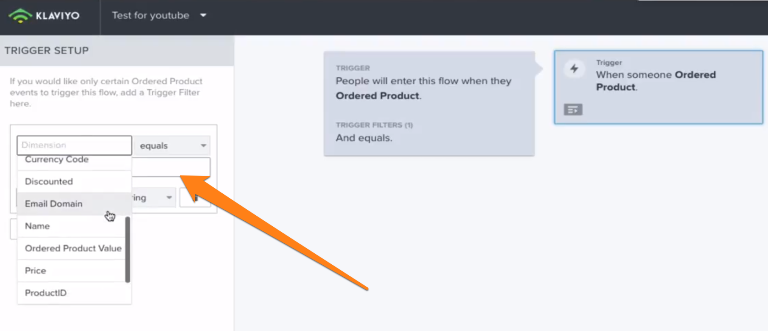 Now you have a few actions and logic to add to your flow. Just choose one and drug to the path: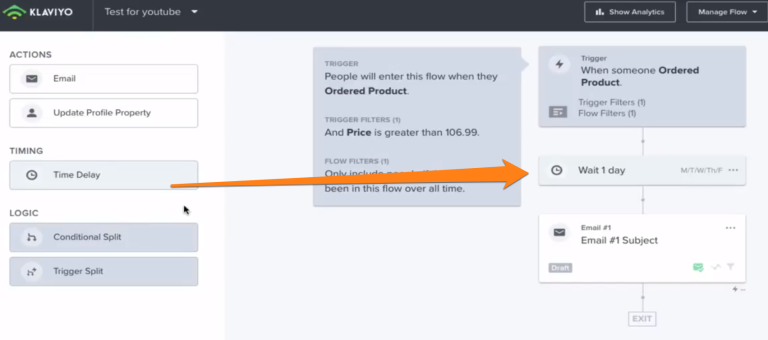 Flow Analytics
Your whole series' message performance should be viewed to get a sense of how your flow is doing overall.
The Visual Flow Builder allows you to display metrics directly on the canvas. You may accomplish this by clicking Show Analytics on the top header menu when you're within a flow builder.
All message cards will grow to include a crucial performance statistic with a configurable timeline. You will see
Email
User Profile Property
Time Delay
Conditional Split
Trigger Split.
Email workflows are unquestionably one of the finest methods to communicate with consumers.
However, keep in mind that your emails must also have relevant information. It's advisable to hire specialists in the sector that can assist you in creating the finest emails possible for your business.
Frequently Asked Questions
What is the first Klaviyo email flow I should send?
You can start by setting up a welcome email flow. It is a great way to thank your subscribers for the attention they are giving to your brand and introduce your company further. You can also give a discount on their first purchase and recommend items based on the search history of your new subscriber.
How can I suggest products with my Klaviyo's email flow?
Using Klaviyo's product feeds, it is easy to add product suggestions to your automated email flows. The recommendations will be based on your customer's previous purchases, browsing history, and other information such as gender, size, season, etc.
What are triggers in Klaviyo's email flows?
Triggers are set up so the software can understand when a user is qualified to enter into an email flow. For example, if a person leaves his cart without paying for its selected items, he will trigger the "abandoned cart flow" and thus the cart abandonment email sequence will be sent to him.