Knowing that email marketing campaigns are essential tools in your eCommerce arsenal is only the first step. The next step is understanding the types of email campaigns that are crucial to the success of any eCommerce business.
Undoubtedly, email marketing can help you convert prospective leads to paying customers. However, tailoring your email campaigns to suit the present state of your subscribers can mean the difference between having barely active subscribers and securing long-life customers and natural publicists.
But, you'd need to have a thorough understanding of the various types of email campaigns that exist and when each is necessary.
This is where we come into the picture.
In this article, we share insight into the different forms of email campaigns that are relevant to an eCommerce business. You'll also learn when each email campaign is applicable and the advantages they offer you.
Why Your eCommerce Business Needs Email Campaigns
Running an email marketing campaign is one of the most effective ways eCommerce businesses today can reach and convert their customers.
According to statistics, for every $1 you spend on email marketing, you're likely to get an ROI of at least $38. Impressive, right?
Here are some other reasons your eCommerce business needs email campaigns:
Impressive returns on investment
Immediate impact
Access to a global audience
Quick and accessible performance metrics
Easy to start
Relatively cost-effective
However, it is not enough to simply run an email campaign. On the other hand, understanding the different types of emails can significantly impact the success of your email marketing campaign.
By including an array of emails in your campaign, you ensure that you keep your subscribers engaged and build an excellent relationship with them. But, more importantly, it boosts your sales and keeps increasing that ROI.
That said, below are the types of email campaigns that work in eCommerce today.
The 7 Best Types of Email Campaigns for eCommerce
1. Welcome Emails
Welcome emails are a must-have email campaign for every eCommerce business. Why? They thank your new subscribers for choosing your brand and also introduce them to what you're about and the value you offer.
In other words, your welcome email will be the first impression subscribers have of you, and of course, you want to make sure it's an excellent one!
Besides, your welcome email can also be the push your subscribers need to make a purchase.
Research shows that only approximately 25% of subscribers are ready to purchase immediately, while 50% are qualified but not ready.
So, including a first-time purchase discount or similar incentive in your welcome emails can be a great way to convince subscribers to take action.
 Pro tips
Make an exceptional first impression
Be original
Focus on building a relationship
Design for simplicity.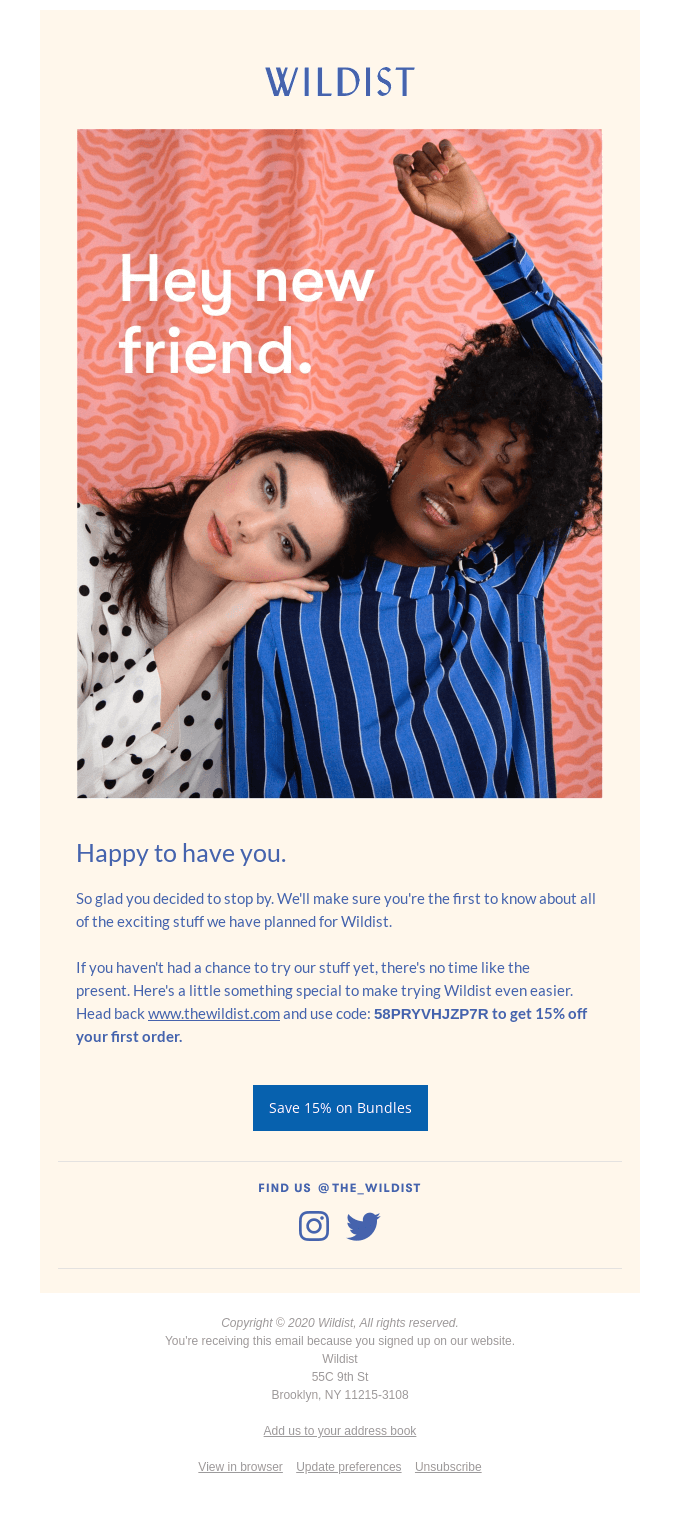 2. Newsletter emails
Another essential type of email campaign in the eCommerce space is newsletter emails. Newsletters are basically how you keep your subscribers up-to-date with your company.
As a rule of thumb, only existing subscribers should receive your newsletter emails. You don't want to overwhelm new subscribers before you've had time to build a relationship with them.
That said, newsletters are emails you send to subscribers to give them new information about your eCommerce business, such as employee profiles, tips, testimonials, passion projects, and other useful resources. This way, you can convert more subscribers to paying customers.
However, the primary objective of newsletters is to keep in contact with your subscribers and increase website traffic.
Pro tips
Diversify your content
Try not to overwhelm your subscribers with overly frequent newsletters
Keep your design simple and easy to read.

3. Promotional emails
Do you have special sales? Do you have discounted prices you want your customers to enjoy? Perhaps it is the holiday season, and you're offering your subscribers some holiday goodness in terms of special deals.
Well, sending promotional emails is the way to let them know!
As the name implies, a promotional email campaign refers to a set of emails that contain incentives to promote your eCommerce business's products and services.
This can include everything from discounted prices to special offers and raffles.
With this type of email campaign, the goal is to encourage subscribers to make purchases by making offers that are too good to resist.
That said, it is usually an excellent idea to send personalized messages based on subscriber behavior and needs.
Pro tips
Always make your offerings crystal-clear
Segment your subscribers and send more personalized offers
Strike a balance between offering discounts and thriving as a business.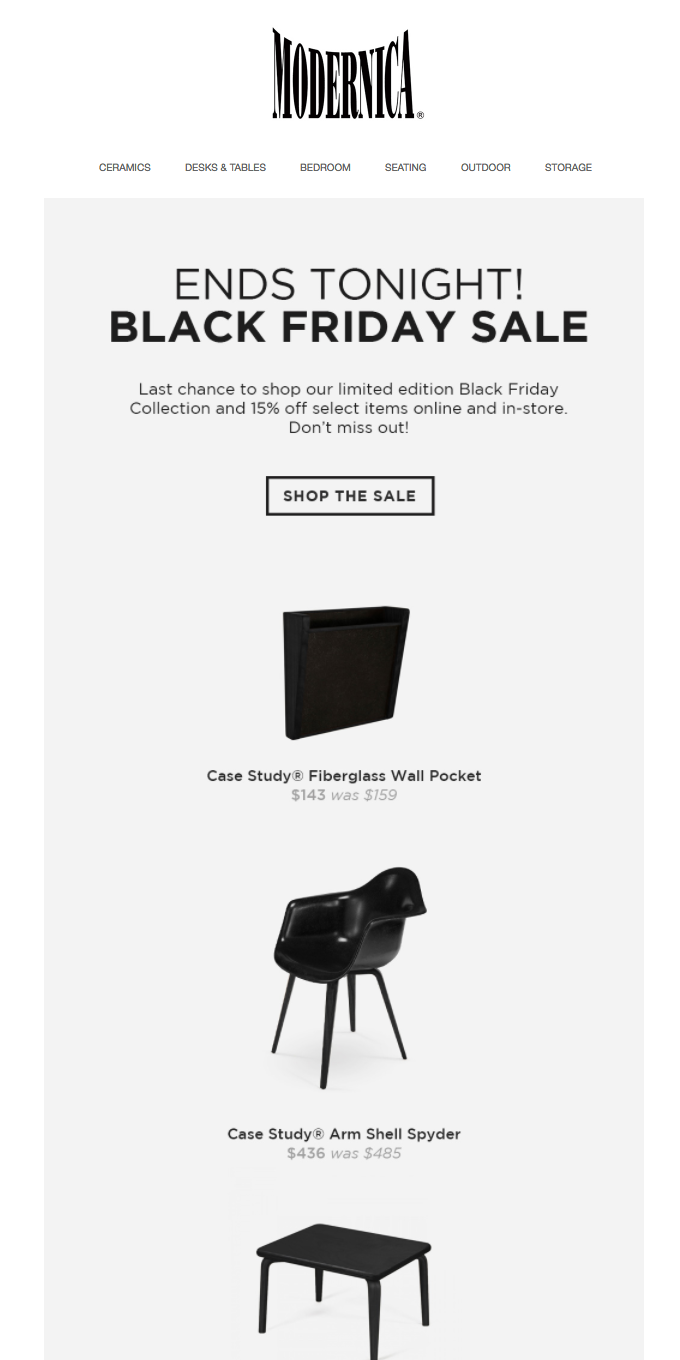 4. Re-engagement emails
Next on the types of email campaigns your eCommerce business needs, we present re-engagement emails. This email type can be critical in helping you win back subscribers that may have been drifting away.
So, what are re-engagement emails?
Re-engagement emails are emails you send to subscribers whose metrics have shown to be inactive. In other words, you tailor the content of such emails to re-establish the connection with such customers and help them see the value of your business.
In this regard, an excellent strategy is to ask them for feedback. By doing this, you remind them of your brand, and if they respond, even better!
However, sometimes, some recipients may unsubscribe. Thankfully, there's a bright side — your engagement rate and email reputation experience a boost!
Pro tips
Keep your engagement emails straight to the point
Don't pester.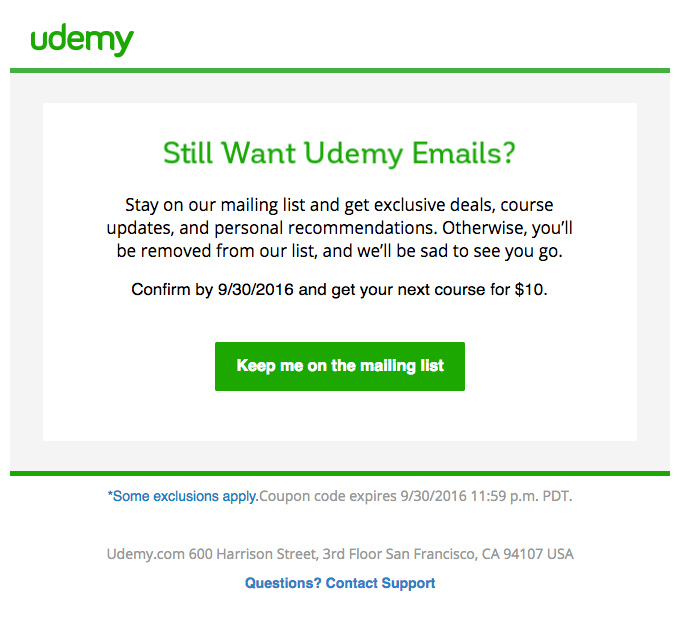 5. Lead nurturing email
Lead nurturing email campaigns target subscribers who are yet to purchase your business. Through this campaign, you inspire and encourage potential customers to take the final step and become financial partners of your business.
Since lead nurturing emails can help you boost sales and increase your ROI directly, they are undoubtedly one of the essential types of email campaigns for your eCommerce brand.
With lead nurturing emails, you show your recipient the value that your products or services offer. By doing this, you gradually convert readers to buyers and ultimately lifeline customers. All you need to do is show them the benefits your business provides them!
Pro tips
Understand your recipients' pain points or needs
Create highly personalized content for your subscribers
Don't wait to nurture leads — do it now!

And There You Have It
No doubt, email marketing is an excellent strategy for your business.
But, knowing the various types of email campaigns for eCommerce and when to use them can significantly improve the results you get from your email marketing efforts.
Hopefully, this article has helped you gain the insights you need on your way to better email ROIs.
Further Reading
What Is the Best Email Campaign Software
How to Launch Salesforce Email Campaigns
How to Create an Email Campaign: A Step-by-step Guide
What Is the Best Time to Send an Email Campaign?
7 Email Campaign Best Practices for Your eCommerce Business