Regardless of the product or service you sell, every abandoned cart leads to lost profits.
The good news is that cart abandonment prevention techniques can reduce your rate of cart abandonment.
On top of that, you can recover some of the abandoned carts with savvy email marketing.
Cart Abandonment Prevention: How to Avoid Abandoned Carts
Most cart abandonment prevention methods attempt to directly counter the reason that someone abandons your cart.
For example, someone may abandon their cart because you don't offer the payment method they prefer. You could prevent this by offering more methods, such as:
Visa
Mastercard
Paypal
Alipay
Apple Pay
Etc.
While there are dozens of cart abandonment prevention tips, the following are the most important.
Include a Strong Call to Action
Sometimes, cart abandonment occurs because your call to action was not strong enough. You can prevent this problem by adjusting your call to action.
Do what you can to make it more motivating or more obvious. If you don't have a clear call to action already, then add one.
Examples of call to action:
"Follow us on Instagram"
"View more"
"Visit our Blog"
"Discover our new goodies!"
Offer Different Payment Options
As mentioned, offering various payment options helps ensure that your customers can pay using whatever method they prefer.
Start by offering the most popular payment methods, then add as many as you feasibly can without sacrificing your budget or website functionality.
Create Trust in Your Brand
Another reason you may notice cart abandonment is if customers aren't familiar with your brand and therefore don't trust it. There are several ways that you can overcome this and create trust.
Start by including security certificates on your website. Don't lie but include any that you use. Examples include:
"Verified by Visa"
"MasterCard SecureCode"
"McAfee Secure"
"VeriSign Secured"
"Norton Secured."
If you can't currently display any of these without lying, make changes so you can or find others that you can.
Another great way to create trust in your brand is to build social proof.
Encourage people to leave reviews and ratings
Encourage them to share on social media.
The more frequently shoppers see your company mentioned positively, the more likely they will be to trust you.
Add a Progress Indicator to Your Checkout
Another common complaint that leads to cart abandonment is if the checkout takes too long or isn't clear.
The easiest way to overcome this is with a progress indicator. This type of indicator should let shoppers know how far along they are in the checkout process and how many pages they have left.
Make Sure Your Website Is Fast and Functional
The best and simplest cart abandonment prevention method is to make sure that your website is fully functional and quick.
If your checkout page doesn't load, people can't buy anything. Or if it takes a long time to load, people will give up and shop somewhere else.
As a bonus, making sure your website is fast and functional will also boost your SEO and reduce your bounce rate.
Add Exit-Intent Popups
Shoppers don't typically like popups, but there is a time and a place for them. Exit-intent on the checkout page is a perfect example.
This type of popup will show the popup only if the system detects the user is about to leave the page.
You can use this for a final CTA, such as "Leaving already?" Or you can get even better results by using it as an opportunity to:
Offer a coupon code
Offer free shipping
Ask for a 5 stars review
Or another incentive.
How to Recover Abandoned Carts?
We mentioned that you can recover abandoned carts, but how?
The absolute most effective method of how to recover abandoned carts is email marketing. Setting up an email campaign specifically for abandoned carts will deliver the results you want.
How Abandoned Cart Emails Get Customers Back
On average, abandoned cart emails have a 41.18 percent open rate and a click-through rate of 9.50 percent. They even bring in average revenue per recipient of $5.81.
These emails win customers back in several ways.
Sometimes, the reminder that there is something in their cart is enough. Other times, the incentives you include will convince them.
Or maybe you will include social proof that delivers more trust in your brand.
The bottom line is that abandoned cart emails produce results.
What Abandoned Cart Emails Should Look Like
Not all abandoned cart emails will deliver equal results.
The best abandoned cart emails should include a few important things. You can use the following list as a checklist for your email:
        Create a series of three emails
        Craft an amazing subject line
        Personalize the email
        Highlight the product, both with images and a description
        Include social proof
        Consider adding related products and/or best sellers
        Include CTAs like "Go to cart" in the body
        Consider an incentive
        Mention your shipping or return policy
        Link to customer support
        Make sure the email loads across devices.
When to Send Abandoned Cart Emails
You ideally want to send three abandoned cart emails.
Send the first about an hour after the cart abandonment
Send the second a day after the first or after the abandonment
Then, send the third three days to a week after the abandonment.
Examples of Great Cart Abandonment Emails
To make it easier to use the above list of best practices as a checklist, take a look at some great examples that incorporate the tips. These should help give you inspiration.
Adidas

This is a more playful cart abandonment email, starting with the assumption that the recipient abandoned their cart because of internet problems.
That playfulness helps grab their attention, likely improving the open rate. It also includes social proof and high-quality images.
Alex Mill

This email from Alex Mill shows how you can offer an incentive to encourage cart recovery. In this case, the incentive is 15 percent off.
It also highlights the abandoned products and has a convenient link to customer service.
Cole Haan

This email is an excellent example of how you can incorporate product recommendations into the content.
It features the products that the recipient looked at, along with related items to potentially cross-sell or upsell.
Public Rec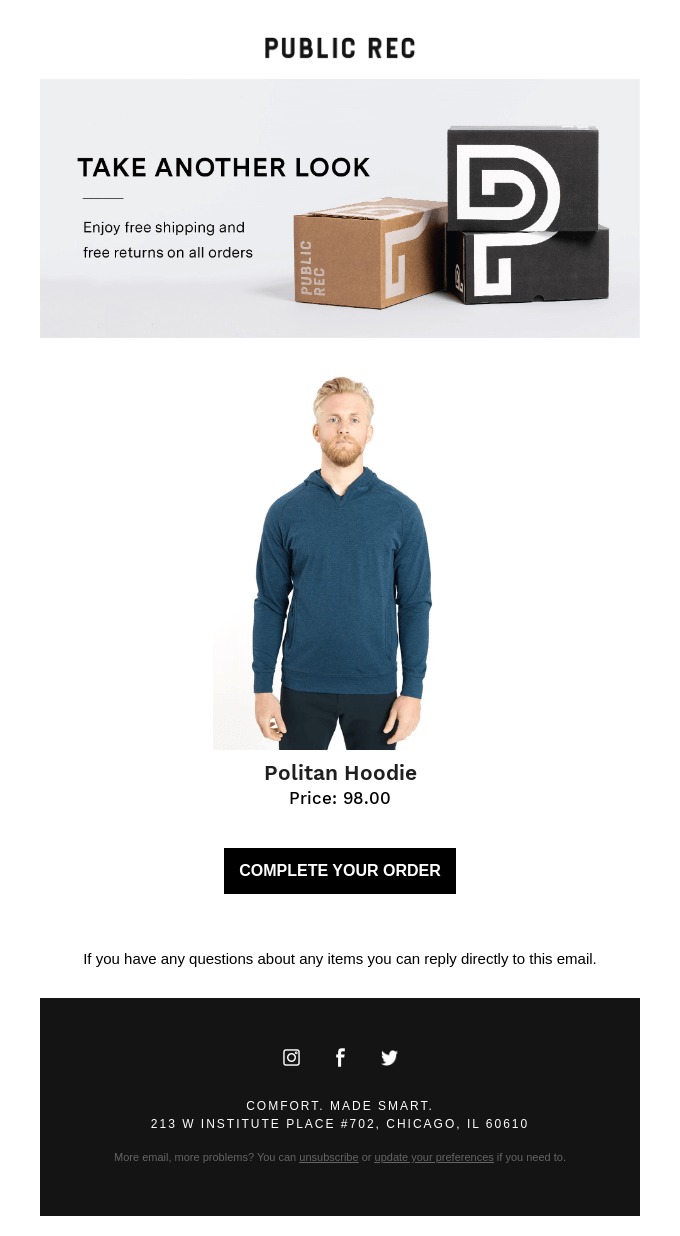 This email highlights the abandoned product with a picture, the name, and its price.
This is followed by a clear CTA to go back to the cart and finish the purchase.
The subject line is also great, enticing recipients by simply saying, "You Forgot Something."
Conclusion
Supplement cart abandonment prevention with learning how to recover abandoned carts.
This combination should boost your sales, both by reducing the abandoned cart rate and by boosting your recovery rate.