Creating your email marketing campaign from scratch can be quite a hassle, not to mention the mistakes you may make during the process.
However, analyzing examples of email marketing campaigns that have succeeded may give you that burst of inspiration you need to get your own up and running.
Are you wondering how to structure your email campaign? Perhaps you're looking to gain insight into how to write an effective email campaign. Well, we got good news for you.
You've come to the right place!
In the following paragraphs, we'll share proven tips on writing email campaigns that will convert. We'll also share real-life scenarios that will help put things in perspective. So, strap in and enjoy the ride.
How to Write an Effective Email Campaign
Successful email marketing campaigns don't just happen, and we'll discuss some examples soon. But first, let us walk you through how to write a compelling email campaign.
Set your goals
Before you start writing an email campaign, you want to consider your goals first, and we'll tell you why. Having an objective helps discover the type of emails you should be sending.
Why do you want to send emails to your audience?
For example, if you aim to sell a high ticket product, you might want to focus on newsletters. You can send out regular non-promotional and informational emails that help build trust with this kind of email.
In the same way, an eCommerce brand can send announcement emails to tell its audience about a new offer. At the same time, a seasonal email will also effectively announce seasonal products.
Besides, setting your goals will guide the design and content of your campaign. So before creating an email marketing campaign, ask yourself: what are my goals?
Create an opt-in offer
Once you have discovered your email campaign goals, you want to move on to creating an opt-in offer to grow your mailing list.
Here is how it works. First, your audience needs a reason to subscribe to your list. This is usually a tempting offer they can't refuse.
For example, you could offer a short educational guide in an e-book. It could also be a quiz or an infographic.
You can then create a subscriber form on your website or blog where your audience fills in their data and subscribe to your list.
Write a good copy
We cannot overemphasize the importance of this point. You see, your email copy is key in communicating your brand's identity. This means that your language and tone must match your brand's image.
However, knowing how to write an effective email campaign is not just about having a good command of the language. The body of the email should be:
Informative
Engaging
Lead your audience to your call to action.
Let's check out the structure of an email campaign to guide you in your creation process.
Pay attention to your email campaign structure
Getting your email campaign structure right is key to enjoying successful marketing efforts. An ideal email campaign structure should have a great subject line and preheader.
It should also have a highly engaging and converting body.
Create an inviting subject line and preheader text
The first place to start is your subject line. It must be tempting and encourage your audience to open your email.
People will only open your emails if you can create urgency or if they feel they will be getting premium value.
Your preheader text tells your audience a bit about your subject line and what to expect when they open the email. It must also be tempting and drive the intended action.
Craft an engaging email copy
Once you have gotten your foot in the door with your subject line and preheader, you want to follow up with an engaging email body.
An excellent email copy must be interactive, easy to read, and follow a logical structure. You don't want to bore your audience to death before they even get to your CTA.
So, keep your paragraphs short, scannable, and engaging.
Personalize your email copy
When you hear personalization, you think about using people's names and addressing them directly. But here is the thing, there is more to personalization than that.
Besides, even when you have the same target audience, they are most likely at different buying stages and looking for something different. Therefore, it is best to segment your audience and create email campaigns that speak to each segment.
This way, you hit them with the exact kind of message they need.
Nail it down with the perfect CTA
Finally, on how to write an effective email campaign — the CTA. Every email you send must have a call to action. What do you want your audience to do after reading your email?
It must be clear and should incite immediate action from your audience. So, focus on creating a clear CTA that your audience will be excited to follow through.
Creating a great email campaign is a lot of work. But, you can quickly draw inspiration from these examples of exceptional email marketing campaigns below. So, let's check them out.
5 Top-Notch Email Campaign Examples
Zapier

This is a great promotional email from Zapier. The purpose is to drive a sense of urgency about a limited offer, and Zapier does this well.
The use of a countdown button and the subject line effectively motivates instant action.
Also, the email body is:
Well structured
Scannable
And ends with a clear call to action.
SalesForce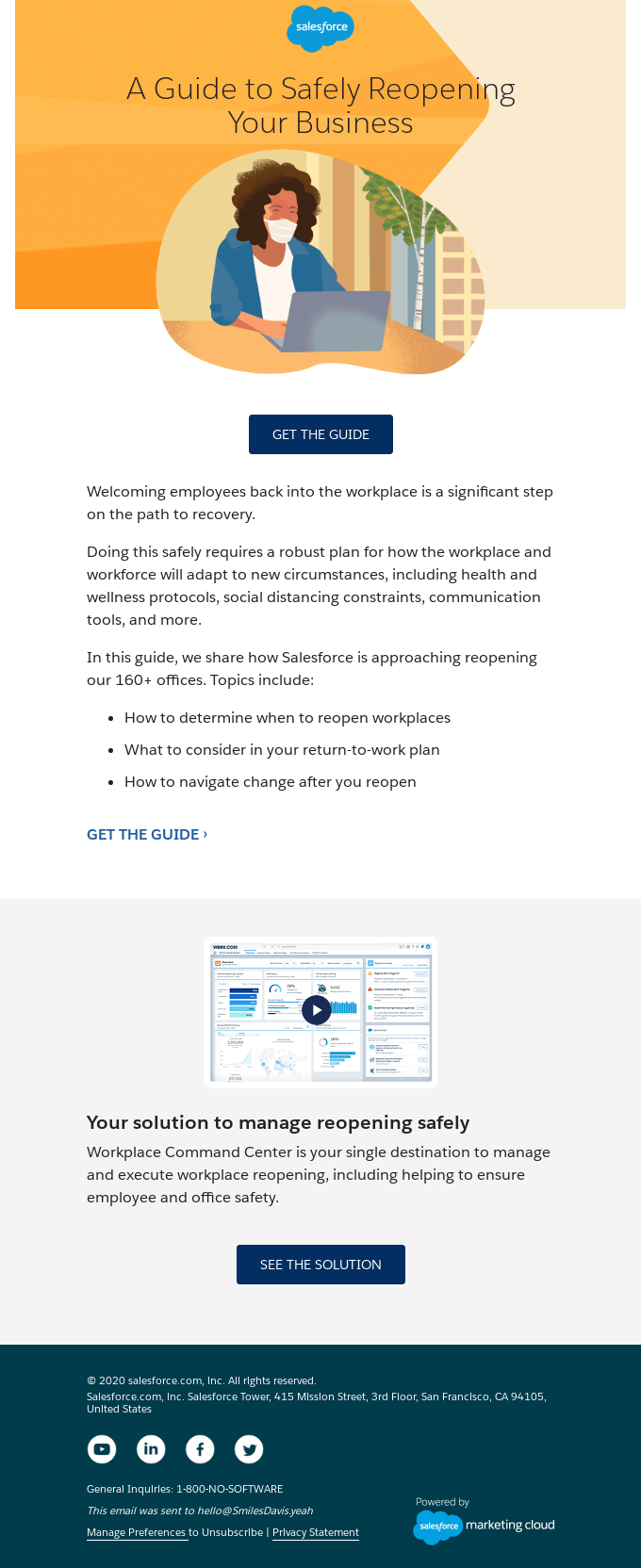 This exceptional newsletter email from Salesforce offers valuable content to its audience.
Every email aims to communicate value, and SalesForce does this effectively with:
Its clear introduction
A well-structured content heading
And a clear call to action.
NameCheap

When sending a newsletter, you want to communicate value to your audience.
A great example is this email from NameCheap. A round-up to all their available resources is one their audience will find available.
Also, it's well-structured and allows for easy navigation.
Trello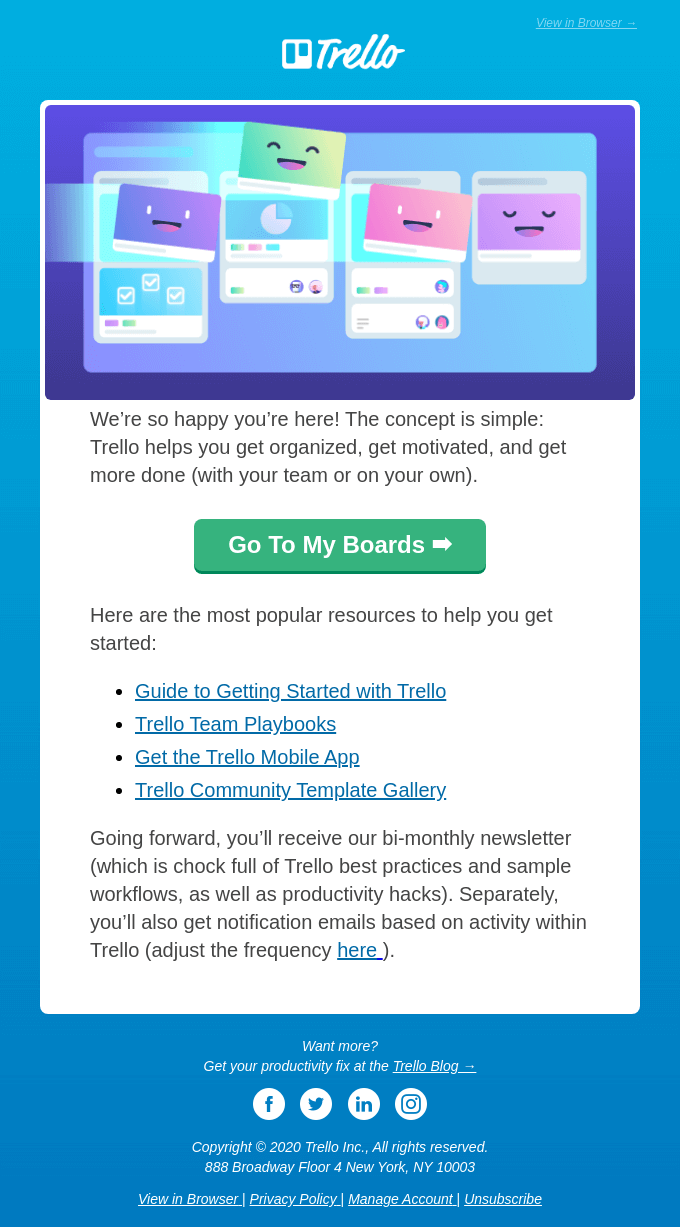 A great welcome email should be:
Friendly
Informative
And offer an excellent first impression of your brand.
Trello does this well. Their welcome email is:
Short
Exciting
And prepares their audience on what to expect.
They also included valuable resources that their audience will find helpful.
EverLane

Want to announce new product arrivals? This announcement email from EverLane is a great example.
The subject line is
Short
Direct
Tells the audience what the email is about.
The email is also well-structured and easy on the eye.
Making It Count
There is a reason many companies are investing heavily in their email marketing campaigns. Here's why:
Emails effectively build trust
Provide a more personalized feel to your brand
And drive sales.
Remember, always focus on what's best for your business goals when creating your email marketing structure.
Thankfully, the tips and email marketing campaign examples mentioned in this article are a great way to start!
Further Reading
How to Write a Successful Email Follow Up Series
What Is the Best Time to Send an Email Campaign?
Why Do You Need an Email Campaign Report Template
Productive Email Campaign Management Strategy
Average Email Campaign Response Rates
The Best Email Campaigns for eCommerce: 5 Emails You Should Send