Imagine that one of your online store visitors started the checkout process and left his (her) cart before purchasing. Let's say, that your average order in store is $50, and this person left the cart with the total value of $250.
What will you do?
One of the options, which is the solution in 99% of situations, is to send them a follow-up email.
In this email, you will show the visitor what he or she left in their cart.
If he doesn't buy after that email, you might want to follow up with a few more emails, and maybe even include a discount. The goal is to convert that type of visitor into buyers.
→ You can read more about Abandoned Cart email strategy and optimization here.
What To Do if a Subscriber Doesn't Open Follow-up Emails
The strategy above works only if the subscribers with abandoned carts open their emails.
If your email goes to spam, promo folder, or they do not open it, you can as well offer them free products, and they will not use your offer.
They simply do not see it.
What other options do you have?
Option #1 – is to send them a text message reminder. However, it might not be possible because not everybody leaves a phone number in the checkout process.
Option #2 – is to send them direct mail.
Send a Direct Mail Follow-up for Ecommerce
Did you say direct mail?
Yes, I did.
I know many people think that the direct mail marketing strategy is dead, but it is not true. The direct mail marketing strategy is more effective than ever.
What Is Direct Mail Marketing?
Direct mail marketing is a type of marketing strategy using physical mailboxes. Brands using direct mail marketing send paper mail through the postal service, such as:
Postcards
Flyers
Catalogs
Letters
Etc.
The digital equivalent of this strategy is called email marketing. Nowadays, eCommerce mostly uses the latter.
Why Is Direct Mail Marketing Effective?
There is less and less competition since everybody went to digital and paperless billing. This means that direct mail marketing is nowadays perceived as more special and exclusive.
Just imagine receiving something via physical mail from the brand you like. Isn't it just…nice? It appears as if the company took an extra amount of time to prepare a letter just for you.
And the flyer doesn't risk being lost among a huge quantity of similar ads.
The Direct Mail Marketing Strategy
There are a few ways how you can do it. I will provide you with one example, and if you have questions or other ideas, please leave them in the comments below, so we can all learn.
A person visits your website. This person adds the products to their cart. The total value is 5x more than your average order. This person abandoned the cart (aka made no purchase). You followed up with 3 emails, and he(she) opened them zero times.
In this case, you can follow up with 1-3 direct mails, and offer them a special coupon inside.
How to Get a Customer's Address?
The majority of eCommerce has a 2-3 steps checkout process.
The first step collects the customer's email and address information. Here is an example from a typical Shopify store.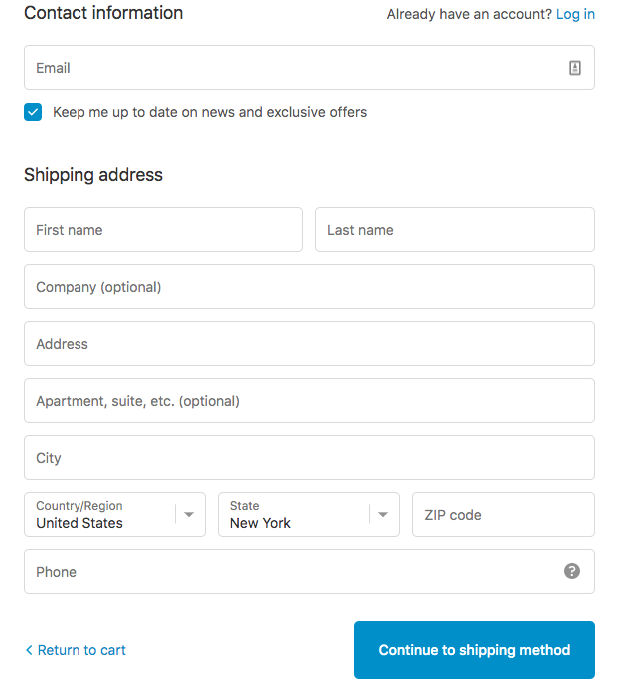 Thus, you will have their physical address.
How to Know Who to Send a Direct Follow-Up Mail to?
Since there are a lot of different email marketing tools, it would be difficult to explain every one of them.
I work exclusively on the Klaviyo platform (the best of the best for eCommerce). In Klaviyo, you need to create a segment with the following definition:
Checkout start value is at least 250 over all times
Placed order zero times over all times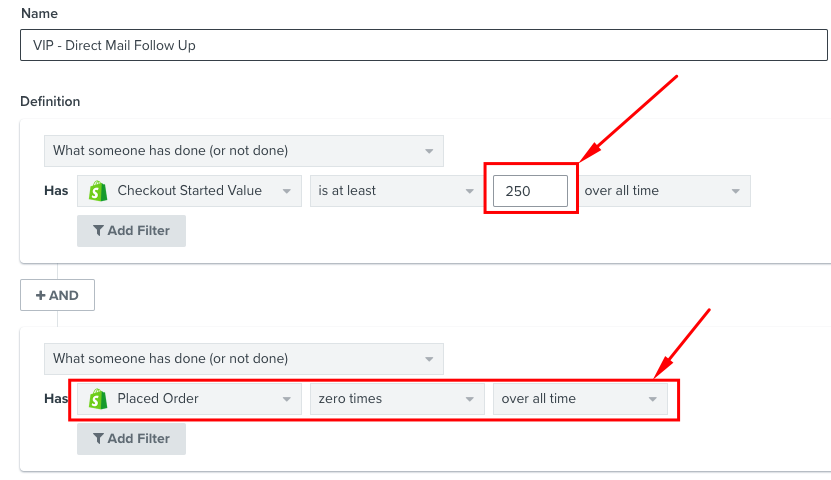 After you are done with the segment, click on the Manage Segment in the top right corner and pick export segment to CSV file.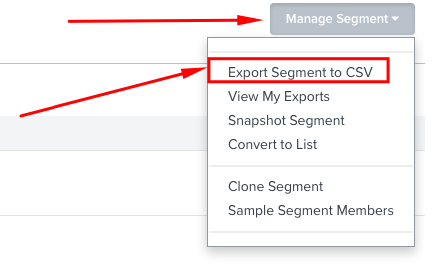 In the next window, you want to select their name and address.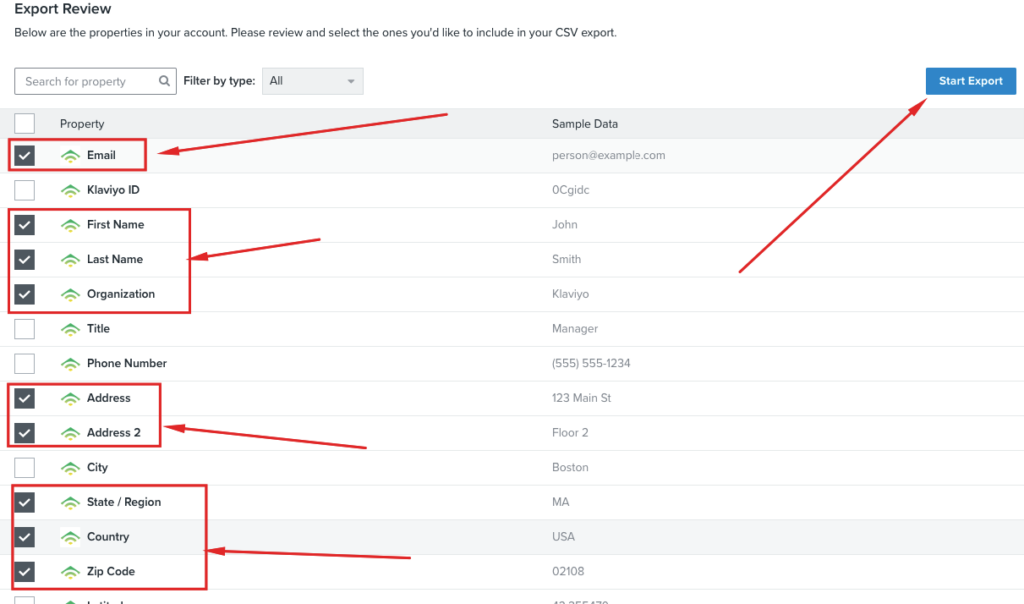 How To Send a Direct Mail?
I have the physical address, and I want to send a direct mail to the person.
How can I do it?
You can write a letter and send it yourself. I know, I know it is not sustainable and not scalable.
There are many mailing houses, where you can send the list of customers, marketing material, and they send it on your behalf. To name a few:
How to Send Unique Direct Mail?
A quick test.
If you receive in the mail below two postcards, which one would you read first?
Postcard #1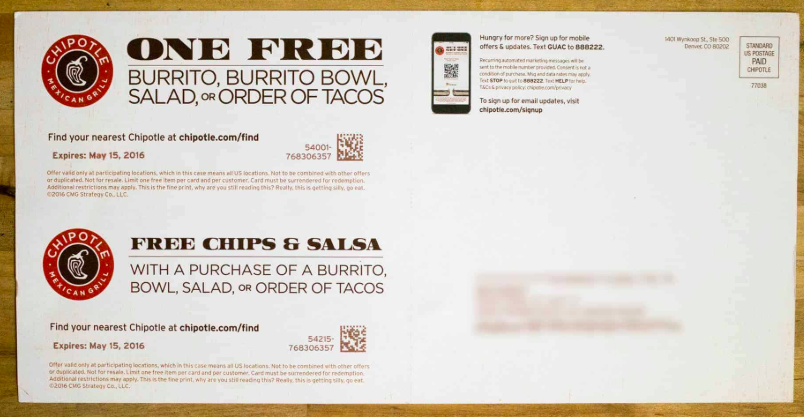 Postcard #2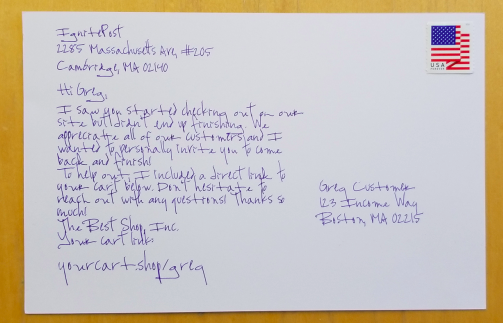 I think we all know the answer. We will read postcard #2 first.
Why?
It is handwritten.
It is very personal.
It gives you attention.
Somebody spent time writing me a real postcard.
Again, it is not scalable. It may not be possible to send 100's of handwritten postcards to your customers.
However, there is a solution. There are companies that can do it for you. In the past, there was only one company on the market called BOND. They are closed now.
Currently, there are four companies:
By the way, I met with the founder of IgnitePost (Arian Radmand) at one of Klaviyo's workshops here in New York City, and he inspired me to write this post. Also, he shared some case studies and examples of their works. Here are the links:
Direct Mail Marketing: Conclusion
There are a lot of ways to reach your potential customer nowadays. The majority of them are digital since it is much cheaper. However, the old day snail mail works great as well.
Frequently Asked Questions
What's the difference between an email and direct mail?
An email is sent online, through an online inbox such as Gmail. Direct mail, on the other hand, is the traditional mail, the one sent through the post office, and arriving in a physical box. Nowadays, it is less often used, which is why it makes it more special.
Is direct mail more expensive than emails?
Yes. You have to pay for paper, ink, stamps, etc. Direct mailing involves many extra costs that you don't have with emails. This is the reason why emails are usually preferred. However, the ROI you might get after touching a client with your special gesture is often worth the investment. It is a strategic decision for you to make.
How can I send sustainable direct mail?
It is true that emails are often preferred because of environmental issues. However, you can minimize your impact by choosing recycled paper, sending direct mails only in your region, using sustainable ink, etc.