An abandoned shopping cart occurs when a potential buyer goes through the online shopping process to purchase an item but drops out of it without completing the purchase.
In other words, the item to be purchased is left "abandoned" in the shopping cart and the transaction is not completed.
What is Abandoned Cart Recovery?
Abandoned cart recovery is the process by which online businesses and e-commerce retailers reach out to shoppers who have items left behind in the carts, to come back and complete their purchases.
This could potentially serve as a huge opportunity for retailers to recover lost revenue.
Studies show that on average, 76% of shopping carts are abandoned by shoppers online every year. The main reasons why retailers aim for abandoned cart recovery are listed below.
Main Reasons Why Retailers Aim for Abandoned Cart Recovery
Reduce Loss of Revenue
Since cart abandonment could lead to a significant loss of revenue, most online retailers look to implement an effective strategy in order to bring back abandoned cart users.
Only retargeting through social media platforms such as Facebook and displaying retargeting ads may not work.
Therefore, a structured recovery strategy has to be put in place in order to recover lost sales effectively.
Cost Factors
Another major reason to have a good abandoned cart recovery strategy is that the cost of acquiring a new customer could be much higher than the cost of recovering an abandoned shopping cart.
The existing customer who is already in the loop could be easier for the retailer to lure by offering customized deals since it is known what the customer is looking for
Research has proven in the past that around 75% of shoppers who abandon their shopping carts, more often than not, come back to complete their purchase.
So no effective cart recovery strategy could mean ending up leaving money on the table.
How to Recover Abandoned Carts?
Most e-commerce brands implement certain strategies to recover abandoned carts. Listed below are some methods of abandoned cart recovery.
Step 1: Send an Abandoned Cart Email
Emails are a part of e-commerce marketing.
Abandoned cart emails are sent to customers when they leave something behind in their cart and fail to check out. It serves as a reminder to nudge the customer to complete their purchase.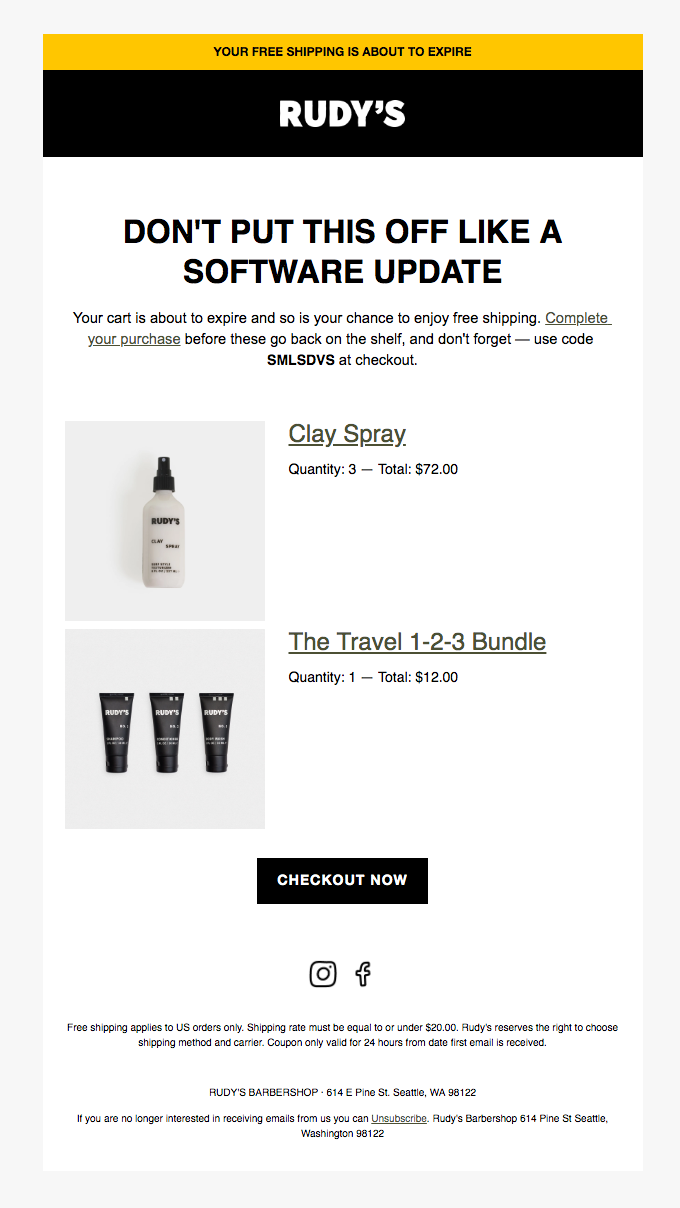 They are responsible for an increase in the ROI, as customers begin to go back to your website and complete their purchase.
Abandoned cart emails should be strategically created and developed to attract the target customer.
You can either use a ready-made template or you can hire a professional to craft the emails for you.
Essentially, they should be structured using:
A catchy subject line
Personalized email
Well-written content
Pictures of the images left behind
Alternative options
Easy navigation to the cart
Five-star reviews.
Step 2: Opt for a Drip Campaign
Timing is an important factor when it comes to abandoned cart recovery.
The drip campaign is a series of emails that are sent to customers to help them make a purchase.
Subsequent emails are necessary when the customer does not react to the first email. Here are some tips to keep in mind:
Send the first abandoned cart email within an hour after the customer abandons the cart
Instead of pushing sales, ask if the customer faced any technical glitches
Send the second email about 24 hours after cart abandonment and ask if there were problems with the order
Finally, send the last email between two to seven days after cart abandonment
The last email will push for final sales as it's the last attempt to recover abandoned carts
Include discounts in the last email.
Discounts are a good way to retrieve abandoned carts and push sales.
It is a popular tactic when customers feel that they are getting a "good deal".
You can use it for new customers once or twice but when used all the time, they tend to lose their charm (and your money).
When you keep offering discounts especially to the same customer, they tend to:
Expect it all the time
Wait for prices to fall even further.
Other than this, regular discounts devalue your products over time and reduce overall profit margins.
Step 4: Make shopping easy
One of the most important factors when it comes to e-commerce shopping is that customers find it easier to shop when the website is smooth. Certain ways to make the process easy is by:
Making navigation between the store and cart easy
Showing how much more is left when checking out
Including an item of the image when checking out
Make it possible for customers to access the cart from all devices
Include options for different modes of payment.
The key is to entice the customer to go through with the purchase so that cart abandonment is reduced.
Step 5: Build loyalty
One way to bring back customers to your website and encourage them to complete their purchases is by leveraging brand loyalty.
A good way to do this is by offering rewards for all customers who sign up with your brand. Maybe give a discount for customers who first sign up and get them hooked.
Listed below are simple steps to keep in mind when customers who have signed up with you abandon their carts.
Determine how many points are equal to a discount. For example, 100 points are equal to a 10% discount
Create a separate segment in your marketing email software for those who have over 100 points
Send a different email to customers with over 100 points and remind them that they have something left behind in their cart
Don't offer a discount, but rather show them that they can use their points to check out.
Recovering abandoned carts is important in increasing sales, and getting customers to complete their purchases. Following the above-mentioned tips will surely help to reduce abandoned carts.
Further Reading