Consumers, both online and offline, have grown to want and expect relevant and tailored content and experiences.
When asked to pick one feature that will be most essential to email marketing in the future, it's not unexpected for the answer to be personalization.
One of the best ways of personalization for customers is using personalized eCommerce emails.
What is a Personalized Ecommerce Email?
Personalization is a broad concept that encompasses a wide range of sophistication. In the context of email marketing, personalization refers to the process of tailoring an email campaign to a specific subscriber based on the data and information you know about them.
Email marketing software and agencies have tools to do that.
Email customization may be as simple as including a subscriber's name in the subject line, or as complex as altering the content of an email based on a subscriber's data, such as:
Gender
Location
The most recent thing they purchased
How many times they log into your app
Or other details.
Types of Personalized Emails
Welcome Email
A personalized welcome email series is intended to help people become more acquainted with your brand.
They accomplish this by reminding subscribers how and why they were added to your mailing list, establishing the tone and expectations for future emails, and promoting interaction with your brand and communications.
Offer Emails
An offer email is any email you send to your subscribers that includes a:
Discount
Coupon
Free shipment
Training
Or any other limited-time offer.
Personalized offer emails may be used to increase sales, attract new subscribers, and reward returning customers.
New product emails
The new product announcement email is another type you can send to your email list on a regular basis.
People who want to be the first to possess the latest gadgets respond best to new product emails, and it's even better when you utilize personalization to bring the right items to the right people.
You can simply discover them using your analytics tools and execute a campaign that is especially targeted for them.
Birthday emails
Everyone wants to be acknowledged. That is why sending birthday emails to your consumers is great. Customers will not only feel valued, but they will also spend more money in your shop.
Research shows that birthday emails with personalization are reported to earn over 300 percent more money than commercial emails.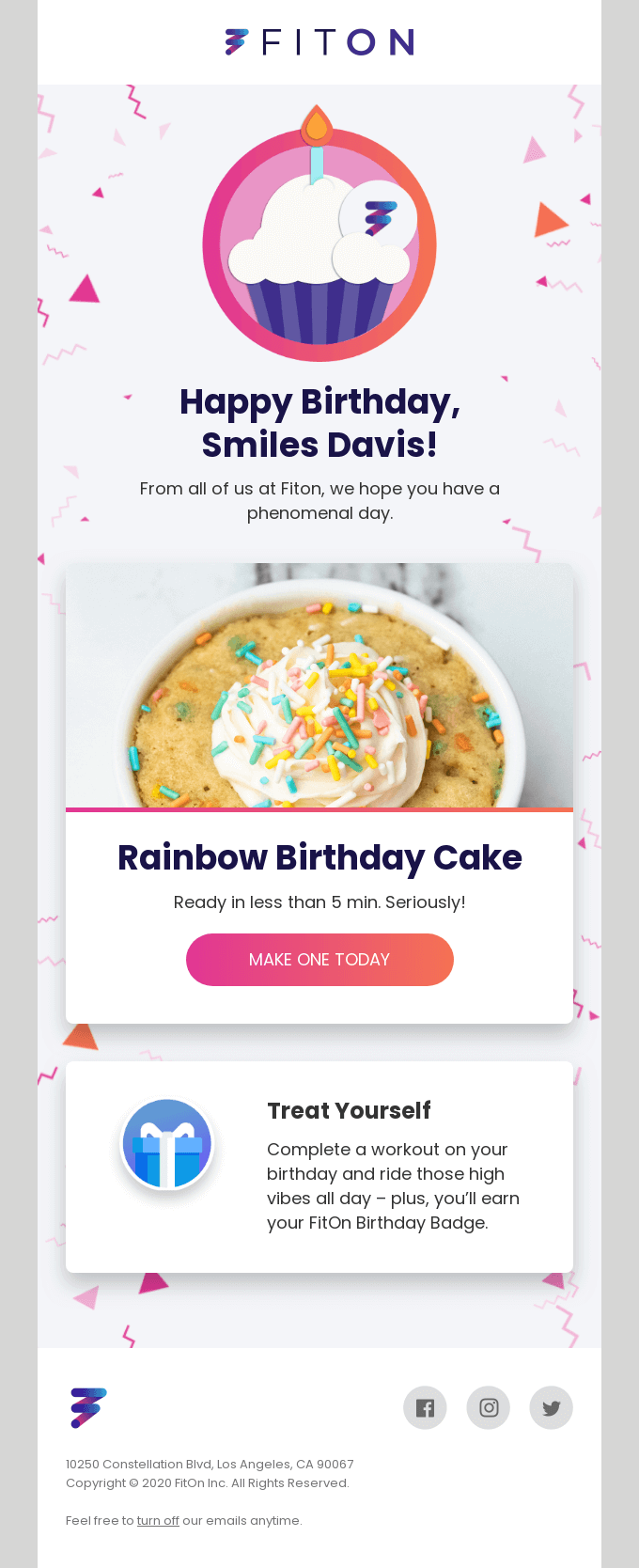 Abandoned cart email
Send a cart recovery email campaign regardless of why your consumer failed to finish the checkout process.
Cart recovery emails had a 43.3 percent open rate, according to studies. You may customize a cart abandonment email and offer the consumer an option depending on their preferences.
Holiday emails
These are email marketing delivered throughout the holiday season, as the name implies.
Personalize the email, including special offers and coupons, and your customers will return for more.
Benefits of a Personalized Ecommerce Email
Listed below are some benefits of personalized eCommerce emails.
Higher sales
According to research, tailored email content produced based on onsite data from each of your clients may generate a six-fold increase in sales over standard bulk emails.
Products recommended in personalized eCommerce emails are based on the customer's onsite history and thus the email chosen for them is uniquely depending on their specific preferences.
Lower unsubscribe rates
No one wants to get unnecessary information in their inbox.
When you personalize emails, you can dramatically reduce unsubscribe rates by providing the correct items to each of your clients.
Customers that are provided items that are relevant to them will love to get emails from you. It seems like you're saving them the time and effort of conducting product research. Essentially, you're merely providing them with the finest options.
Higher conversion and sales rates
Studies show that consumers who get customized email campaigns are four times more likely to make a purchase than customers who receive other marketing channels.
This is because they are already presented with the most relevant items and can make an informed decision right away.
Brand affinity and social sharing
Customers who have had a personalized eCommerce email experience are more likely to tell their friends and relatives about it.
Customers who are satisfied with a company or product may post their good feedback on social media, increasing the brand's or product's reach.
Less expensive option
Personalized eCommerce emails provide dynamic information that is entirely dependent on real-time data gathered from the recipients' online activities.
Personalized emails will automatically discover the most relevant items for each client and send them out at the appropriate time, saving you time and effort.
Personalizing emails is less expensive than marketing messages, which may be costly and time-consuming.
How to Personalize Your Emails
Use the following methods to personalize eCommerce emails.
Email lists can be segmented
You may start sending carefully targeted and tailored email campaigns by segmenting your email lists into smaller groups.
Use important information to categorize your subscribers by asking them relevant questions in sign-up forms.
Segmentation might be based on:
Geography
Birthdate
Sort of service the client is particularly interested in
Attendance at events
Downloading of content
Last purchase date and kind
Pages they go to
Use the first name
When it comes to personalizing emails, the first thought that usually springs to mind is to address the recipient by name.
This gives your email a great finishing touch and is a simple way to start personalizing your content.
However, it's important to strike a balance and avoid using the term too frequently, as it might come off as unsettling.
Create a standout
With a unique personalized message, show your clients that you know who they are.
For example, you might send happy customership anniversary cards, birthday wishes with a discount voucher, or a unique incentive to your top customers.
Show relevant products
Encourage a customer to buy by only showing the items that are relevant to them. Keep track of their prior purchases, so you may provide suggestions based on their preferences.
For instance, the consumer who purchased a couch from you is unlikely to need another one straight away, but they may be interested in chairs or other pieces of furniture.
Product suggestion emails are typically well-received if the recommendations are well-thought-out and the receiver is satisfied with prior purchases.
Examples of Personalized Ecommerce Emails
Example of a Retention Email Design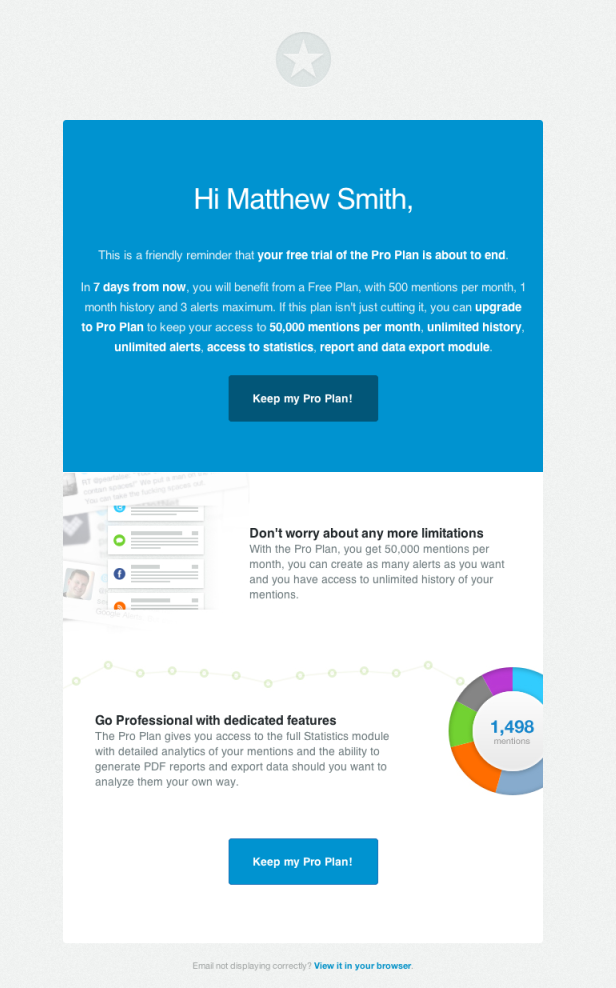 The email directly addresses the person by name.
Net's email template is simple and direct.
It tells the person when the "free plan" of the company's service is ending.
They establish a strong hierarchy of information by splitting the email into two areas.
The top of the page is a clear call to action to continue using your Mention product.
In the text below, the real substance sells on the worth of their service.
The lower level is laid-back but visually attractive and prompts the customer to go ahead and subscribe with the "pro plan".
Example of a Personalized Stats Email

The email from Spotify is simple and attractive.
It tells the receiver that their favorite songs have been made into a list.
It shows exactly how many minutes of music was played, the number of artists listened to and the number of unique tracks listened to.
Other than this, top tracks, top artists, and top genres are shown.
This makes the customer feel like Spotify has selected personalized tunes and artists, especially for the customer.
Personalized eCommerce emails are a great way to get potential customers and existing customers rooting for you! Use it well, and you will notice a significant increase in turnover.
Further Reading
How to Write an eCommerce Thank You Email
The Follow-Up Email for eCommerce: Types and Examples
How to Choose the Best Email Marketing Tools for eCommerce
Email Marketing Strategies For eCommerce: 8 Crucial Elements