While for many consumers Black Friday is one day full bursting with inviting deals, for eCommerce businesses, many weeks of planning and strategizing go into making the event a success.
It's for good reason, too, as last year, online sales on Black Friday reached a staggering $9.03 billion. This was an increase of 21.6% on the year before.
All of a sudden, it seems that Black Friday is nearly here again. So, to make sure you're fully prepared, it's a good idea to start thinking about your email campaigns sooner rather than later.
Email campaign creation is a long and complicated process. The key is to streamline it – so you know exactly what you need to do at each stage. We have a Campaign checklist, where we share step-by-step instructions on how to create your campaigns in a more efficient way.
With top-quality Black Friday email content and subject lines sent out in the right way and at the right time, you'll be more likely to hook consumers in and beat competitors out.
4 Top Tips for the Perfect Black Friday Email Content
Content is king when it comes to your Black Friday email marketing campaign. You could have the most exquisitely designed and perfectly scheduled blasts. But, if the content is all wrong, you're unlikely to get anywhere.
To create the best possible campaign, check out our tips on how to structure, write, and organize your Black Friday email content!
1.
Length and Depth
The information you provide is crucial. As such, your content must be the right length. Go overboard with details and you risk boring people.
Provide too few, however, and your target audience won't get an adequate insight into what your offers are and how to access them.
Be clear, be catchy, and be a little bit different with your Black Friday email content. Your customers will likely be getting bombarded in their inboxes. So, stand out with a strong brand voice and killer offers, all packaged in an eye-catching, easy-to-understand email.
Then, as the big day rolls on, you can start to up the sense of urgency with sharper, snappier content. Let your customers know when "the sale is almost over!" or "time is running out!"
You can set up flows to ensure those emails reach people at the exact right times, which will help to keep your sales consistent throughout the day.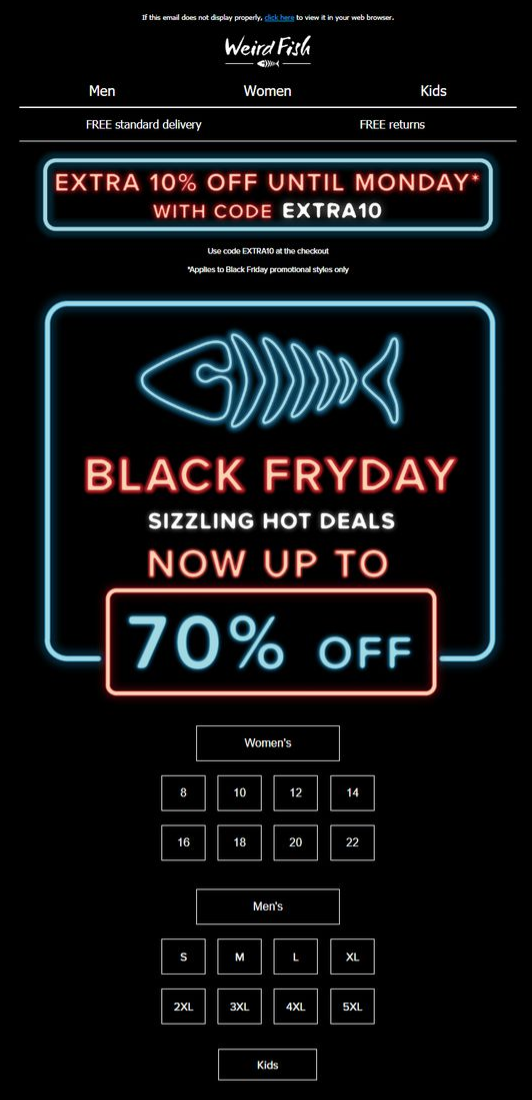 2.
Structure
The structure of your Black Friday email content is similarly important. Start by highlighting your main offer with a bold, branded banner, and include a couple of brief columns of attention-grabbing offers.
Always make sure there are CTAs strategically positioned throughout your email, too. This will give your readers plenty of opportunities to jump straight to the offers on your site that appeal most to them.
And, whatever you do, make sure the whole thing looks tidy. This is probably old news to you by now, but it bears repeating: keep fonts aligned, make sure all text is clear and consistent, and ensure your images are properly formatted.
3.
Style
The style of your Black Friday email content should be driven by your brand's image. So, use the colors that customers have come to identify you with, speak in a tone of voice they're sure to recognize, and include the artwork and imagery that best represents your products.
In addition, you can express your brand identity through things like font choice, original subject lines, and unique design elements.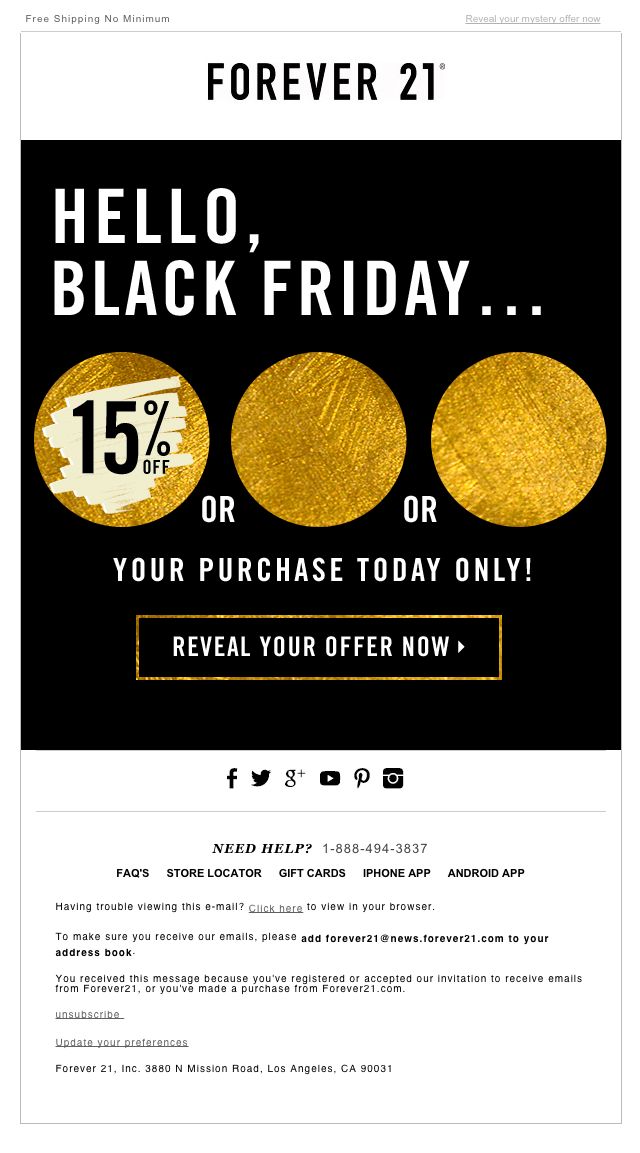 4.
Timing
Even though, as already mentioned, a well-scheduled email is nothing without quality content, timing plays a key role in making the content of any email successful. You can't just send one out at the very end of the day and expect to get the best results.
Set up flows so that your Black Friday email campaigns send out at tactical points throughout the day.
For example, you could kick things off with an email that arrives just before your ideal audience wakes up, another "in case you missed it" email in the early afternoon, and a more urgent reminder in the evening.
Keep in mind that, on Black Friday, email open and click rates tend to be at their very highest. Make the most of that by planning your campaigns from start to finish and ensuring each arrives at the best possible time.
Your Black Friday Email Content
Black Friday is the single most important sale for any eCommerce brand. Check out our Black Friday checklist to make sure you have everything ready for the big day.
Creating the perfect, punchy Black Friday email content can be fairly straightforward if you know how to do it. Follow these top tips from start to finish and your email campaigns will be short, sweet, and superb at attracting from morning 'til night!
Further Reading
8 Tips to Choose a Perfect Black Friday Email Template
How to Set Up the Perfect Black Friday Campaign on Klaviyo
The Best Day to Send a Black Friday Email
The 8 Types of Black Friday Email Alerts