I would like to discuss Black Friday, Cyber Monday strategy part one case study. It's not only to show what we deliver to our client. You can learn from this and apply the same thing in your business. I know we're almost done with Black Friday Cyber Monday.
However, you can use the same strategy, not only for Black Friday Cyber Monday. You can use it for any kind of a holiday big, holiday promotion, or you can use the strategy for the next year. So either one is fine.
Are you ready for Black Friday, Cyber Monday, and other holidays? Is your marketing strategy set and up to speed with new trends? I'm excited to announce that we released our first Flowium book, which covers the latest email marketing strategies for Black Friday, Cyber Monday and holidays.
Black Friday is the single most important sale for any eCommerce brand. Check out our Black Friday checklist to make sure you have everything ready for the big day.
You can grab your own copy today at flowium.com/holiday. This book will help you to maximize customer growth and revenue throughout the busiest season of the year.
So, first of all, I have this video that I release it last year. I'm not sure how many people implemented, but people who implemented I guarantee got great result. By the way, this is not my strategy.
This strategy I learned from Ezra Firestone and each year we applying and implementing for our clients and we are improving a little bit at changing things. And this year we change it and I would like to show you what we changed and how we did it.
It's not easy to stay consistently creative. That's why we created a full-year campaign content idea calendar, to give us inspiration when we need it.
Build a landing page
First of all but I want to talk about this video to give you general overview of the strategy so you know what I'm talking about. So the idea here is to build a landing page, waiting list landing page for your Black Friday Cyber Monday promotion, and start promoting that landing page as soon as you can, first week of November, middle of October, it's up to you, but basically this is landing page and you are driving as much as possible traffic to that page.
So you can do paid ads to that page. You can send a few campaigns to your current list. You can add banners to your website. You can add banners to the emails in the flow, in the automations and any other marketing channel that I never thought about like organic social media posts and so forth. So the goal is to build the list as big as possible.
Thank you page and confirmation email
And then they're redirect to either a thank you page or a thank you message. And then they will receive confirmation email. So this part, we changed confirmation message. Why we changed it because I was inspired by one speaker at the event, Traffic and Conversion 2021 in San Diego by one speaker, Bear.
He's a CEO of a born primitive e-commerce company and he said, when people are joining either a waiting list or maybe joining some kind of giveaway, which will happen in the future they want to get something right now so everybody feels like a winner.
Delivered the discount right away
So what we did in our updated Black Friday Cyber Monday waiting list strategy, we delivered the discount right away and saying, while you waiting, here's a dollar amount discount, use it in the next 48 hours. And let me show you how it works. And you decide if it was successful or not.
In my opinion it was, but it's up to you to make the final decision. So as you can see, this automation generated additional $20,000 and it's a simple confirmation email, and it was $2.03 per C, which is high for e-commerce industry.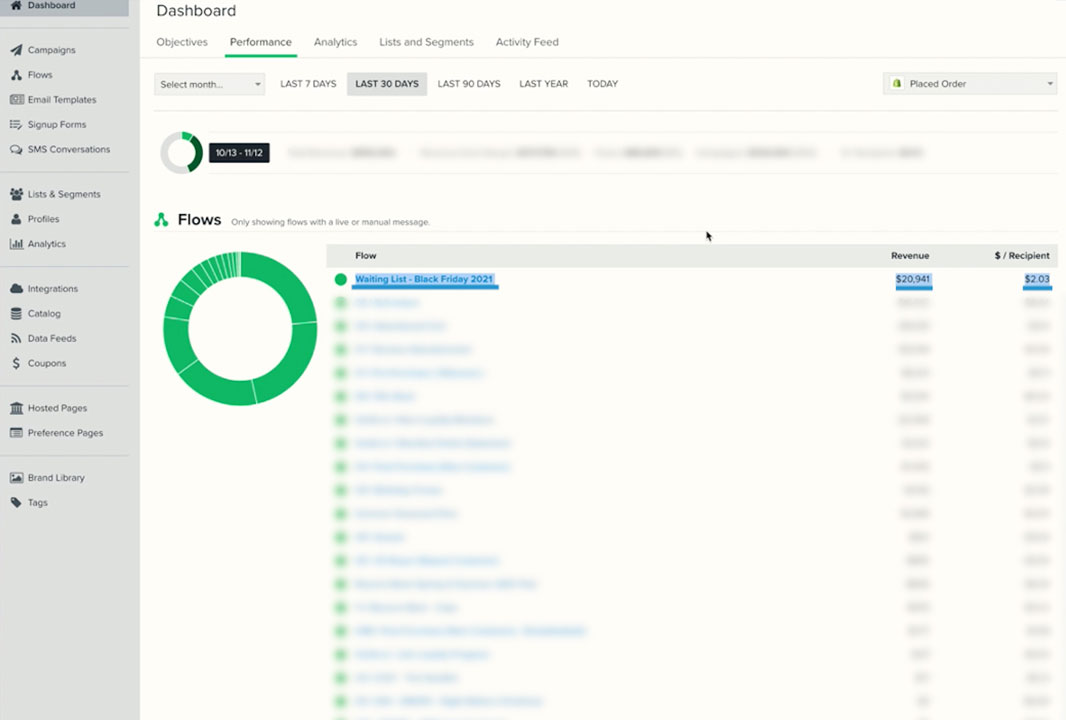 Logic in this automation
So let's check the logic in this automation. And on the landing page we say nothing about the discount so it was not incentive for them to opt in. However, when they opt in to some people we delivered the discount. As you can see, there's three different paths. So this people did not receive any discount. Why? Because they are existing subscribers.
So we just saying, Hey, thank you for opting in. We'll let you know when we have our first sales, you will have exclusive access. And as you can see, the open rate is through the roof, click-through rate, sorry, click rate, click-through rate, click rate.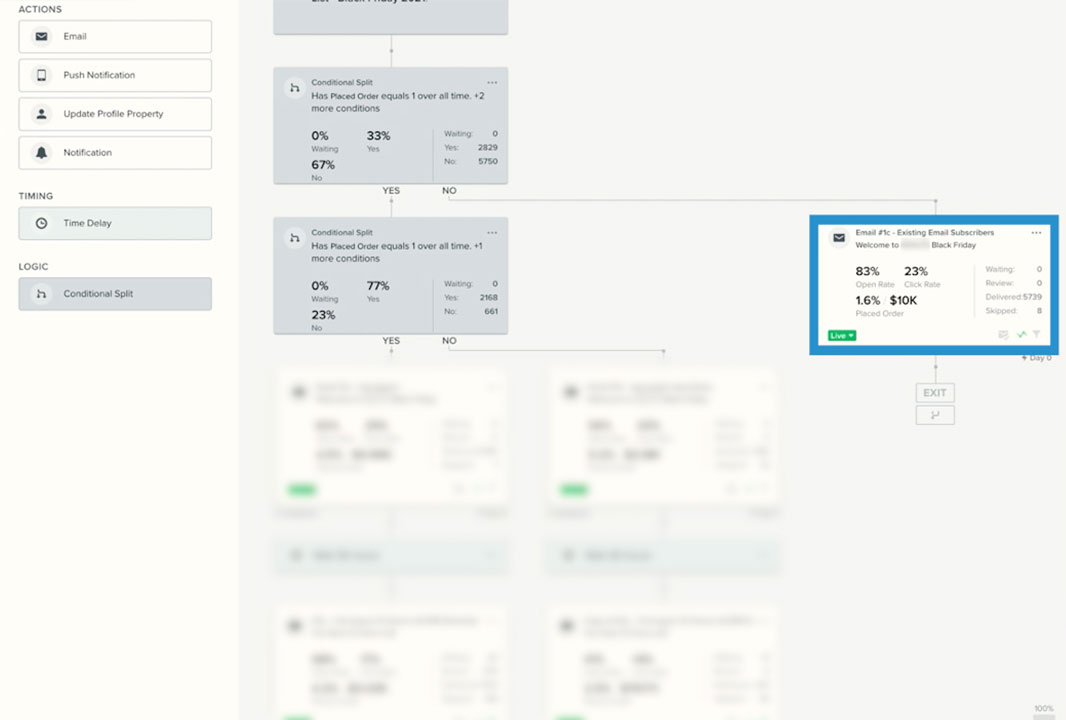 I have another video explaining about what's difference between click rate and click-through rate. It's not the same. Place order 1.6 and additional $10,000. And it was delivered to almost 6,000 people. So 6,000 people opted in, so this people no discount. So no discount. Only those two groups receive discount. And those two set of emails are identical.
We just want to separate and see the performance because this email, we send only to people who purchased one time or two times, and this people we want to send only to new email subscribers, somebody who was not part of email marketing database before they opted in.
And that's why we want to separate them. And as you can see, we collected additional 582 new email subscribers, which looks to me very small. I don't know why. We need to evaluate further. And this is the first part of the case study.
We'll have another video where we go deeper in the future when we are done with Black Friday, because I want to evaluate how much money that small group generated and was it successful or not.
So as you can see, 56% open rate, which is still high, 20% click-through rate, extremely high. 5.2 placed order compared to this it's, as you can see much higher. However, the revenue generated is much smaller, but it's in comparison to this list.
It's high because percentage-wise it's almost three, almost four times higher. Then we wait. So the strategy here. So here we have discount dollar amount discount, and here we follow up and say, Hey, last chance to get the discount.
So it's like, Hey, it's like urgency because it is that discount truly expires in 48 hours. So that's why we were like, Hey, you didn't use it. Make sure to use it. And again, 41% and additional 2.5% of the place order, which is extremely high as well.
As I said before this only went to somebody who already purchased one or two times. And again, high open rate, high click-through rate. High place to order relatively not high revenue, but high place order because it's like only 2100 people receive this. And same thing here is the same strategy, wait 36 hour and the follow-up message.
So you decide if it was successful or not successful. One thing that I personally believe it was not as successful as number of new email subscribers, it was like almost 600.
However, those people converted higher than any other two groups. Why? Because it displaced order like 5.2 conversion rate, and here's 4.5. And this is like 1.6. So as you can see, data does not lie. You must implement this for your next Black Friday, Cyber Monday or any other holiday.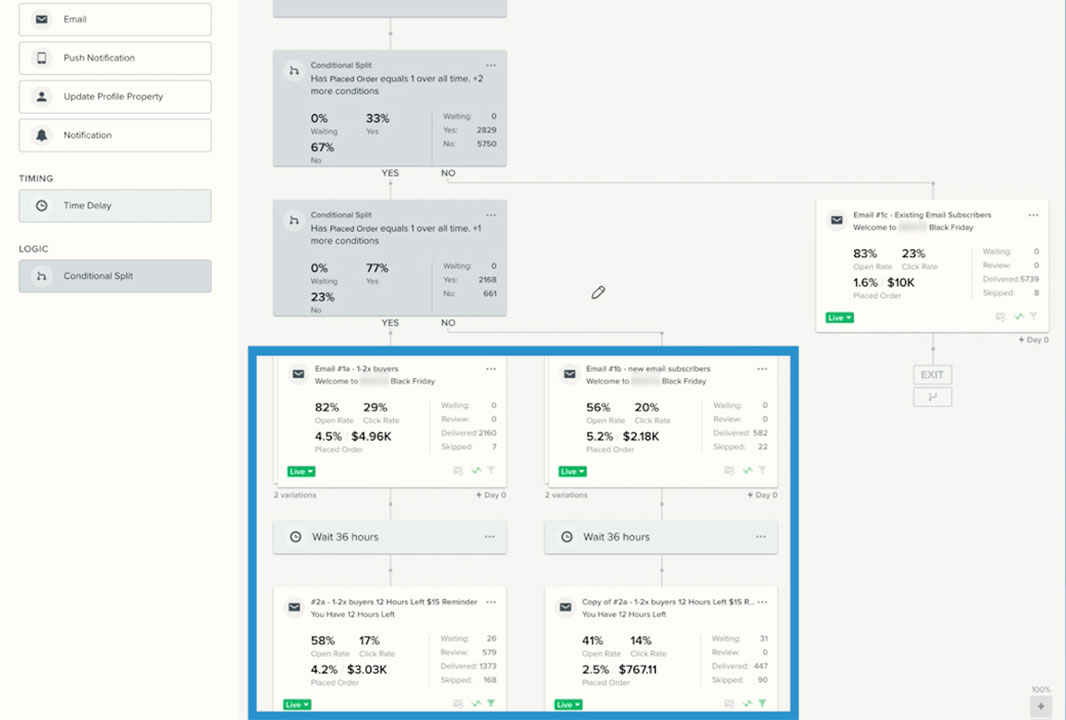 I'm extremely terrible at self promotion. So recently we released this new book and this is like seasonal, but if you have any other holidays in the year, this book does not apply only for Black Fridays Cyber Monday, but does apply for other holidays.
And every year we'll be updating with the new case studies, with the new strategies. And the strategy I just described will be in the new version of this book next year, 2022.
In case you have any additional questions or you have any other strategies, ideas, please leave them below. I'm checking those every day, not responding as quick, sometimes like too much work and I have to do work, but I'm doing my best to respond to all of your questions and comments.
And if you are not a subscriber, please subscribe because we are releasing this kind of videos every Thursday. And also sometimes we have Flowium Explains on Tuesdays as well. Bye.