Abandoned cart emails are a great way to recover sales from what would have otherwise been lost revenue. Research shows that abandoned cart emails account for at least 70-80 percent of revenue.
However, you will need to create an abandoned cart email sequence and send the emails at the right time to your subscribers.
Read on to find out more about when you should send abandoned cart emails and how you can create an abandoned cart email sequence or campaign for your eCommerce brand.
When Do You Need an Abandoned Cart Email Sequence
Studies have shown that those customers who receive multiple abandoned cart emails at intervals are twice as likely to complete their purchase than those who receive only a single email.
An abandoned cart email sequence that is automated is a great way to increase profits.
The Basic Idea of an Abandoned Cart Email Sequence
While you may have several emails as a part of your sequence to remind your customers about their abandoned cart, you should have a minimum of three emails.
These are as follows:
A gentle reminder- The first email should be a gentle reminder to your customer that they have left something behind in their cart. In many instances when it comes to online shopping, people may genuinely forget that they have added items to check out as they may get distracted, or they may consider completing their shopping at a later time. Hence, with the first email, try to frame it more like a reminder with a non-intrusive tone.
Create urgency- The second email that you send should create a sense of urgency and you should urge the customer to complete the sale. Maybe include a message that says, "Hurry! Limited stock. Check out before stock runs out".
Provide an incentive- After you have sent the first few emails, it is time to entice your customer with an incentive as the last resort. Maybe include discounts, free shipping, or free returns. You could include a message like, "10% off just for you!"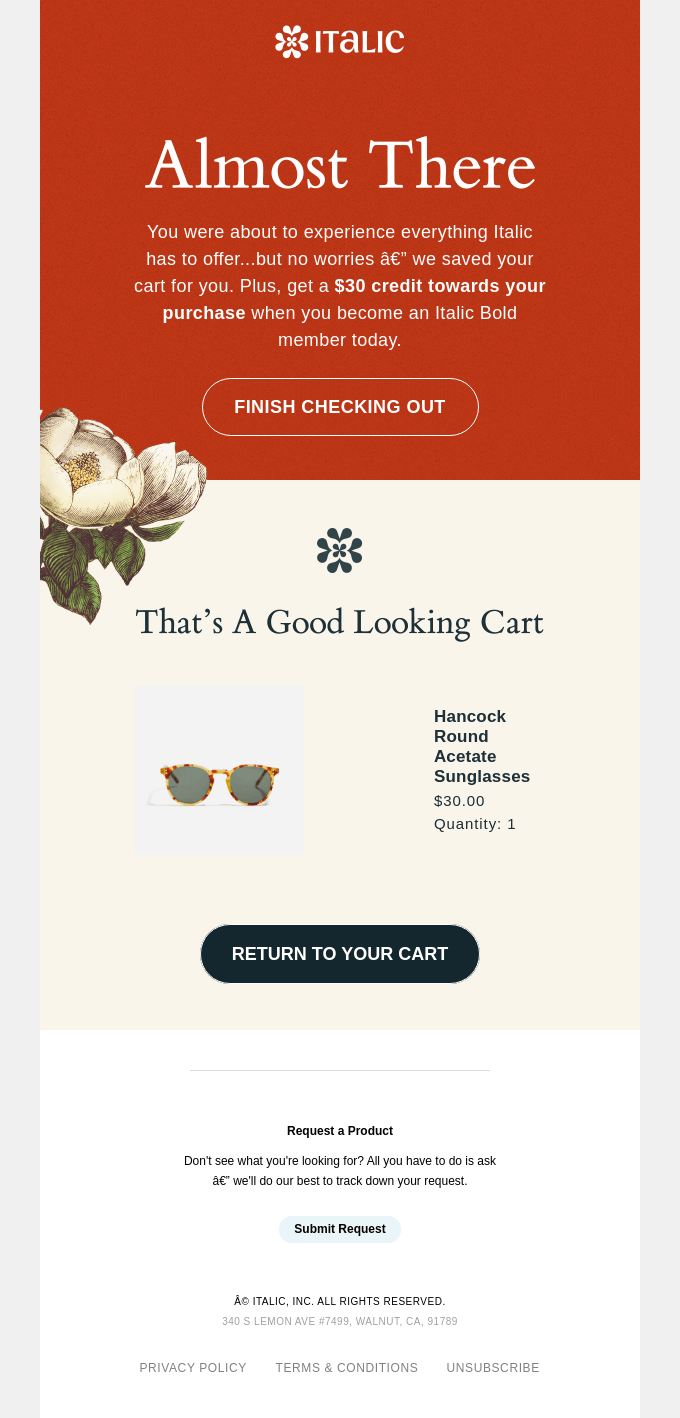 How to Create an Abandoned Cart Email Sequence
Send the first email at the right time
When it comes to sending an abandoned cart email, you should not wait too long before you send the first email as your customer may not be inclined to complete their purchase if too much time lapses.
The first email should be sent one hour after they abandoned their cart. Send the second email about 12 hours later and the subsequent email 24 hours later. Remember not to be too pushy in the initial emails.
Create a good subject line
Abandoned cart emails should always have catchy subject lines. The best subject lines are short and concise.
Some subject lines may even consist of two or three words like,
"Items Left in Your Cart"
"Are You Still Shopping"
"Get 15% Off"
And so on.
Use a good template
Today sending abandoned cart emails is easy as you can automate it and with the right platform, you can use good templates. This will save you the hassle of creating the email from scratch.
Make sure to incorporate your logo, brand voice, and to keep the email authentic. You may also seek the help of a professional to help you create some of the best abandoned cart emails.
Optimize your emails to be viewed on multiple devices
Sometimes customers may not complete their purchase because your website and your email may not be compatible with different devices.
Make sure that your abandoned cart email can be viewed on the desktop as well as tablets and mobile devices.
All customers prefer familiarity with a brand in the sense that your website should look similar across all devices and platforms. This is the same for emails.
Show the abandoned product
It is important to include a picture of the abandoned product in your email sequence since it will raise your customer's desire to purchase. Sometimes customers do not check out because they were unable to find the appropriate product.
As a result, you may assist customers by displaying comparable items, and they may make a decision sooner. Remember to include personalization in your emails.

Add a good CTA button
Your CTA button should be:
Prominent
Appealing
Easy to discover.
Place it alongside the product image or in another great position so that the consumer can complete their purchase easily.
This will allow them to check out fast and prevent having to create several pages for checking out.
Add customer support to your emails
Including customer service demonstrates to your customers that they can rely on your brand, and you should provide your:
Email address
Phone number
Live chat option
Or other methods of contact.
Perhaps your consumer was unable to finish the checkout process due to a technical glitch.
Make it simple for people to contact you and respond to inquiries concerning shipment times, refunds, and the goods themselves. You may also include a general FAQ section in your emails.
Use social media proof
If your e-commerce firm is small or new, a consumer may hesitate to finish the checkout procedure because they are skeptical of your company's credibility.
You may improve your brand by employing social proof and displaying feedback from other shoppers.
Abandoned cart emails are a very powerful marketing tool that you should use. However, there is no magic number when it comes to how many emails you should include in an abandoned cart email sequence.
As mentioned before, you should send a minimum of three emails in your series within the space of a few days.
Include incentives such as free delivery, coupons, and discounts, but most importantly, create a sense of urgency and attempt to finish the deal as soon as possible.
It may take some time to get this perfect, but once you've figured out a strong technique for abandoned cart emails, you should have no issue. Instead, you will notice an increase in return.
Further Reading
How to Craft an Email Drip Campaign for eCommerce
Cold Email Marketing Campaign for eCommerce: The Perfect Guide for You
What Is an Email Nurture Campaign? The Complete Guide
Email Marketing Campaign: Examples and Writing Tips