This post was originally published in October 2020 and has been updated in July 2021 for readability and accuracy.
Black Friday is only second to Cyber Monday when it comes to online shopping. Consumers spent $9 billion securing online deals in 2020, which increased from $7.4 billion the year before.
In-store sales were down in 2020 due to the coronavirus pandemic but are expected to rebound in 2021. Even during a down year, consumers spent an average of $312 each.
Why Do We Need Black Friday Email Campaigns?
Whether you are promoting an online or in-store deal, running an email campaign is critical.
There are three simple reasons why email marketing is a perfect channel to use for Black Friday and Cyber Monday:
It is your own marketing channel
Email is cheap
Email is the top converting channel for eCommerce
Email marketing, when done right, generates an average of $44 ROI for every $1 you spend. That way, choosing email as your primary marketing tool for BFCM will allow you to cut the rising cost of paid advertising.
It's not easy to stay consistently creative. That's why we created a full-year campaign content idea calendar, to give us inspiration when we need it.
Another good reason to choose email marketing over any other channels is the fact that you can automate all your communications for the holiday season, which will allow you to focus on what's really important: shipping and fulfillment, customer service, and returns.
For a successful Black Friday email campaign, here are some tips to follow:
6 Best Black Friday Email Examples: Pros & Cons
#1. Italic – Sales with (positive) impact

Italic is a membership-based retailer that sells luxury bags, clothing, and home goods at cost, without the middleman markup.
This is the email they came up with.
PROS
This email is exemplary – for several reasons.
First of all, what you notice immediately is the clear purpose of this email: "Last Call: Free Shipping".
The "Last Call" part adds urgency. Urgency is the key to successful holiday marketing campaigns.
And as for free shipping, it's the thing that every customer will appreciate more than any other offer during holidays.
Put yourself in the shoes of a customer – during Black Friday, when you're buying so much and spending lots of money already, the last thing you want is paying extra for the shipping.
In fact, the cost of shipping is one of the top reasons eCommerce customers abandon their carts (Check our shipping software comparison to reduce shipping costs).
In addition to that, Italic clearly knows their audience and what matters to them. On top of their offer of free shipping, they seal the deal with an offer their audience will appreciate – donating 10 trees "to offset the industry's impact on the environment".
CONS
While the CTA text is great, Italic could've made better use of the CTA button itself. Not very bright, with the same-sized font as the rest of the text, it blends in and doesn't call so much attention.
Overall, the colors used in the email feel very calm and relaxed, which defies the very purpose of the email – communicate the urgency.
While too much color wouldn't be good either and, apart from that, would be inappropriate for such an elegant brand, Italic could've used the bright green they use in the header in other parts of the email, for example, in the button CTA.
The biggest con is the fact that the email it's very light. Why? It's not optimized for dark mode. In any case, it's good they didn't use white but rather a less glary peach, but it might be an issue for those customers who are more used to dark backgrounds on their screens.
Use for your email: a relevant offer customers can't refuse, urgency, short clear CTA with an urgency factor (shop now), clean elegant design, copy that's short and sweet, clever offer strategy with impact, knowing the audience
Overall score: 4/5
#2. Article – Less is more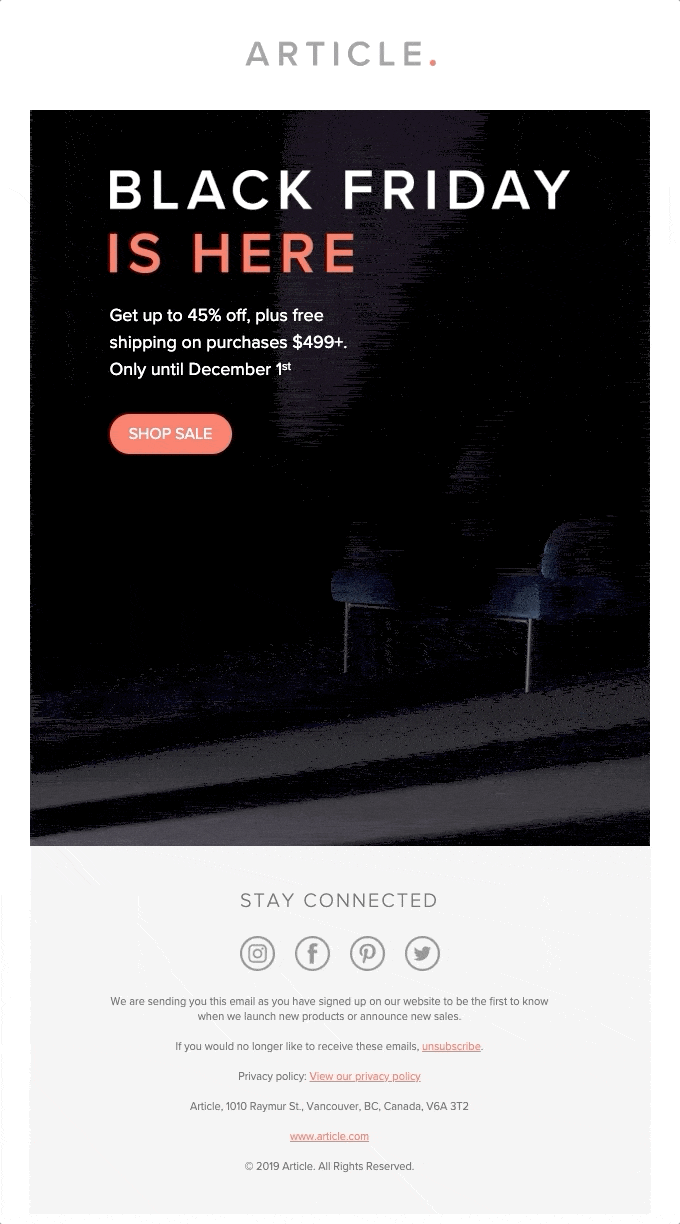 Article is a chic furniture brand that offers stylish modern, mid century, and Scandinavian furniture from world renowned designers at accessible prices.
Here's their take on a Black Friday email.
PROS
Fun and intriguing at the same time, the gif leaves you wanting to see more.
Playing with the theme of Black Friday is a good idea that will help you stand out among hundreds of other emails your customers will be receiving.
The email has a minimalistic and clean design. There's no extra noise that would take your attention away from the main offer.
Article also placed a clear straightforward call-to-action. Putting it in a button is a good idea as button-based CTAs are 28% more effective in terms of Click-Through Rate. And extra points on the great use of color – the coral in the text coincides with the coral in the button CTA, which is a proven tactic to get your customer's attention.
Another pro is that it's an email that's perfectly optimized for dark mode.
CONS
Article could've done a better job with the banner. Banners and headers are a must in Black Friday emails since people tend to click on pictures and banners more than on simple text. Placing a banner gives you another chance to bring your prospects and customers over to your website where the conversions happen.
While the email overall is optimized for dark mode, the header and the footer aren't. So when someone with a dark mode opens their email on mobile at night, the first thing they'll see will be a screen glaring with a white header.
Last but not least, the gif is a very fun idea. Especially in this case, because Article wanted to create mystery around which items they were going to put on sale for Black Friday, this was a clever way of building excitement.
But there's one downside to it. When you do something like this, proceed with caution because some of your customers might have images turned off for their emails and in that case, your email won't display correctly.
Instead, slice your design in blocks, make it responsive, and use dynamic design templates native to your ESP.
Also, if you go with a template like this, you might not be able to optimize some of the text in this email as the copy in the smallest font might not be legible on mobile.
Use for your email: a clear CTA placed in a bright button, clean design optimized for the dark mode, short and straightforward copy
Overall score: 4/5
#3. BOOM! by Cindy Joseph – Early bird gets the best deal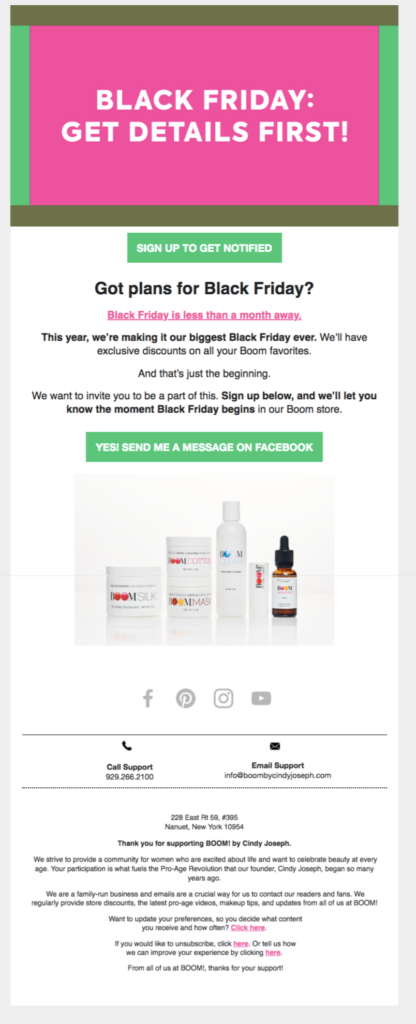 Boom! by Cindy Joseph is an organic skin care and cosmetics brand, whose target audience is women of older age.
Boom's head of digital marketing is Ezra Firestone. For those of you who don't know him, Ezra Firestone is a founder and creative director at Smart Marketer, AKA the guru and north star of email marketing. In fact, many things we learned and still apply for our clients at Flowium, we learned from him.
That's why finding cons for this example is going to be a tough task.
PROS
There are many reasons why this email is exemplary, but probably the biggest one is its offer strategy.
Ezra Firestone is famous for his signature early-bird strategy he uses for any major holidays. The main premise of this strategy is reaching out to your customers before the holiday comes around. There are many components to this strategy and email plays a central role.
This email uses a dynamic email template, meaning that if whoever receives it uses dark mode for their email, they'll see it with a dark background and white text.
It also has strong copy that's short and on point. With every sentence, the message becomes even more clear and Boom does a great job building excitement.
A relevant header followed by a button-based CTA is a great idea as not everyone who gets your email will read it through. Placing the CTA right under the header increases your chance of conversion.
This example below isn't from the same email, but it is from the same brand.
In their regular newsletters, Boom uses these banners at the bottom of their emails, to make sure all of their customers know about their early access to sale.
CONS
While button-based CTAs are, as I mentioned earlier, more effective, you shouldn't overuse them. In this case, there are two button CTAs with the exact same style placed very close to each other and it doesn't look very appealing.
The text at the bottom seems too long. With the right play of font, you can make text look more compact. But as it is now, it doesn't seem very effective. Imagine getting an email with this much text at the bottom on your phone.
In any case, despite these minor things, this email is the perfect example of effective Black Friday email marketing.
Use for your email: unique customer acquisition strategy, strong copy, dynamic email template that adjusts to dark mode, relevant banners
Overall score: 4.8/5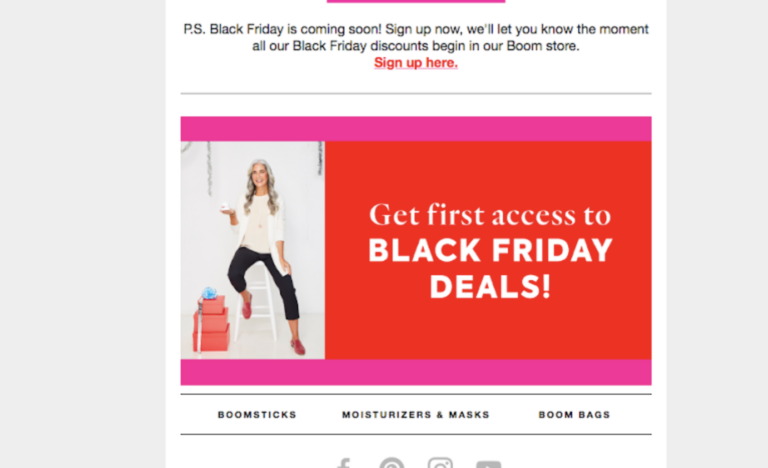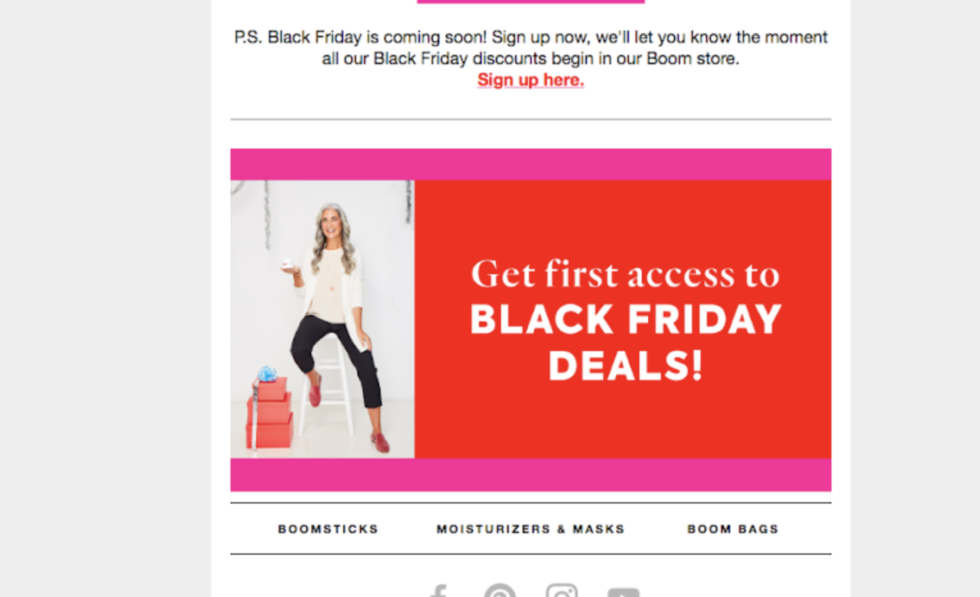 #4. KISSMWAH – Treating VIP customers like you should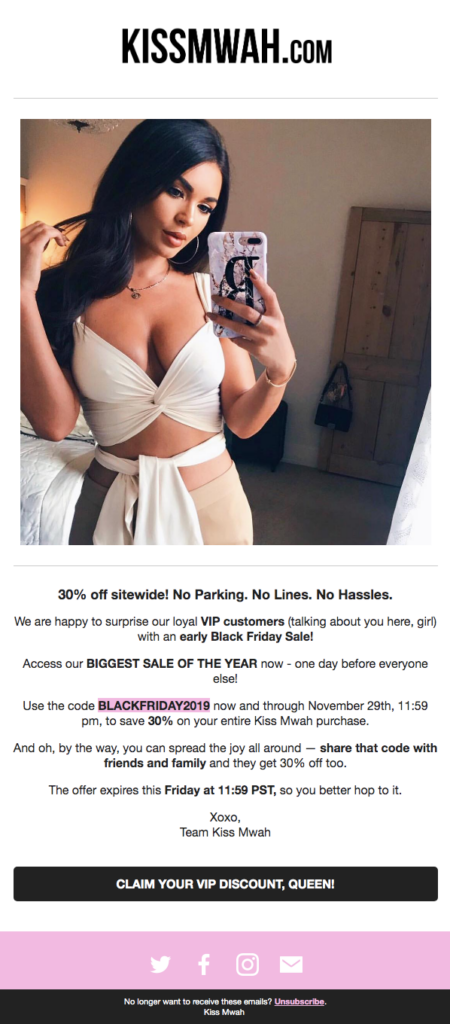 Kissmwah is a glamorous brand that sells custom phone cases.
Here's how they approached Black Friday emails.
PROS
For Black Friday, your most loyal should be your top priority because they have the best chance of converting.
That's why you should reward your most loyal buyers with your most exclusive offers. Kissmwah did just that –– offered an early sale only reserved for their most loyal customers.
Kissmwah went even further by making this coupon part of their referral program: their customers can forward this email to their friends and family and also get 30%.
This offer is strong also because it's time-bound: you can also use this coupon up until a certain day and time.
This email uses strong copy that appeals to the audience. Copy plays an essential role in connecting with your customers, so make sure you sound like your brand but also speak the language of your audience.
CONS
The discount code is placed together with the rest of the text, so when a customer opens an email on mobile it might be hard for them to copy the code. Instead, when sending coupon codes, write them on a separate line.
The center alignment of the text looks good on emails with less copy. But in this case, left alignment might work better for reading purposes.
Use for your email: unique customer acquisition strategy, strong copy, dynamic email template that adjusts to dark mode, relevant banners
Overall score: 4.5/5
#5. Bose – Secret (Black Friday) Santa

Bose probably doesn't need a long introduction as it's a world-famous manufacturing company that predominantly sells audio equipment.
Here's their take on Black Friday emails.
PROS
Perfectly optimized for dark mode, this email is truly a piece of email marketing art.
Bose uses an element of surprise by inviting their customers to "scratch off" to reveal their customized offer.
In addition to that, they reward their email subscribers with early deals to make sure their customers buy even before Black Friday.
CONS
The most important part with a "scratch off" sticker won't show if your customers have images turned off. Make sure you're prepared for a situation like that.
I would also put another CTA below the two button-based ones inviting their customers to check out other items in case they're not interested in the ones offered in the email.
Another thing that could be improved is the footer. "Shop for Bose" is a generic CTA that's not very effective. Apart from that, the text in the footer is quite small which could be a problem when people view it on mobile.
Use for your email: unique and memorable customer acquisition strategy, early offer, optimized for dark mode
Overall score: 4/5
#6. PrettyLittleThing – Playing with time

PrettyLittleThing is a fun and edgy women's fashion clothing and dresses brand.
Here's what they prepared for Black Friday.
PROS
Using countdown clocks is one of the best and easiest ways to build urgency. Just like in this example, make it simple and clearly visible – the main goal is not to make it pretty but rather effective.
It was a good decision to keep the copy short and simple since the design has so many details.
In this email, unlike in the one above, they placed the coupon code on a separate line, which makes it simple to copy and paste it from a phone.
CONS
This email doesn't leave much to discuss. It's simple and although a little too colorful for my taste, I'm sure it was intentional and based on what PrettyLittleThing know about their audience.
In the header, they place many options as if it were a web-store. Instead, what they could've done was place a header specific to this campaign to make it even more effective.
Another thing PrettyLittleThing could've done better is their discount strategy. The email shows the same 30% discount across all items – a bit boring and for an experienced Black Friday shopper wouldn't be that exciting. Using tiered discounts is a more powerful way to approach Black Friday promotions.
Use for your email: countdown clock, straightforward copy, interesting design relevant to the audience
Overall score: 4.5/5
Start Creating Your Black Friday Email Campaign Today
Black Friday email campaigns should include at least three emails.
These emails will:
Tease the special offer
Show the offer
Remind the recipient of the offer
By teasing the offer, you get your Black Friday deal on people's radars. Then, you can build excitement with the reveal. Finally, you need to remind them about the offer so they can add it to their shopping list on Black Friday.
Add Dynamic Content to Create a Sense of Urgency
Dynamic content is an excellent way to build a sense of urgency around your Black Friday email campaign.
For instance, you can send an email with a countdown clock that's activated when the recipient opens the email. The clock shows how much longer people have to claim the offer. When people see the clock getting closer to zero, they'll feel compelled to claim the deal.
You can also create emails with live offers and more. The key is to develop time-sensitive dynamic content so people won't spend time thinking about buying your products. Instead, they will rush to secure the deal.
Segment Your List for Your Black Friday Email Campaign
Countless companies are going to send Black Friday emails. You can cut through the noise by speaking directly to your subscribers. That's easy when you segment your lists.
You can create segments for:
Previous Black Friday shoppers
Leads collected via a Black Friday signup form
Product categories
Engaged leads that have yet to buy a product
Seasonal shoppers
Top customers
Tailor your emails to speak directly to each segment. For instance, you can send Black Friday deals related to the holidays for seasonal shoppers.
When emailing your top customers, consider offering a special VIP offer. This shows that you reward loyalty and gives them another season to shop with you on Black Friday.
The best Black Friday email campaigns aren't pulled out of thin air. They take months of planning. Start planning today, so you will be ready when it's time to send the first email.
Black Friday is the single most important sale for any eCommerce brand. Check out our Black Friday checklist to make sure you have everything ready for the big day.
Frequently Asked Questions
What is a CTA?
CTA means "Call To Action". In email marketing, it is an efficient way to boost the click-through rate. Calls to action suggest to subscribers to click on links to do some action, such as subscribe to social accounts or visit new products on the website. The more catchy the CTA is, the better.
Why Black Friday subject lines are so important?
Subject lines are the first thing people see when they open their inbox. If it's attractive enough, it can make a user click on it. For this reason, many brands brainstorm their subject lines and try to come up with creative and catchy phrases, also including a sense of urgency.
Why do you need to segment your Black Friday emailing list?
All your subscribers are not the same. Some of them are frequent buyers, others just arrived. You cannot send the same type of emails unless you don't want to maximize your sales as much as you could have with a good segmentation. Send VIP mails to your loyal clients, holiday products to your seasonal customers and bestsellers to the newly arrived. This way, each subscriber will receive exactly what they are interested in.
Further Reading
How to Set Up the Perfect Black Friday Campaign on Klaviyo
The Perfect Black Friday Email Content for Your Campaign