No digital marketing strategy is complete without email marketing. Remember that email marketing design allows you to make a professional first impression that lines up with your overall brand imagery.
The savvy design also lets you track metrics, thanks to the links and other data you incorporate into the template. A strong email design will also draw attention and build trust, helping lead to conversions.
To make sure that your email marketing delivers the results you want, you should always make it a point to follow email marketing design tips and email design best practices.
Email Marketing Design Tips to Follow
You don't have to search high and low to find the best email marketing design tips.
We've gathered the most important tips to follow if you want to achieve success. Incorporate as many of these ideas to get inspiration and maximize your conversions.
Also remember that some companies like Design Rush allow you to browse designs from hundreds of agencies!
#1 – Choose a Different eCommerce Email Template Design for Each Type of Email
The first thing you should do is to select a different ecommerce email template design for each different type of email. Some types of emails you will have include:
Newsletter subscription invite

Welcome emails

Abandoned cart emails

Upsell emails

New arrival emails

Survey emails.
By using a different ecommerce email template design for each type, you make it easier for customers to distinguish between them at a glance.
This also helps keep the emails interesting and unique. At the same time, it saves you time, as you will already know what template design to use for each type of email you send.
#2 – Make the Emails Fit the Brand
As you create your overall email design, ensure that it matches the brand. For example, you want to use a similar color scheme and font as another branding, such as your website.
You should also ensure that the emails fit other elements of your brand.
For example, if your brand takes a casual, approachable tone, use that tone in the content of the email. On the other hand, if you try to create a professional feel, maintain that tone in your emails.
#3 – Choose the Layout to Create a Good UX
As you browse your options for an ecommerce email template design, focus on the templates that create a good user experience.
The layout is one important and simple way to enhance this experience. To do so, strategically include white space in your emails and organize the images and content in a way that makes it easy to read.
Overall, your layout and chosen template should make the email easy to read.
#4 – Include Visuals
Part of creating a good user experience via the ecommerce email template design is choosing one that includes plenty of visuals. People will be much less likely to read your emails if they are blocks of text.
Instead, use elements like:
Videos

Images

GIFs

Animations
It will help you to break up the text and make the emails much more readable.

For the best results, ensure that all of these images are relevant.
Instead of relying solely on stock photos, use screenshots or professional photos you have done for other marketing campaigns. You can even break up large chunks of text with strategically placed emojis.
#5 – Always Include Personalization
In today's world, people expect personalization from companies, so many email marketing design tips revolve around incorporating an element of personalization into the design.
Address the email to the recipient by name instead of "valued customer" or something generic

Use a person's browsing or purchase history to decide which products to display on the emails
Segment your audience based on where they are in the buying process, so you can address the unique needs of customers

Add in other elements of personalization based on the data you have.
#6 – Optimize Your CTA
All of your emails will have a specific purpose. Work towards that goal using a call to action at the end.
There are various CTA-specific email marketing design tips to keep in mind, such as making the CTA clear or using an enticing button. You can even personalize your CTAs.
Common Mistakes in eCommerce Email Template Design
Often, companies have in-house designers. All designers are amazing but there are common mistakes among all of them. Simply because we all specialize in different areas, and they are not always email marketing experts.
Three major ecommerce email template mistakes appear most of the time. The good news is: they can be easily fixed.
#1 – With And Without Image View
Have you ever considered viewing your email with tall images hidden?
For example, you have a nicely designed template with five images in your email. You send it to your subscribers, and some of them have disabled images in their inbox. How will your email look like in their inbox?
Let's take this email from MeMoi brand. First, you can see the email where the images are disabled, and following – the same email with images.
The design is very attractive. However, if images are disabled on the Gmail account, the message and the offer will be missed.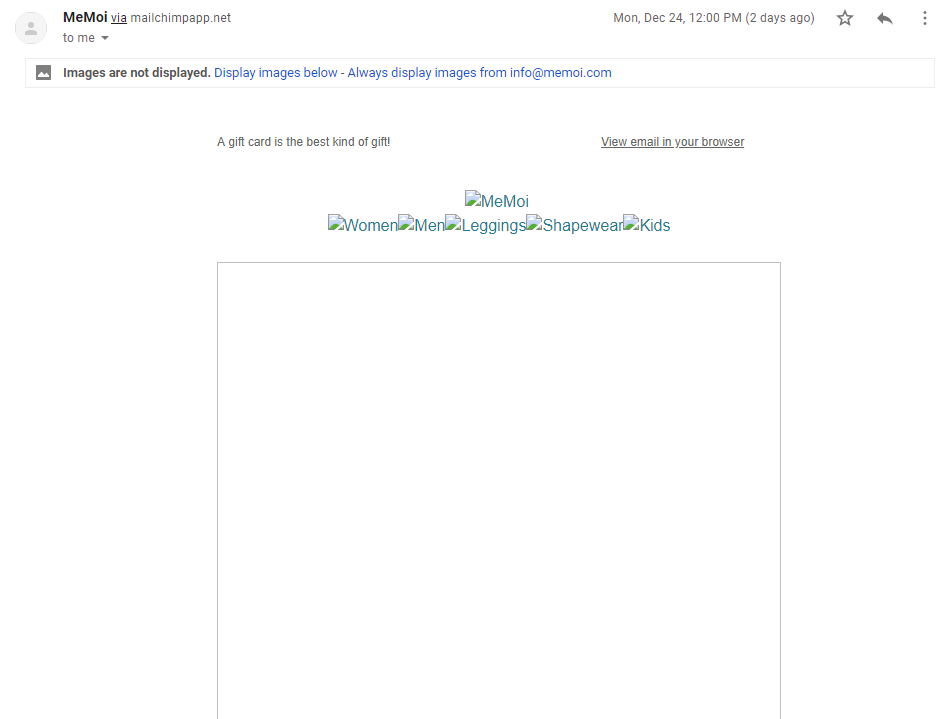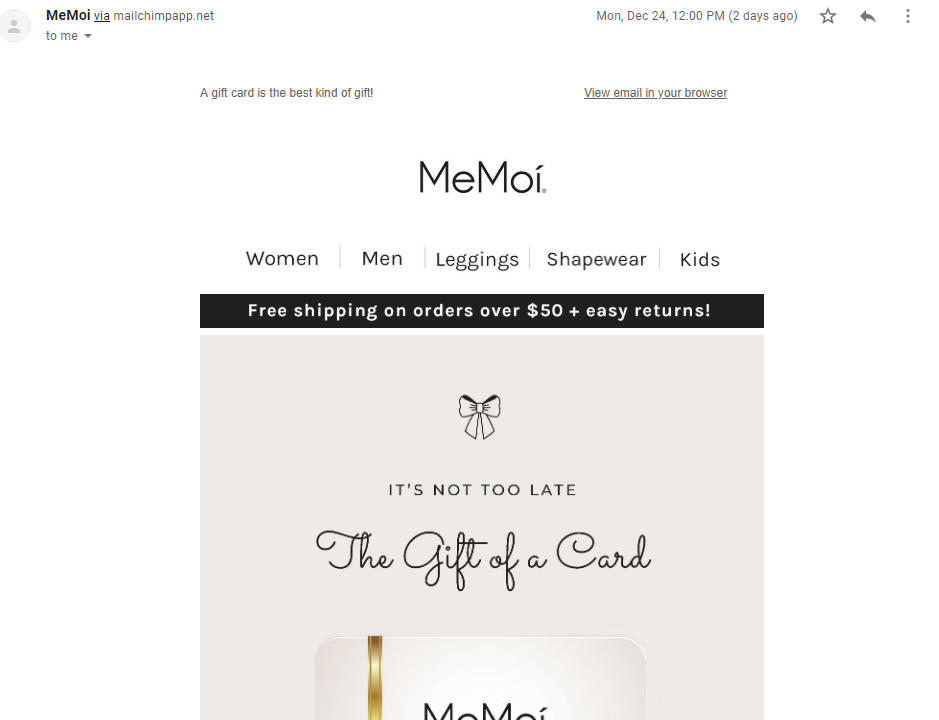 Designing emails, you always need to think about how it will look without images. So how this brand can fix it? They should break down their template into blocks.
Those blocks should consist of image blocks and text blocks. Everything under #1 should be text blocks, and everything under #2 – image blocks.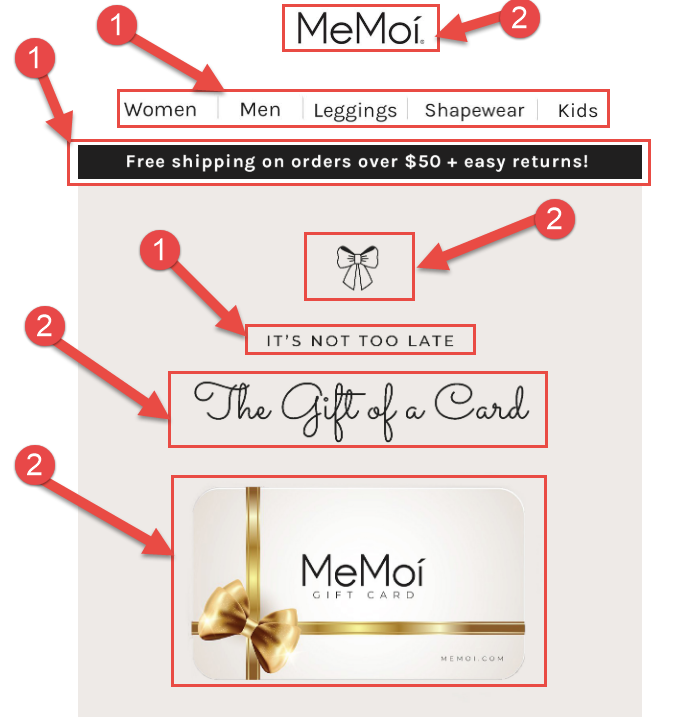 The big taboo is when you design the whole email template in photoshop or illustrator, export it as one image, and send it to your subscriber.
If clients disabled images in their email, they will receive an empty email from you, which means – they either unsubscribe or report spam.
It is the same thing as receiving a phone call and hearing the silence on the other end.
Here is a great example from Cubcoats of the email with no images.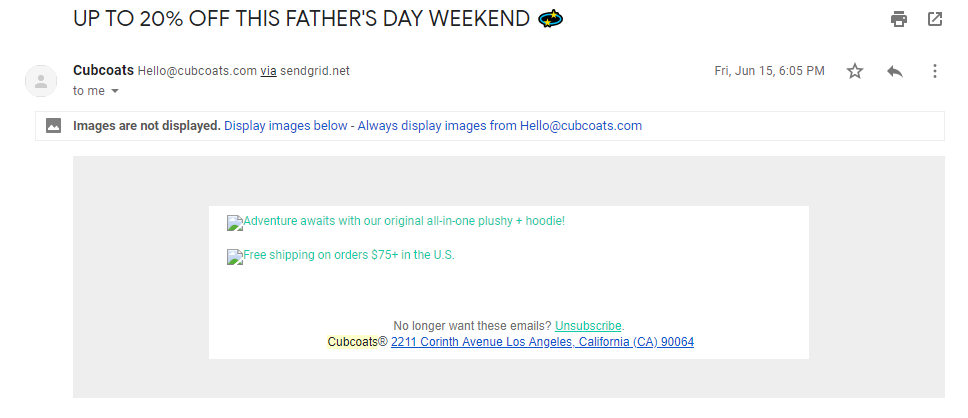 The same email with images looks like this. It is a very cool and nicely designed email. However, it is useless if the receiver has images disabled.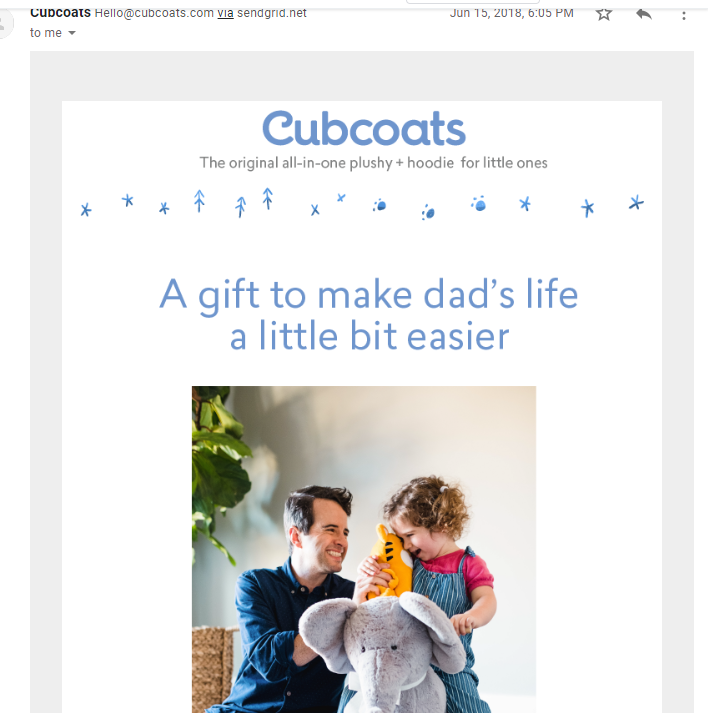 #2 – The Content Is Not Clear Enough
Another important point is the continuation of the message without images. In the example above, the receiver will be able to read the words, but they won't make sense in the context.
The idea of the email is to either educate or sell. If your message is not clear without the images, it will lose the receiver's attention, or confuse them, which will lower the likelihood of them taking action.
A great example of doing a great job of email content with and without images is given by Tony Robbins' team. Let's review their email with and without images.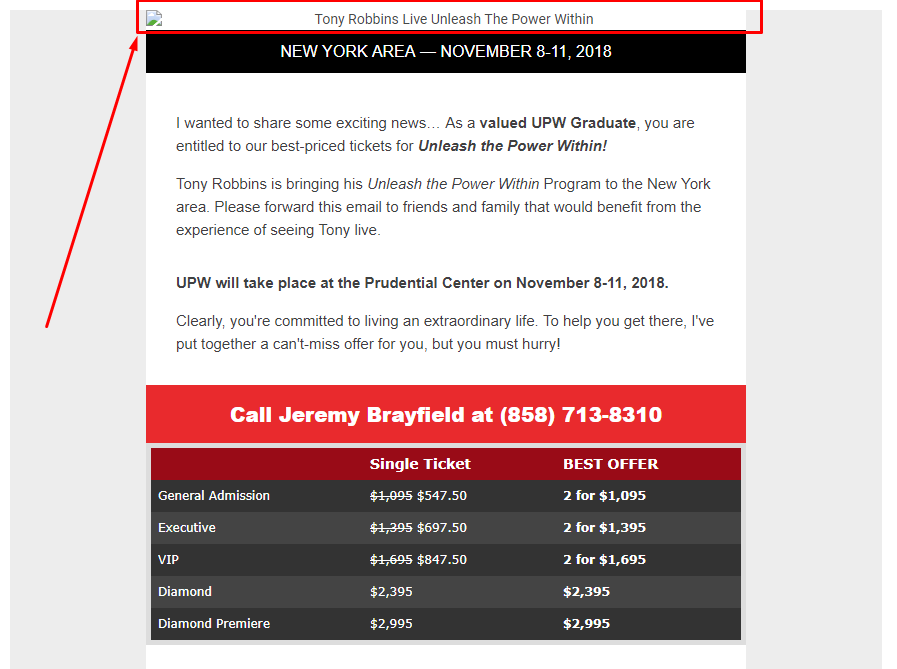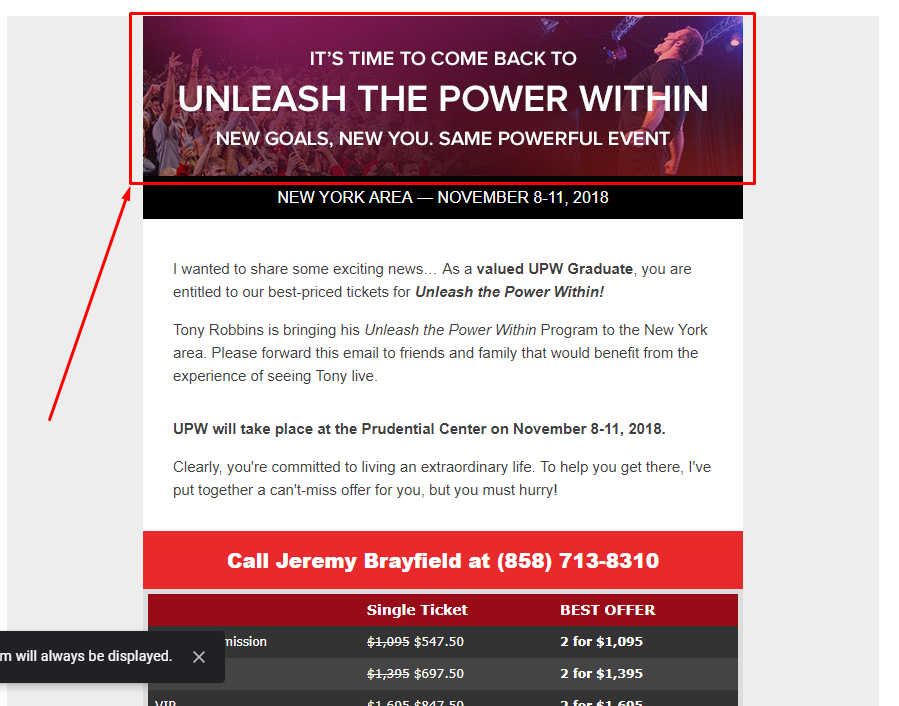 As you can see, the content of the email does not change. It is the same. Yes, the email with an image is more eye appealing, but the content is the same.
#3 – The Template Is not Responsive and the Mobile Version Doesn't Work
How do your emails look on mobile devices? Majority of people design email templates for desktops. It is the default mode.
However, according to EmailMonday, 47% of people check their emails on mobile devices. It means that you need to think about how your emails look on mobile devices as well.
If you use image-heavy emails, the images with text might look not legible on mobile devices. That's why it is always a good idea to have all text as text blocks vs images.
The best thing to do is to ensure that your email is responsive. That means that your email will adapt to fit on any screen size, depending on the device that the email recipient is on. A responsive design ensures that your emails are mobile-friendly. 
Here is an example of an email footer on desktop and mobile devices. As you can see, some of the text on the mobile device is not legible, since it is part of the bigger images. That mistake wouldn't have happened with a responsive design.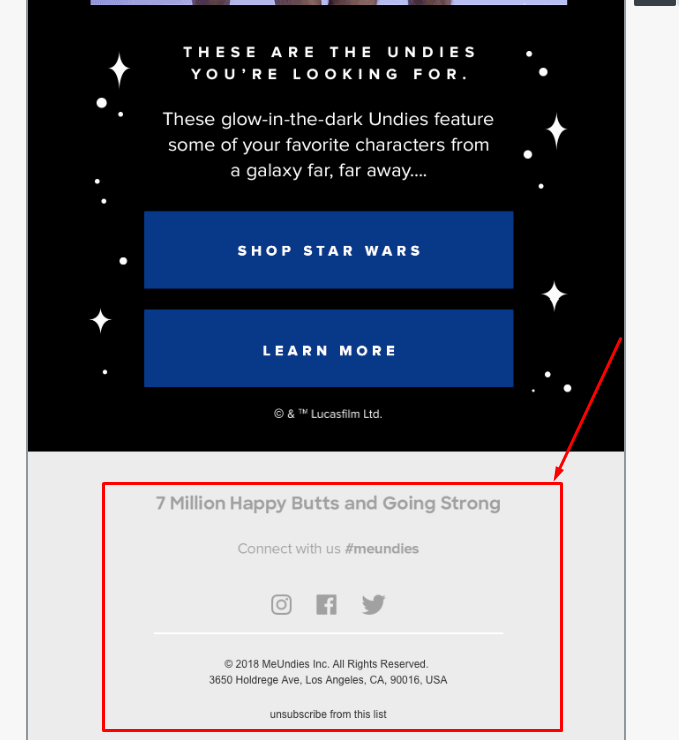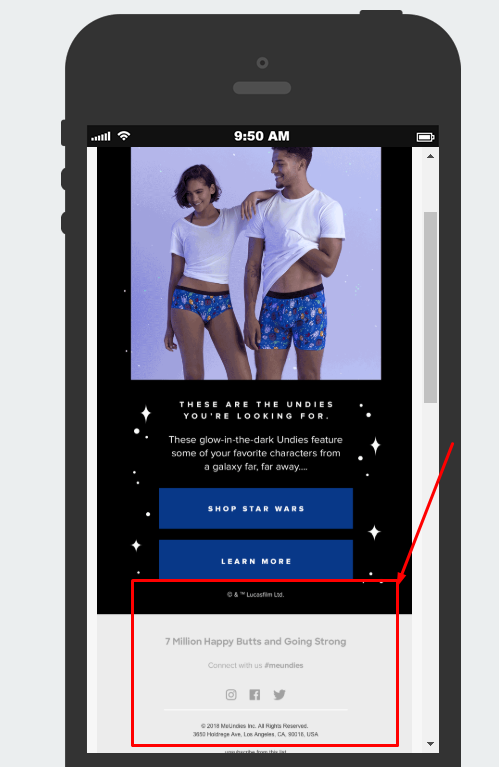 The minimum goal of each email you send – is for the receiver to get the message.
To be able to do that, you need to avoid those three common mistakes made by the majority of ecommerce business owners and follow our tips instead.
Frequently Asked Questions
How do I make my email templates fit my brand?
You can concentrate on these visual elements: the logo, the colors, the font, the structure. But also on more subtle points: the writing style, the tone, the message.
How do I create an email template?
You can visit multiple online platforms specialized in email templates, use your email marketing platform's templates, design your own ones, or hire an expert to do the work for you. It all depends on your budget and the level of uniqueness you target.
What is email personalization?
Email personalization is when you make your email more individualized, tailored to your subscriber. To be able to do that, you have to use browsing and personal data your subscriber agreed to share with you. Personalized emails have higher conversion rates.