They say you never get a second chance to make a first impression. Well, the same applies to business and email campaigns. This is why you must carefully craft your email campaign design to capture your reader's eyes at first glance.
However, having great content for your email campaigns is only the first step. You also need a fantastic design to back it up. Otherwise, the effectiveness of your email marketing may drop.
So, how do you make your email campaign efforts more productive?
A surefire way is to combine unique content with top-notch email campaign design. This way, you strike a chord in the mind of your readers within the first few seconds. Not to worry, we'll tell you how to do this.
This article will share tips on how to run the best email campaigns for your brands and ideas on how to take your email marketing to the next level. But first, let's take a quick detour.
Benefits of Good Designs on Your Email Campaigns
No doubt, email marketing is a vital tool in your business arsenal with many benefits. But, what impact do good designs have on your email campaign ideas?
Top-notch email design encourages your customers to keep reading
Today, so many things are vying for the average person's attention. From mobile devices (another other content) to work and family — the list is endless.
Therefore, when your email arrives in your customer's (or potential customer) inbox, you only have a few seconds to state your case before their attention shifts.
Having outstanding email campaign designs can go a long way in ensuring they keep reading and even take the desired action.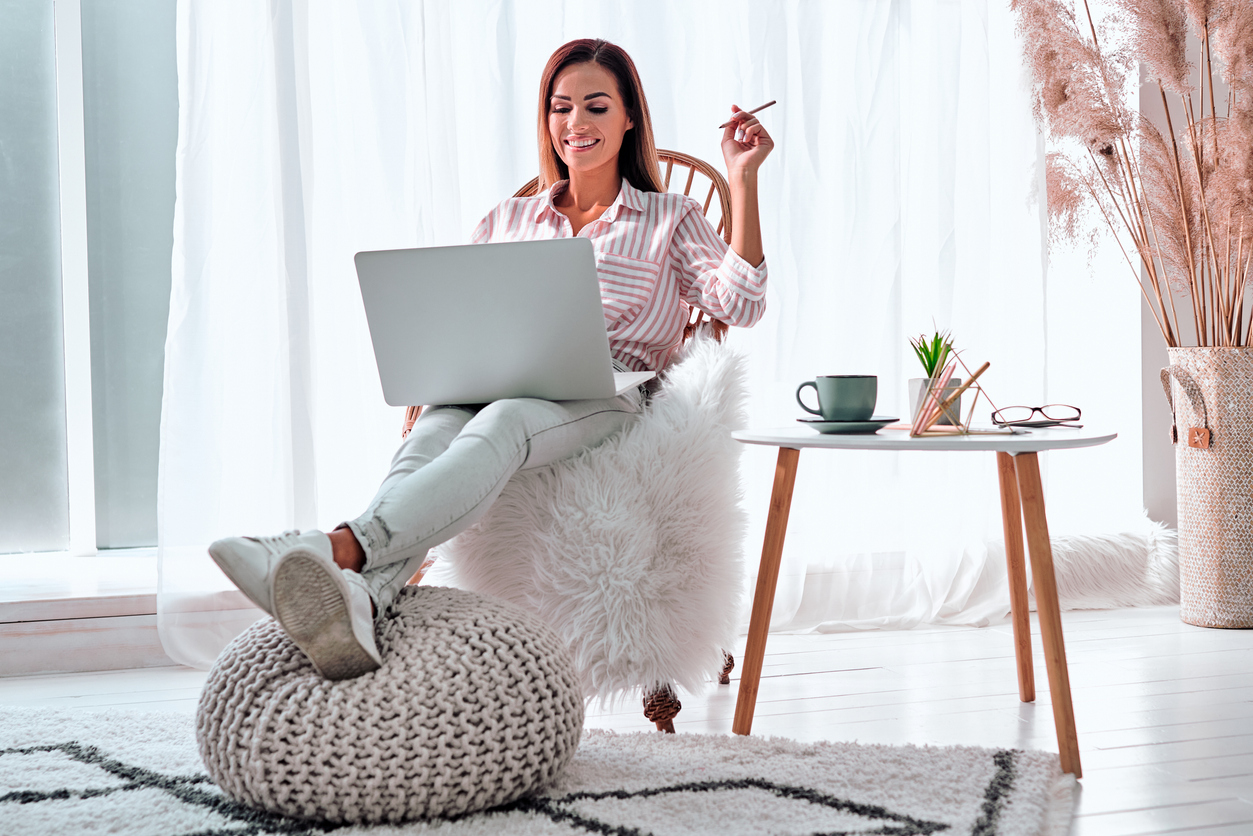 A good design helps customers assimilate better
Did you know that people process images in less than a second? This is because the human brain has evolved to incorporate graphics and pictures faster than text.
Therefore, your email design campaign should leverage this aspect of human physiology.
By adding attractive, information-packed images to your email newsletters, you will find it easy to draw people's attention and have a lasting impression on their minds.
You should look to incorporate more ideas and designs into your emails if you wish to convince people to read them thoroughly.
Attractive and responsive designs are the best way to display content
Why go for a subpar design when you can have a top-notch design? Besides the fact that email campaigns with better designs are more likely to convert, they even help you look better as a business.
In other words, a good email design presents readers with the image of a business that prides itself on:
Order
Excellence
And professionalism.
This is a desirable brand image you want your customers to have of you in the long run.
Proven Email Campaign Design Ideas You Should Try
Now that you know the advantages of having a high-quality email campaign design, here are some email campaign design ideas you should try:
Use of interactivity to draw more attention
Adding some interactivity to your emails can change the way people receive your email content. Here's why.
When you use unique design elements, your email messages will appear as microsites in receivers' inboxes.
In other words, they get a perfectly functional online version of your email, which allows them to interact with several pages of the same email.
Other examples of  interactive elements include:
Image galleries
Add-to-cart buttons
Offer reveals, and so on.
These interactive elements ensure more engagement in your email messages and produce higher click rages.

Make your animations clearer with the use of animated PNGs
When adding animations to email messages, most people opt for GIFs. In the past, GIF elements were far from perfect.
However, while there have recently been some notable improvements on GIF, animated PNGs (or APNGs) still come out ahead on several levels (APNGs support 8-bit transparency, 24-bit images, and typically have smaller sizes).

Use color blocking to highlight information
Next on our list of email campaign ideas is color blocking.
Color blocking is a great way to separate the information you put in an email. Better still, it can help you highlight specific sections that you don't want your readers to miss.
By introducing this effect in your email campaign design, you provide clear message separation and a beacon to pull your customers' attention to where you want.

Strategically throw in pops of color
According to experts, the human eye is instinctively drawn to color. So, you can leverage that as a business.
Color is an exciting way to pique the visual interests of your readers and get them to interact more with your email if you do it right.
Therefore, strategically placing a pop of color in an otherwise minimalist design can have a powerful effect on your customers.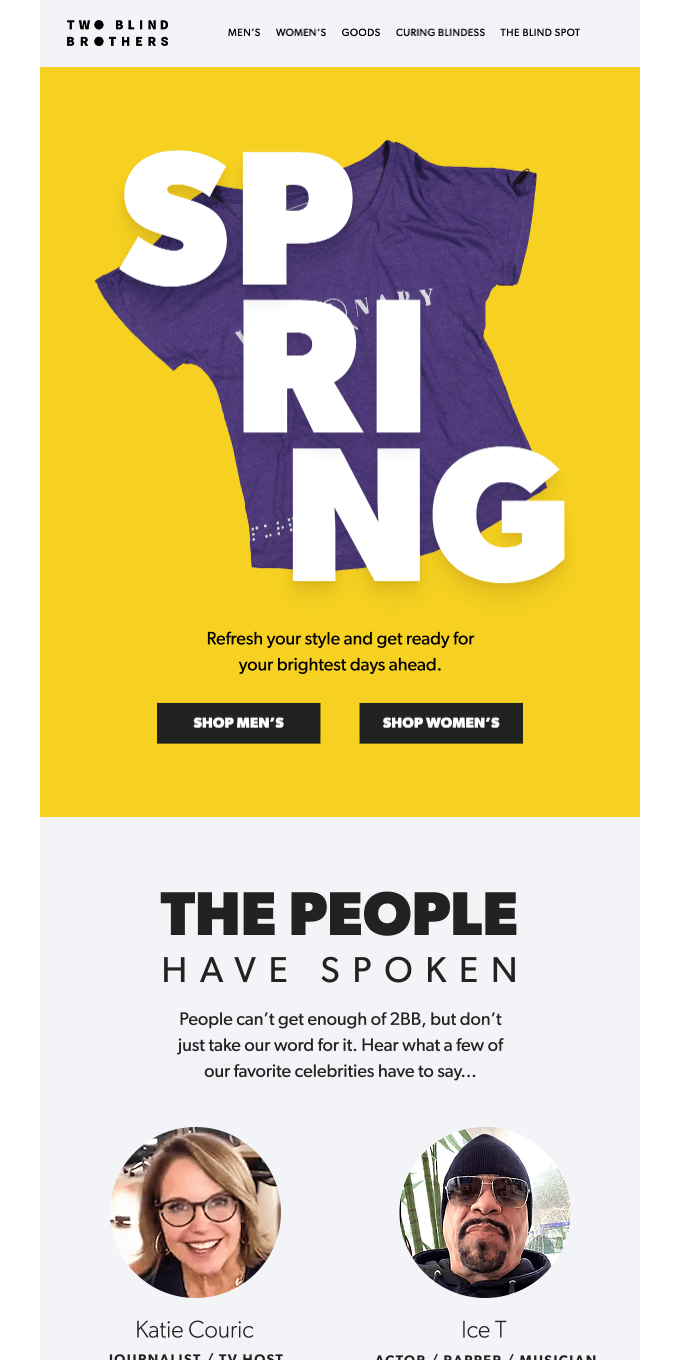 Keep your email campaign design simple
Most people do not realize this. But sometimes, less is more. In fact, some of the best email campaigns in history do not have overly complicated designs.
Therefore, it is an excellent idea to keep your designs:
Simple
Clean
Appealing
Compelling.
Email Campaign Design Tips For The Best Email Campaigns
Here are some more tips to make your email campaign design more attractive and effective in converting leads:
Add a compelling subject. Make sure that you use attention-grabbing words that promise the customer some level of value.
Create an attention-grabbing pre-header for your message.
Keep your message concise. In other words, large blocks of text can bore your readers, which means they'll likely not reach the end of the email,
Let the email speak about your brand.
Personalize your email messages.
Add some graphics, images, or visual content to break up your texts. Graphic content will quickly draw the customer's attention and register in their minds.
Create a responsive design for mobile devices
Always add one or two call-to-actions.
Bringing It Home
One crucial thing that differentiates the best email campaigns from the rest — they were able to get their customers to take the desired actions.
So, while there is no strict rule for email campaign design, several principles have proven to work over the years. In other words, don't try to reinvent the wheel.
Hopefully, this article gives you ideas on how to improve your email campaign and achieve your business goals. But, remember, don't be afraid to mix things up!
Further Reading
How to Craft an Email Drip Campaign for eCommerce
Cold Email Marketing Campaign for eCommerce: The Perfect Guide for You
What Is an Email Nurture Campaign? The Complete Guide
Email Marketing Campaign: Examples and Writing Tips
Average Email Campaign Response Rates
How to Write a Successful Email Follow Up Series
What Is the Best Time to Send an Email Campaign?