Black Friday is the single most important sale for any eCommerce brand. Check out our Black Friday checklist to make sure you have everything ready for the big day.
I went through the last few years of Black Friday campaigns just overall in the e-commerce industry and it's so repetitive and boring. Unfortunately, like everyone's doing the same kinds of campaigns. I really had to spend a lot of time to find some really unique campaigns.
And all of that said, I think this year especially is sort of like a depressing year. We're coming out of lockdown. People are probably not super amped up for Black Friday. So some of like the themes around just what's going on in the world is like people are bored, they're exhausted, they're lacking connection and sort of togetherness.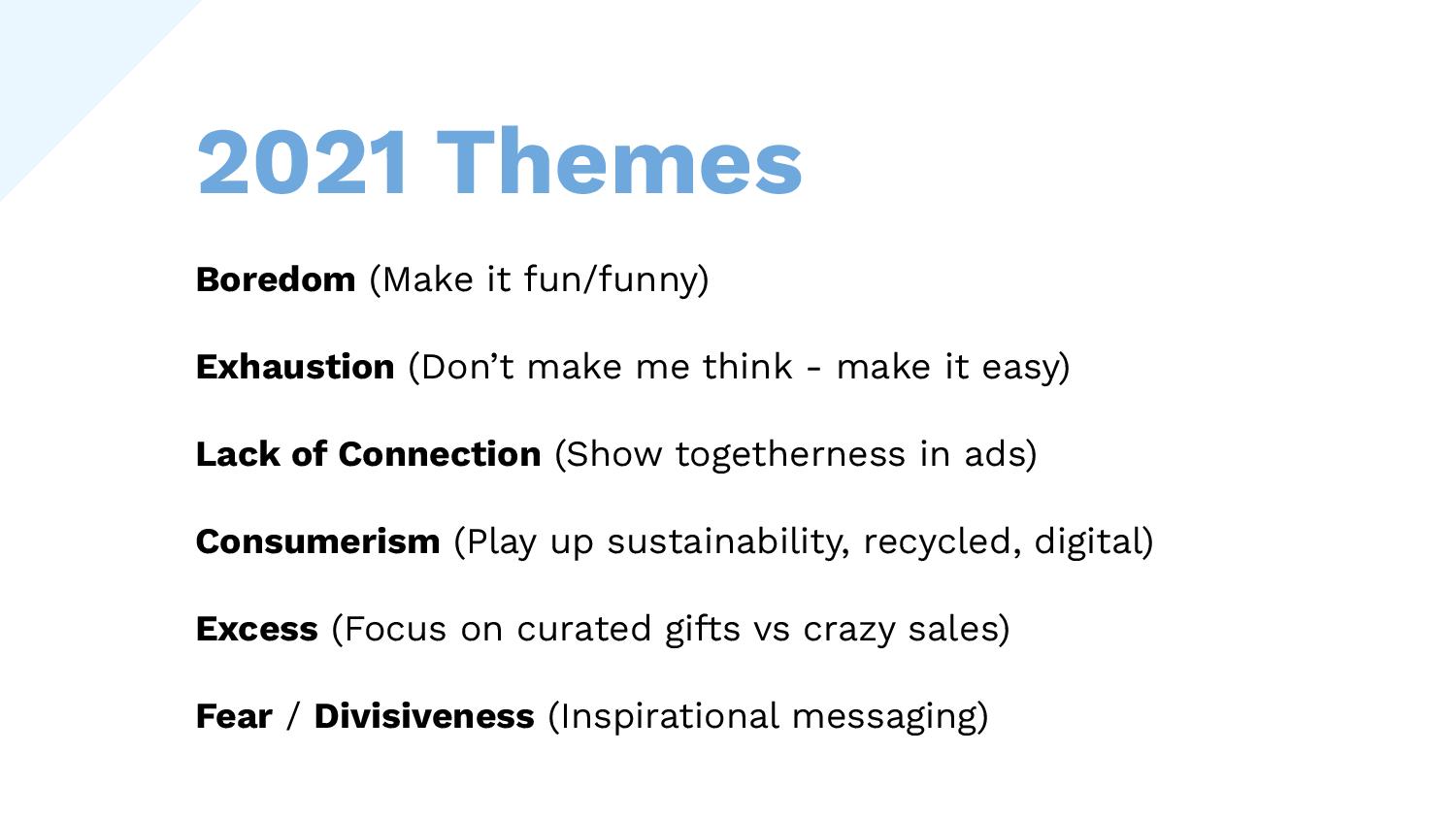 There's a lot out there about sort of consumerism and excess and what Black Friday means when it comes to those things. And then just a lot of fear. So to combat some of these, my suggestions are like, make it fun or funny, make it easy, show as much sort of togetherness and connection in ads as possible. If your clients have any of these like sustainability, recycled products, digital, those are all great.
And then like curation, curated gifts versus like sales! sales! sales! sales! sale! Which there is some of that, some of those crazy sales, but I think it depends on the client and then as much sort of like inspirational messaging as possible. I think it would be really great for this year. So those are just some of the themes.
Using Memes
So memes in campaigns, I think, is something that people are not doing a lot of and can work really well. So like here, Pepsi is just inserting their product.
This is like a free ship, so these are all like memes that people know and Ebates is using it, but there aren't a lot of people doing this. So I think this is something unique.
Gift Guides
This is of just some examples of really cute gift guides, where they're taking the product, so like in this example, these were all product images that were either in lifestyle or had a background so we can cut these backgrounds out and then placing it all on the same color background is really nice because the product itself really pops and then really just stripping away the copy and having like numbers and titles I think it makes it really easy to see what you're looking for.
This one I love, these are not real. They like custom made these little labels in Photoshop, which I think were cute, like a gift guide hero image. And then this one, like this is probably not even a holiday image, but they're just adding some little elements that I think are really nice and clean.
So small design touches versus further down a little bit versus what you're used to seeing, which is like secret sale! mystery sale! scratch off! and all of those. I think simplifying could be really good this year.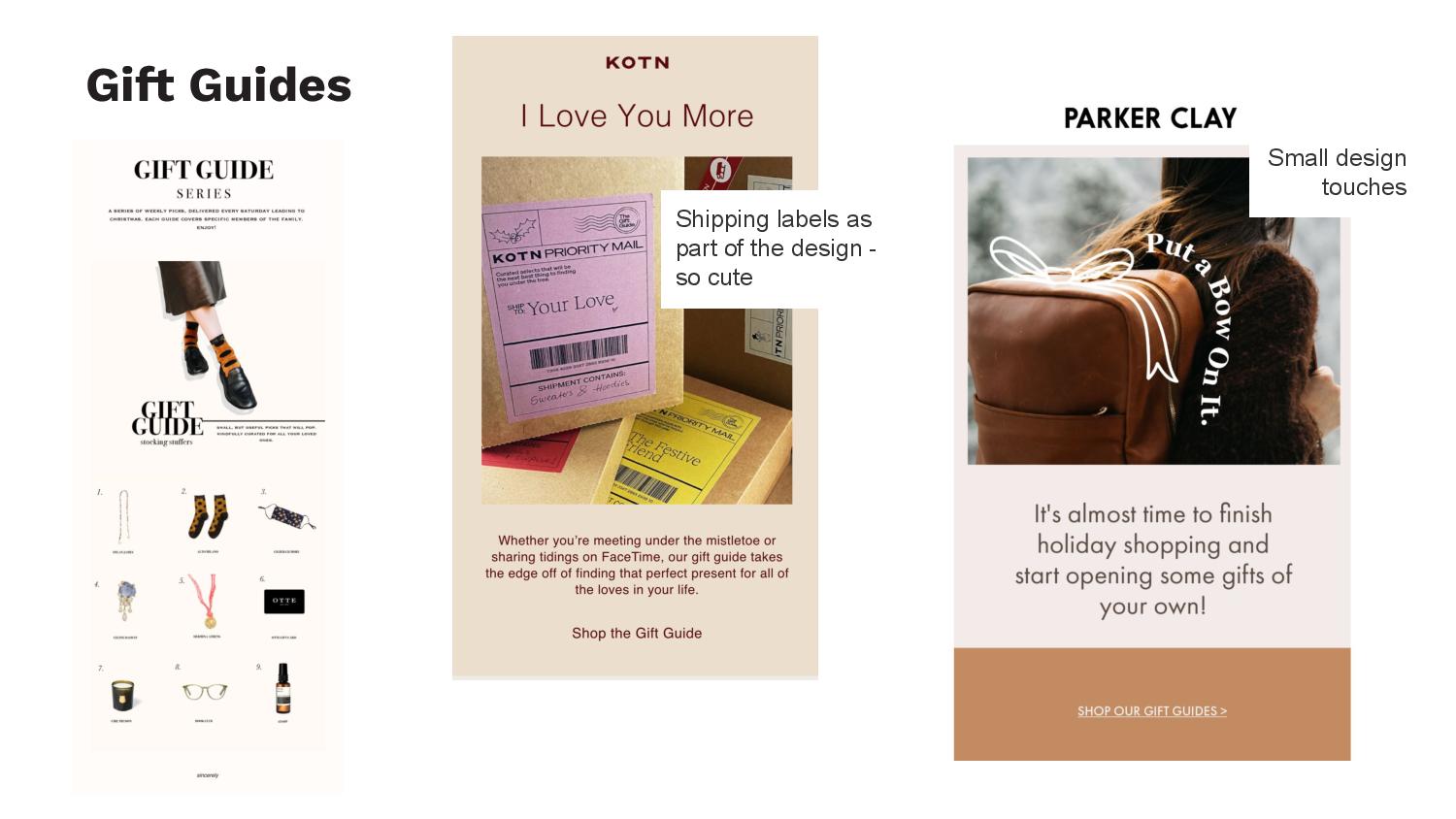 Live Sales
These are like live sales. So I think it would take a special type of client to be able to do this. But these are where in the email they're inviting you so it's almost like a calendar invite and then they're selling discounted products, but you actually have to attend the live.
So you have to be there on Instagram or wherever it's being held to get the deal. So I thought that was a really cool idea.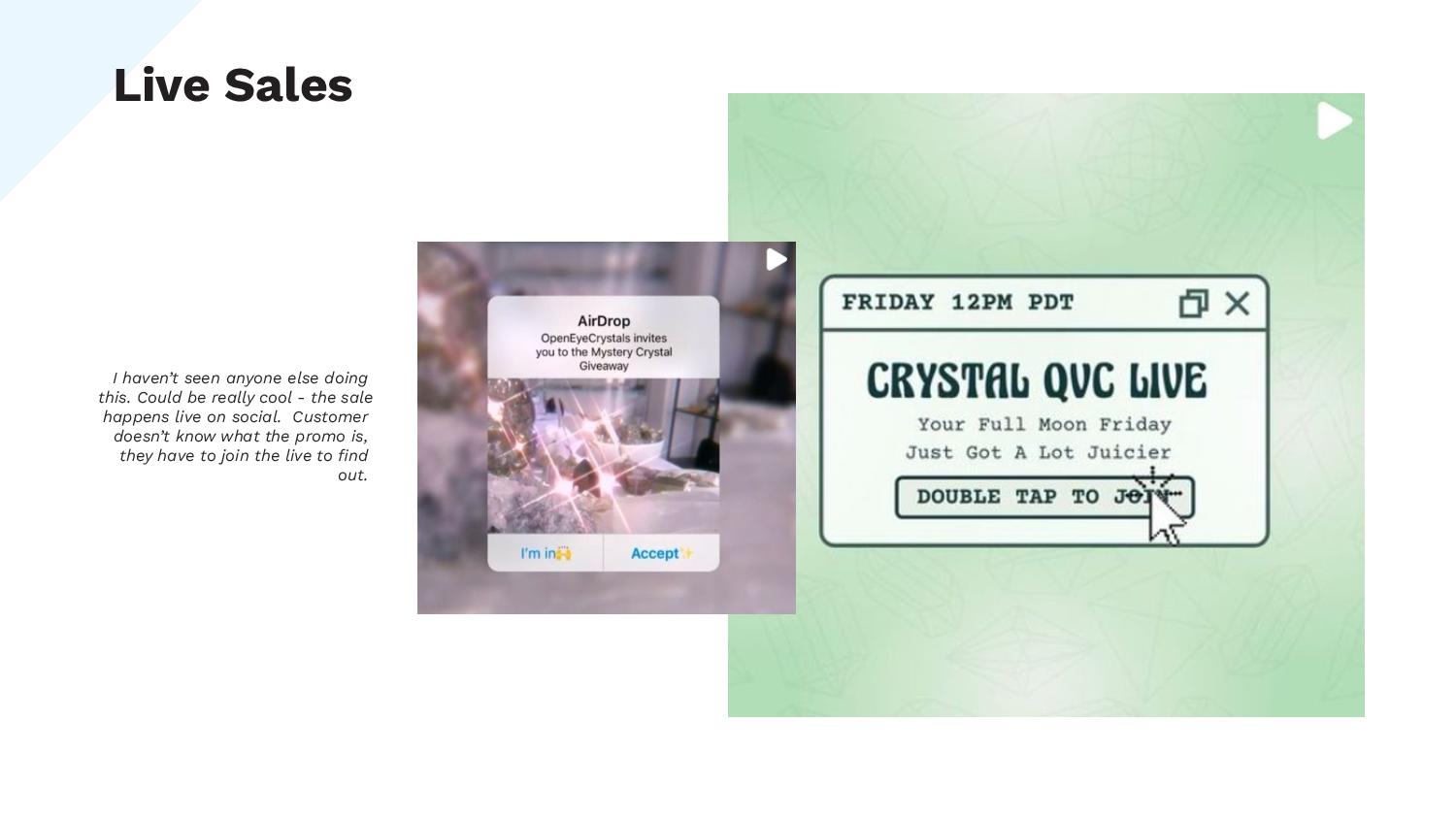 Gift cards
Gift card campaigns. There are obviously everyone's doing gift cards, but I just thought these were cute and clean.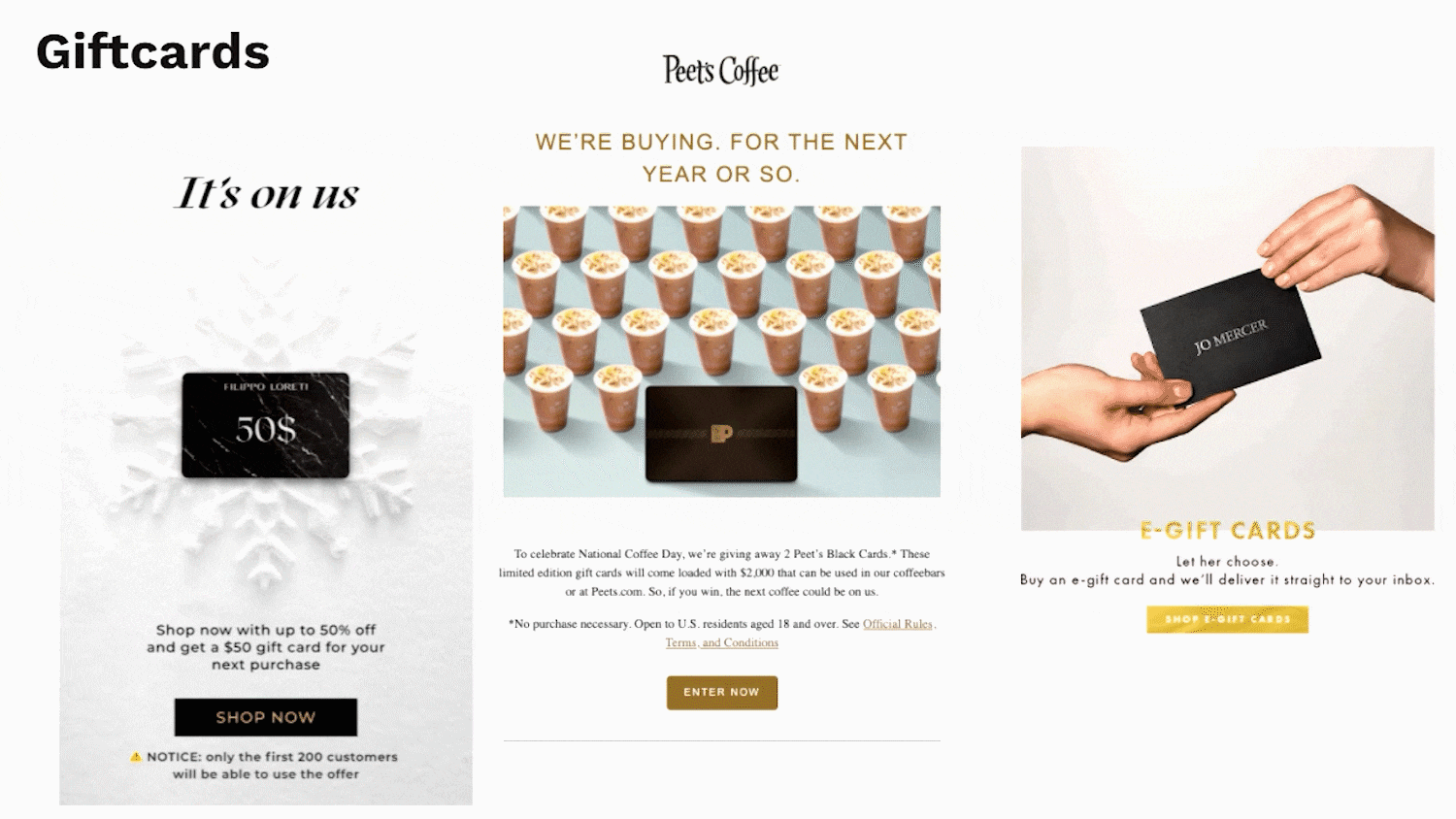 Anti Black Friday
Like this, this is coming up a lot, this is like anti-Black Friday. So not that we don't want to sell stuff, but here, this is a skincare company.
Instead of doing one day of discounts, they made it more educational and they said we're going to give you, I don't know if they did a week or a month, but they said we don't want you to do like these impulse buys.
So here's the discount we're going to give, it's running across the whole season. We want you to take your time placing these orders, educate yourself, and we're not going to surprise you on Cyber Monday with another discount that you're going to regret that you bought early. So I really liked that. And then these are some examples of like REI they're doing.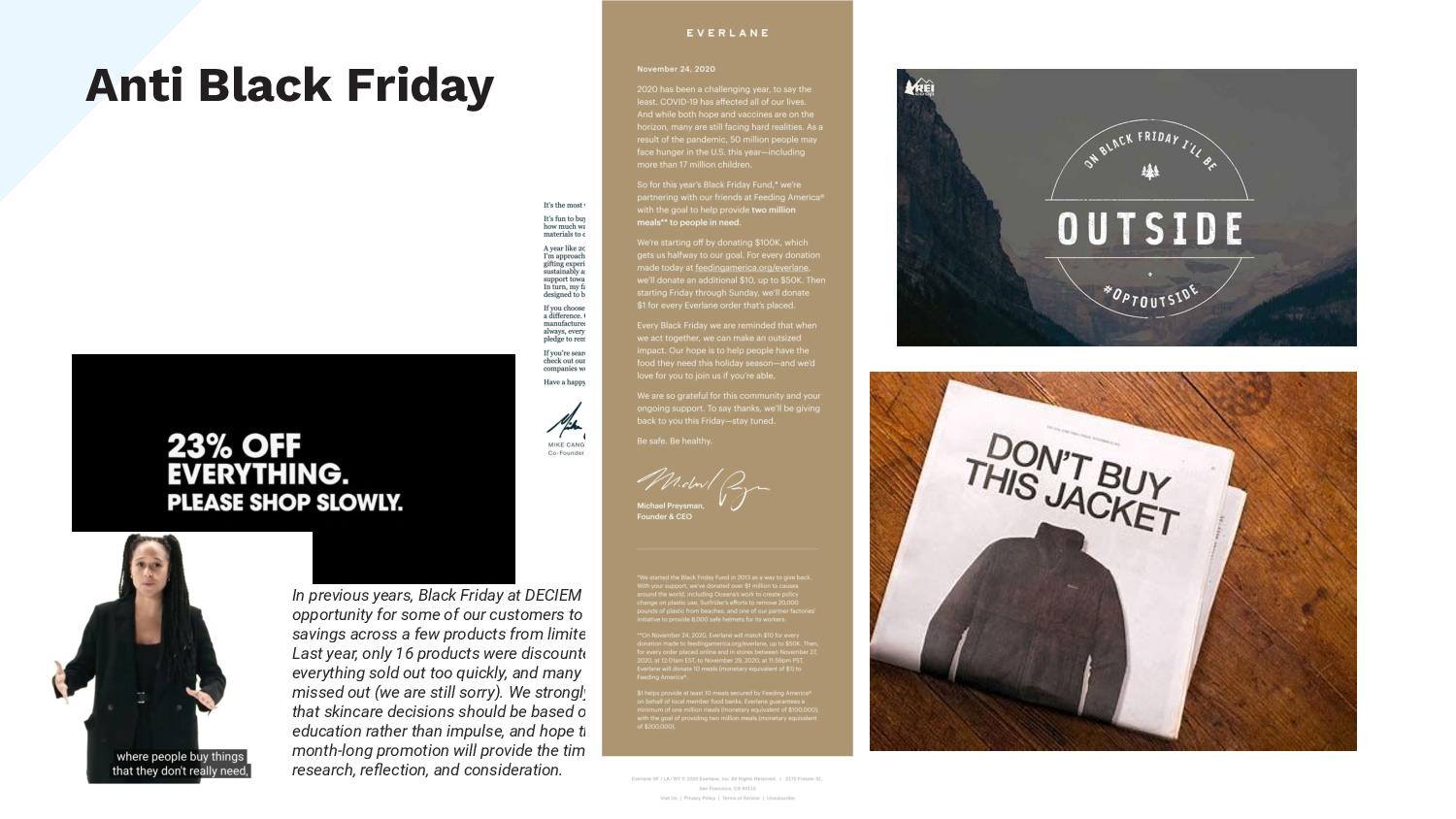 They still did a ton of promos, but they never really promoted like discounts. Everything was sort of about lifestyle like get outside. They showed all of their winter gear. It was everything that was sort of seasonal without like screaming, this is 50% off. And then this, I think it might have been Uniqlo, I'm not sure, but they did all of these ads that were just like, don't buy for Black Friday. And of course their sales were amazing.
Giving Back
Okay. This is sort of like the giving back model. They're not doing a sale. So if you have clients that are not doing markdowns, this is something you can do where you can tie in sort of maybe there's a charitable giving or like a giving back component and that can be tied into the campaign. Or if the brand, maybe they don't have a giving back component, but they personally give to a charity or something.
You can still talk about that. This brand is an apparel brand, but they just personally sort of created this donation strategy to help around the time of year and then they promoted it heavily. And the same thing, Ann Taylor, they're huge, but they're just talking about what they gave.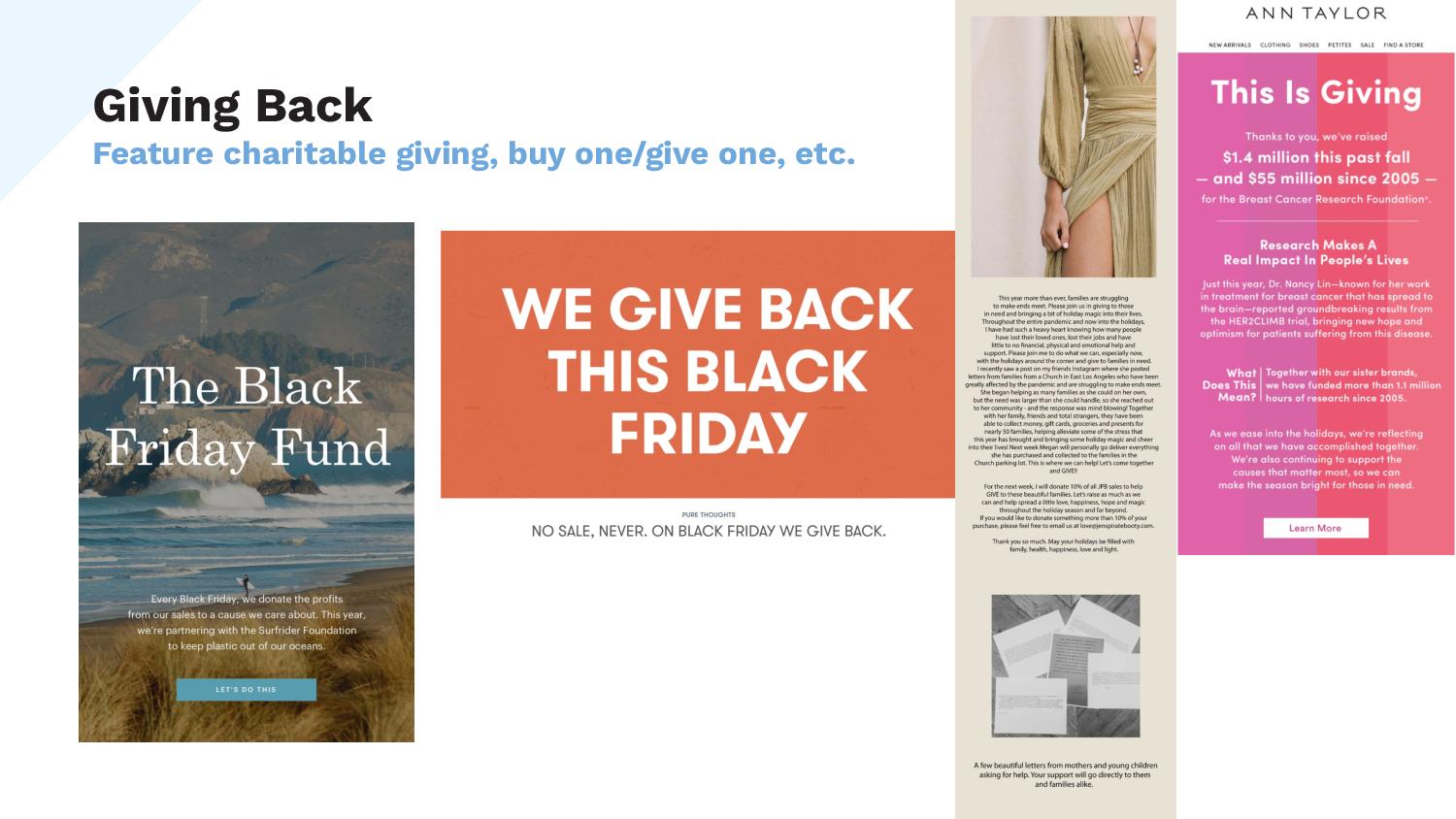 Opps!
These, oops, they're all the exact same so it's probably one company that's doing this, but this happens a lot around Black Friday where they will send a text based email that's like, oh crap, our website was down. So sorry. You tried to shop with us, because of this error, here's 50% off.
They look real so the customer is like, oh, I wasn't even shopping, but okay, I'll take this discount. These are always all text based. They're adding some recommendations, but text is good.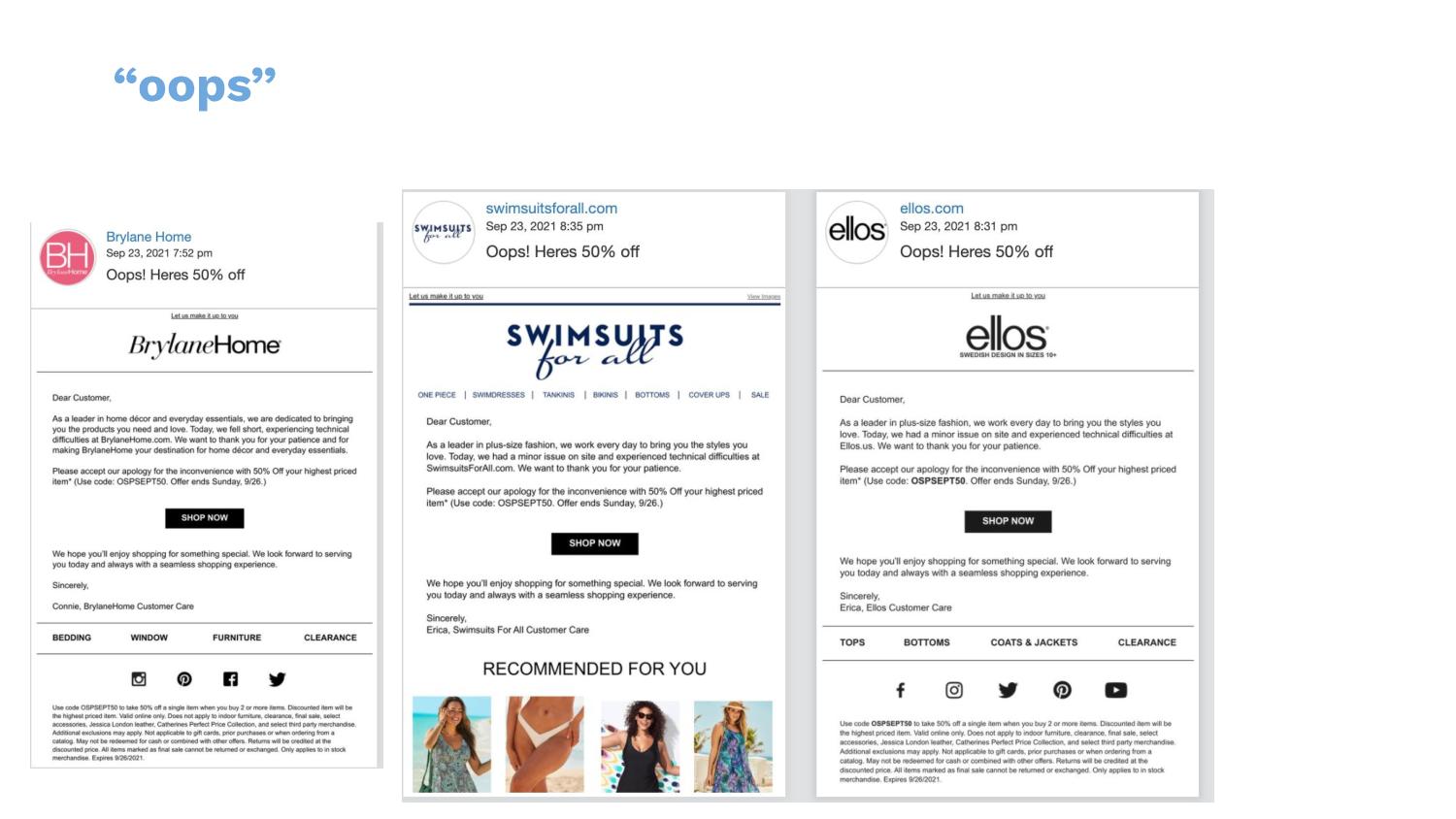 Mystery Offers
And then here is just sort of like the normal Black Friday stuff. These are percent off or mystery sales. These are all just GIFs. They're not dynamic.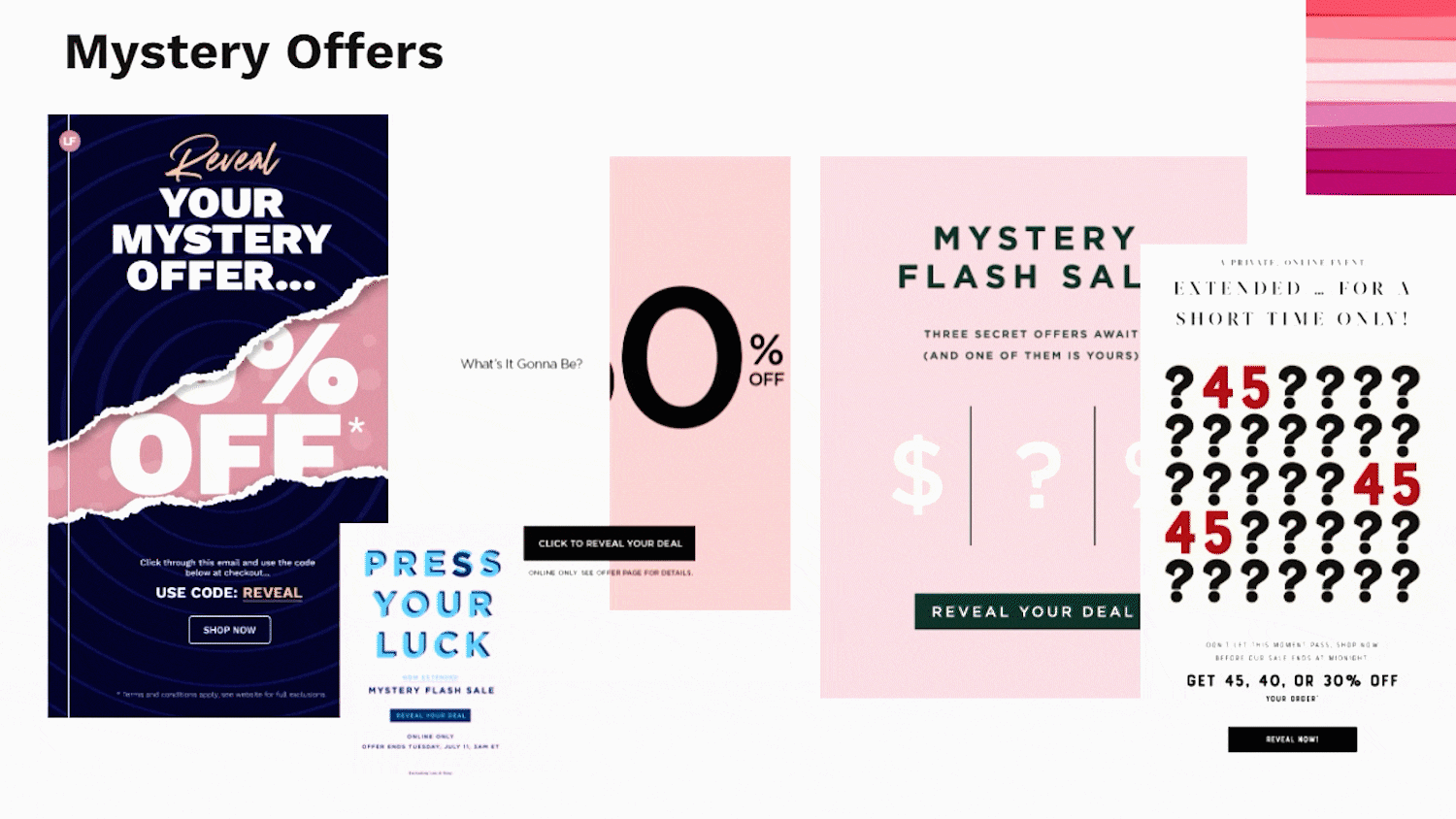 Secret Sales
Secret sales. These are not really secret sales, but I feel like this is over. It's not a secret anymore.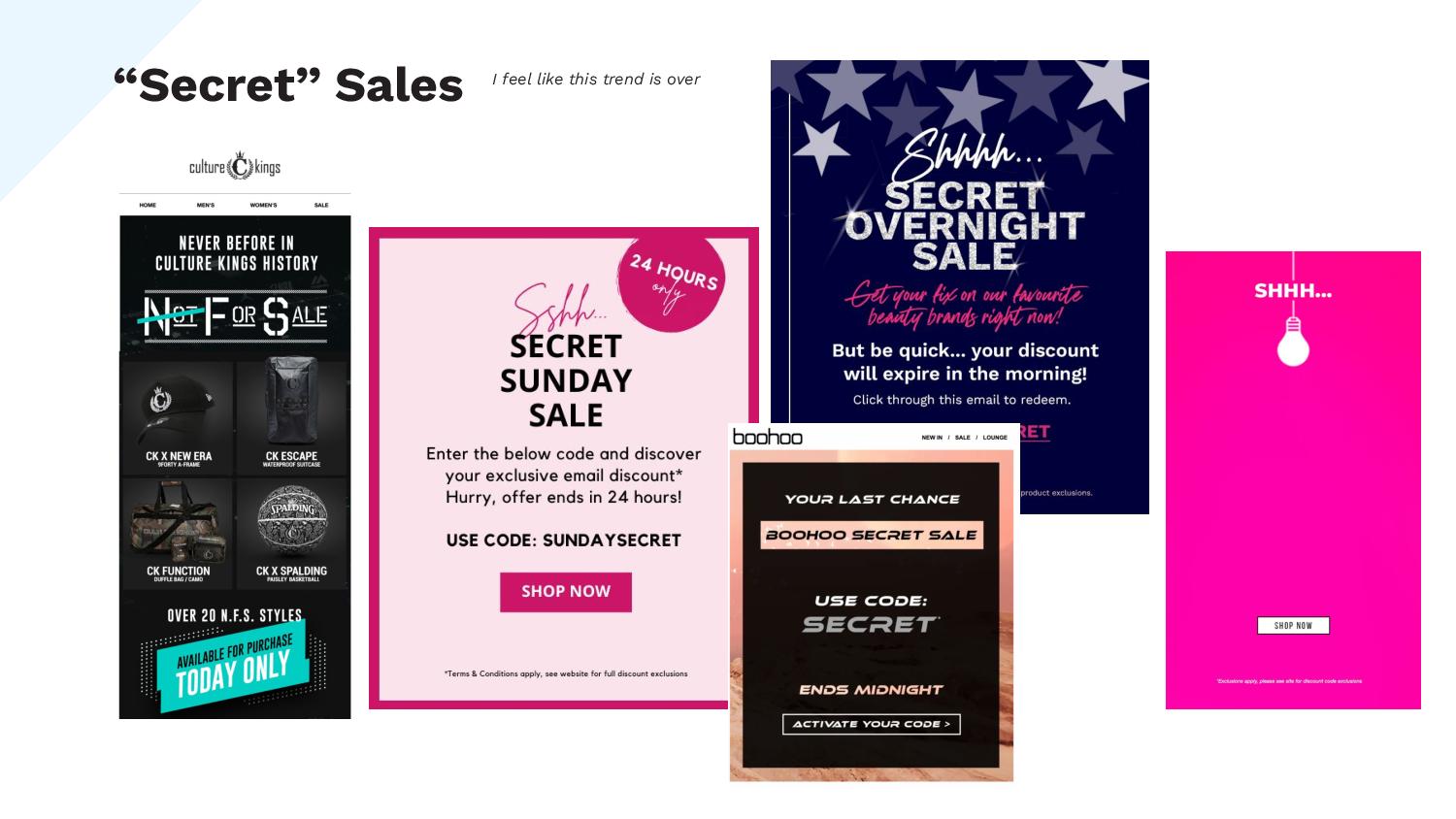 VIP
VIP. I couldn't find a lot of VIP campaigns actually from last year, but I do like something like this that if it's actually going to a VIP where it feels like either a ticket or it's in like a gift card format.
And there's another ticket one coming up that I thought was really good. And this could also be for joining SMS, like before Black Friday, so when you join SMS you become a VIP and then you get some of these notifications early.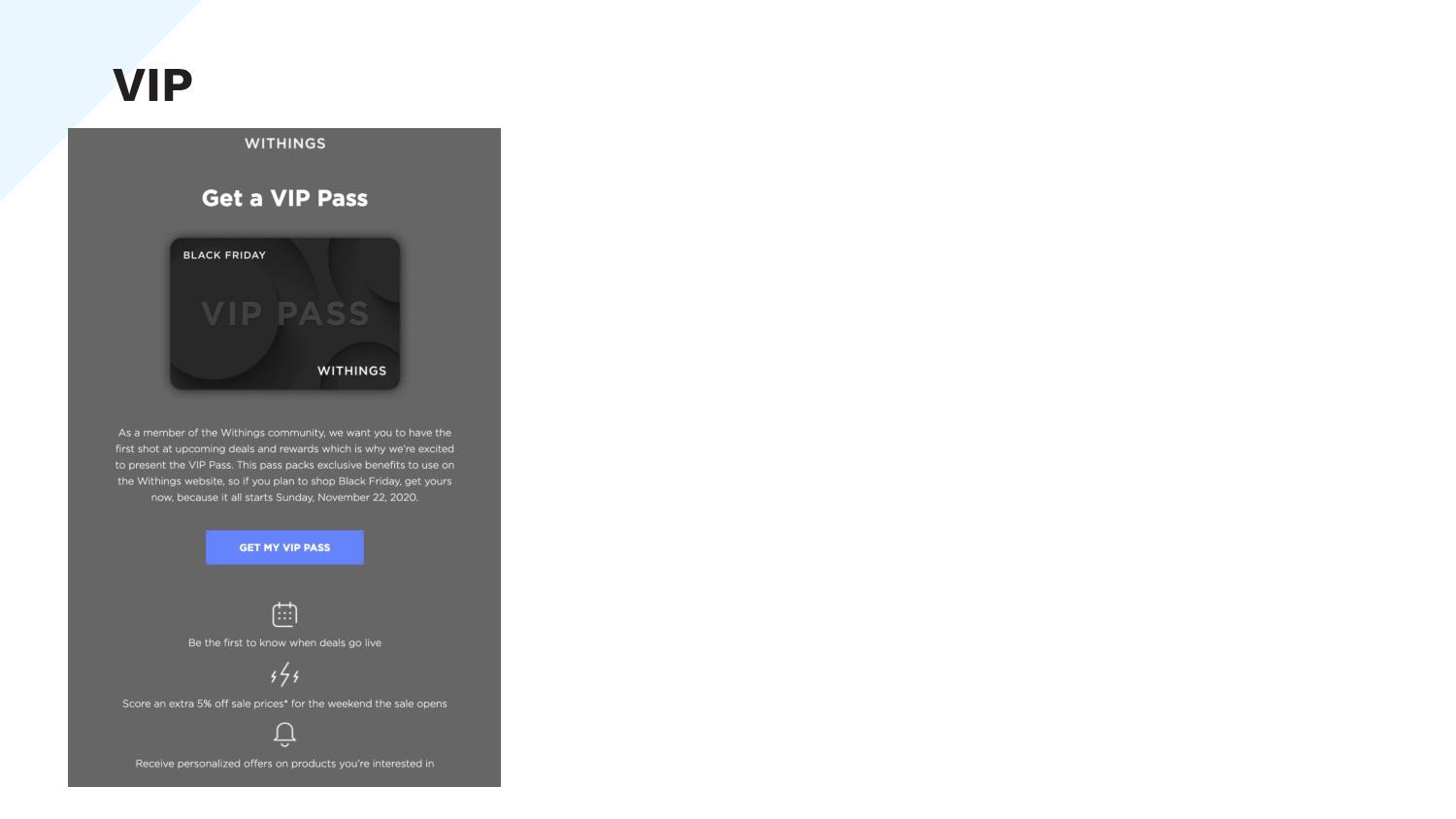 Great Design
So these are some campaigns I put together that I really feel are great for design. I love this GIF look of this email. It's Black Friday. It doesn't say Black Friday, just tiny here. It's obviously black. I love how they did their countdown timer. So this timer is created in Photoshop probably. And it just looks a lot cleaner.
I didn't save the GIF, but this does move. And then it has all of the products with the markdowns here. So I thought that looked really great. This one, no promos, no markdowns, but this was around Thanksgiving and it's just selling full price.
But I think getting you ready to sort of like we're transitioning into this season and maybe for me, this feels like she's traveling somewhere. So maybe for Thanksgiving. So I thought that was really nice.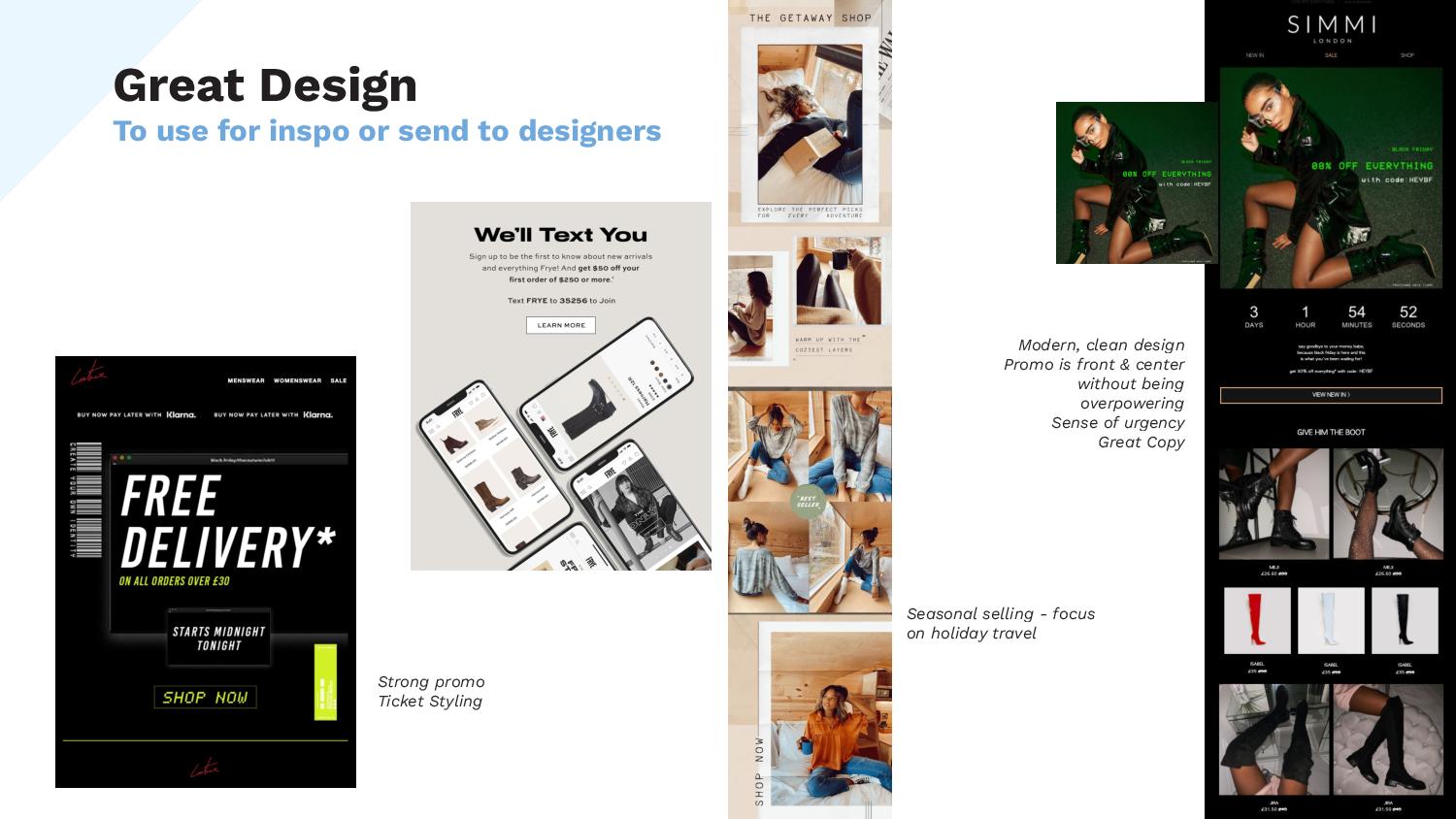 This is the same to join SMS. And I just like how they laid this out. And then this one is sort of that idea of having like a ticket or a VIP. You're getting something special. It looks like you're being invited to something. This looks so good in the inbox.
Like if we're able to do this, the graphic is huge. This, I just like this layout, this reminded me of some of our clients. It was just simple and clean. It's not like screaming. But then this one, which I really don't want to recommend, this did really well. And even though it's like so loud, I actually really like it.
So if we're looking like at all of these Black Friday emails, these are just, you can see how things like this stand out where it's not like text all over! like this one's nice too. I think I saved this one. But this, there's no promo, but it's just really clean and easy to read. And you can really understand what the call to action is.
So I thought this one looks good, but you can see in here like how far down this header is. A lot of people are putting these huge promo, they're like pre headers, which I really don't like them, but I don't know if they're doing it because they convert and that's something that maybe we want to test.
Like the emails way down here, you can't see it in the preview, but they're showing all these additional, it's sort of like a department store style where they're showing all of the promos like right up at the top. And they're huge. I mean, they take up the whole screen if you're on mobile. I don't like it from a design perspective, but a lot of people are doing it. So maybe something that we want to think about testing.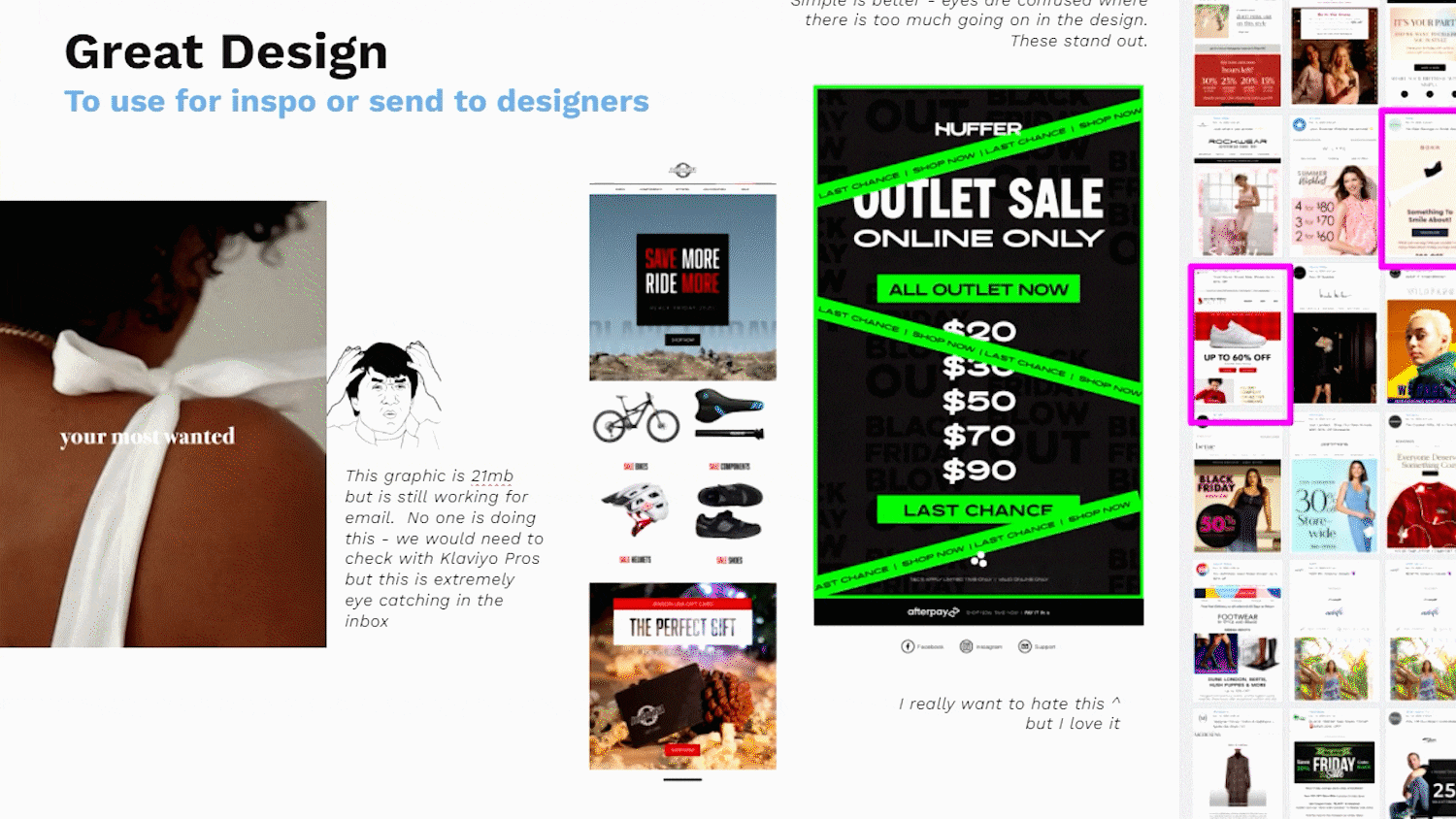 These are just great Black Friday designs. Like this is the whole email. This is their logo. It's just all cohesive. It's cute. It's still holiday, but it's in their colors, the promos so cute, I just really like this a lot. And then this one is no markdowns, but they really took one product and they just broke it down and looked at every single detail so you kind of have to have the assets for this, but I love how they just called out every single detail. And this keeps going, like it's really long. And there was no discount. So this was their Black Friday campaign that I liked.
This I also love which they're sort of combining giving component, but they're also doing a promo. So they're saying, thank you, here's 50% off and they're sort of talking about the community. And I also like that they're using like non-typical holiday colors. So this really stands out when you're in the inbox and they're like red and green and black, this looks really good.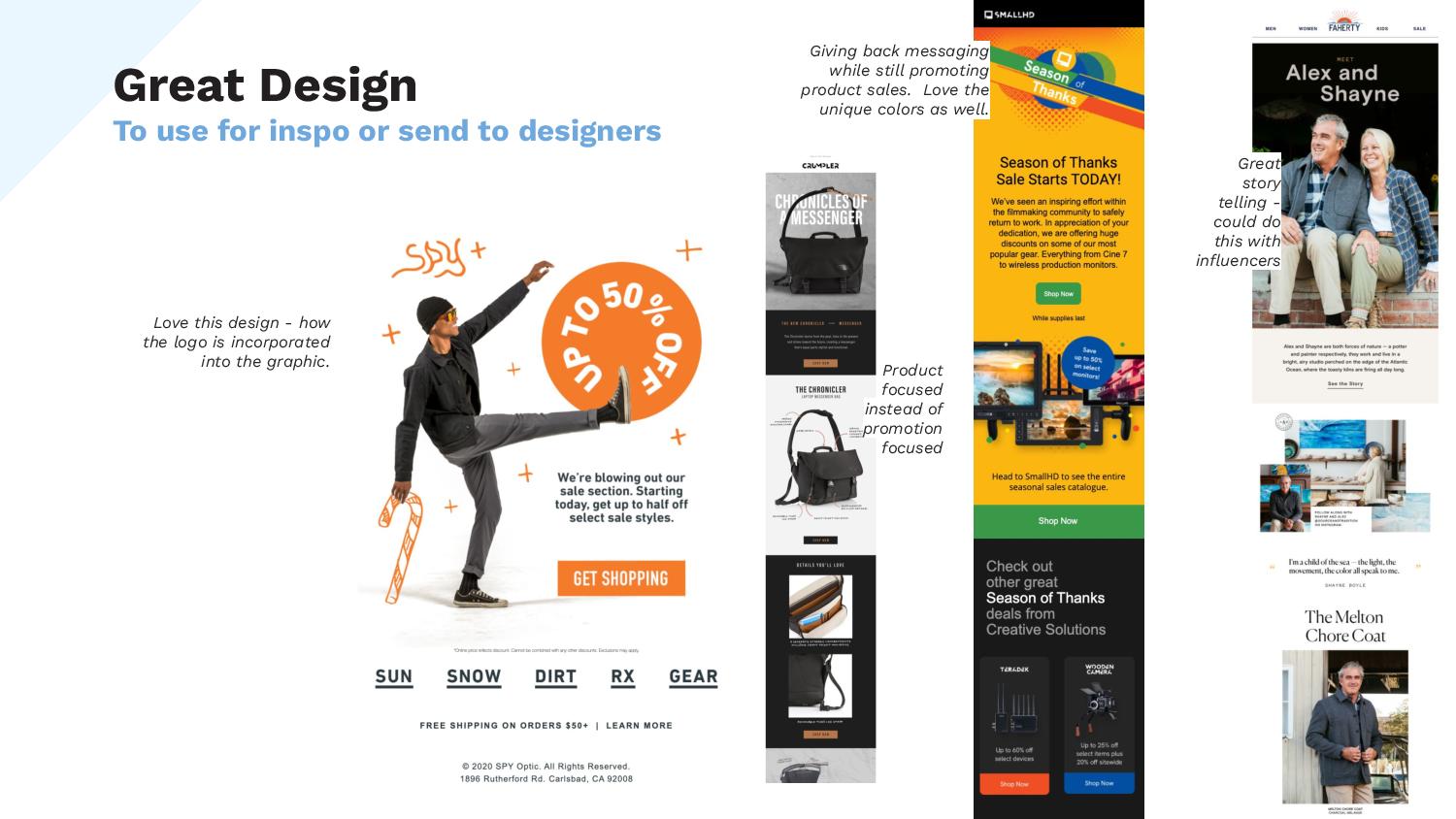 Design Inspo: Holiday
And then these are just some things that we can do if there's like no assets and all we have are product images. These are some things that designers can do to sort of create holiday campaigns without a lot of assets. So like here, I love this.
They just cut out messily their product images and made a little garland. That's so cute. And then here, it's just a flat lay. They shot it this way, but we can place lights over, we can create little Christmas trees out of products. So those are just some ideas for clients that don't have a lot of assets.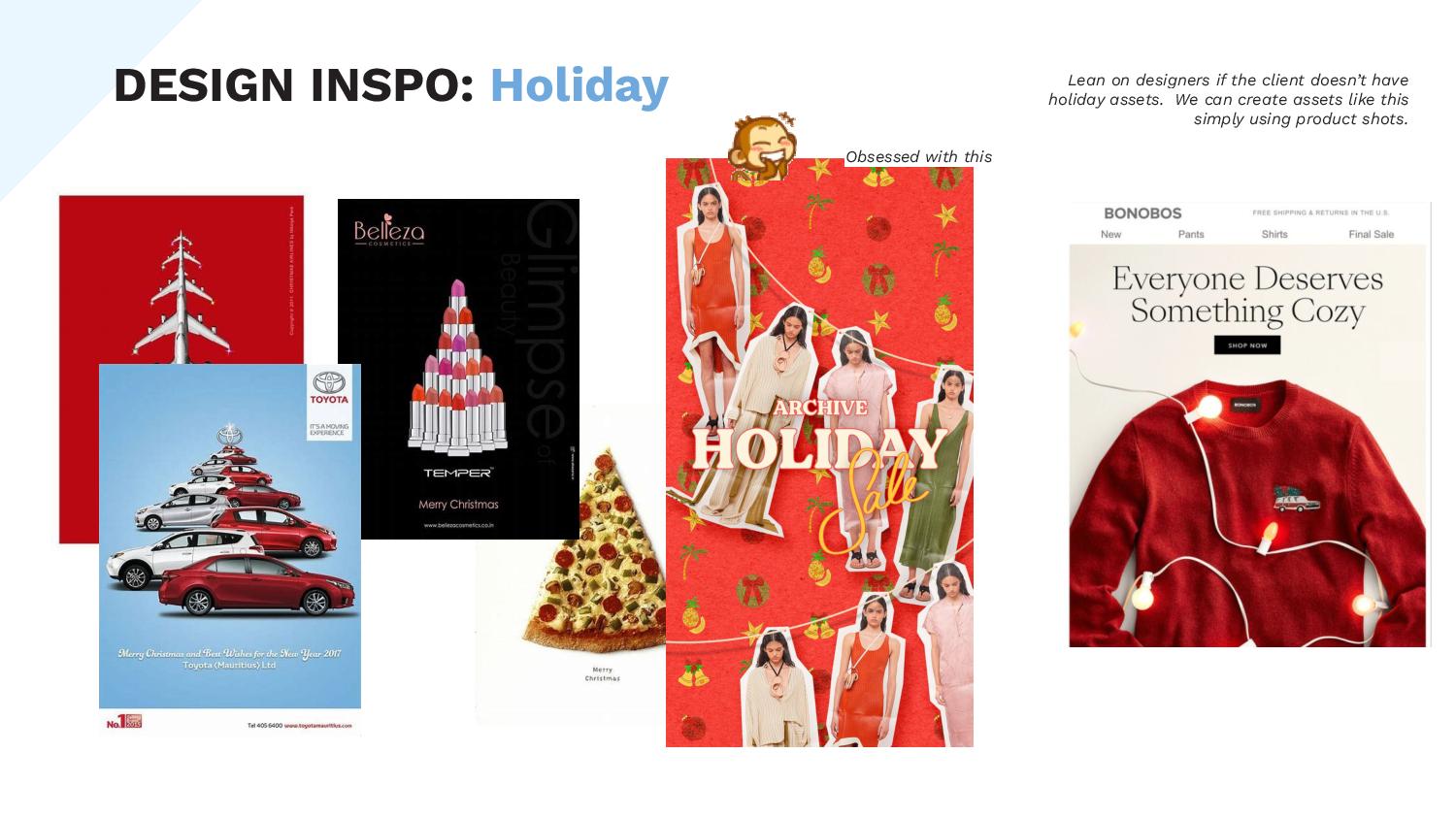 Email campaign creation is a long and complicated process. The key is to streamline it – so you know exactly what you need to do at each stage. We have a Campaign checklist, where we share step-by-step instructions on how to create your campaigns in a more efficient way.