Every ecommerce business should take advantage of abandoned cart emails.
These emails can be an excellent way to boost conversions and encourage repeat customers. Discover all you need to know about emails for an abandoned cart: what to include and some examples.
What Is an Abandoned Cart and Why Is It the Perfect Opportunity to Send an Email?
An abandoned cart is a common problem among eCommerce. It refers to when someone puts a product in their virtual cart then leaves your website without buying it.
Abandoned carts may seem straightforward initially but can be more complicated than they seem. This largely comes from the fact that there are several reasons someone may leave their cart.
People may abandon their cart because:
They decided they don't want the product anymore
They found the product somewhere else for less
Your checkout process is too complicated or long
You don't accept their preferred payment method
They aren't happy with the time or cost of shipping
They lost their internet connection
They had to go somewhere and forgot to visit your website to buy the abandoned item
They don't trust your website, brand, or payment methods
They had no intention to buy and simply wanted to research or bookmark the product
Your website had errors or crashed
You didn't answer their request for customer support
→ Discover the abandoned cart email benchmarks and statistics to know what to expect from your cart abandonment rate.
No matter the cause, an abandoned cart is the perfect opportunity to send an email. That is because the shopper already took nearly every step on the sales funnel; they just missed the last step.
This means that you should not need to put in as much effort to convert them to a sale.
As a bonus, an abandoned cart email is highly targeted. After all, if someone puts an item in their cart, they are likely very interested in it.
About Abandoned Cart Emails
To effectively use abandoned cart emails, you will want to keep a few things in mind.
When to Send Them
One of the most important considerations is when you should send the abandoned cart email. You want to send it when the shopper is the most receptive.
You also want to avoid sending the email when it is too late. For example, if you wait too long, the shopper may have already bought the item somewhere else.
You will usually get the best results if you send the email about an hour after the customer abandons their cart.
This is soon enough to prevent them from buying it somewhere else (most of the time). It is also long enough that the customer likely isn't coming back to buy it.
For the best results, follow up the first abandoned cart email one day after the cart is abandoned. You may even want to send one more email three days after, and even up to a week following the abandonment to have an abandoned cart email workflow for better results.
What You Want to Achieve with Them
Your goal with an email about an abandoned cart is simple: You want to recover the abandoned cart, to make customers return to your site and complete their purchase.
On top of that, you hope that they will appreciate your brand, the shopping process, and the product enough to buy again.
What a Successful Abandoned Cart Email Looks Like
The following is a quick checklist of what you should include in a successful abandoned cart email:
Catchy subject line
An image and/or description of the abandoned item(s)
Recommendations for similar products
A reminder about free shipping or returns
Introductory text
Note saying that you will hold the item for the customer
Discount or offer to entice the purchaser
At least two clear CTAs (at the beginning and end)
Social proof or reviews
Feature images
Personalized with customer name and product name
Email footer with contact information
Mobile-friendly, responsive, or dynamic
Part of a series (of three emails)
Mention that the product is reserved
Examples of the Best Abandoned Cart Emails
To give you a better idea of how to create your email, take a look at some of the best abandoned cart emails with the best practices.
Columbia
This example from Columbia has numerous great features.

It starts with enticing words, "Great News!"
It also offers a discount and clearly shows the product from the cart. It also shows similar products for upsells or cross-sells.
This can be particularly helpful if the customer already bought the product they looked at from another site, as they may still find something they like from you.
Showing other recommendations also appeals to customers who liked the product but didn't love it, as they may have missed one of your recommendations.
The email also highlights standout features, like free shipping on all details. It even entices with discounts thanks to the 50% off doorbusters.
→ Discover other cart abandonment solutions that really improve your sales.
Food52
This email has numerous great features. The subject line encourages recipients to open it by providing a compliment and letting them know that the product is reserved for them. This eliminates concerns about whether the product will even still be available.
The content itself includes two calls to action, a product description and image, and a reminder about offers that set the brand apart. These include referral bonuses and express shipping.
→ Tip: Don't forget to make your email GDPR-compliant!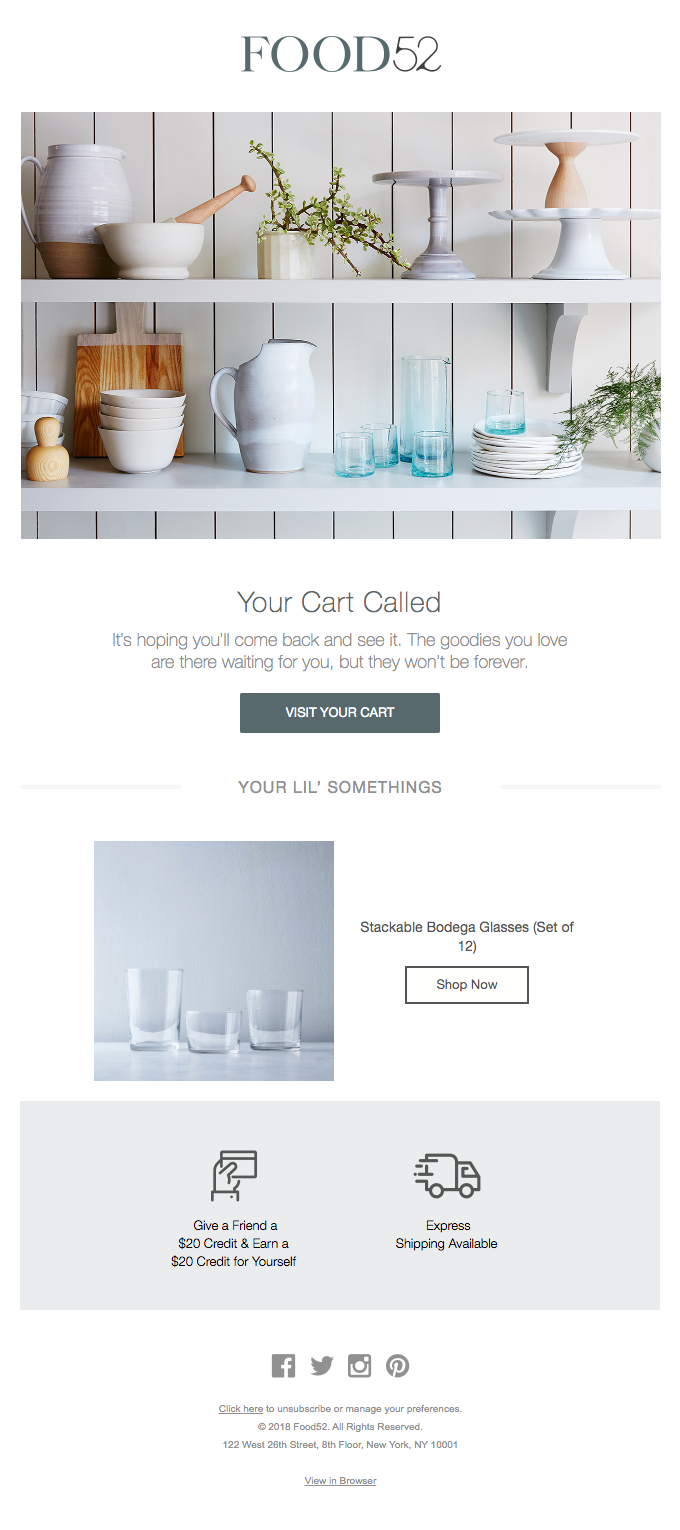 Perigold
This example from Perigold is similar in that it includes the abandoned item and related items. This can increase revenue.
It also helps attract customers who abandoned their cart after realizing the product wasn't what they wanted; they may see something in your recommendations that do they want.
It also uses eye-catching text, referring to the product as "the perfect peace."
→ Shopify user? Discover all you need to know about Shopify abandoned carts.

Public Rec
This email doesn't add a discount, but it checks all of the other boxes.
It encourages you to "take another look" and reminds shoppers about free shipping and returns. It has an image, description, and price of the product.
It also has contact information in the footer. For even easier contact, the email notes that you can directly reply to the email, a rarity for marketing emails.
→ Tip: Track your cart abandonment with Google Analytics.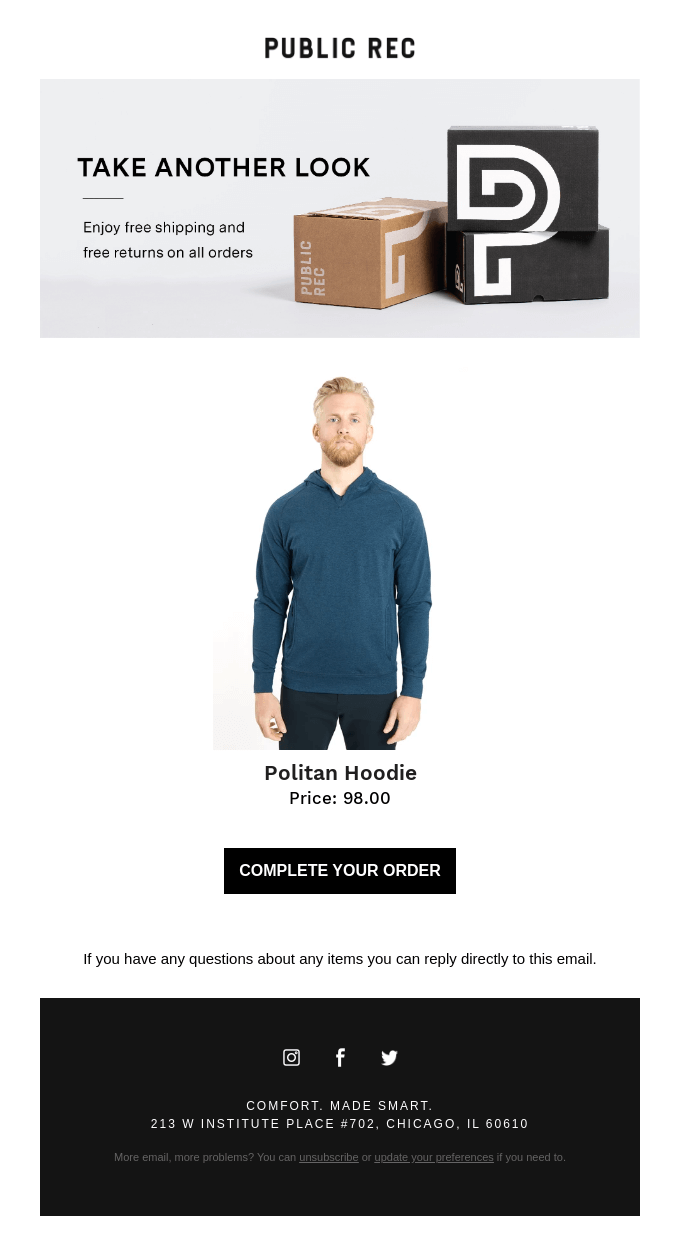 Abandoned Cart Email: The Takeaway
Using abandoned cart emails is a simple and effective way to boost your revenue and reduce the average cart abandonment rate. With the best practices and examples in mind, you are ready to create your own. Just follow the above checklist and you will be set.
Further Reading
Understand and Reduce B2B Cart Abandonment
Recover an Abandoned Cart Without an Email Address
Cart Abandonment: Prevention and Recovery
Choose the Right Abandoned Cart Email Software