Keeping track of every new lead that signs up to your list and nurturing them can be overwhelming, especially if you receive dozens or even hundreds of new leads per day.
This is where a welcome email flow comes in. It is probably the most important email sequence to send to new leads. It takes welcoming your new leads and nurturing them off your busy shoulders.
With a properly structured and optimized welcome email sequence, you can welcome your new leads, introduce them to your brand, and even convert them into clients automatically.
Keep reading to discover what is a welcome email flow and how to create one.
What Is a Welcome Email Flow?
A welcome email sequence is a series of emails that are automatically triggered when someone signs up for your email list. These emails aim to introduce your brand and start building a relationship with your new subscribers.
A welcome email sequence can be as short as a single email or as long as several weeks of emails. It's up to you to decide what works best for your business. However, the standard length of a welcome email flow is between 3 and 5 emails sent over 3 to 5 days.
When done right, welcome email sequences can:
Greet subscribers after opting in for your email list
Introduce your brand and what it has to offer
Deliver value to the subscribers
Prove your expertise or the value of your product
Point new readers to some of your best content
Set expectations for future emails you send.
How to Set Up a Welcome Email Flow?
A welcome email sequence aims to get new leads engaged with your brand and start building a relationship that will eventually lead to conversions.
Here are three steps to creating a successful welcome email flow:
Map Out the Entire Welcome Email Flow
Before you write a single word of content, start by thinking strategically about what you want your welcome email sequence to accomplish.
Do you want it to introduce your brand and products to your new subscribers? To sell a specific product or maybe have them make their first purchase on your site? To get your new leads excited for the emails to come?
Once you are clear on that, you can map out your welcome email sequence. Think about how many emails you want to include in your welcome flow and what to write in each of these emails to achieve these goals.
Choose the Right Email Automation Platform
Choosing an email automation platform is the key to success with email marketing. With an email automation platform, such as Klaviyo, you can send emails that are automatically triggered when a customer:
Signs up for your email list
Opens an email
Clicks on a link in your email
Abandons their shopping cart.
Platforms such as Klaviyo make it easy for business owners to create sequences with pre-designed templates, as well as segment their email list to target their audience more effectively, and set up the right triggers.
Create Your Welcome Emails
Now you've got your welcome email sequence blueprint, it's time to start designing the emails themselves.
Since you have already mapped out your sequence and set a goal for each individual email, writing them will be much easier.
However, if writing copy for your emails is not your forte, there are experts out there who can take this task off your hands and set up effective email marketing campaigns for you.
Example of a Successful 4-step Welcome Email Flow
There are a myriad of ways to create an effective welcome email sequence that may be more suitable for your business, depending on factors such as:
Your target customers
The stage of awareness they're at when subscribing to your email list
The goal of your welcome email sequence.
Here is an example of what a successful 4-step welcome email flow can look like.
Email 1: Thank Them for Subscribing
The first email in your welcome sequence should introduce your brand and offer a sincere thank you for subscribing. This email gives you the opportunity to share what type of content the subscriber can expect from you.
For example, this email from Capiche expresses a short and sweet thank you to the subscribers and invites them to explore more about the brand by providing links to its best pieces of content.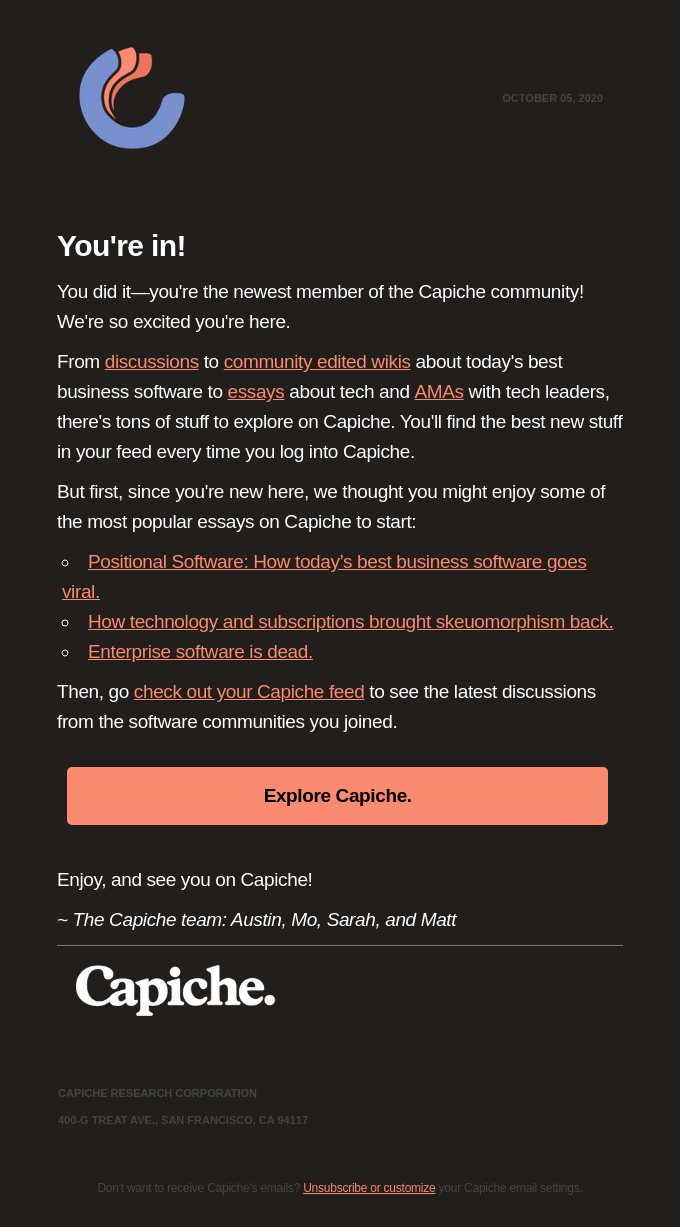 Email 2: Introduce Your Product or Service
The second email in the welcome sequence is a perfect opportunity for you to give your subscriber a short introduction into your brand's world.
It can provide them with a glimpse of the benefits of your product or service and how it will improve their lives. It can be a quick walkthrough of your website, platform, or shop.
This email from Zapier gives its new subscribers a short tutorial on how to get started with their platform. An email, such as this one, with helpful resources will make the subscribers feel welcome, supported, and taken care of.

Email 3: Share Your Brand Values or Testimonials
Now that your subscribers are already aware of what your product or service can do for them, it's time to build their trust.
You can do that by creating an email focused on your brand values or your brand story, which is something that your target customers will be able to relate to.
Or, you can do what Everlane did in the email below: you can share a few amazing testimonials your service or products got from past customers. Nothing builds trust better than social proof!

Email 4: Inspire Them to Take Action
The last email in this 4-step welcome email flow is a perfect opportunity to invite your new subscribers to take action.
You can:
Have them sign up for a free trial of your service
Offer them a discount code
Offer them a gift
Etc.
This email from Open Spaces does this very well! The email is structured around a short and sweet call to action and discount that inspire the subscribers to initiate their first purchase and explore the online shop.

Ready to Create Your Welcome Email Flow?
A welcome email flow is an essential part of your email marketing strategy. ​​
It's what your email subscribers expect after they sign up to your list to find out more about what you have to offer, and how they can benefit from what you are offering them.
We hope that this guide has helped you understand what welcome email flow is, why it's important for your business, and how to create one.