There are three main ways how you can outsource your email marketing – Hiring a freelancer, an in-house team, or an agency.
To help you figure out the best option for your business, in this video, we broke down each of them, weighed the pros and cons, and even showed exactly where and how to find a freelancer, an employee, or a good agency.
Three ways how to outsource email marketing. This video I want to explain you three ways, how you can outsource your email marketing efforts and how to find that outsource help. So let's cover the three method.
First, you can hire freelancer. Second, you can hire agencies like us. And third, you can hire internally.
There's pros and cons for each, in brief, if you're looking for a freelancer, it's least expensive method, but the most riskier, because that person can first will get sick or something might happen, and the person might disappear in matter of minutes.
Agency is more pricey, but you will get most of your dollars because you will get the team who will be responsible for your project. And they have experienced and they have backup if something happen to one person, there's another person who can replace it.
Third, you can hire internally. This is the most expensive method. Only big company do it because they need to hire a few peoples to handle their email marketing efforts.
But it might work the best for some of the companies because they have like full-time employee on their team. So let's discuss in details each of that option and where you can find the help.
And we have a template there, email templates, which you can send it to your friend or somebody you know in e-commerce space.
Freelancer
So let's talk where can you find freelancer. There's two platforms that I would recommend to look for freelancer is Upwork or Fiverr. Fiverr, like I don't have much experience but Upwork I know works very well.
Upwork
How to look for freelancer on Upwork. First, you can post a job or which you can do, one second, loses my email marketing. And here you can filter by whatever you want. Sales and marketing.
So email marketing and you can business size experience, freelancer agency. In this case, we do freelancer. And you can also do like if they are top rated, hourly rate and so forth, This is how you look for a freelancer on Upwork. It's a process, but still, this is the best platform that I found to look for freelancer.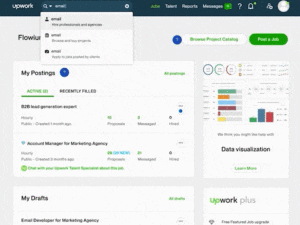 Fiverr
Another option is a Fiverr. Okay, So let's go to Fiverr. Same thing you just type in email marketing, nothing else.
And here, what I like to do on Fiverr, if I'm looking for somebody on Fiverr is to do so here, service email marketing, and also I want to do, you see, they have email platform I like to pick top seller or at least like one of the level one, level two. So let's do top seller and there's only seven of them.
I personally do not expect much from a Fiverr, but if there are some easy fix, you just need them to do it. Or some specific project Fiverr might be the option, but there's better specialists on Upwork.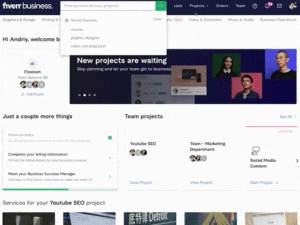 Agency
So let's go to the agency hiring agents, where can you find email marketing agencies? I've wrote a blog post on our website and I described seven places where you can find.I will not go into details showing you how to find each of them, but I will just describe them briefly.
Clutch
First of them is clutch. Clutch it's a platform. They basically just listing all agencies and you can filter by service you want.
Upwork
So the next one is Upwork. Same thing what we just did Upwork one more time, on Upwork, but instead of freelancer, you pick agency and you look for agency which fits your needs.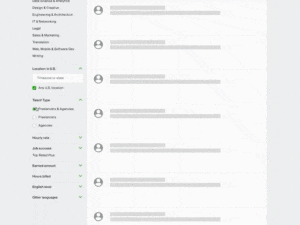 LinkedIn
Third one is LinkedIn On LinkedIn you can type in email marketing and sort it by companies, and it will give you all email marketing agency. It might take longer for you to find it, but just web them correctly. See they posting what others say about them and so forth.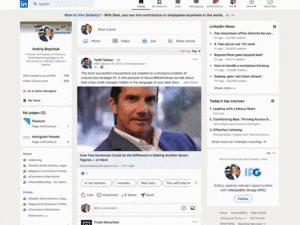 YouTube
So the fourth is YouTube. There's a lot of YouTubers like myself. I'm producing content. I personally hired few agency for my company that I'm paying them money because I found them through YouTube because, first they delivered me value, I like the way they do business. I hired them. So this is one of the sources you can hire agency as well. Like find the, and hire.
Partner Directory
The fifth method is email marketing service provider, the partner directors. We work with Klaviyo and we Klaviyo partner. So if you go to Klaviyo there's partner directory, let me show you. So it does work with any platform. So if you could scroll down, typically it says agency partner directory Klaviyo has partner direct email and other service provider.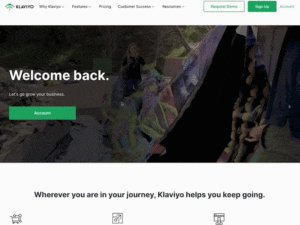 Setting up your Klaviyo account can be tricky. That's why we created a Klaviyo Setup Checklist – so you don't miss any important steps in the setup process.
Might have maybe not a hundred percent of them, but this is another way to find a partner. You can actually reach out to the software support and say, "Hey, do you work?" Or "do you recommend any agency we can work with?" And they will refer you to their best or the most trusted agency they work with.
DesignRush
Number six is relatively new website It's called DesignRush. They are similar to Clutch. They list all agencies. They have a lot of PR, but how good they are. I don't know. But I know for sure they list a lot of agency you can work with.
Fiverr
And the seventh methods is a Fiverr. Again, the same thing, as on Upwork, you can filter by agency or by freelancer. You can also hire agency. Personally, I never had a success so far as to hire agency from a Fiverr.
Hire Internally
And for the last method, how to outsource, is to hire somebody internally. And there's three methods that we use even for our company.
Indeed
Indeed, is the best platform where we have found the best candidates. It's a jumbled platform LinkedIn.
LinkedIn
We didn't have much success with LinkedIn personally. However, other agency owners expressed like very positive feedback about LinkedIn job posting. Maybe we're doing something wrong, but I know a lot of company they hired through LinkedIn as well.
Hire From Agency
And another, it's a tricky thing like to hire from other agencies. Let's say somebody worked for agency and maybe you start conversation and like, Hey, do you want to start work with me? This is another option. It's like, should you do that?
Like, I don't know, in our, let's say, if you work with us and you want to hire like our employee to your company, you have to pay us $50,000 dollars If you want to do that. So as a agency, we want to protect ourselves from our clients not to steal our employees.
You can make up to 70% of your total revenue during the BFCM sales – that is if you do it right. We created a BFCM guide for eCommerce businesses to get ready for the busiest and most important days on every online store's calendar.
So those are three methods. How you can outsource and bunch of methods, how you can find them in case you have any additional questions, please let me know. And I'll be more than glad to answer your questions. Thank you.