In the last few years, the eCommerce industry has been booming. Especially 2020, which blew up the industry to unpredictable sizes. According to digitalcommerce360, the eCommerce industry grew 44% in 2020. More and more stores are opening every day. Also, the brick and mortar stores either open online versions of their store or convert to online stores 100%.
That's the reason why email marketing services are becoming so popular now and there are many digital marketing agencies, and marketers are adding eCommerce email marketing to their list of services.
When it comes to email marketing software, we strongly recommend Klaviyo. As an ESP specifically designed for online stores, Klaviyo offers robust features to help you sell, not just send emails. In case you're also looking to connect with your customers through SMS, Klaviyo provides an SMS platform that works in sync with your emails, for even better results. With a Klaviyo partner email marketing agency, you can make the most out of your email marketing.
Since the industry becomes saturated with eCommerce email marketing services, how can you pick the right email marketer or agency for your needs?
Let's start first from the places where you can find eCommerce email marketers and marketing agencies.
7 Places to Find Ecommerce Email Agencies
Andriy (by the way, this is my name if you do not know), it sounds great, but where can I find these email marketers?
Here is the list of few resources you can use.
1. Clutch
Clutch is the platform for finding the right partner for you. As they say on their website: "Find top firms for your next big project". All serious players in the email marketing industry have their profile with a review on Clutch. In other words, Clutch is Yelp for marketing agencies. Also, on this platform, you can check the company portfolio of past projects. Here is a snapshot of our agency portfolio.
How should you search Clutch for an eCommerce email marketing agency?
a) Click on Service and Marketing

b) Select email marketing

c) As you can see, the result showed almost 9000 companies. To narrow down the search, you should select Ecommerce and add the location.

d) Now, we have narrowed down the search from 9000 companies to 46 companies

e) If you want to narrow it down even further, you can filter it by using the following options.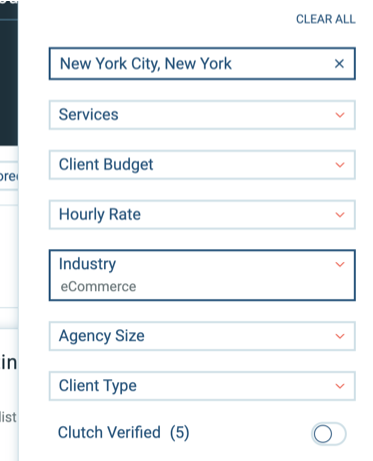 2. Upwork
Upwork.com – It is one of the most popular resources which you can use to find email marketers. You can post a job post for free. Email Marketers will submit a proposal for your job or you can invite them as well to your job. I recorded a video about it on YouTube a while back. You can watch it – how to look for email marketers on upwork . In addition to my video, here is an amazing article about hiring an email marketer from Upwork.
3. LinkedIn
LinkedIn – It is a great source to find the right email marketer or the right company as well. You just need to type "Email Marketer" into the search bar and pick PEOPLE.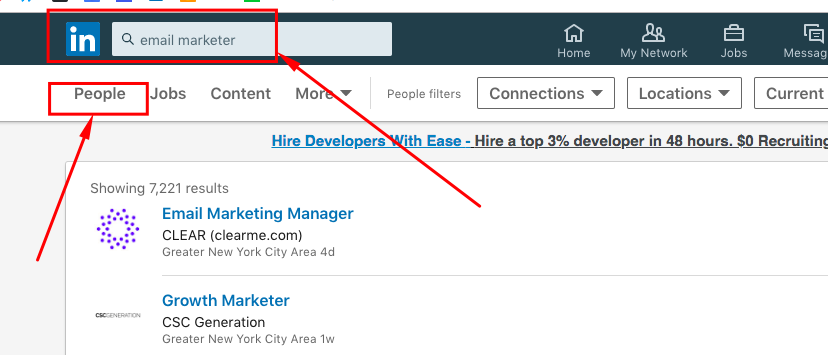 4. YouTube
YouTube – It might be the best place for you to see the email marketer in action. If they post content on YouTube, you can see their personality, how they communicate, how they work, and more. I got many leads from YouTube.
5. Email Marketing software partners directory
The majority of email marketing companies have their partner directory. For example, if you use Klaviyo, you can type into Google Klaviyo Email Marketer or even better just type the software name and add EXPERT.
Hmmm. I just did it, and it did not work 🙂
Ok, let's try it one more time. Let's go to the software company website and scroll down to the footer, and they should have something like Partners, Certified User, or similar.
Ok. It worked.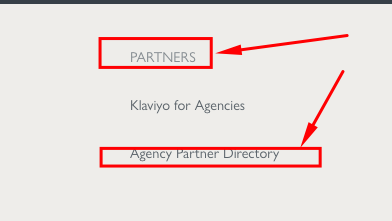 6. Design Rush
This is a relatively new resource, but they are becoming very popular lately with their database of agencies. You should check them out as well. Here are the top email marketing agencies according to DesignRush.
7. Fiverr
Fiverr – It might be tempting for you to look for freelancers on Fiverr, but I do not recommend it. Fiverr is inexpensive, but you will get what you paid for.
How to select a full service email marketing agency?
Often I hear from our potential clients, "I hate working with agencies, I do not like working with agencies, or I had bad experiences in the past."
I can relate with those clients. I did hire a lot of "professionals" where I had to suffer. Even recently, I hired an SEO agency and had to fire them after the first milestone. The results they provided were extremely poor, and we could do it better ourselves. The first mistake was I hired too quickly without proper vetting. The second SEO agency was priceless because we invested more time researching and checking all references.
So to select the right email marketing agency, you need to do little research.
Do they focus only on eCommerce?
The first question you should ask any email marketer or email marketing agency is if they focus only on eCommerce or if they are jack of all trades.
I would strongly recommend hiring only email marketing agencies that specialize in eCommerce. There are many nuances in eCommerce email marketing vs general email marketing.
The Track Record
Since you are hiring professionals, either they're a one person company or they have the entire team, they should have some kind of track record. It can be a full blown case study, or it can be a list of results they produce for other companies. Here is the example which I use for showing to my prospect – eCommerce Email Marketing Showcase.
It is not as sexy as individual case studies, but it is the bare minimum that shows my expertise.
The Feedback
When was the last time you bought something from Amazon?
Did you pay the attention to the reviews or star rating?
You should do the same thing with the email marketers and agencies. The past client testimonials are very important. In addition to what they post on their website, you should Google their agency name or the email marketer's first and last name. However, they might post only the best reviews on their website but leave out the negative reviews.
Let's Google my name, Andriy Boychuk, and add email marketing to it to narrow down the search.
As you can see, the first result is an Upwork profile which shows the reviews and rating. I am not able to modify those reviews, so they are 100% legit.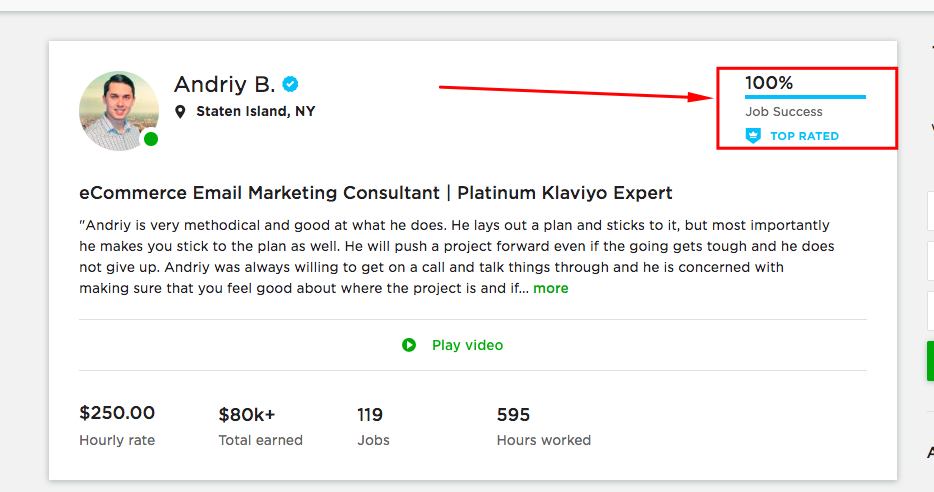 So, you need to look for the testimonial and double check they are legitimate.
That's why I like Clutch a lot because it goes the extra mile to verify each review and confirm if it is a real client leaving you a review. Here is a Clutch verified review from one of our clients Dale (Wine Awesomeness)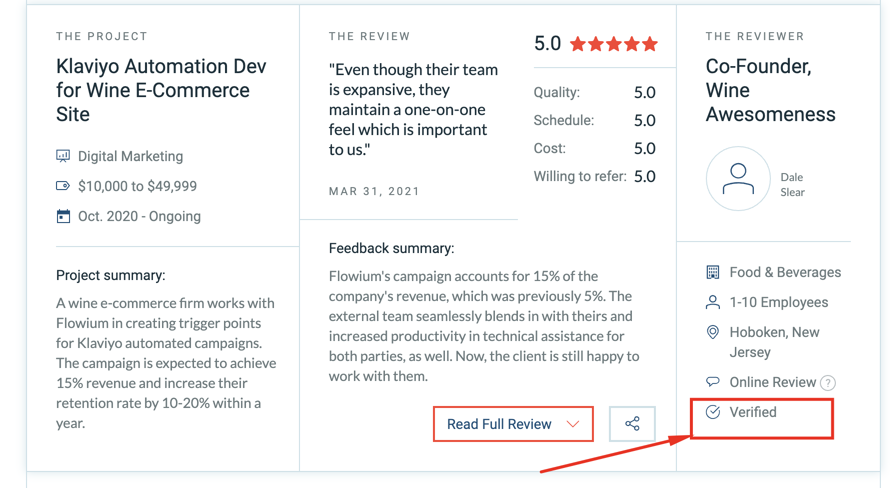 Conclusion
As I said before, there are many email marketing agencies, but you need to do the due diligence before hiring one. The more due diligence you do upfront, the better results you will get in the end.