Your email marketing strategy surely includes an eCommerce welcome email series. However, welcoming new subscribers to your newsletter is not enough.
To maximize your results, you want to follow best practices in sending perfect welcome emails. Learn these proven methods and take a look at some welcome email examples for ecommerce.
What Is an eCommerce Welcome Email Series?
Your eCommerce welcome emails serve as your introduction to new customers who provided their email addresses and to new subscribers of your newsletter.
You can use them to greet new subscribers and customers, giving you a chance to tell them about your brand.
How It Serves the Brand
Welcome emails help your brand by giving you an opportunity to connect with potential customers.
They offer a unique chance because welcome emails tend to have a higher open rate as well as a higher click-through rate than other types of emails.
In fact, some estimates for welcome email's open rates are as high as 91.43%. Compared to average mail, welcome email's read rates are higher by 42%.
Or you can consider that welcome emails average four times the open rate and five times the click-through rate compared to standard marketing emails.
Welcome emails also help your brand create a positive first impression. They are also a good way to set the expectations that your subscribers will have for your newsletter.
How to Create the Best Welcome Emails for Your eCommerce
With the importance of welcome emails in mind, how do you create the best welcome emails in eCommerce? The following best practices will help you do just that.
What a Good Welcome Email Series Should Include: Content
As you craft your welcome emails, be sure to start with a clear subject line that is likely to engage readers. Start the email with a personalized greeting, ideally using the recipient's name.

The welcome email should give a brief blurb about your company. It should also feature a call to action. For example, you could suggest some of your most popular products. Another option is to ask subscribers to follow you on social media.
This is also the perfect time to ask your subscribers for some basic information about themselves. Let them know that you will use that information to tailor the emails they receive. Behind the scenes, you'll use it for email segmentation.
You should also make sure to always include an unsubscribe link. This is a requirement under CAN-SPAM, and it helps your reputation.
How Many Emails
The suggestions for how many welcome emails to send vary. Some companies may do best with just a single welcome email, while others will do best with up to six. However, you don't want to exceed this number.
Sending more welcome emails lets you dedicate each one to a specific topic. It helps you build a relationship with customers slowly instead of pushing it on them all at once. However, you don't want to overwhelm your audience with emails.
Think about your subscribers and find the perfect balance.
Design
Your email design should be consistent with your overall branding. It will typically complement the appearance of your website.
Maximize engagement and the read rate by breaking up the text with images or even videos.
Consider a Discount
It is also a smart idea to include a discount or special offer in the email. This is a great way to turn new subscribers into new customers.
Time the Emails Properly
Don't forget the importance of proper timing for your ecommerce welcome email series. You want to send the first email immediately after someone signs up. Their interest will be high at this point.
The Perfect Welcome Email: Examples for Ecommerce
With those best practices in mind, take a look at some of the best welcome email examples for e-commerce.
Lush
Lush's welcome email uses terms like "Lushies" to create a sense of community. That is furthered by the subject line that tells recipients they are part of the Lush "family."
The email also includes plenty of images to keep things interesting, as well as links to popular products.

Felina
This welcome email from Felina includes several of the features we mentioned.
It offers a 10% discount, which is prominent in the email. It also has imagery to feature some of the products.
On top of that, it shows that the brand prioritizes customer service with the phrase, "We're here to help."
The email footer is also worth noting, as it highlights some of the standout policies at Felina, including free returns and exchanges and a 60-day extended return policy.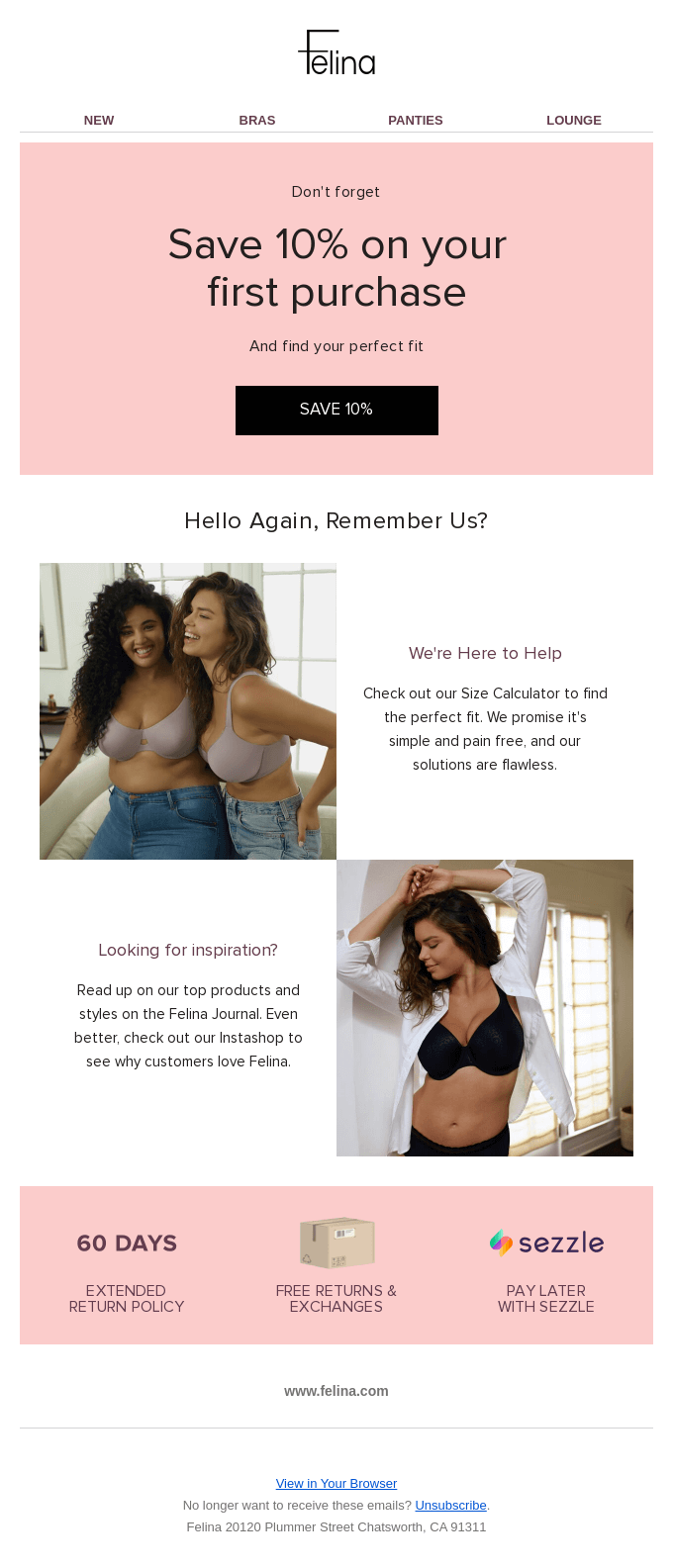 Zoe's Kitchen
This email from Zoe's Kitchen welcomes recipients to ZK Rewards.
It includes the tagline "Mediterranean goodness at your fingertips" for a soft sell and a reminder of what the recipients will get. It also has great imagery, including the mobile app.
For added convenience, it includes links to the company's contact information, social media pages, mobile app, and menu.

Further Reads
Set Up Your Perfect Welcome Series With Our Email Examples
Emailing: How To Use Klaviyo for Your Welcome Series