When describing what it's like to work at any place, it may be hard to find the right number to reflect that. But there's one that stands out at Flowium, and it's this: 90% of our team members want to stay with us next year.
Working at Flowium offers a flexible remote job with excellent benefits and opportunities for growth.
But, of course, as with any job, there are pros and cons to consider before joining the team.
Here's our take on the pros and cons of working at Flowium.
Investing in people
When you start working at Flowium, it quickly becomes evident – people are the main asset here.
At Flowium, we focus on building the kind of work culture where personal and professional growth is just as important as the bottom line.
You notice it from the start – when you're welcomed into the company with every possible resource to make your transition into your role as smooth as possible.
And you continue to notice it through the way you're treated as you advance and grow within the company.
How we do it at Flowium
To put things into perspective, we've stopped collaborating with clients in the past because they weren't a good cultural fit for our team. And when we consider potential clients, they always have to pass the filter of whether or not they'll be good for our team.
Despite being a small remote team (only seventy-seven team members), we offer benefits that even some big companies in the US don't.
Here's a breakdown of the benefits you can expect when joining the Flowium team.
At Flowium, part-time team members (34 hours or less) have open paid time off up to 70 hours per calendar year.
Full-time team members (35 hours or more) have unlimited paid time off.
Religious holidays, jury duty, military leave, disability (up to 6 weeks), bereavement, or care of a sick relative are covered under a separate definition and do not take from your paid time off.
Six weeks of parental leave
Six weeks of paid parental leave is extended to all team members and comes in addition to the regular paid time off.
Bonusly – an engaging recognition and rewards platform
Every month, team members get Bonusly allowance of kudos. With their allowance, they can give kudos to their team members to recognize their contributions in real-time. Team members can then redeem their kudos in the reward catalog, which includes sports stores, restaurants, and charities.
Office equipment and technology allowance program
Since we all work remotely, if you need some equipment for your daily work, Flowium will reimburse up to $500 every two years.
Our professional development allowance is available to all team members who have been with us for at least 3 full months. You can claim up to $500 in the form of paid courses or seminars, paid books, and other learning materials, as well as professionally related subscriptions.
Since we all work remotely, we need a good space to work. To help you create the best work setting, Flowium will reimburse up to 50% of your office rental costs.
Flowium sponsorship program
Flowium promotes your well-being and participation in different events such as the Ironman Races, marathons, or cycling sports. Sponsorships help participants to focus more on
their training for the event, as well as reduce the stress associated with obtaining funds to practice and participate.
Developing a supportive team culture
One of the biggest pros of working at Flowium is the strong team culture. Despite being a fully remote team, you always feel team spirit.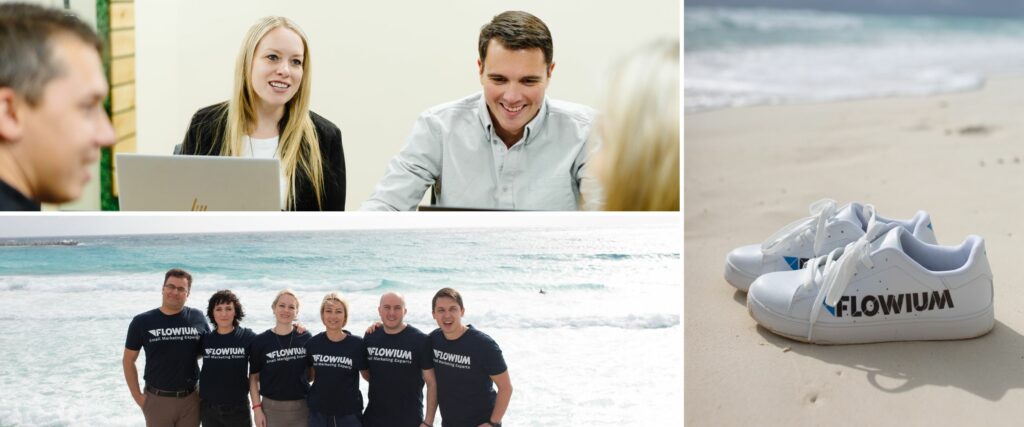 Your team members are always there to lend a helping hand if you find yourself in a bind. Whether it's an urgent situation or you're overwhelmed with your workload – your team is always there to help.
How we do it at Flowium
There are many things we do to strengthen the team culture.
It all starts with the principle of "if you see it, say it". At Flowium, there's no such thing as "someone else's task.
In other words, if you notice a mistake or that something's not working, you can always tell the person responsible for it. The success of each of our team members is our collective success and responsibility.
To formalize the process, you also have access to Flowium Signal Box. Signal Box is a simple typeform where you can anonymously leave feedback, comments, complaints, ideas, and suggestions.
We work well together, but we also just enjoy each other's company. To spend time together outside of work, we have something we call Coffee House every Friday. Coffee House is a paid 30-minute hang where team members are encouraged to talk about anything but work.
We discuss everything – from our fur babies to our favorite shows. Having the space to learn about each other outside of the work context helps build a sense of community and foster relationships among team members. And that, ultimately, makes for better workplace collaboration.
To help each other understand how to best collaborate, we also have the "Work with Me Guide." It's a simple document where each team member shares their preferred methods of communication, how each one feels about and works with deadlines, and how we like to receive feedback.
On top of that, we also have activities that we like to do together. For example, recently, we did a 5k challenge – where you could join a 5km run and share your progress with the team.
Staying flexible working at Flowium
One of the biggest advantages of working at Flowium is the flexible hours. In fact, based on a team satisfaction survey we conducted, an impressive 96% of team members expressed satisfaction with the level of flexibility and freedom allowed at Flowium.
At Flowium, we recognize that everyone's schedule is different and that we all come to work remotely for different reasons.
At Flowium, you can work at your own pace and schedule, which is perfect if you're a working parent, lead a nomadic lifestyle, or just like to travel.
How we do it at Flowium
We want everyone to have a level of flexibility that allows them to create their best schedule. Still, we also want to make sure that the work gets done.
The way we do it is simply by communicating. Every team member must let their Lead Team Member know if they go away for a day or longer.
Also, if you're taking some time off, it's your responsibility to either get your tasks done before you leave or find someone on the team to help you complete them.
With Flowium, you can live your life, enjoy time with your family and your hobbies – all while having an interesting, challenging job with a great team to come back to.
Here is a short video proof 🙂 Check how other team members spend their day working at Flowium.
Learning continuously
In a competitive industry such as eCommerce marketing, it's our only option to continue learning and staying on top of our marketing game to remain the industry leader.
At Flowium, "continuous learning" isn't just words – we actively create opportunities and provide the space for learning and professional growth.
How we do it at Flowium
We encourage at least one hour of weekly learning and offer various learning opportunities.
Every other Tuesday, we have Creative Training for our creative team, so all copywriters and designers can learn and expand their skill set.
We also have Educational Fridays – a weekly training session for our email marketing specialists, open to all team members every Friday.
All of those trainings are recorded and available to all people on the team you at all times.
Occasionally, we have guest speakers from Klaviyo and other partner companies helping us elevate our marketing skills.
We also have Career Paths, a learning program consisting of courses to help you advance your career. Career Paths is a way to give team members a chance to enhance their skill sets with ample room to grow in their careers at Flowum.
With Career Paths, you get to accomplish different tasks and complete certifications to build expertise in different areas.
Cons of working at Flowium
Despite how much we love working at Flowium, there are downsides to this type of work setting.
One thing many consider an advantage, but that can also be viewed as a con, is the fully remote working environment. Unfortunately, outside of our weekly meetings, you don't get to spend time with your colleagues, which may lead to feelings of isolation or loneliness. Additionally, you don't get on-site office job perks, and you're usually working alone.
Furthermore, working at Flowium requires a lot of self-organized work. At Flowium, we encourage and value initiative, so if you're used to an environment where you have your agenda scheduled for you, this may not be the best work setting for you.
Bottom line
Flowium is a unique workplace where you can enjoy flexible remote jobs with excellent benefits and opportunities for growth.
So if that's what you're looking for, we encourage you to check our open positions and apply to join our team.
We look forward to meeting you!