The money's in the list, but building an email list isn't easy. 
In this article, we're sharing the top 9 ways you can kickstart your list building, plus some practical examples you can put into action right away.
By the end of this article, you'll have the know-how to help you leverage different web pages and opt-in forms to convert your website visitors into loyal subscribers.
#1 – Homepage
Your homepage is a great way to start building an email list. The best way is to offer a valuable incentive in exchange for your visitor's email address. Some popular options include ebooks, cheat sheets, and discounts.  Include at least one opt-in method and don't be afraid to test different opt-ins.
An example that works: Paul Minors
Paul Minors is an Asana consultant. On his website, there's an inline form where you can leave your name and email in exchange for his PRODUCTIVITY BLUEPRINT.
#2 – Photo Opt-Ins
At this point, many online shoppers have become used to scrolling down to the bottom of a page for an opt-in. Take advantage of this behavior and use your website's footer to continue building an email list. 
Offer your website visitors the chance to sign up for a newsletter or receive discounts through the footer area. This strategy is especially effective if you have Shopify since they include the option to sign up for a newsletter in their default footer design.
An example that works: RSVLTS
RSVLTS is an Apparel & Fashion brand selling fun, conversation-starting t-shirts and other clothing items. At the bottom of their website, they have a newsletter sign-up section where their website visitors can sign up to receive updates and news.
💡 Flowium Tip: RSVLTS is a great case study of how when you understand your audience, you don't need to incentivize them with discounts to grow your email list. As a non-discount brand, they focus solely on providing value through simple newsletters.
#3 – About Us
'About Us' pages are typically the second or third page people visit, depending on the source Since visitors interested in learning more about your brand are likely to engage, About Us pages are an ideal place to encourage them to subscribe to your email list.
An example that works: Smart Passive Income
An excellent example of the effective use of this opt-in method is Pat Flynn's website, Smart Passive Income. When you visit his About Page, you'll find a compelling story behind his brand. 
His About page opt-in allows visitors to sign up to receive updates or other valuable content. 
This works because by using this approach, Pat Flynn was able to not only build a strong email list but also connect with his audience and nurture meaningful relationships with his subscribers.
#4 – Loyalty Programs
If you have an eCommerce store, we strongly recommend installing a loyalty program. Inexpensive and easy to set up, loyalty programs are a great way to continue building an email list while providing value to your subscribers.
An example that works: RSVLTS
When you visit their website, you'll find 'RSVLTS Rewards.' This works because their signup process is a no-brainer, with the benefits outweighing the hassle of signing up. To become a member, all you need is to click on 'Join Now', input your email, and create a password. 
#5 – Blog Posts
If you create blog content for your brand, leverage it to kickstart the process of building an email list.  Use one piece of gated content for all blog articles or create lead magnets that match the content. 
An example that works: Flowium
At Flowium, we tailor lead magnets to the contents of each article.  For example, when someone visits a Klaviyo-related article, we offer our Klaviyo checklist – something that's likely to be of value to someone interested in that topic. 
#6 – Exit Intent Pop-Ups
Exit intent pop-ups are used for website visitors who aren't currently in your database.  As your visitors are about to leave the page, your pop-up appears, enticing them to take action before they go.
#7 – Welcome Mats
The welcome mat strategy has helped our agency a lot with building an email list in the past. 
The idea is that, unlike a regular popup, a welcome mat covers the entire screen, making your CTA impossible to miss.
To proceed to the website, your website visitors will need to either close that welcome screen or complete your call-to-action – extending their time on your website and making engagement unavoidable.
Although some may find it annoying, it's still a great way to get your visitors' attention, increasing your chances to convert them into email subscribers.
An example that works: Neil Patel 
Neil Patel is big on welcome mats  – he often uses this strategy for his SEO consulting business.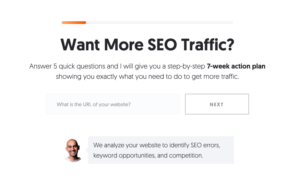 This works because the headline highlights a clear benefit to anyone visiting his website, and the CTA focuses on what's important to his audience.
#8 – Quizzes
Quizzes are a proven list-building strategy that works especially well when your website visitors aren't sure what product or service they might want. 
The idea is simple; you ask guiding questions, they give you answers, and based on their answers, you make product recommendations. 
Besides being a great way to engage your audience, it also helps you 1. continue building an email list and 2. segment that list on the spot. 
An example that works: Beardbrand
Beardbrand is an eCommerce company offering products that help men grow and upkeep their beards. 
Their quiz not only helps you build a well-segmented list but also improves your customer experience, offering your website visitors a simple way to find the right products. 
Beardbrand uses Typeform, but there are many other tools on the market.
💡 Flowium Tip: Visit our resource page flowium.com/tools to find the right quiz generator for your business.
#9 – 404 Page
Sometimes people mistype your web address or accidentally land on pages that no longer exist. When that happens, your website visitors are redirected to a 404, aka Error Page. 
Although generally considered a poor user experience, 404 pages are a great place to add signup forms. 
💡 Flowium Tip: If you're looking for some inspiration on 404 pages, check out our article, How You Can Leverage 404 Page To Get More Email Subscribers.
Bottom Line
Building an email list may not be easy, but armed with these 9 powerful strategies, you're ready to kickstart your list growth. Start implementing them now to attract qualified leads and watch your email list grow.