Email Countdown timers can be used in eCommerce businesses, for sales, product launches, or events.
Countdown timers are a great way to demonstrate that there is only limited time until good offers last. It gives customers a feeling that they will lose out on a great opportunity if they don't act immediately, thus encouraging them to make a purchase and complete a sale.
Countdown timers are easy to understand at a single glance and are used by many established and small eCommerce brands as a way of email marketing. This brings us to the question of how to insert a countdown timer in an email.
Before that, read on to find out more about the benefits of using countdown timers and the types of countdown timers.
The Use of Countdown Timers in Email Marketing
An email countdown timer provides a countdown to a final sale or an event. The ultimate goal is to create a sense of urgency in the minds of the customer and to make them react on the spot.
A countdown timer should be used to draw attention to the CTA and not draw attention away from it.
Situations in which countdown timers are used are for:
Here are some reasons why using countdown timers as a part of email marketing is useful.
Sales increase when you send a countdown timer by email
An eye-catching countdown creates a visual CTA. Most times visuals are more appealing than plain text and readers want to see information that they can quickly process.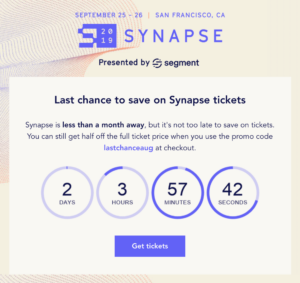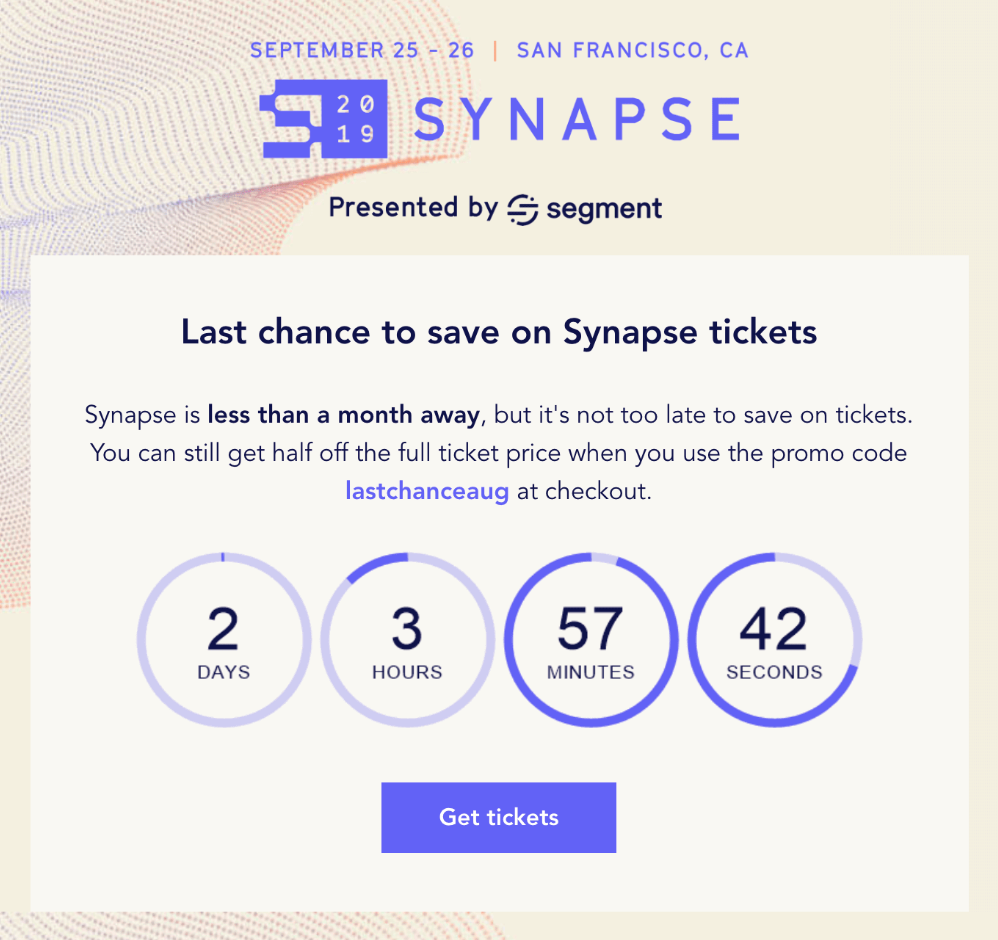 Studies show that when countdown timers are placed in emails, it can increase your sales rates by up to a whopping 400%.
Creates a sense of urgency
The main use of a countdown timer in email marketing is to nudge customers toward a purchase.
When customers see an email that says, "50% off on all clothing items," as opposed to, "50% off only for 3 hours", and you insert a countdown timer in the latter email, the second option is the more attractive one!
Helpful to your subscribers
Countdown timers may also act as a reminder to existing and potential customers who are genuinely interested in your products or services.
Maybe they wanted to purchase an item but were waiting for the right time.
Increases click-through rates
A customer is more inclined to read your email and browse through your products if there is a countdown timer, to see if they can benefit from good offers that you provide.
When you send them an email with a countdown timer, they will be more inclined to buy the item/s or service.
Types of Countdown Timers
Here are two types of countdown timers that you can use in your email marketing campaigns.
Static countdown timer
Static countdown timers are very commonly used for email marketing. It is easy to set up and run. As the term suggests, a static timer means that the countdown has a final end date.
This is used especially around the holidays for special promotions and discounts.
The promotion starts and ends at the same time for all those who visit your site. For example, a company could send an email with a countdown timer saying, "10% off your order" and display the countdown timer below, showing the days, minutes, and seconds.
Dynamic countdown timer
This countdown timer is great for attracting new customers. It is different compared to a static countdown timer because visitors will get a pop-up when they open their email.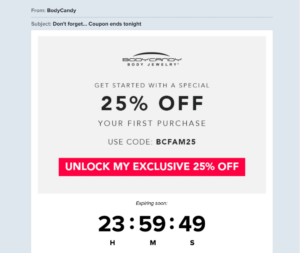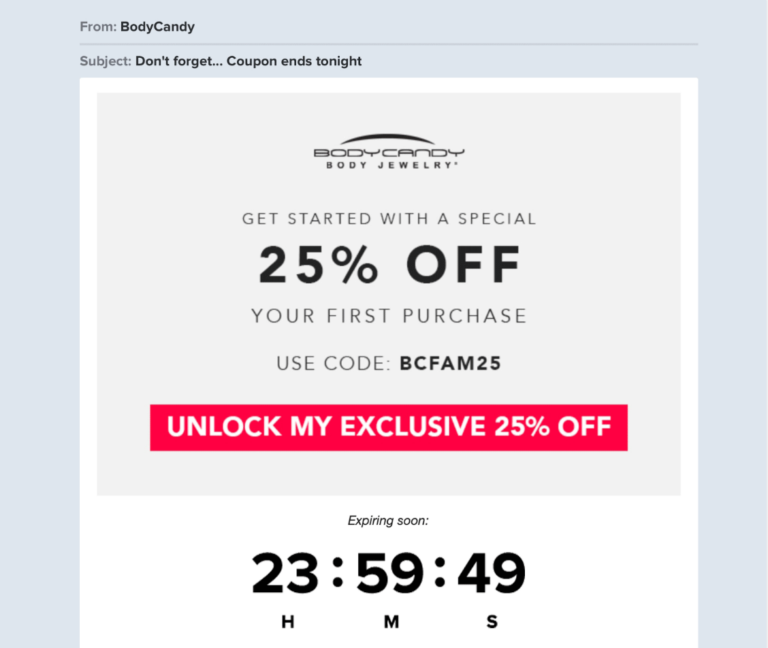 For example, if the first customer visits your page on Sunday, he or she will see a timer that counts down until 7 days. The next customer who opens his email on Monday will get exactly the same 7-day countdown timer regardless of when he opens his email.
How to Insert a Countdown Timer in an Email?
Inserting a countdown timer in an email is easy and there are tools that you can use for your convenience.
Countdown timers can be inserted into emails in two ways:
By creating an HTML timer and adding a code to the email layout
By inserting a GIF image.
HTML Countdown Timers
The HTML uses an HTML script that counts down a specific time including days, minutes, and seconds.
For an HTML countdown timer, you can customize it by
Picking a background color
Selecting a language
The color of the text and numbers
Etc.
These timers can be created using certain software like Sendtric, CountDownMail, MotionMail, and MailTimers.
Alternatively, you can generate the code by yourself. However, custom codes might cause display issues.
In an HTML timer, the code has an image link but there is also an HTML script including the timer's conditions. This guarantees that your clients will not see your countdown timer as a threat, which would lead them to reject your email.
To use an HTML code in your email marketing:
First, choose a tool to create the HTML code.
Next, specify the end date and end time. Do this keeping different time zones in mind.
HTML timers always need to have an end date.
The number on the timer will start its countdown from the moment it is generated.
You don't need to be concerned about what time the user receives your email because the number will keep counting down. When the timer expires it will stop at zero.
After you set the timer, customize the background color and design.
Generate the code snippet for the countdown email.
Copy and paste the HTML code that is generated and embed it in the email template.
GIF Countdown Timers
GIF countdown timers are one of the easiest ways to include timers in an email. What you need to do is find a GIF stock image and insert it in your email's "Image" block.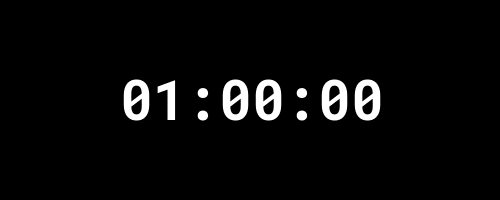 You can find GIFs on:
Google
Pinterest
GIPHY
Tumbler.
The great thing about GIFs is that clients don't find GIFs suspicious. In fact, it is not even a real countdown timer but an animated image.
To make your own a GIF countdown timer and customize it, follow the steps stated below:
First, download a timer script. A good place to do so is from GitHub. You will need PHP support to customize your countdown timer when using a GIF.
Select the time zone.
Add the chosen image.
Choose the font.
Set the horizontal and vertical alignment for the X-& Y- offset.
Add your font path.
Choose the color of the text.
Generate the image and add the link to your email in the form of an image.
Remember that when you use a countdown timer in your email, you need to create a sense of urgency, but not cause stress.
Using a countdown timer is a great way to increase your sales and attract customers to your eCommerce business.
Frequently Asked Questions
When is the best time to add a countdown timer to a marketing email?
Since countdown timers give a sense of urgency, the best time to use this tool is in abandoned cart emails or in special sales announcements. You can add a message such as, "this sale will end soon, hurry up" or "the item in your cart won't be available eternally, only 48h left before its price change".
What is the worst practice when it concerns countdown timers in emails?
The worst practice is to scare your subscriber. While you want to urge him, you do not want to make him feel uncomfortable. So, avoid using too short timing or too aggressive lines. Nothing is worse than an email entitled "If you do not do this, you'll make a big mistake in 35 minutes!" You don't want panic attacks.
Are countdown timers in emails still effective?
Yes. You just have to not overuse them. But generally speaking, people tend to read an email entirely if they are aware that the offer is only temporary. They will at least take the time to see if they can benefit from the offer. Thus, click-through rates are higher.