When eCommerce marketers send emails to subscribers, a good way to get information across is to attach a PDF to your Marketing Email.
PDFs can contain different types of data like charts, text, and images. While this seems like a great solution, attaching PDF to a marketing email is not so simple after all.
E-commerce marketers often ask how a PDF can be attached to a marketing email. In short, the simple answer is that that cannot be done.
Moreover, there is always the risk of the email ending up in the spam or junk email folder. There are also certain reasons why these PDF attachments cannot be included in an email.
How to Attach a PDF to a Marketing Email?
Here are some of the reasons why you are not able to attach a PDF to a marketing email:
Viruses and malware
Email attachments are very often used as a means to hide viruses and malware. As a result, emails with attachments are more likely to get caught in spam filters, because of which deliverability is affected.
Nowadays that people are more aware of spam and malware, they feel less secure downloading random files that they receive.
Large size
Another reason that might prevent you from attach PDF to a marketing email is its large size.
When you try sending an attachment as a PDF,  it is likely that these emails will bounce from email servers since PDFs are generally large-sized.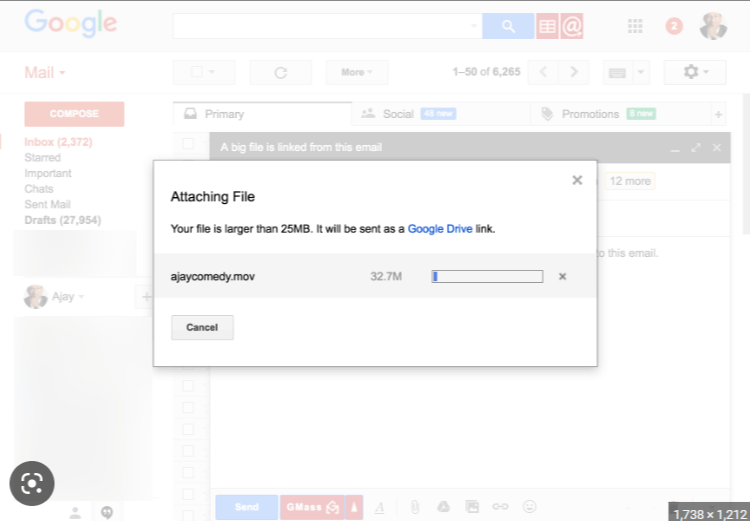 Inbox limit
Email inboxes too may have a message size limit that prevents these emails from being delivered. PDF attachments can slow down large email marketing campaigns since the time taken to send each email is much greater.
Then, for recipients too these emails take longer to download.
Alternatives to Email Marketing PDFs
There are alternative solutions to this problem of attaching PDF files and sending them via email. One of the best ways to resolve this problem is by creating and sending links.
First, create the document or page, or PDF, and then place the file in Google or Dropbox. You can easily enable viewing for anyone who has the link.
Share this link with your recipients. This makes everything much more convenient.
You can also share files with your email marketing recipients by creating and linking to a landing page in the email.
It is important not to link directly to files, since certain spam filters can follow links and still block your email if they find something that they consider suspicious.
For instance, Microsoft Office files are often considered high risk.
How to Link a File Such As an Email Marketing PDF
The following steps will guide you on how to link a file:
Host the file online
This could be done on cloud storage software such as:
Google Drive
Dropbox
OneDrive, or
Amazon's services.
Alternatively, you can use your own web browser. For instance, if you use Dropbox, simply upload the file to your Dropbox account.
Then select the 'links' option once the file is stored in the cloud. Select the PDF file you would like to share with your contacts from the list of files, then click the Widget icon to the right of the image in order to retrieve the link.
While retrieving the link, you have the option to adjust or edit your content settings.
Create an image or button in your email
Once the file has been hosted somewhere, the next step would be to add a button or an image to the email linking the file. In order to direct your email recipients to a download link, a call-to-action button should be included.
The button should be:
Visible
Clear
Clickable, as a marketing best practice.
For instance, if you use Flashissue which is a tool to design and send newsletters from Gmail, select the option to add a button under the section in the email which says "Add content to your email."
Then edit the text, color, and link behind your button any time during the email development process by hovering over the button and selecting the option to edit the email element. You could also use an image to do this instead of a button.
Other Solutions to Share Information
If you want to avoid creating a link to share your PDF, there are other options that you could try.
Use Great Email Content
Though most people don't like reading blocks of text, you can still get your message across to your subscribers in the email itself.
Use a catchy subject line that captures the attention of the reader. For example, a subject line like, "15% off all sale items. What really?" is intriguing.
Other than this make sure that your email is well-structured and concise. For well-worded content that is akin to your brand voice, hire a content writing expert who is familiar with eCommerce marketing emails.
Design Images with Text
Images are catchy because they deliver information to the viewer in a single glance. Why not use an image to share information with your existing and potential customers?
Today eCommerce marketing tools have great templates and simplified options where you can add and edit information on images.
Drive Viewers to Your Website
Finally, by adding the PDF to your website, you can redirect viewers there. Adding information and PDFs to your website has a great advantage.
It increases the number of browsers, thus increasing the chances of your products and services getting noticed. This increases the possibility of sales.
Though adding a PDF to your marketing email is not an option, as stated above, there are many ways to work around it and get information across to your viewers.
By using the right tools and tactics, you can share important information with all of your subscribers.
FAQs about How to Attach a PDF to a Marketing Email
Why can't I attach a PDF to my marketing emails?
The main reason why PDFs can't be attached to marketing emails is the risk of to end up in the spam folder. Because PDFs (and attachments in general) are often used to hide viruses, email inboxes, as well as users, don't trust them. So to make sure your email gets into your subscriber's inbox, avoid including any attachments.
How can a user access a PDF file from my Google Drive or Dropbox?
You need to upload the PDF file to a cloud and click "share". Then, you can select the "links" option and give authorization to all users to read your file through the link. Now, you can copy/paste this link to your email, and your subscribers will be able to access your file.
How can I attract the subscribers' attention to my links to access PDF files?
You can use calls to action to make your subscriber click on links redirecting to your PDF files. These calls to action should be visible, clear, and clickable buttons, that the subscriber can easily spot in the email. A catchy phrase, such as "click here to download your guide!" will attract attention even more.