In email marketing, first impressions matter.
Your first welcome (aka pre-purchase) email sets the tone for your whole email relationship and can impact whether your subscribers will open and click on future emails – so it's important to get it right.
Discover our welcome series email examples and what we like about them to learn how to create your first welcome email or optimize your existing welcome series!
Welcome Emails: What Are the Rules?
Welcome emails are the perfect occasion to spread your brand by engaging with new subscribers.
They just joined your newsletter, they are at the pick of their interest, so they are more likely to open your email and appreciate your efforts to establish a connexion.
It is also the perfect opportunity to let them know you have some new products, promotions, or ask to respond to a survey or any other request.
But welcome emails will only be effective if you do it right and include all the basic elements:
A catchy and welcoming subject line
A "Thank you" note, because you are grateful
Good content: a short description of your brand, your intentions, values, goals, etc.
A call to action: suggest products, ask to fill a questionnaire, subscribe to your company's social media, etc.
A good email design: with images, graphs, colors of your brand, etc.
A logo of your brand
Social proof: reviews of previous clients or examples of successful work to convince the subscriber that he can trust you
An unsubscribe link (this is a requirement under CAN-SPAM).
How Many Emails Should a Welcome Series Be Made of?
The amount of emails you need to send in the context of your welcome series really depends on:
Your email marketing strategy
Your brand/company
Your targeted subscribers.
Some companies prefer to stop after only one welcome email containing all the elements we previously listed. Others will divide the information into multiple emails.
Experts advise creating a welcome series of 4-6 emails at least to maximize the benefits of the high click-through rates of welcome emails without spamming the newly subscribed person.
An example of a successful welcome series:
First email: You welcome the new subscriber and thank him
Second email: You explain who you are, how your company and team work. It makes the exchange more human and helps to connect and build trust
Third email: You tell the subscriber what he can expect from your company. That means your services, your quality, your values, etc.
Fourth email: You tell the subscriber what you need from him. For example his trust, his honest opinion, etc.
Fifth email: You ask for a review on Google reviews or directly on your website
Sixth email: You ask for feedback, as a way to improve your work.
This is of course only one type of welcome series email example. Some people skip the third and fourth email, but usually, the first, second, fifth, and sixth email types are quite popular.
Also, you can mix it up and include different pieces of information thoughtful your welcome series. It's up to you!
You can also choose to include all (or almost all) these elements in one single email.
Welcome Series: Choose the Right Email Template
Now that you have an idea of the number of emails you would like to include in your welcome series, you should find your perfect welcome series email template.
The reason behind this is that you want a harmonious welcome series, with a similar style and design to show unicity and build a visual association to your brand.
To achieve this effect and make your welcome series campaign truly professional, you have two options:
Download an online welcome series email template and fill your information in it
Consult email marketing experts that will design your customized email template that you will be able to re-use every time you set up an automated welcome series.
Whatever you choose, you should keep in mind what a great welcome series email template is. Here are our selected examples to inspire you and help you to set up your own email marketing strategy.
Welcome Series: Email Examples
Welcome email example 1: Glossier

This is a great example of a successful welcome email. What we like about it:
It's really colorful, visually attractive, and pleasing to the eye
There are a lot of faces, of women, which means the email is more human. We have a sense of community here, which also serves as social proof of the brand's success and quality
The images correlate with the textual content. The email talks about how the brand creates products inspired by people and simultaneously shows a variety of women enjoying the products
There is an invitation to come to the physical showroom, but also to contact the team, which makes the email even more welcoming
There are calls to action: link to Glossier's Instagram account, "show me more", "learn more", "meet them", etc.
The email introduces popular products
The email mentions free returns and exchanges: this builds trust and cancels future post-purchase anxiety
The last call to action is very appealing: "Fun stuff. And it's free! Take me there >". Such a strategy is very likely to increase click-through rates.
Welcome email example 2: KonMari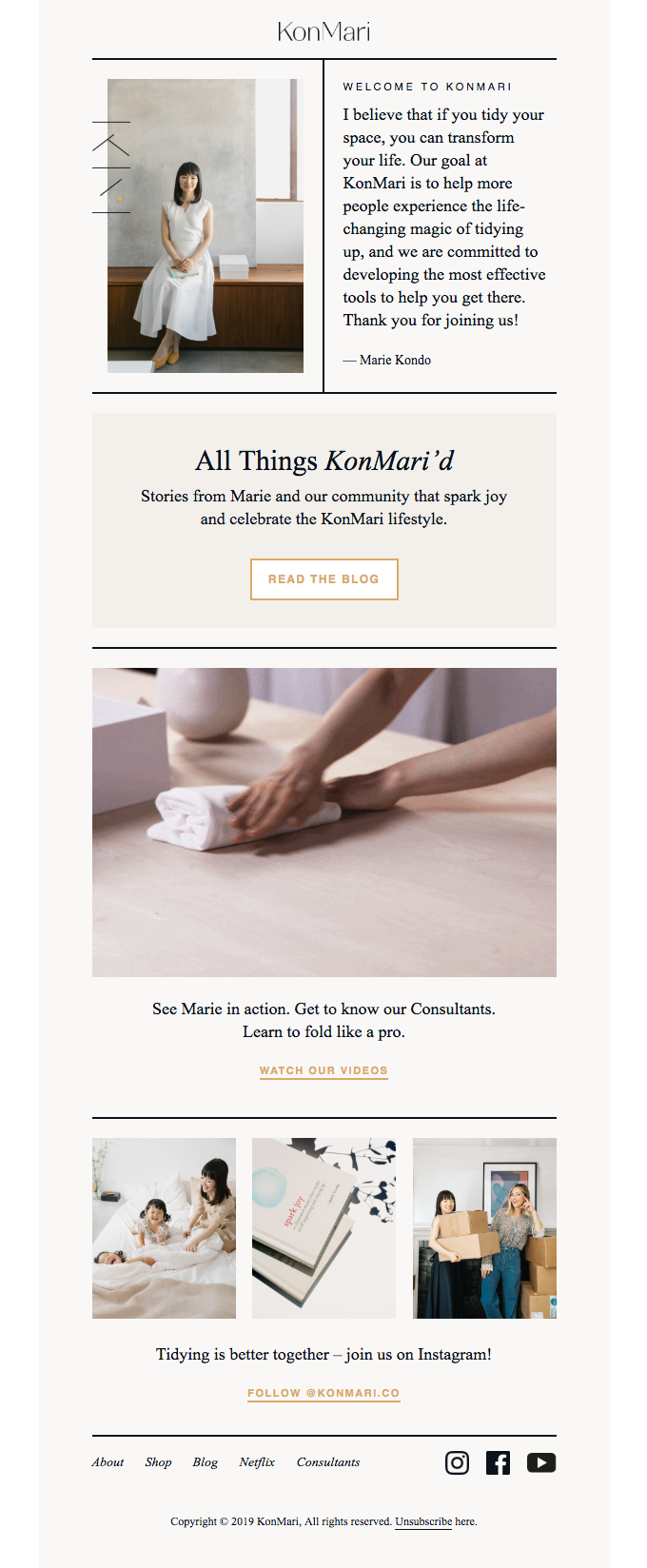 What we like about it:
The email design suits well the brand image and goals. It is very minimalistic and clean, which is perfect for a company that offers consulting services for people who want to learn the magic of tidying up
The thank-you note is a personal message from the creator of the company, and it's signed. It also presents the company's concept and goals
There is a picture of the company's creator, which makes the email even more personal and welcoming
There are three calls to action: "read our blog", "watch our videos", and an invitation to follow the Instagram account.
Welcome email example 3: Chipotle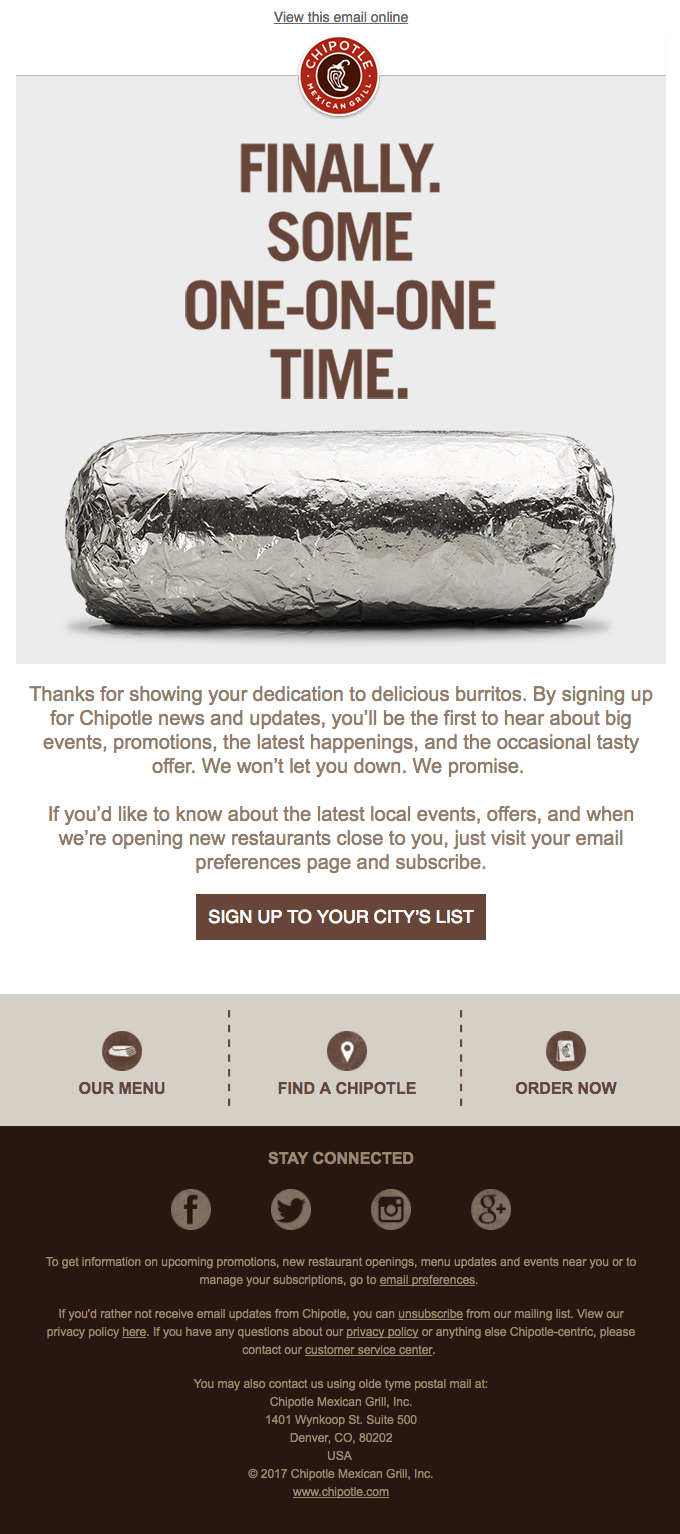 What we like about it:
The first sentence is very catchy and original: "Finally. Some one-on-one time". Truly creative
The design is simple but uses one of the logo's colors: brown. This makes the template easy to associate with the brand
There is only one image but it stands out. First, it takes a lot of space. Second, it's very fun and straightforward: simply a burrito, in its aluminum packaging. No yummy looking menu, just a ready-to-go burrito, which suits well the straight-forward slogan
The textual message says thank you to the subscriber and tells him what he can expect from the company
There is one call to action: "sign up to our city's list"
Everything a customer may want to access is linked in the email footer : the menu, the address, where to order, social media.
Discover Other Welcome Series Email Examples
If you want to learn more about the art of setting up a successful welcome email series, you can watch our YouTube video on the subject.
In this video, we walk you through four more welcome emails, share what brands did right, but also what they could improve, so you can use those examples as well to create your own perfect welcome email series.
Frequently Asked Questions
Why welcome emails are so important?
The welcome email is your first email contact with a new subscriber. It is also the moment when the subscriber's interest in your brand is at its peak – after all, he agreed to share his email address with you. This is a golden opportunity with a very high click-through rate. Don't miss it.
Can I just send one welcome email, or do I have to set up a campaign?
Some eCommerce owners choose to send only one welcome email, and it works well. Only, since it's a perfect time to contact your subscriber and to convert him into a customer, it can be a disadvantage to limit yourself to just one email. A campaign can multiply chances and success numbers. The only rule: not to do too much and spam someone's mailbox.
What is the best template for welcome emails?
The best email template for a welcome series is the one that resembles your brand the most. Since it is the moment to introduce your brand, products, and team, the email template should 100% reflect the spirit of your company.