Nowadays, the competition for the best email marketing software for eCommerce businesses is really high, and as many of the leading ESPs have been on a market for a long time now, all of them are updating their offers and features to best suit their customers' needs. Today, we'll take a closer look into 2 of the best email marketing software out there – Hubspot vs Klaviyo. We'll take a closer look into the features of both, including pricing, pros, cons, and so much more so you can determine which one would be the perfect fit for your business.
Klaviyo for Email Marketing
When it comes to email marketing software, we strongly recommend Klaviyo. As an ESP specifically designed for online stores, Klaviyo offers robust features not only to help you send emails but most importantly – sell.
In case you're also looking to connect with your customers through SMS, Klaviyo provides an SMS platform that works in sync with your emails, for even better results.
With Klaviyo, we have a 100% email marketing-focused company. With a not-small-at-all valuation of $4.15B at the end of 2020, Klaviyo has made for itself its own place in the eCommerce ecosystem by doing email marketing only but mastering it completely.
On the other hand, there are robust platforms that offer a good deal of solutions for the digital-focused company, with HubSpot being one, not the most famous Digital Marketing Platform out there.
Hubspot for Digital Marketing
Founded in 2006 and shy of achieving a $20B market cap, HubSpot has become the go-to source for Digital Marketing information for hundreds of thousands of Digital Marketers around the world.
And why shouldn't they when you are able to educate yourself in everything concerning Inbound Marketing without having to pay for it; they are the biggest authority on it and they have gotten there by practicing what they preach.
That is, focusing on their customer.
It also means that if you are having some interaction with your customers online, HubSpot probably has an article about it.
If it is slightly connected to customer interaction, they will cover it inside their CRM platform. Marketing, Sales, Customer Service, CMS… You name it.
But let's face it, when you are trying to do it all, there are areas where you are going to be great, but in others, not so much.
And, to be honest, their value proposition is not easily found somewhere else, let alone outmatched.
That is if you are not focusing on eCommerce alone.
Hubspot vs Klaviyo for eCommerce Email Marketing
To make a "fair" comparison, we had to select a HubSpot package that compares best with Klaviyo. Also, full disclosure, we will only focus on email marketing.
Though you can do your email marketing in HubSpot, you can only get comparable functionality if you buy their whole Marketing Hub package at the Professional level, which will also give you so much more than just email marketing.
The more you pay, the more you'll get, if you'd like to find out just how much, jump straight to the Pricing section.
Still interested in learning more? Dive with me into the 12-step comparison we prepared for you:
Part 1: Dashboard
Part 2: Campaigns
Part 3: Integrations
Part 4: For eCommerce Platforms
Part 5: Opt-in forms
Part 6: Klaviyo Analytics vs. Hubspot Reports
Part 7: Coupons
Part 8: Klaviyo Flows vs. Hubspot Automation
Part 9: Tags
Part 10: Subscribers Profile
Part 11: Segments
Part 12: SMS
Part 13: Pricing
Part 14: Community & Resources
Klaviyo vs Hubspot for eCommerce: 14 Points of Comparison
1. Dashboard
If you are a decision-maker in your business, you need to make sure decisions are backed up by real-time data.
A good Dashboard does not only show information, it must show information that is important about your business. Meaning that it should be customizable to your needs.
I'm glad to say that in both cases, you don't have to dig into the menu to get a quick glance at your Dashboard, and you are only a few clicks away from a deeper analysis.
Also, you don't have to stick with the reports that came with your new account if they don't suit your needs. You can do whatever you want with the Dashboard and make it work for you.
In Klaviyo you do get a fixed Dashboard to greet you, but you are a click away from your custom dashboards in the Analytics tab.
We have talked in other comparisons about how Klaviyo's dashboard is less bulky and a completely useful dashboard for eCommerce business owners.
It shows your store revenue, as well as how much you make from automated emails and campaigns.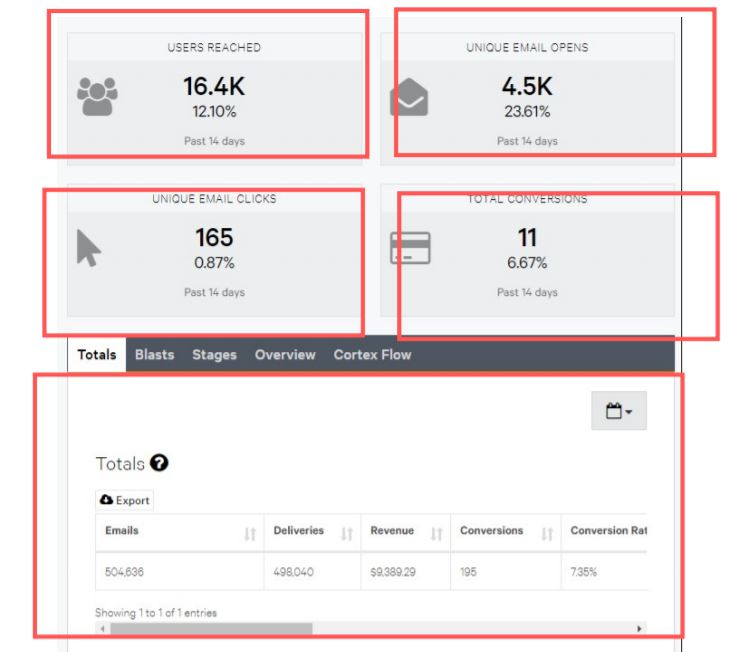 HubSpot is no slouch in the analytics department and the options you get are not only related to email marketing but to all your marketing efforts. Of course, you can filter to see email only.
Your custom Dashboard can be the one that greets you when you log in—making it easier to know how your numbers have been doing.
Both do a great job, but if you are in the HubSpot ecosystem, the former will be more useful.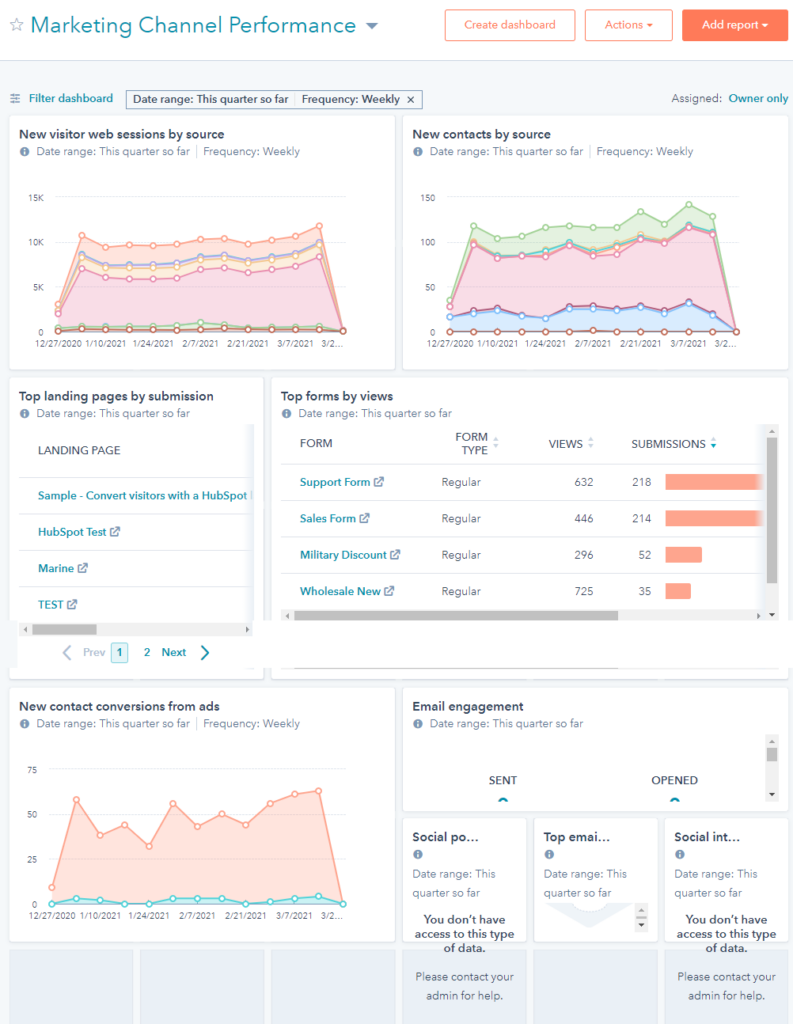 This would be a tie IF Klaviyo didn't take analytics seriously, though not in the dashboard itself, they released an incredibly valuable tool: the Benchmarks. You can learn more about it on our YouTube channel, here.
Winner: Klaviyo. Remember, the focus is on eCommerce and Email Marketing.
2. Campaigns
Both carry powerful drag & drop Email editors with a What You See Is What You Get interface.
The options are pretty similar.
You can add text, images, tables, columns, or create your own using HTML
You can edit your colors, fonts, and styles
You can do A/B testing, email scheduling and online previewing.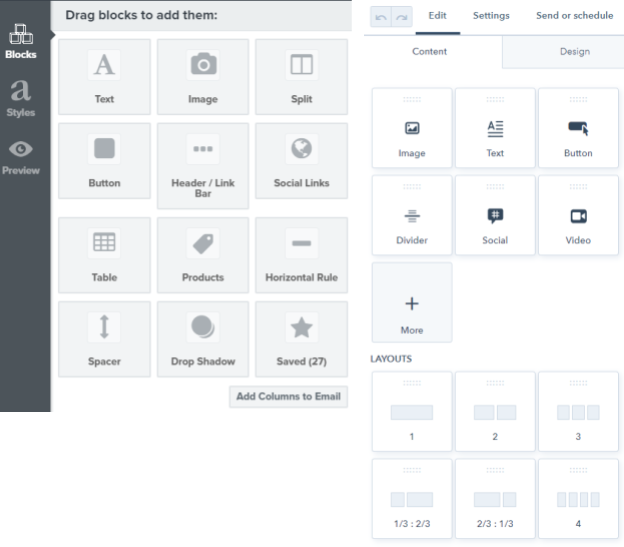 With both editors, you can create beautifully crafted emails, yet there are small differences that may sway your decision.
Klaviyo has a feature called Smart Sending that allows you to avoid sending to subscribers that have received an email from you in the last 16 hours. This helps to avoid to overwhelm your subscribers with emails. And you set this time period however you seem fit.
Also, if you are already tracking your subscribers, you already know what may interest them before they know it. You can recommend products based on product collections, best sellers, previously browsed, and many other ways. Product Recommendations are crucial in eCommerce yet HubSpot is missing this crucial feature.
I'm not sure why Klaviyo doesn't have a web version of the emails you create, it seems that all EMP (Email Marketing Platform) but Klaviyo do. How important is this? It depends on who you are asking.
But with so many email services showing your emails in different ways, you'd think that having one place where it will look the same for everyone should be part of this platform. All the EMP cool kids are doing it.
HubSpot's interface is slightly better looking and faster. It makes it so much easier to do A/B testing.
It has the very same functionality as in Klaviyo, yet you can select from the get-go what type of test you'd like to do and compare it to the original version without having to switch screens back and forth. When you are often A/B testing, you really appreciate this simplicity.
Winner: Klaviyo. Remember, the focus is on eCommerce and Email Marketing.
3. Integrations
It seems that nowadays you cannot build an online business without having to recur to at least a few other apps to make your business run just like you like it.
Both have native integrations with the major eCommerce platforms, and in case there is none, most of the time Zapier is on your side to create it.
→ Here's HubSpot full list of direct integrations.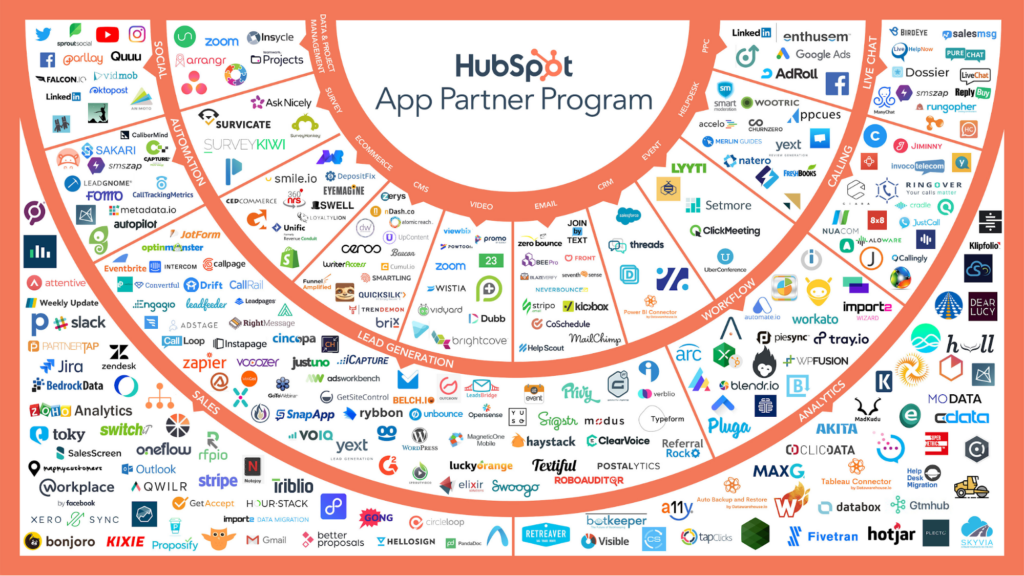 Klaviyo direct (native) integrations.
→ Click here to see the entire up-to-date list of the integrations.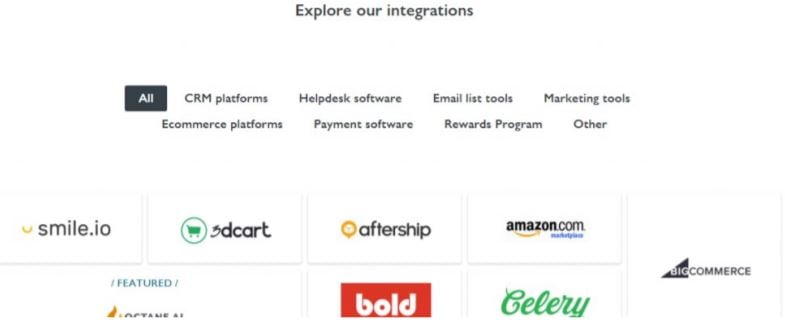 Winner: HubSpot, its MASSIVE library is hard to beat
4. Hubspot vs Klaviyo: Which one is better for eCommerce platforms
When comparing Hubspot vs Klaviyo for eCommerce platforms, it's important to mention that they both store information about subscribers' past activities. That feature is great for honing your strategy and creating segments.
Both show all subscribers' activity as a feed.
That includes:
Site visits
Purchases
Checkouts started
Checkouts completed
And more.
You can use this information to create segments and build customer paths (automation).
HubSpot being a platform, is capable of tracking more information than Klaviyo about your subscribers.
But HubSpot wants to be the only tool you use for Digital Marketing, doesn't matter if you are a law firm or a Shopify store, and as was stated at the beginning, you are required to pay for a package deal that includes email marketing among other services that you may not require.
Yet Klaviyo was built from the ground up to solve your email marketing needs and those needs only.
Winner: Klaviyo, if Email Marketing is what you want
5. Hubspot vs Klaviyo Opt-In Forms
Both offer Static Forms and Pop-Up Forms that you can personalize and control on who to show, when, and where, as well as A/B, test them.
The difference comes in that Klaviyo's offer is pretty simple and just about right what you need to start with email marketing: Name and Email Address are a no-brainer in any form and you'll be using that 99% of the time in an email.
But if your business requires you to gather more information, even if it can do it, it won't be the best for long forms.
On the other hand, in HubSpot, you get what Klaviyo offers, but their forms are built on top of their CRM, which is something they are really good at.
And they've mastered the art of the forms – you will know what I'm talking about if you have ever visited their website.
You can add different types of actions at submission like:
Adding contacts to your GoToWebinar
Pushing your contact to your EMP (Klaviyo)
Schedule a form to appear for a sales season (like the Holidays)
Notify a sales agent
Etc.
Also, a cool feature named Dynamic Fields, where the form input fields change depending on the rules you set.
For example, a returning subscriber can be asked follow-up questions instead of having to answer fields that are irrelevant to them when they first come to your site.
Winner: HubSpot
→ Want to migrate to Klaviyo without losing any data? Ask us how.
6. Analytics vs Reports
Klaviyo has had time to evolve and develop its own powerful analytics tool. It is equally matched by HubSpot, you could even say HubSpot's offer is better in that it can aggregate the data from your various marketing channels as well.
When comparing Hubspot vs Klaviyo here, it's good to mention that both do a great job delivering your numbers and doing analytics, like most of the EMP out there.
Ok. You got the numbers, now what? You are having a 0.13% Conversion Rate on your Campaigns, maybe that's bad, right? There are so many articles pushing you to go over it, though they don't specify it is doable in your industry. What do you do? What every marketer will try is to assign part of their resources, and budget, to up those numbers. Is that what your business needs? It depends. But Klaviyo can help you answer this as no other EMP can: they developed a super tool on Benchmarks. Basically, it pools you and compares your email marketing performance against companies similar to yours in size, industry, and Average Order Value, among other metrics, and lets you know where you are standing within your Peer Group.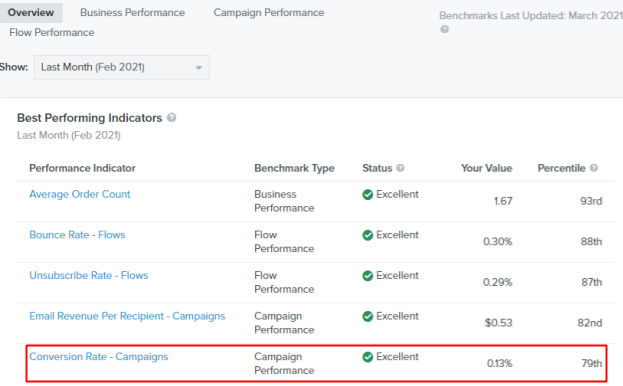 Instead of wondering how "bad" your numbers are, you will get valuable insight into them.
Remember the 0.13% Conversion Rate you were having? A quick look at your Benchmarks may place you among the top performers.
Instead of focusing on improving your already excellent number, it will also tell you where you are lacking.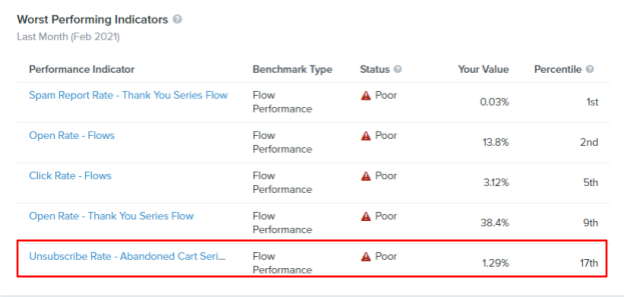 Look at that Unsubscribe Rate. Someone should be working on it (should be below 0.3%)
Winner: Klaviyo
7. Coupons – Hubspot vs Klaviyo
If you are doing eCommerce, 99.9% of the time you will be using Coupon Codes. Right off the bat, you have a big difference, as Klaviyo and Shopify work especially well together, and you are able to create Dynamic Coupon Codes (single use) without having to leave Klaviyo and add them directly to the email. On the contrary, in order to create Dynamic Coupon Codes in HubSpot, you'll have to pay extra for the Plug-ins for WooCommerce or Shopify for example. Once you do, you get pretty much the same functionality you'd get in Klaviyo and more, like offering different coupon codes to your subscribers based on rules you set.
Why offer the same discount to your VIPs as your first-time customers?
But on both platforms, you can also create and set your Dynamic Coupons manually.
Winner: Klaviyo. Unless you go over the paywall and buy the plug-ins for HubSpot.
8. Flows vs. Automation
Name them Flows, in Klaviyo, or name them Workflows in HubSpot, they are automation and you can easily set them up on both platforms. Working with both tools, we appreciate being able to clearly see when and how automation starts, and where the subscriber is going. At their heart lies a good visual and intuitive automation builder. And having the capability to filter those who enter your Automations is equally important and both include this feature. Klaviyo's approach is simple and only has four triggers for Flows – this is just what you need for eCommerce and automating your emails.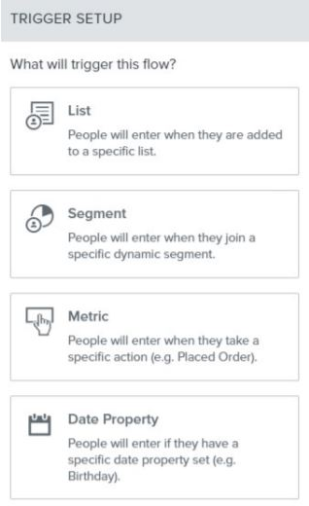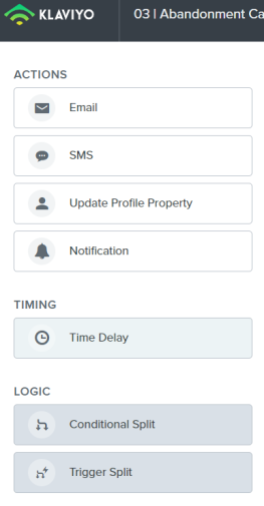 And the actions are Subscriber centered, which means that the interaction within your team is limited to internal Notifications. Yet, these do what they are intended to do.
If anything, what Klaviyo is lacking on them is the change to add delays based on Subscriber actions (ex. Don't send the next email in sequence unless contact has opened the previous email), as right now we are only offered delays for a Set of Time (ex. 4 hours).
HubSpot's approach to automation is more complete, and equally intuitive yet more complex as you get to choose between dozens of options grouped in two different criteria: Subscriber Property, and Subscriber Activity (including all of Klaviyo's).
For example, you can set up an automation for those and only those that have requested Quotes that are over $10,000 for example (useful in the wholesale business).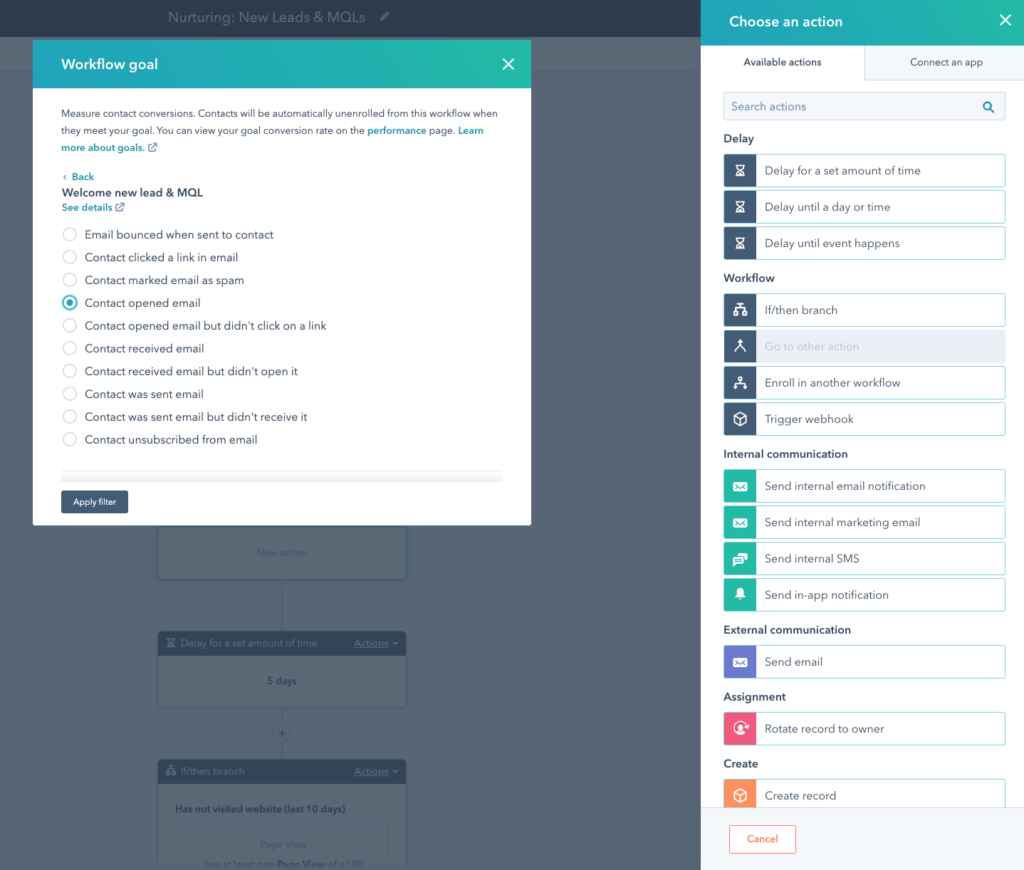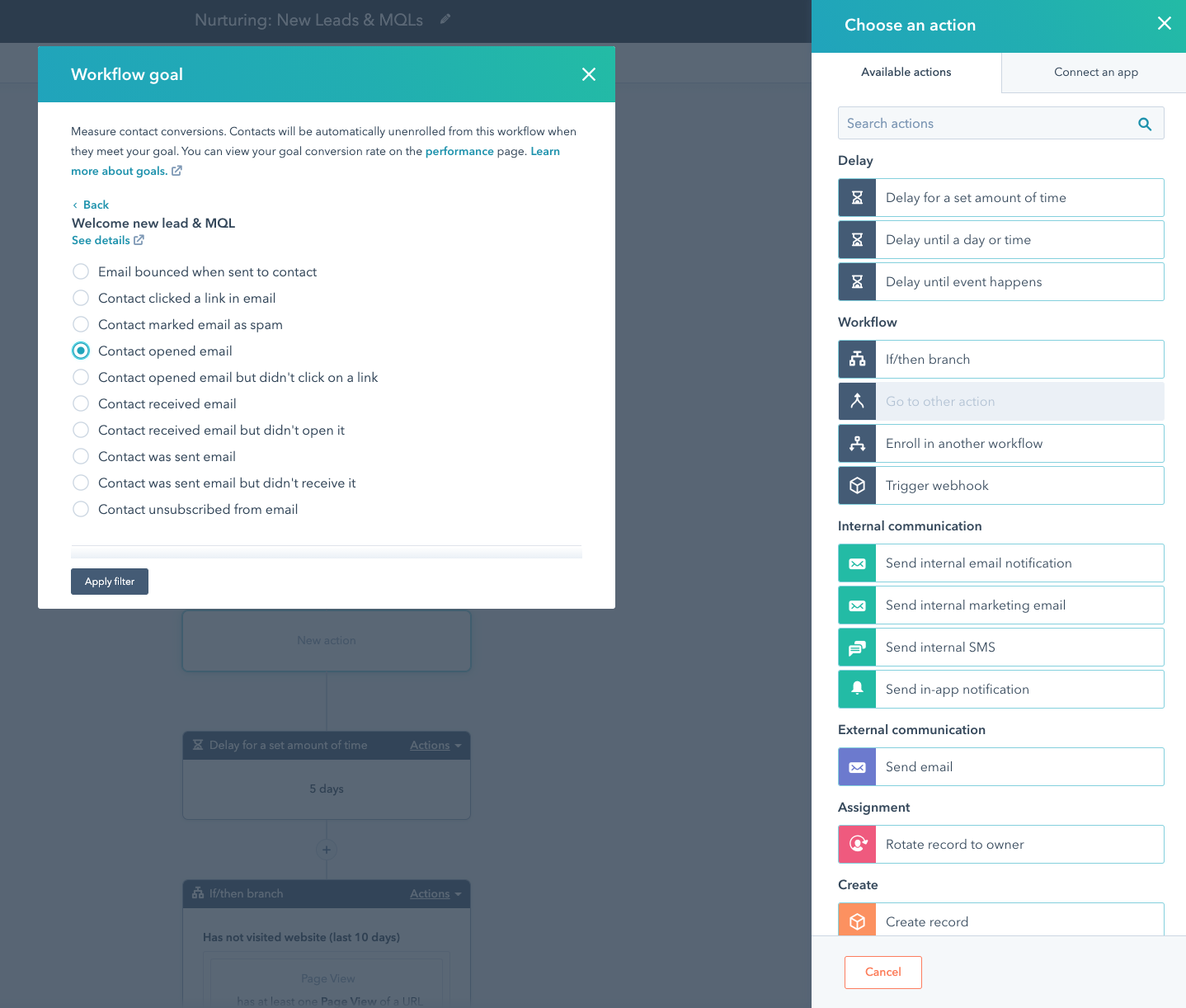 And the number of available actions within the Automations is more on par with what you get in HubSpot, not to mention that both have their own CRM.
All of the following actions are not in Klaviyo.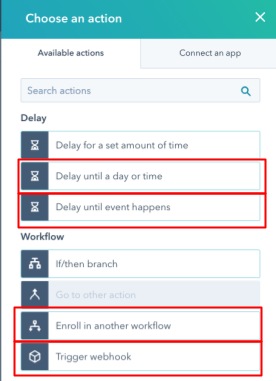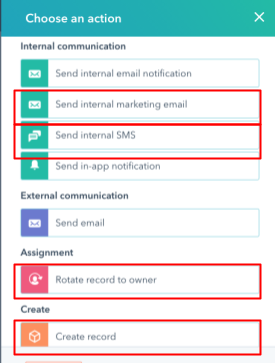 The automation possibilities are far larger and are well above "just email". You can assign to sales agents, move to a different sale step. Or, you can equally dismiss a lead for not being qualified.
Winner: HubSpot
9. Tags
What are tags? In Klaviyo they were previously named "folders".
It is a way to label campaigns, flows, lists, and segments within Klaviyo.
Instead of scouring all the Black Friday Emails, you can easily identify Black Friday 2019 from Black Friday 2020.
HubSpot is stuck with the folders arrangement and is basically the same.
Winner: Tie
10. Subscribers Profile
Both are geared toward Digital Marketing, with Klaviyo focused on eCommerce.
That's why, although each of them has its own way of showing your subscribers and their information. They essentially contain the same data, as long as we focus on Email.
In both, you can see the interaction History with the subscriber, important information, and the option to email them directly.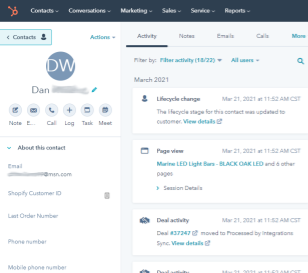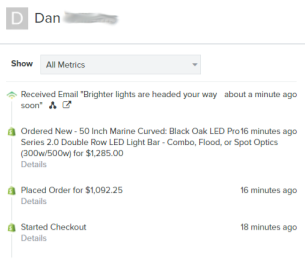 Yet, Klaviyo differentiates itself by adding a Predictive Analytics section, where, based on subscribers with similar behavior, it calculates their:
Churn Rate Prediction
And even the number of future orders.
How reliable is this? Judge for yourself here.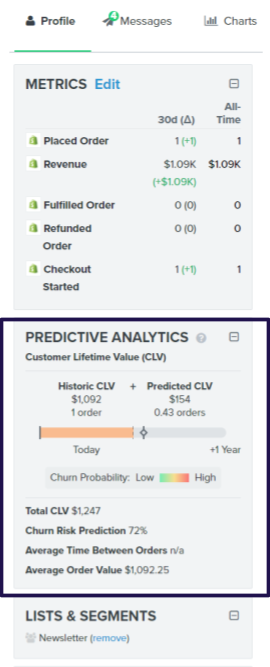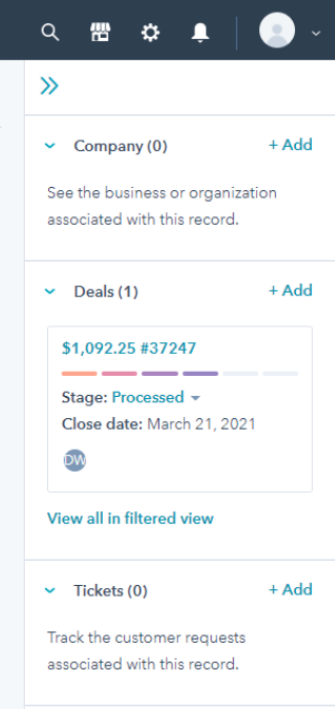 Looking outside the Email Marketing focus, remember HubSpot has a CRM. That means you get access to all the information your sales team has gotten for each contact, as well as the option to add Notes.
Being able to record activity like a phone call to individual contact and have that information available in their profile is quite valuable.

Winner: Hubspot
11. Segmentation
Both have an equally powerful Segmentation engine, that allows you to only send to exactly the subscribers you want.
But a segmentation engine is as powerful as the data you feed it, and HubSpot can have more sources of data.
Winner: HubSpot
12. SMS
Adding automated SMS sending has been a popular request in the late years. And, though it is not for everybody, there are agencies that swear by it.
If you are looking for that feature as well, you can get an SMS package as a native add-on in Klaviyo. This makes everything simpler with all your subscribers' information in the same place.
Though HubSpot doesn't offer SMS, you can get an integration for that.
Winner: Tie
13. Pricing
Klaviyo's prices are quite straightforward.
On their website, they have an interactive tool that allows you to not only estimate your price for email but also your potential ROI when you switch to Klaviyo.
For that same amount in Klaviyo, you get:
55,001 – 60,000 subscribers (equivalent to Marketing Contacts when it comes to Email)
10X contacts sending limit (600,000 emails/month)
We still get a lot of questions about Klaviyo pricing. That's why we decided to break it down into a specific article and compare some parts of it to other services. Read it here to learn more.
As stated at the beginning, we had to compare a tier of HubSpot that had at least the emailing capabilities of Klaviyo. So, you'd need to get the Marketing Hub package at the Professional tier to start having automation useful in real-life.
That will cost you an unavoidable Onboarding one-time of $3,000.
An annual payment (no partial contracts) of $10,600 ($890 per month) or $9,600 paid upfront (10% discount)
For this, you get an Email Marketing functionality comparable to Klaviyo's limited to:
2,000 marketing contacts
10X marketing contacts sending limit (20,000 sends/month)
And very useful tools for your marketing team as well like Ad retargeting, Contact and company scoring, and Ads optimization events. Click here for a full list of features.
Marketing Contacts means that you can have 1 million contacts stored in your HubSpot account. But only be able to market to those labeled as Marketing Contacts.
If you wanted to email (send marketing emails) to the same 60,000 contacts in HubSpot as you would in Klaviyo, that would cost you an extra $2,700/month.
That's on top of the $800 per month you are already paying, you're right.
Winner: Klaviyo
14. HubSpot vs Klaviyo Community & Resources
A strong community and knowing that someone else out there has found a solution or is willing to help you solve the problems your business is digitally facing takes the pressure off your shoulders.
Just as we keep and frequently update our own youtube channel, our Klaviyo community with 2K+ members actively participates in Klaviyo-related forums.
The nature of HubSpot itself reaches a wider market and covers many subjects related to Digital Marketing, and email marketing is one of them.
They have hundreds of thousands of Digital Marketers interested in the Inbound methodology, and an entire army willing to create and consume content, guides, and answer your questions.
That, of course, comes in handy when you're trying to figure something out urgently.
Winner: HubSpot
Hubspot vs Klaviyo – Final Words
Not all businesses have the capacity to have monthly spending that allows them to get a well-rounded Enterprise solution like HubSpot, and even then, they may not need to use features that are included in a package deal.
HubSpot is a great platform, and the free tools they offer at the Free tier are not easily matched anywhere else, and if you've grown inside the product you may feel obliged to continue on it for the long run.
In comparison, we only encountered a few features that were only available in Klaviyo and it is hard to put a price on them. But no one will deny their usefulness when converting subscribers to customers: in-email Product Recommendations, Smart Sending, and Benchmarks.
Being email centered as it is, I'm not sure why Klaviyo doesn't have a web version of the emails you create, it seems that all EMP but Klaviyo do this.
How important is this? It depends on who you are asking – it's not a dealbreaker but somehow is nice to have the option.
We are not saying that HubSpot is not for you, if you are planning to become a huge company with multiple touchpoints and sales channels, there are few platforms that we can recommend other than HubSpot. Yet, remember this comes at a price.
In the end, you can also consider that HubSpot and Klaviyo can work in tandem. However, doing so is not straightforward.
For your online store and your email marketing efforts, it is best if you send your emails from a dedicated Email Marketing Platform.
We hope that our Hubspot vs Klaviyo comparison was helpful. And that with all this information that you gathered today, you'll be able to determine which one would be the perfect fit for your online store.
***Some links in this article are affiliated
Frequently Asked Questions:

1. Does HubSpot work with Klaviyo? While Klaviyo doesn't have a built-in integration with HubSpot, you can still export your data from HubSpot and upload it to Klaviyo.
2. What are the disadvantages of HubSpot? HubSpot does not offer A/B testing on lower plans, it's also not that effective when you don't use it as an all-in-one tool, it has annual contracts – no early termination, etc.
3. Why is HubSpot so popular? It offers a better solution that's crafted, not cobbled. Their entire platform was built in-house so HubSpot customers can benefit from cohesive software, customizable, connected, and easy to adopt.