An email has the ability to foster connections and deliver the type of high-quality exchanges and insights that lead to cooperation. Email marketing is used for B2C but is also important when it comes to B2B.
When it comes to wholesale email marketing, you need to understand your B2B customers and create your own best strategies to reach them.
By focusing on your target group, you will automatically reach out effectively. Read on to find out more.
What is B2B Email Marketing?
B2B email marketing is when you use email marketing to send email campaigns to businesses or professionals rather than individual customers or consumers.
There are differences between B2B and B2C email marketing and different tactics and communication methods are used because the audience is different.
Individuals who are making purchases on behalf of, or for their company are the goal of B2B marketing, which makes the business the consumer.
Email marketing is a great tool for disseminating your brand's content, according to research.
Over 80% of B2B businesses employ email newsletters as part of their content marketing strategy, with around 40% of B2B marketers claiming that these newsletters are the most important factor that drives sales.
Why Do B2B Companies Need Email Marketing?
Research shows that 91% of B2B marketers stated email was the most significant marketing channel for their company's overall B2B content marketing success.
By enhancing your content and adding valuable information, you can grab the attention of other businesses.
For instance, when used in email marketing, video emails may raise open rates by 19%, click rates by 65 percent, and unsubscribe rates by 26 percent. Furthermore, you earn $43 back for every $1 you spend on email marketing.
Wholesale Email Marketing for Businesses- Tips
Create a client profile
If you're having trouble focusing and directing your email marketing, or if you're getting poor results, consider creating a customer profile.
By doing so, you will be able to make your email marketing initiatives more personalized, divide your target audience for more effective call-to-actions, divide your lists and write emails that are relevant as well as address major issues and problems.
Here are some ways to do so:
Talk to your top customers while creating a client profile. Clients that are engaged and a good fit for your offering are your best customers
Find out what their problems are. Research what their biggest hurdles are and how you may assist them to overcome them by talking to them about their objectives and challenges
Make a plan for their purchasing procedure. Attempt to learn more about the decision-makers, how they make choices, what their roadblocks are, and how they do research.
Sort your email list into segments
Segmented campaigns have been shown to improve email revenue by 760 percent, making them an important component to include in any B2B email marketing efforts.
Delving down into subsections of your email list to deliver more relevant emails is what segmenting your email list entails.
For instance, some of your customers work in technology, some in financial services, and yet others in the retail industry. Each of these industries has unique difficulties. If you can tap into that, your material will become even more engaging and captivating.
Use personalization
Personalization is required for effective B2B email marketing. After you've created your segments, adapt your email messages according to what you've learned about your clients.
Decide what kind of subject line would be most appealing to each group, as well as what type of CTA would be most attractive.
Remember to consider your email message as a whole.
Email marketing content for B2B
Instead of marketing material, educational information may be used. For instance, instead of constantly pushing marketing information to your contacts, let them make their own decisions.
Your instructional content should, in theory, enhance the value of your product or service.
You may position yourself as an expert in your field by doing so. You may demonstrate that you are aware of their objectives and concerns. You could publish your own material or include information on industry leaders.
Examples of Great B2B Marketing Emails
Listed below are some great examples of B2B marketing emails.
Example of Welcome Email

The above example from MailerLite is simple and precise.
The headings and subheadings are distinct and easily catch the attention of the reader.
Other than welcoming the marketer, other options are offered such as "How to grow a high-quality email list?" and "How to craft email content people care about?"
Below that is a section that lets the receiver choose any topic that they need help with and further still, there is a great blog section.
Before signing off, there's a personalized line from Megan that reiterates the fact that they are happy you joined, and it says, "So glad you've joined! Thank you."
Example of Service/ Product Announcement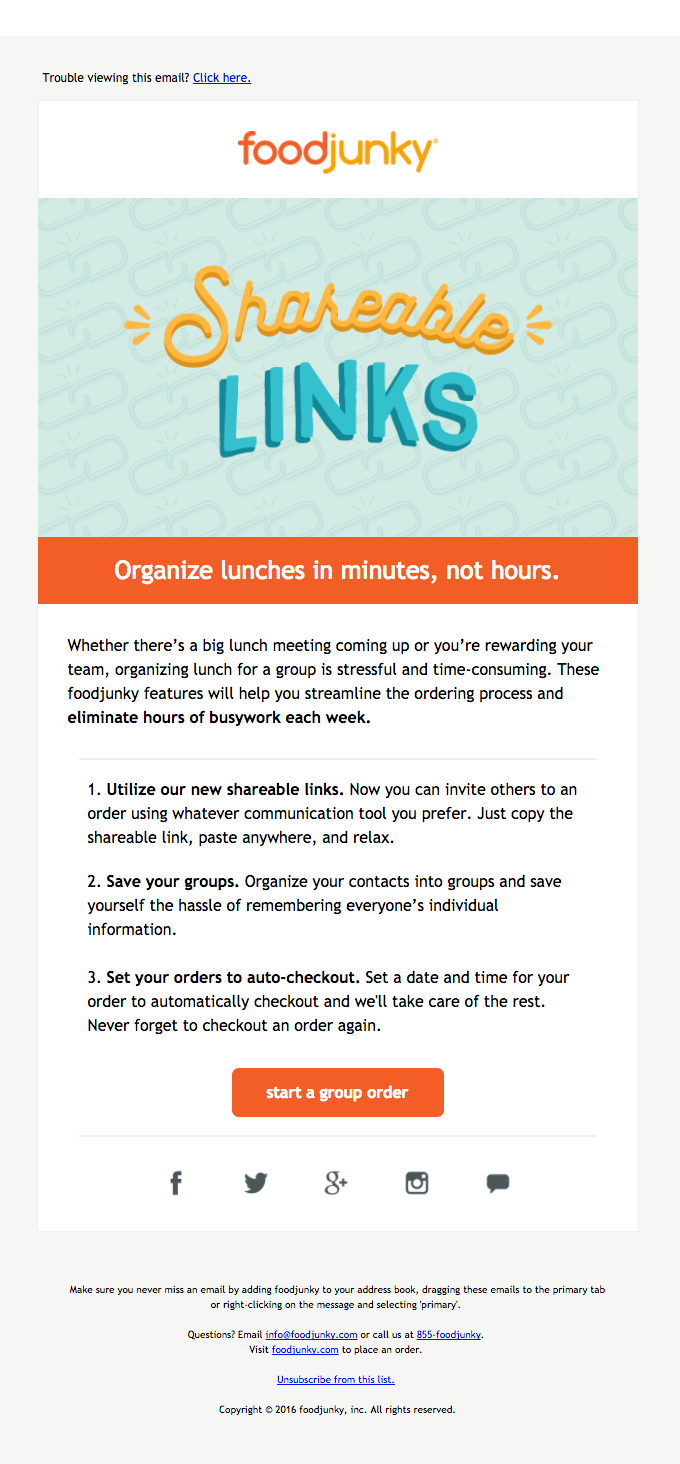 The above example from Foodjunky shares a new feature with other marketers.
The email is well-structured and attractive.
It is clear and shows how the recipient can easily "start a group order".
The Call-to-Action (CTA) is clear and distinct and has an icon to click on.
Example Offering a Review and Event

The above example from Commission Junction is well structured and segmented, even though it is relatively fairly lengthy.
It offers a review of the service that they offer. The email explains what the report/ review has to offer in a nutshell.
Distinct CTAs are present like "Download the Report".
There's a CTA to join the webinar and register, and below that reviews and strategies to explain other subjects.
It's critical to remember to maintain a healthy client list once you've begun developing it.
Wholesale email marketing includes making a plan to keep your lists of clients up to date and tidy. This might include setting aside time on a regular basis to work through new connections or outsourcing a tool to do this.
No other audience is as fickle and crucial as business customers, therefore marketing isn't effective until you keep them in mind. At the end of the day, B2B email marketing should express how your company can benefit them.