Contrary to what many eCommerce business owners believe, your customer's journey with your brand doesn't end after they make their purchase. If you don't have the right strategy to accompany your customers beyond that stage in their journey, you may be leaving money on the table.
So, what do you do after your customer has made their purchase? You send them a post-purchase email flow.
Not only is this a great way to increase customer loyalty, but it's also a profitable strategy. The post-purchase process needs as much love as any other marketing strategies you might be focusing on to increase sales.
With that in mind, in this guide, we will explain the mystery of post-purchase email flows by walking you through exactly what they are and how to set them up. We'll also equip you with our best tips to build an efficient post-purchase email flow.
What is a Post-Purchase Email Flow?
A sale is only the beginning of the customer's relationship with your eCommerce brand. To increase your repeat sale rate and grow your business, you need to make sure those customers will return. Post-purchase email flows are how you do that.
A post-purchase email flow is an email sequence triggered whenever a customer buys something from your eCommerce store. These emails occur after the customer has made a purchase and continue to follow up on that purchase.
This email sequence can include anything from thank you emails, delivery notifications to cross-sells and upsells.
Post-purchase emails are an underused opportunity in eCommerce. You can use them to:
Confirm your customer's order and shipping details
Offer them additional products they may be interested in based on their recent purchase
Thank them for shopping with you.
Post-Purchase Email Flow: 5 Email Types
The content of post-purchase emails will depend mainly on your business and the products you sell.
However, there are five main types of emails that typically make up this flow:
Thank You Emails: A thank you message can be sent right after purchase. It serves as an expression of gratitude and works to build trust with the customer.
Order Confirmation Emails: These aim to confirm an order has been received and provide important information about the purchase, such as its tracking number. Confirmation emails should include a link to view the order details online.
Shipping Confirmation Emails: These let customers know that their order is on its way. They also provide useful shipping info like tracking numbers or links where customers can check the status of their package online.
Follow Up Emails: These emails are usually sent after a few days of purchase, and their main purpose is to ask for feedback or review. A follow-up email can also be used to prevent buyer's remorse by addressing objections and encouraging customers to use their new purchase.
Cross-Sell and Upsell Emails: In a nutshell, cross-sell emails are focused on offering additional products that supplement a purchase, while upsell emails offer an opportunity to upgrade or expand on the initial purchase.

Post-Purchase Email Flow Best Practices
When it comes to email, the post-purchase flow is often neglected by e-retailers. Yet, this is where you have the opportunity to create a long-term relationship with your customers and generate additional sales.
Here are some tips that will help you create efficient post-purchase flows:
Create a Post-Purchase Email Flow with a Purpose
This is the first step to creating an effective post-purchase email flow. Ask yourself, what exactly do you want to achieve?
The answer might be different depending on the nature of your business, but here are some common purposes for post-purchase emails:
Follow up on the customer experience
Build customer loyalty and generate repeat purchases
Provide useful information, or product recommendations.
Send Timely Emails
Make sure that customers get a confirmation email as soon as they complete their purchase. Since they are expecting an order confirmation to land in their inbox right away after they complete their purchase, they are more likely to open it.
Because this is an order confirmation email, it is the best time to show customers how much you value them.
A thank you email sent right after the purchase shows appreciation and can help you establish a stronger relationship with your customer.
Personalize the Emails
Personalizing your post-purchase email flow is one of the easiest ways to increase engagement and customer loyalty.
You can use dynamic email content to use your customers' data in real-time and send automated emails with:
Relevant information
Products
Upsells based on their interests.
Offer Discount Codes
Consumers love discounts! Use this to your advantage and include a coupon code in your post-purchase email. This will make them feel special and give them a reason to come back to your site.
Coupons or discount codes are a great way to create a positive experience for your customers. You can use them as rewards for leaving reviews or sharing their purchase on social media.
You can also use them to request feedback or encourage people to revisit your website.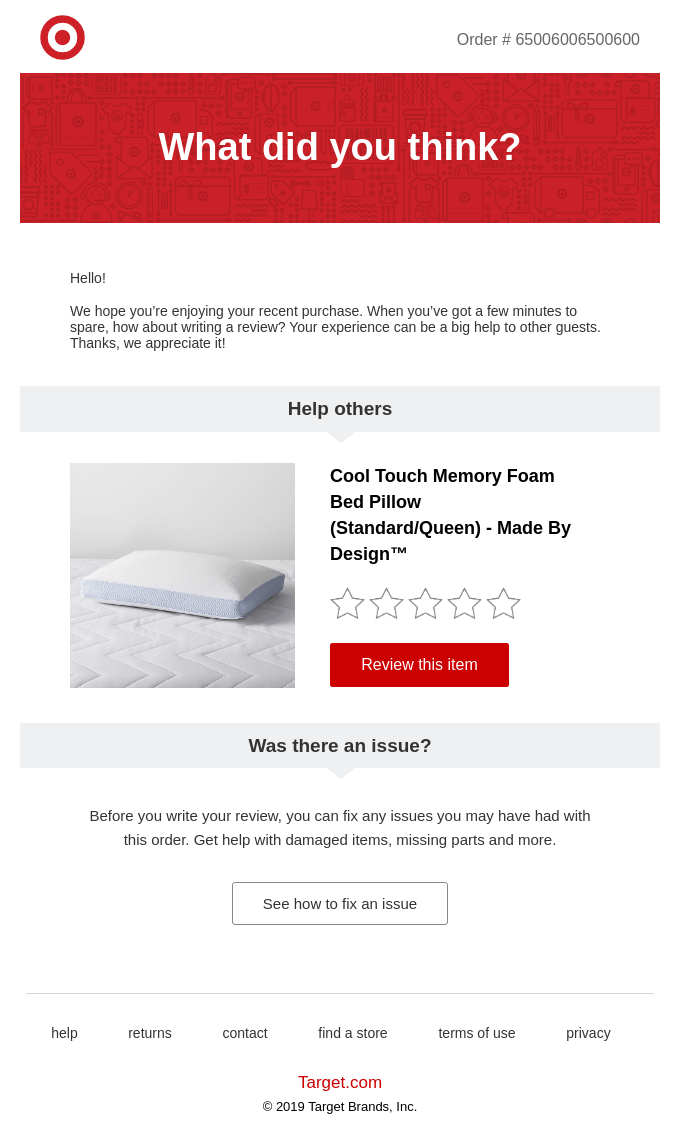 Use Testimonials to Build Trust
Testimonials and case studies are a great way to establish trust and credibility. Include a few testimonials or a more thorough case study in one of your post-purchase emails to show how your product has helped someone else.
Testimonials and case studies can help build trust in your brand by showing the real impact it can have on people's lives.
Include Cross-Sell and Upsell Recommendations
Cross-sell and upsell recommendations can be a great way to increase the average order value of your store.
Especially with post-purchase emails, you can highlight products that complement the items purchased by a customer or show them new arrivals that may interest them.
For example, if a customer has just ordered a product from your beauty category, you could include related accessories in a follow-up email or showcase products from the same category that they might enjoy.

Time to Build an Efficient Post-Purchase Email Flow
A post-purchase email flow can be viewed as many things:
An opportunity to thank your customers for shopping with you.
An order confirmation.
A way to drive sales through upsells and cross-sells.
An opportunity to collect further information about your customer.
However you view it though, a well-designed post-purchase email flow can have a huge impact on the success of your business and how much customers like shopping with you.
So, if you need support to build an efficient post-purchase email flow for your eCommerce business, remember that there are experts out there willing to help you.