In this short article, you'll learn how to create Сustom Klaviyo Unsubscribe Page and Preference Page.
Once people receive an email from you through Klaviyo, if they scroll down, there is an option to Unsubscribe or Update Preference or both. For this reason, you will need to manage a Custom Klaviyo Unsubscribe Page.
Add a New Custom Klaviyo Unsubscribe Page
First of all, you need to have a paid account, because it's not available for free.  
Click on Hosted Pages.2. Add a new page and name it Email Preferences.3. Now you have a standard Unsubscribe page, but it's still empty.
Add a Code
Here is a link to Klaviyo website with information about managing Preferences Page.
Go by the link and copy code, which Klaviyo provide for building an Unsubscribe Page.   
Paste the code to the Content Management window in your Klaviyo account.
Add your logo to the Asset folder.  
Click Save.
You have created a much better version of Unsubscribe Page. There is a couple of options to stay in your site and get only interesting information for your clients. This will help to keep them in your system.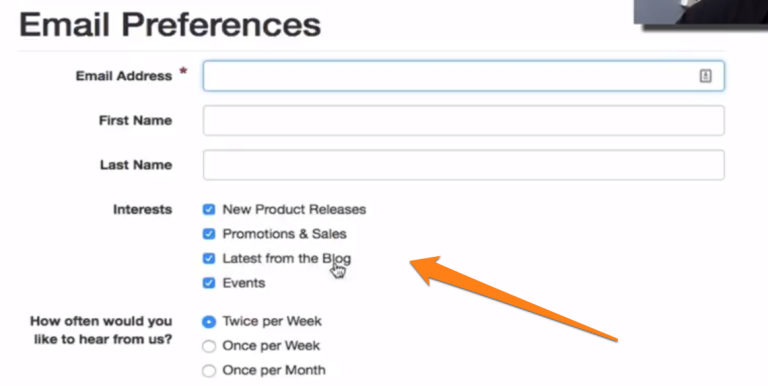 Add a Logo
Click on Asset folder and upload your logo. Make sure it fits the size 300x75px.
Right-click on your logo image and choose Open in a New Tag and copy the link of your image.
Go to your created email_preferences.tmpl.
Find the line #102 and change the address there with the link you have copied.
Click Save.
Step #1
List & Segment   
Go to List & Segment – it's in the right column.
Click Create New.
Choose Segment and name it.
Make Condition Properties – Properties about someone.
Choose Email Interest contains blog or any other options you need.
Click Create Segment.
Step#2
Preference Pages  
Go to Preference Pages – it's in the right column.
Scroll to View All Pages.
Find Manage Preferences. Click on Use custom page and select your email_preferences.tmpl.
Do the same with Unsubscribe Page. Click on Use custom page and select your email_preferences.tmpl.
Pay Attention
You have to do it manually every time you created a New List.
You have to go back to List & Segments. Click on each list and manage Subscribe Pages.
Under each one Manage Preferences and Unsubscribe Page do the same – click on Use custom page and select your email_preferences.tmpl.
With these simple steps next time your clients will click to Unsubscribe link they will have this numbers of option and preferences. You can also change all of the options to whatever you like in your code.  
Watch a detailed video about how to do it nice and easy: