First impressions matter.
How your subscriber perceives your brand at the first touch point can make or break your chances to convert.
For this reason, your welcome email series should be particularly well-thought and strategically organized. Our article will help you to achieve that so you can set up the best welcome email series.
Why You Need a Good Welcome Email Series
Welcome emails have a really high conversion rate. The average welcome email series open rate is 50 to 90 percent, which is way higher than other types of newsletters.
A successful welcome email series can also generate 320 percent more revenue than your usual email flow.
Because the new subscriber's interest is at its peak when he just subscribes to your newsletter, you must take advantage of that perfect occasion to give him more information about your brand and your team.
The Best Welcome Email Flow
The welcome email is such a profitable type of email, isn't it best to extend its impact and make a series out of it?
In fact, that's what the majority of companies think. Usually, when a person leaves his email address on an eCommerce website, he signs up for at least 3 to 6 welcome emails to come.
Of course, all these emails aren't repeating the same information over and over. They are conceived to slowly introduce the new subscriber to the brand's world, values, and missions, and make him a part of its community.

How to Set up a Welcome Email Flow?
Emails are not going to send themselves, but you also probably don't have the time to manually program an email each time a customer joins your newsletter.
To solve this issue and be sure that each customer receives the attention he deserves, you should find a software that will do the job for you.
Platforms such as Klaviyo help you to set up automation and segmentation to send the perfect email at the perfect time.
Every time someone subscribes to your newsletter, the welcome email series will be activated
The customer will receive the emails you programmed at the wished time
The emails are going to be personalized, with the information provided by the subscriber (generally name and surname).
The Welcome Email Series Calendar
Each company chooses a different amount of welcome emails and different scheduling. One thing stays in common: the first email should be sent immediately, right after the subscription.
Nowadays, the customers are so used to welcome emails that around 70% of them actually expect them.
Don't disappoint them so early in your relationship and set up your welcome email series flow in advance.
An example of a welcome email series calendar consisting of 4 emails:
The first email: immediately, or at least the same day
Second email: two or three days after
Third email: after four days
Fourth email: one week later.
The content depends on you, but after the last email of your series, you should have shared the majority of this list of information:
A welcome message
Your gratitude
An introduction to your company and team
Your brand's goals, missions, and values
What the customer can expect from you: type of service, quality, promotions, etc.
What you need from the customer: his honest opinion, his trust, etc.
A review and/or feedback request
Product suggestions, maybe even discounts
Calls to action, such as: to subscribe to social media, to visit your blog, etc.
Social proof: reviews and comments from satisfied clients.
How to Write a Welcome Email Series
Now that you know when to send your emails, here are some tips and best practices on how to write your welcome email series.
We won't tell you what exactly to write and where, but we will give you some insights on strategies that really worked well for many brands and will absolutely do the same for you.
Then, it will be up to you to customize your own content and design, to create the perfect welcome email dip campaign.
Be grateful and Make it Global
First things first: You need to thank your customer to have subscribed to your newsletters. Not so many people are willing to let their email addresses nowadays, so you should treasure their trust.
This should absolutely be part of the first email you send. Some people like to present it as a Thank You note, others simply put these sincere words in the text of the email.
But even when acknowledging your gratefulness, you shouldn't make it entirely about the brand. Give your new subscribers a feeling that they are now part of something bigger: a family, a community, a way of thinking.
Examples of introductions:
Welcome to the [Your Brand] tribe!
You are now part of the family!
We are glad you are willing to change the world with us!
Impress with Your Story
To keep the reader engaged and deepen his interest in your brand, you should share your story with him.
Nothing makes a relationship closer than an open talk. By telling who you are and what you wish to accomplish, the customer can only feel that he gets to really know you.
Write about the origins of your company: how it all started and why
Write about your team: show the human side of the business
Talk about your goals and missions: maybe the customer will wish to help you to achieve them?
Talk about your values: if you are eco-friendly and/or spreading ethical work, for instance, you should mention it to get your customer's sympathy.
Use Attractive Visual, Aligned with Your Brand's Image
You not only need to catch your subscriber's attention through good visuals, but also make him remember your brand's visual signature.
This can be done with:
Using your brand's color is particularly important, as well as include your logo. Usually, these two elements should have the same shades.
You can opt for one big image especially thought for your welcome email series design, or multiple smaller pictures.

Include Calls to Action
Your welcome emails won't be able to convert if you don't include any links to click-through.
So before writing your perfect welcome email, ask yourself: what do you want to achieve?
Do you want to promote some specific products? Incite the reader to subscribe to your social media? Read your blog? Collect information about the customer? All these things together?
Depending on your priorities, you can set up calls to action. They shouldn't be too pushy, but simply and elegantly invite your reader to go further and visit your online store/blog/Instagram account.
Here are some examples of successful and not too pushy calls to action: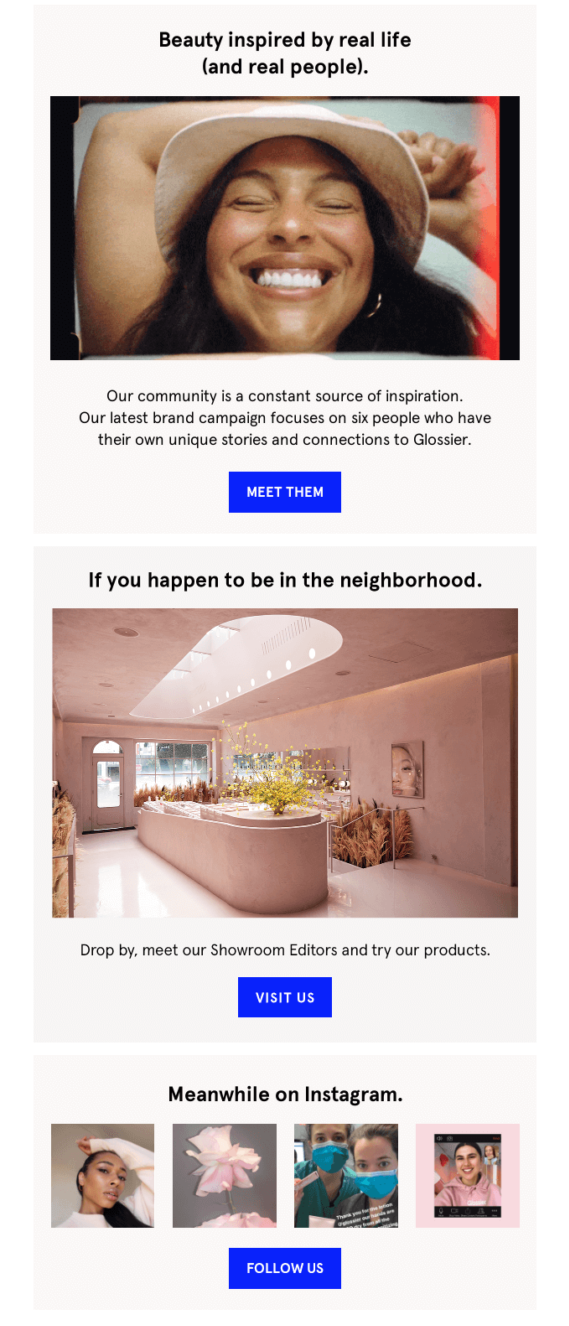 To Go Further
In this video, we walk you through the essential elements of what we consider to be a perfect welcome email – both in terms of design and messaging. Tune in to learn about the best practices!