Every day, millions of businesses rely on freight shipping for their domestic and global trade. It's not an exaggeration to say that shipping by freight is the backbone of domestic and international eCommerce.
Freight shipping has quite a few moving parts that you'll want to be familiar with. In this detailed guide to freight shipping, we will cover the different types of freight shipping, how to package and ship freight, how to choose the method of transportation, tracking freight, the varying costs, and best practices in freight shipping.
What is Freight Shipping?
Freight shipping is the process of transporting commercial goods by land, sea or air, and is an integral part of many eCommerce business operations, especially where international shipping is required.
Goods may include commodities, merchandise and cargo. The methods of transport most commonly used include truck, train, ship or plane.
Let's look at this in more detail:
What does freight shipping mean?
Freight refers to B2B or commercial shipments that are larger in quantity, weight or size than the typical parcel handled by standard carriers.
Any shipment larger than 30x30x30 inches or over 150 pounds is considered freight. Packages under these dimensions are generally more cost-effective to ship via parcel service.
Goods are put into cardboard boxes, loaded on pallets or into 20-40' shipping containers, and moved using many different modes of transportation.
Freight shipping companies operate worldwide, using airports, sea ports and truck depots to move goods.
💡 Lead times and rates vary between the different forms of freight shipping. Air freight is typically faster than truck freight, but trucks are faster than ocean liners. You'll generally pay more for the faster modes of shipping.
Benefits of freight shipping
Businesses turn to freight shipping companies for the following benefits: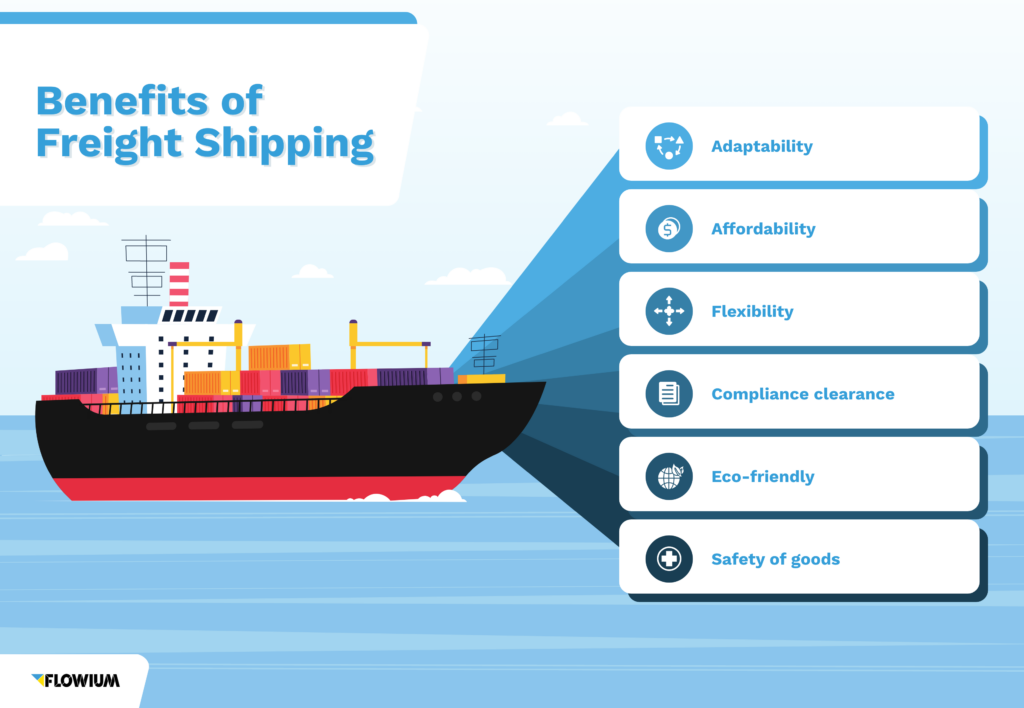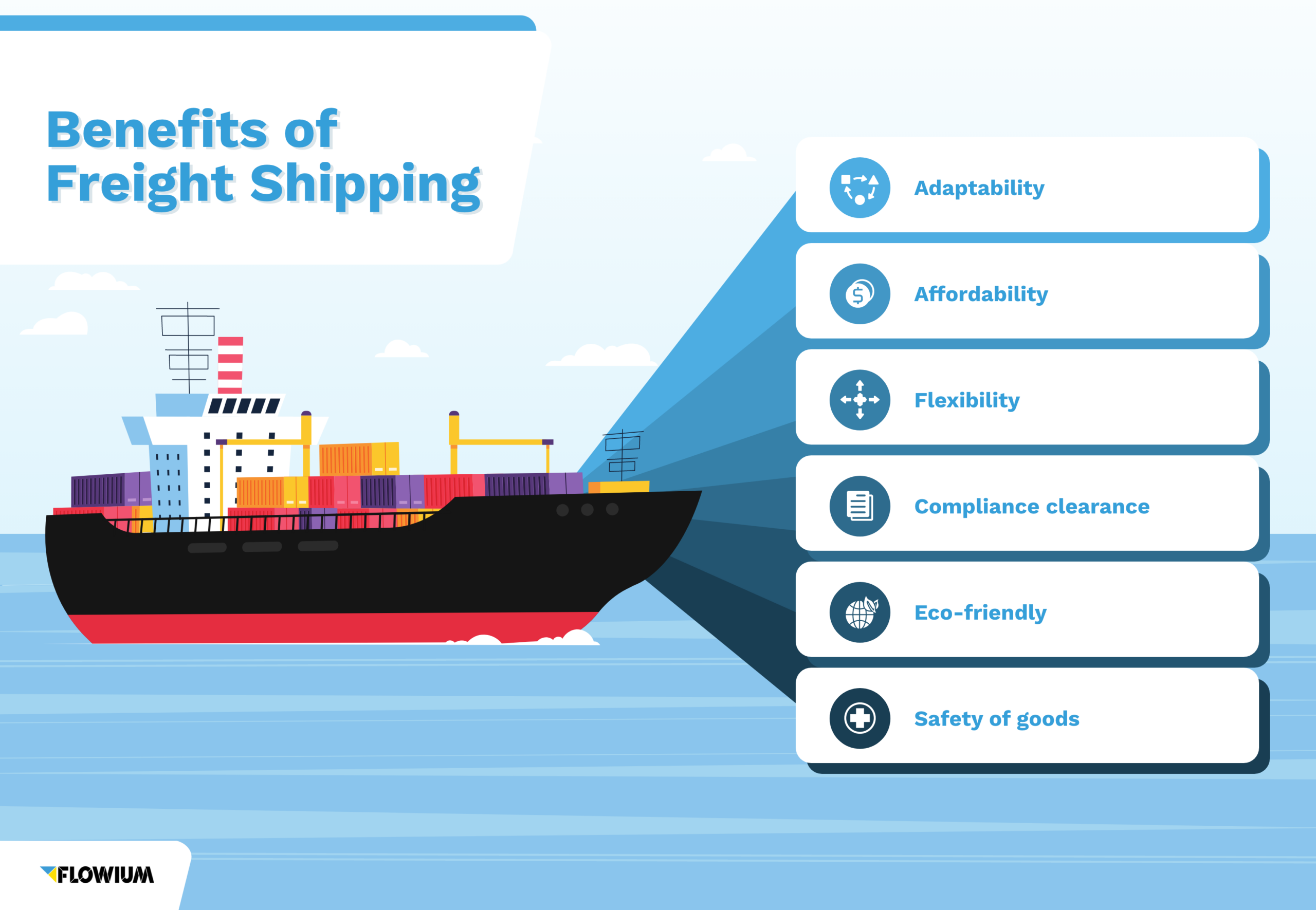 Adaptability. Freight accommodates large and heavy shipments, unlike courier services. This could be individually heavy items like cars, or large volumes of products.
Affordability. Freight is cost-effective at scale. Larger merchants can use freight services to transport goods at pennies on the dollar compared to the rates of courier services.
Flexibility. Prices vary greatly among types of freight shipping, and each form will have a range of pricing tiers. Therefore, merchants can find a way to ship cost-effectively on any budget.
Compliance clearance. For international freight, shippers hire customs agents at ports to ensure compliance clearances are managed properly.
Eco-friendly. Using large carriers and trucks helps maximize the load-carrying capacity better compared to smaller vehicles, so the process is more eco-friendly.
Safety of goods. Shippers extend professional and experienced services, which will ensure minimum damage to goods. Freight tracking mitigates against lost cargo.
Domestic and international freight shipping
Most businesses are familiar with domestic freight shipping, as it's where many eCommerce businesses get their first sales.
It's a relatively straightforward process to ship from one US state to another, and these services can be extremely fast – sometimes same-day delivery. Domestic freight shipping will most often be by ground transport, including truck and rail.
The process becomes more complicated when a business moves into the international market. When goods begin to cross international borders, there are critical differences in the shipping process, including logistics, taxes and more paperwork associated with international freight shipping.
International freight shipping will naturally take longer due to both the distance and more complex process.
Most often, international freight will be transported by air or sea, and will take anything from a couple of days to months.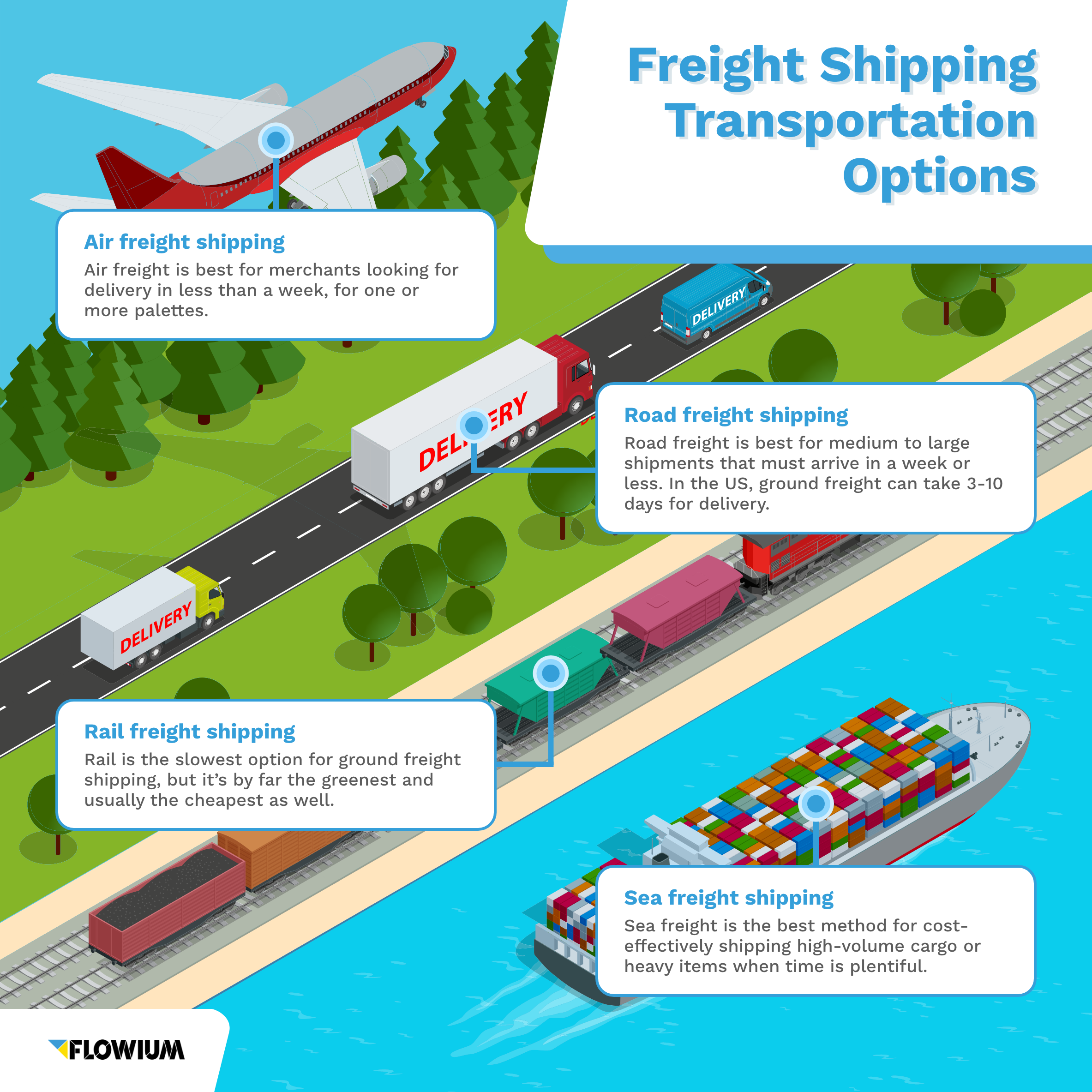 Ground freight shipping
Ground freight is best for medium to large shipments that must arrive in a week or less, but cost less than air freight. In the US, ground freight can take 3-10 days for delivery.
Ground freight shipping involves a network of trucks and terminals, whereby goods will be picked up by one truck and taken to the closest hub.
From there it will be transferred to the destination hub (often via rail), where it will be loaded onto a delivery truck to take it to its final destination.
Terminals are like short-term warehouses, often referred to as the carrier hub or distribution center. Often located by airports, railroad centers and ports, the terminal is used to consolidate shipments from local pickups.
Goods are arranged onto trucks heading in the direction of the delivery. Most LTL (less-than-truckload) shipments will unload at a central distribution center, and from there the shipment is scheduled and loaded onto a local delivery truck (known as 'last-mile').
💡 Rail is the slowest option for ground freight shipping, but it's by far the greenest and usually the cheapest as well, as a train can handle much more cargo with only a single vessel, compared to a truck.
Air freight shipping
Air freight shipping involves the shipment of goods via chartered or scheduled air carrier.
Goods transported by air can arrive at their destination at high speed, which is important if the shipment is time sensitive.
Air freight shipping allows SMEs to participate in international trade as effectively as larger companies, and it is also an incredibly secure method of transportation.
Air freight is typically handled by one company, such as the freight divisions of UPS or FEdEx. Air freight is best for merchants looking for delivery in less than a week, for one or more palettes.
Air freight can take several forms:
Consolidated freight – one flight contains many shipments
Direct services (back to back) – one flight contains one single shipment
Charter services – an entire freight plane is chartered for a single delivery
Consignments will be placed either in the hold of a passenger aircraft, or in a dedicated freight aircraft. Goods will go through Customs and security checks at the point of origin, and then through another Customs inspection in the destination country.
Sea freight shipping
Sea freight shipping is a method of transporting large quantities of goods via ocean going cargo ships. Goods are packed into shipping containers, which are loaded onto the ship and sailed to their destination.
A typical cargo vessel can carry 18,000 containers, and ocean freight shipping is a cost-efficient way to transport high quantities of products. This is the best method for cost-effectively shipping high-volume cargo or heavy items when time is plentiful.
There are a number of ways in which sea freight can be transported:
Full Container Load (FCL) where you purchase one or more full shipping containers
Less than Container Load (LCL) where your cargo shares a container
Roll On Roll Off (RORO) where your products stay on the vehicle they are in to go on the cargo ship
Dry Bulk Shipping, when certain items are deposited into the hold of the ship instead of traveling by container.
Sea freight shipping is the slowest method of transportation, and often you will need to add two weeks onto the actual time on water to allow for customs in both origin and destination countries.
Door to door shipment between China and the USA will be around 30-40 days.
How Does Freight Shipping Work?
Freight shipping preparations vary from a typical parcel shipment.
Below we discuss a few key tips on how to ship freight correctly to ensure your goods are transported, handled and received as securely and accurately as possible.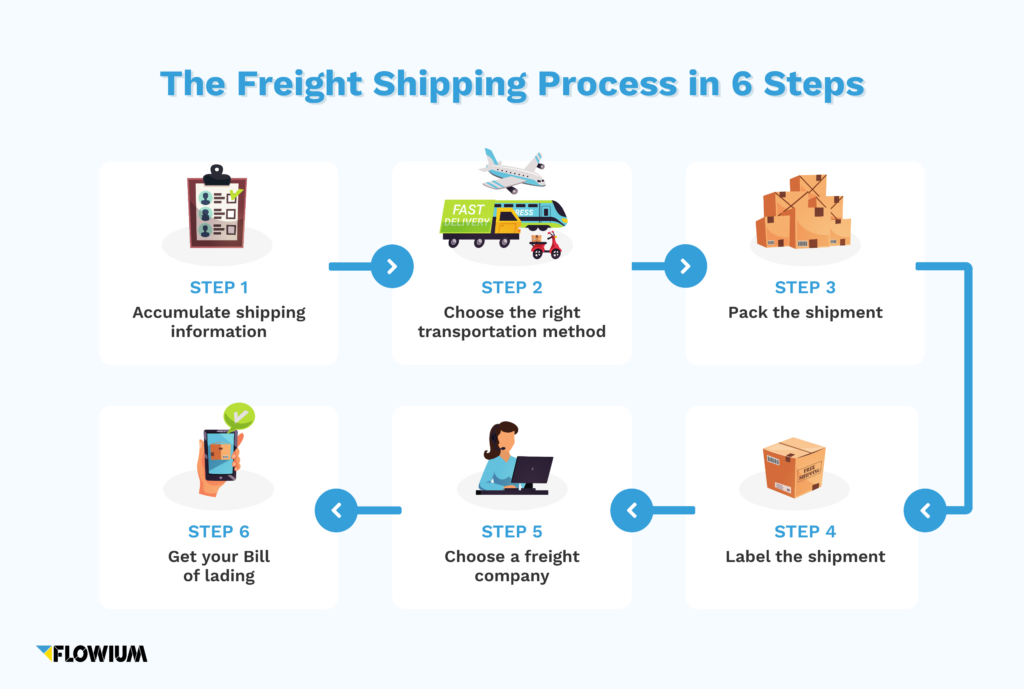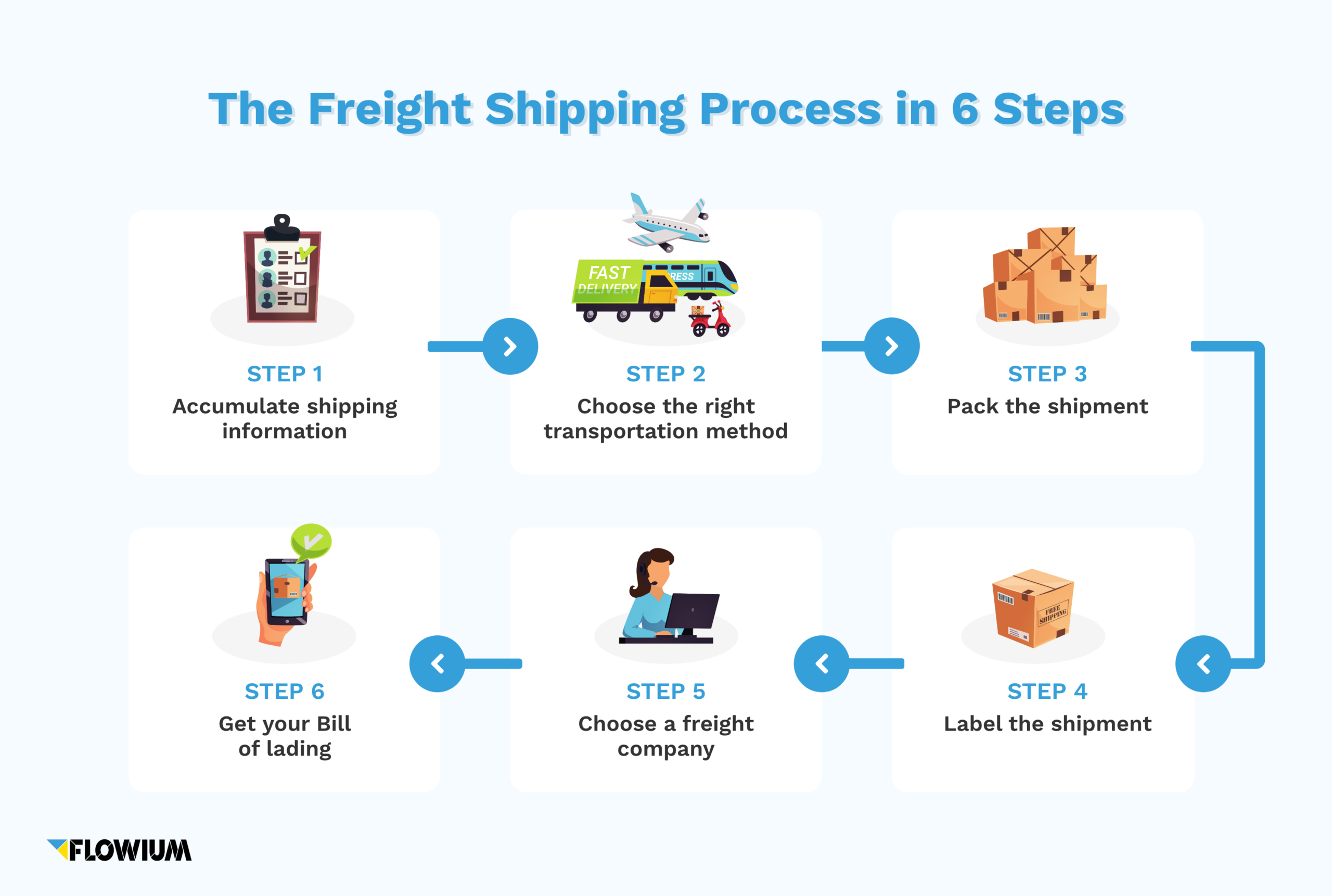 Accumulate shipping information
In the initial stage of the shipping process, it is necessary to collate all of the information about the shipment.
Factors such as dimensions, size, weight, quantity and product type will determine how the freight will be shipped.
Choose the right transportation method
With the various factors of the shipment determined, you need to choose the right method of transportation, whether land, sea or air.
Which one you choose depends most importantly on weight, freight class and destination.
We already discussed the different methods of transportation in this guide, but in summary:
Air freight is a fast but expensive way to ship freight internationally. If time is short, it's probably a good option.
Rail freight is economical and often combined with truck shipments.
For domestic freight shipping, truckload is the most likely candidate.
Sea freight is ideal for the economical movement of large amounts of freight internationally, but is the slowest method.
Pack the shipment
Once the method of transportation has been chosen, the shipment must be packaged appropriately.
Crates and pallets will ensure goods remain intact in transit, and offer convenience when moving shipments around.
Pallets are used to consolidate shipments and allow ease of movement. They are made of wood or plastic, and should be sturdy enough to support the load and large enough to avoid overhang, which may lead to damage.
If you're not using pallets, prepare appropriate containers, crates or boxes and make sure they are strong enough to support the weight of the package.
💡 Pro tip: make sure old shipping barcodes and labels are removed from reused containers, to avoid goods being freight shipped to the wrong location. Also check for holes or tears before using.
Label the shipment
Each pallet or container should have visible labeling including a phone number and address of the sender on each side.
This will avoid any confusion in the shipping process, and avoids delays as well as directing the shipment to the right destination.
Choose a freight company
Be sure to pick a quality freight company with a good reputation, as this will insure on-time deliveries, safely shipped packages and overall less to worry about.
Such companies will take care of paperwork and help you choose the right type of shipping to suit the goods in question.
A good freight company will provide tracking details and notifications, so allow you to monitor in real time when goods are collected, where they are in transit, and when they are dropped off.
💡 Pro tip: If shipments are varied in size, shape and destination, choose a company that can handle all three to ensure flexibility.
Get your Bill of lading
A bill of lading is a lawful contract between shipper and carrier. This document will be issued by the freight company and acknowledges receipt of cargo for shipping.
Originally only related to shipping by sea, a bill of lading is now often used for other transportation methods as well. It contains information on the contents of the shipment and details of shipper and receiver.
Shipping by Air or Sea?
When looking to move goods from one country to another, you may face the decision to choose between shipping by air or sea.
Both offer advantages and disadvantages, and will depend on specific needs.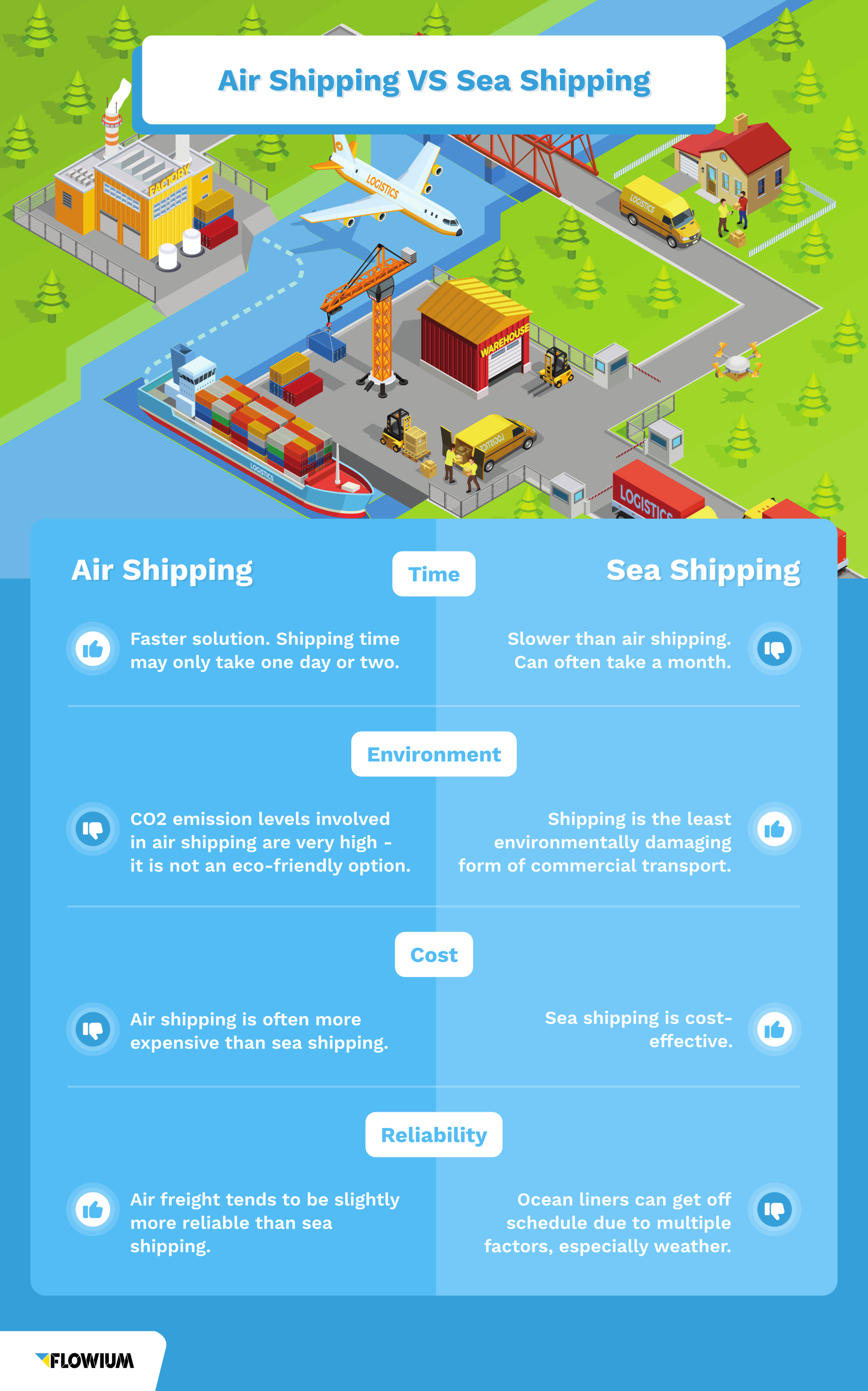 Here are a few things to consider when choosing sea shipping vs air shipping:
Cost: Which is cheaper, shipping by air or sea? Sea freight will usually cost less, but not always. Whilst cost is important, a decision based on price alone can be a mistake. Paying more can mean goods will arrive faster, and you will have more protection for the shipment.
Time: Air freight is usually faster than sea freight, unsurprisingly. If speed matters, and time is money, this can make the decision simple. Sea freight will often take around a month, whereas air freight may be only a day or two.
Environment: Many businesses are actively seeking to reduce their impact on the environment. A socially aware company looking to ship in an eco-friendly way may look at the CO2 emissions of air vs sea shipping. Sea shipping is generally the best option for the environment, since the emission levels involved in air shipping are very high.
Reliability: Both sea and air freight are reliable, but air freight tends to be slightly more reliable. Flights can get delayed, but this is the exception rather than the rule. Ocean liners are known for getting off schedule due to weather, amongst other things, and this can knock schedules by a few days.
Types of Ground Freight Shipping
There are seven types of ground freight shipping methods, including:
Less than truckload
Full truckload
Flatbed freight shipping
Partial truckload
Intermodal shipping
Expedited freight
Rail
Below, we explain the differences between each:
Less than truckload
LTL is designed for shipments that are larger than a parcel, but not large enough to justify the space of a full truckload.
This will typically be for shipments between 150 and 15,000 pounds, or between 1 and 6 pallets.
In LTL freight shipping, ecommerce inventory is often transferred onto different trucks en route to its destination.
Partial truckload
Partial truckload gives the option to split the cost of truck shipping with other shippers, which can save costs.
It's a good option if the shipment is more than 5,000 pounds or 6-12 pallets.
PTL shipments will usually remain on the same truck for the entire journey, and as a result they are subjected to less handling than LTL shipments.
Full truckload
A full truckload is suited to bulk or pallet loads large enough to justify the use of an entire semi-trailer, and will typically be more than 15,000 pounds.
This will often be more cost-effective and mitigate the risk of freight damage, as it involves less handling than LTL.
Most FTL containers can transport 24-26 pallets, and are direct shipments from the pickup location to the destination.
Flatbed freight shipping
For large items like engineering or building components, freight shipping will be done using full-sized flatbed trailers, with cranes used for loading and unloading items.
A flatbed trailer is typically 48' long and 8.5' wide. Shippers need to be aware of the maximum height and width allowed on roads. Generally, most flatbed vehicles can carry up to 48,000 pounds.
Intermodal shipping
Intermodal shipping is simply shipping via two or more modes of transportation. It is typically a combination of rail and truck, but can also involve other methods of transport such as ships to streamline the process.
 💡 Including rail in your freight shipping can reduce fuel consumption, lower costs and offer a reliable method of shipping.
Intermodal shipping offers a middle ground between speed and price. The reasons for combining rail and truck, is that a location might be inaccessible by train, or two or more carriers might be handling a single shipment.
Expedited freight
Expedited freight is required for time-critical shipments that need to be moved quickly.
Due to the speed of shipment, this is the most expensive ground freight shipping method. It is usually transported by truck or air.
Expedited freight shipping cuts out all wasted times and gets goods to their delivery location in a time-sensitive fashion. The four major industries that utilize expedited freight routinely are medical, pharmaceutical, manufacturing and eCommerce.
Rail
Rail is the slowest option for ground freight shipping, but it's by far the greenest and usually the cheapest as well, as a train can handle much more cargo with only a single vessel, compared to a truck.
💡 Pro tip: Know when to consolidate. LTL rates are usually much higher than full truckload rates, so consider consolidating orders to create a full truckload and reduce overall expense.
Freight Shipping Packaging: 6 Best Practices
Whilst it is the freight carrier's job to ensure safe, reliable transport and delivery, it's the shipper's responsibility to pack goods to keep them undamaged.
From selecting the proper boxes and shipping supplies to correct labeling, the key to pallet freight shipping starts with the fundamentals.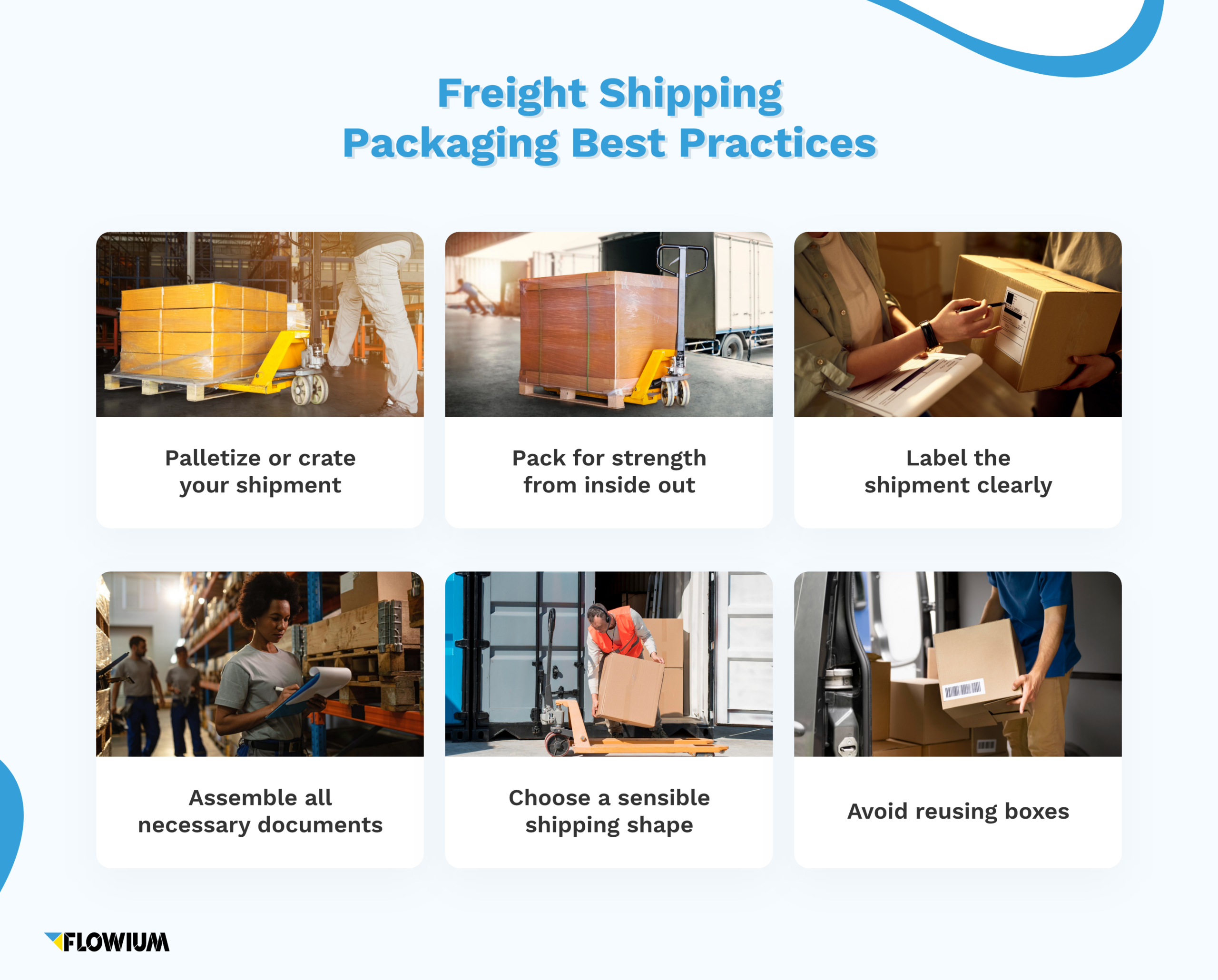 Here are 6 best practices to follow when preparing cargo for shipment. These tips will help ensure goods arrive at the destination safely, cost-efficiently and on time:
Palletize or crate your shipment
Pallets are the most common and cost-effective way of packaging freight. Most often, pallets are made of wood, plastic or metal and are designed specifically to be moved by forklifts.
As long as the cargo is properly packaged and not overhanging the pallet, the pallet itself provides a good level of protection – they are the first point of contact with any other surface if they shift during transit.
More expensive, but by far the safest option, crating goods is ideal for fragile or high-end cargo such as art.
Crates are commonly made from plywood, solid wood and sometimes plastic or steel. They provide the highest level of protection when packaging a shipment.
Pack for strength from inside out
During shipping, goods will knock against each other and can potentially shift free. Goods can be damaged on the inside of the box or crate, on the pallet or from other pallets.
The solution is to protect goods from the inside out. Some key considerations are:
Use sturdy boxes filled with packing materials to provide cushioning and minimize air pockets
Seal boxes with at least 3 strips of packing tape to the top and bottom sides
Stagger individual units in even rows, distributing weight evenly, both inside each box or crate and the entire pallet
Stack heavier boxes at the bottom and lighter boxes on top
Place flat cardboard/folded boxes between rows to solidify all loose boxes
Shrink-wrap pallets tight, at least 3-5 times around. This aids in stability and prevents damage from dust and pollution and will also prevent water damage during loading and unloading, for example if it's raining or snowing
Label the shipment clearly
Make sure each piece of the shipment is correctly labeled with contact names and phone numbers, company information, as well as a detailed inventory of contents.
The latter is particularly important for international shipping, to avoid delays in clearing customs.
As best practice, this information should be in at least two adjoining sides to allow for ease of scanning at origin and destination.
💡 Pro tip: Remember to remove any old labels or markings to eliminate any confusion.
Assemble all necessary documents
Freight shipping requires more documentation than courier shipping, especially in the case of international movement of goods.
Check with the freight shipping company for a full list of required documents, including those needed to clear customs.
The commercial invoice is a legal document between supplier and customer, and is one of the main documents used by customs in determining customs duties.
Prepare a commercial invoice for international shipments, to avoid goods being delayed by customs or receiving fines and storage charges.
💡 Pro tip: Double check that the invoice clearly defines the contents and value, to ensure the shipment clears customs as quickly and efficiently as possible.
Choose a sensible shipping shape
Sharp edges and overhanging goods are hazardous and may result in increased cost and time needed to prevent damage.
Choose pallets, wooden shipping crates or freight shipping containers that can effectively hold the cargo.
Freight shippers can plan better for cargo when dimensions are well-defined and uniform, and this will ensure costs are kept to a minimum.
Avoid reusing boxes
With each use, cardboard boxes lose structural integrity, and do not always have the strength to withstand a second use without crushing.
They are also vulnerable to humidity and moisture, which can weaken the structure further.
Freight Shipping Tracking
Freight shipments rarely go directly from sender to receiver, even in the case of expedited deliveries.
From the shipper to the carrier's origin hub to the destination hub and then on to the receiver, the process is made more complicated by the sheer quantity of freight moving around the globe at any one time by land, sea and air.
The ability to track shipments along their journey provides both the shipper and carrier a sense of assurance that the shipment will arrive promptly and safely.
With the evolution of technology, the tracking abilities and accuracy has only improved, and today we can track it using just our phone.
Benefits of freight shipment tracking
The benefits of freight shipment tracking to both the shipper and receiver are numerous, and some of the pros of having a freight shipping tracking number include:
Reducing customer anxiety
Giving delivery information
Increase transparency
Decrease customer service costs and demands
Locating lost shipments
💡 The process of logging packages, freight shipments and shipping containers throughout the various stages of their journey has decreased the percentage of lost or damaged freight by a large margin in the last few decades.
For a shipper, being able to track a shipment will help the business run more smoothly, and avoid worries about where the freight is and whether it will be delivered on time.
The most common shipment tracking processes use either the Bill of Lading (BOL) or a Progressive Number (PRO):
Freight shipping tracking using the Bill of Lading
As discussed earlier in this guide, the Bill of Lading is the most important document within the entire shipping process.
The BOL is the receipt for goods, and will include all the details of the shipment, shipper and receiver.
The BOL is the easiest way to track a shipment, but if you do not have the BOL to hand, the next best option is to use the PRO number.
Freight shipping tracking using the Progressive Number
The progressive number is the most typical way of tracking a freight shipment. A series of numbers 7-10 digits long, the PRO can be paired with a Standard Carrier Alpha Code (SCAC) in order to form a longer barcode.
The SCAS numbers identify and distinguish one carrier from another.
This barcode will be printed on a sticker and placed on the freight pallets, so it is visible and scannable.
The PRO number will be used as the freight ship tracker throughout the entirety of the freight's journey.
The PRO number will be on everything from paperwork to pallets and the Bill of Lading.
Large Freight Shipping Companies
This list of freight shipping companies highlights just some of the top names in the freight industry, across ground, air and sea freight shipping:
UPS Freight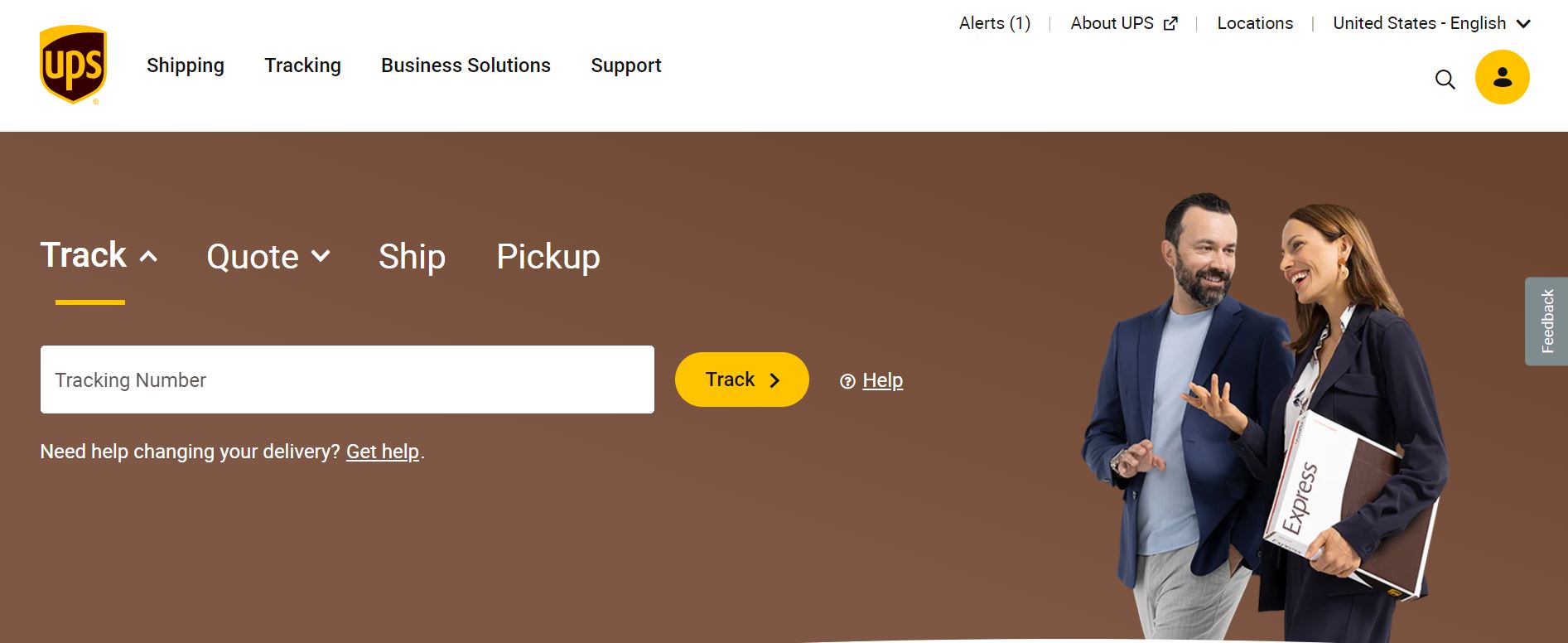 Founded in 1907, US-based UPS has been around for more than a century, and specializes in shipping, air freight, trucking, last-mile distribution and drone delivery.
It's headquartered in Atlanta, Georgia and has more than 35m sq ft of distribution and warehousing facilities across 1,000 locations in 120 countries.
UPS is an innovator in the air cargo sector, with new forms of technology-enabled shipping that prioritizes critical packages and special handling for healthcare essentials – this next-generation tech will further improve air cargo reliability.
FedEx Freight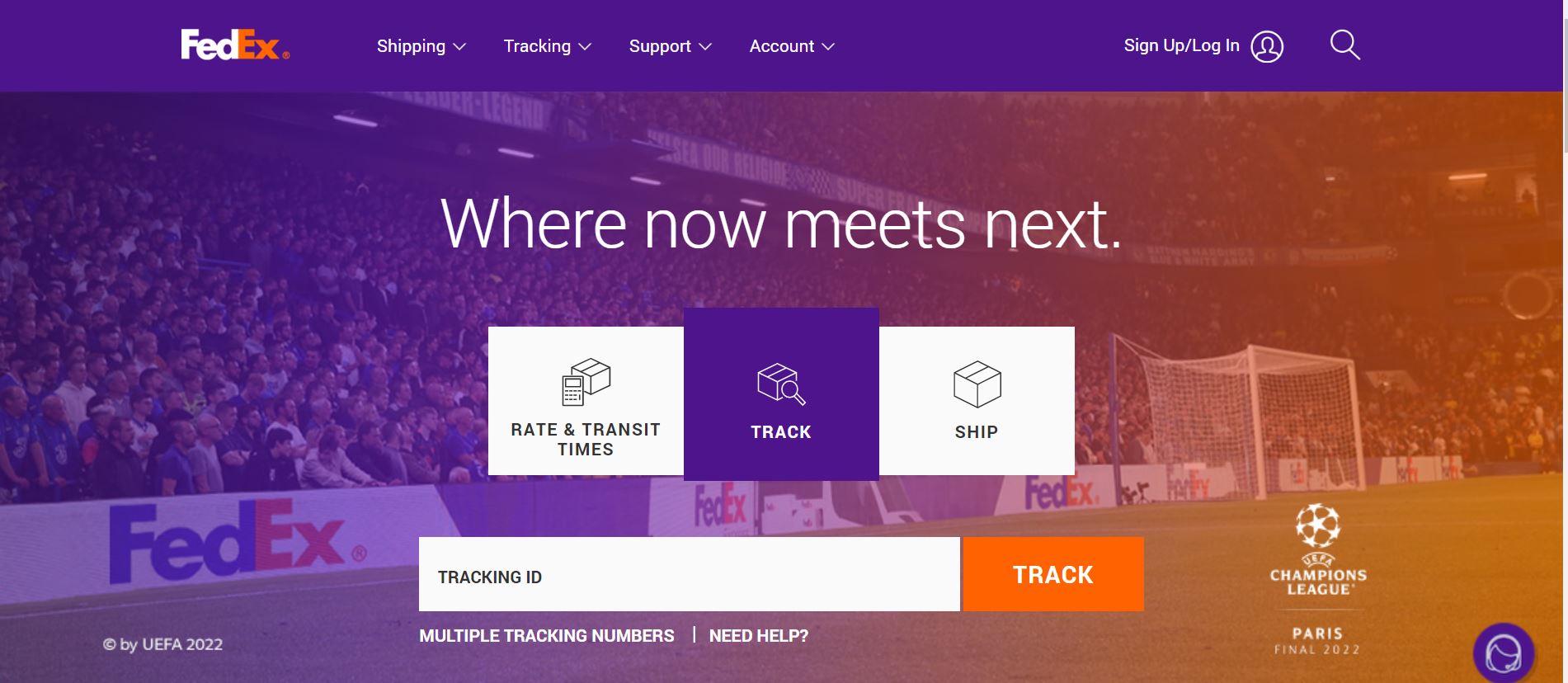 Headquartered in Memphis, Tennessee, FedEx is a US global freight company. Founded in 1971, it originated as a specialist in expedited deliveries.
It's the largest cargo carrier in the world in terms of scheduled freight tonne kilometers.
FedEx operates across 220 countries and was one of the first major shipping companies offer overnight delivery as a flagship service.
FedEx continues to remain at the top of the air cargo industry, sending an estimated 6.6 million parcels across the globe annually.
DHL Freight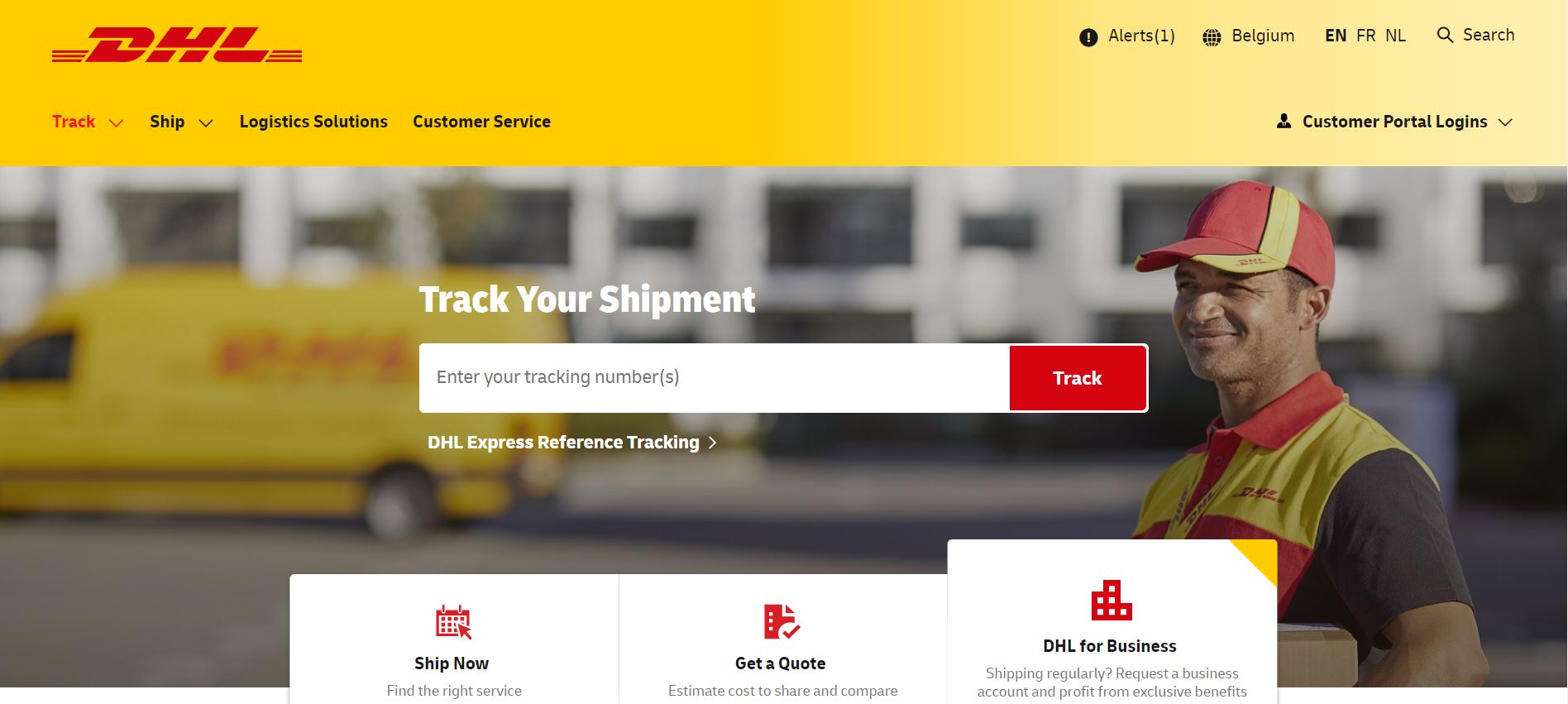 DHL was founded in the US, but is now part of Deutsche Post and headquartered in Bonn, Germany.
It's known as the world's largest logistics company, and is the only carrier that delivers to sanctioned nations like North Korea.
DHL has over 380,000 employees and offices across 220 countries and territories.
XPO Logistics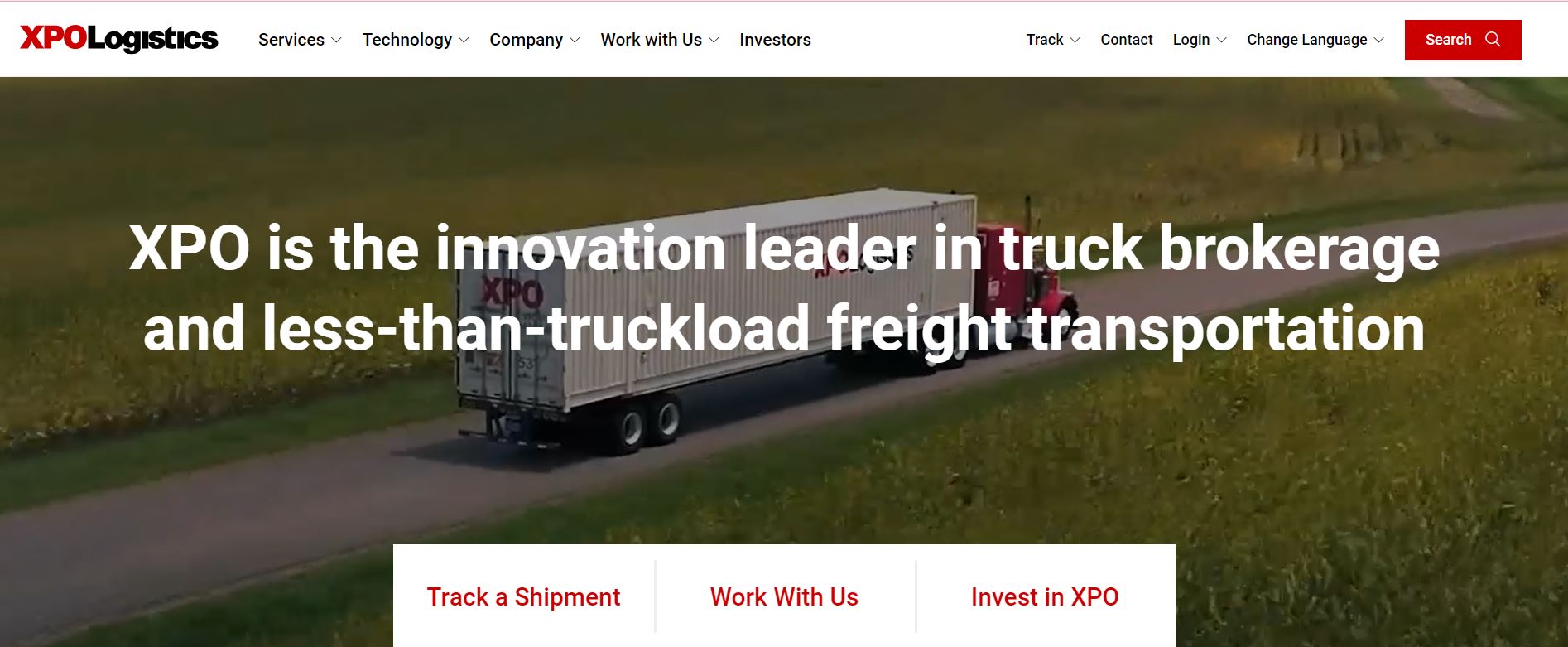 With 1,530 sites across 30 countries, XPO Logistics is responsible for the supply chains of 69% of Fortune 100 firms.
The organization specializes in freight brokerage, short-distance logistics, last-mile distribution and global forwarding.
XPO's headquarters are in Greenwich, Connecticut and it serves a range of industries from automotive and manufacturing to healthcare.
It has three main international freight forwarding solutions, featuring ocean and air freight, in addition to its Global Order Logistics solution.
YRC Freight

Founded in Oklahoma in 1924, YRC Freight is the leading transporter of industrial, commercial and retail goods, specializing in solutions for businesses across North America.
Kuehne + Nagel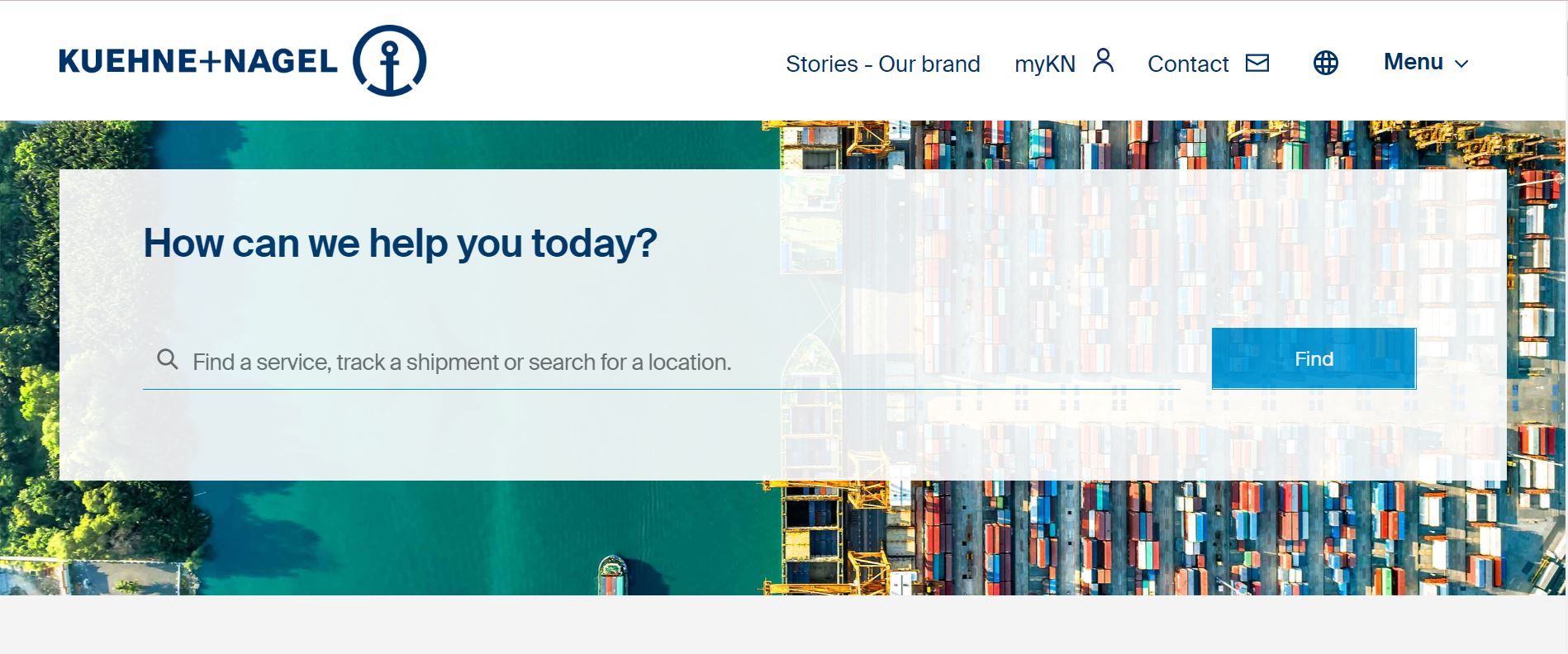 With more than a century in the transportation space, Swiss freight company Kuehne + Nagel serves multiple industries from high-tech to pharmaceutical and perishables.
DSV Global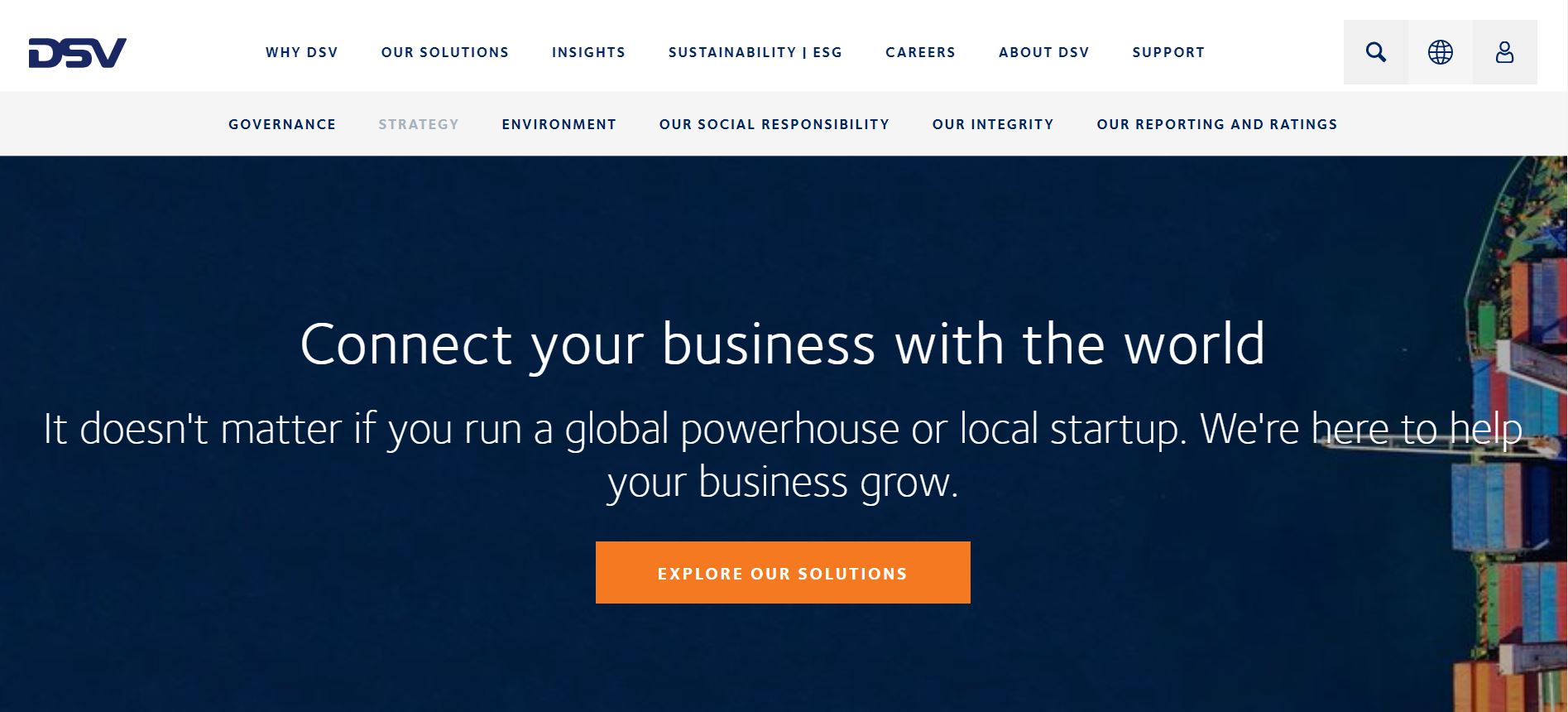 Headquartered in Copenhagen, Denmark, DSV offers worldwide freight solutions for European and US companies across the global stage, from full or less-than-truckloads to intermodal, air, sea and rail shipments.
Maersk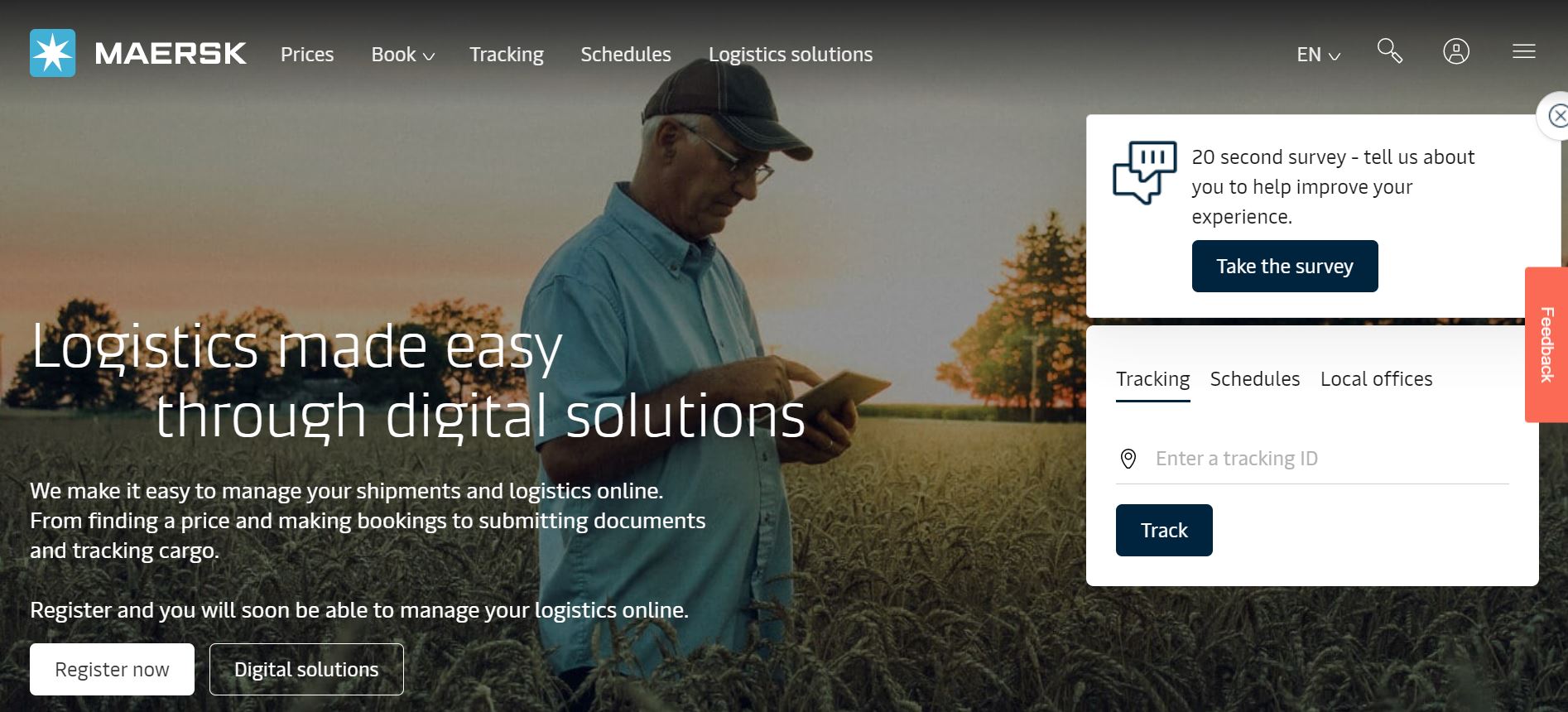 Based in Denmark, Maersk Shipping Line is a branch of AP Moller-Maersk.
The well-known line debuted in the international container shipping arena in 1904, and is the world's largest integrated shipping company with a capacity of 4.2m TEU (twenty-foot equivalent units, i.e. 20ft containers) across a fleet of over 738 vessels.
COSCO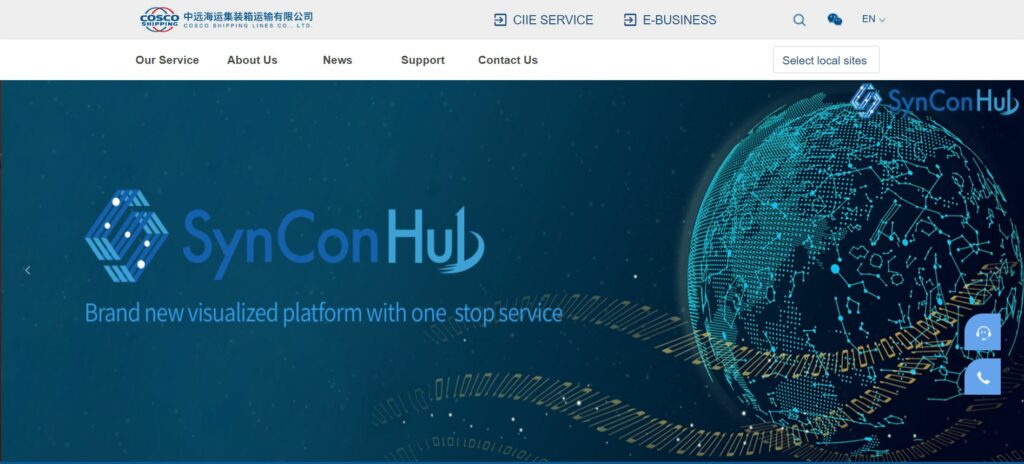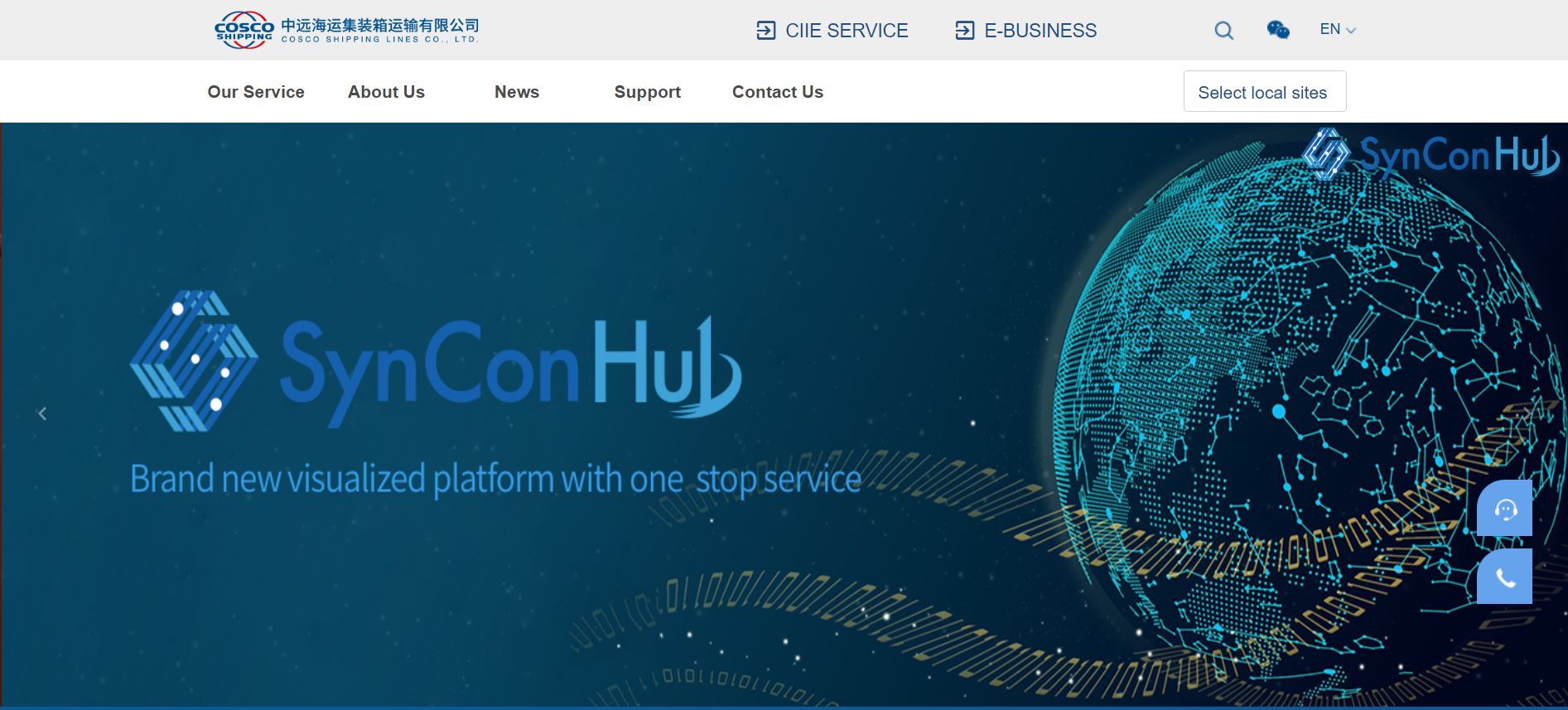 COSCO Shipping Lines is a state-owned company operating 507 container vessels with a capacity of around 3.1m TEU.
The COSCO fleet serves 401 shipping routes, calling at 356 ports in 105 countries.
💡 Pro tip: Go for a company with a great security record. Cargo theft costs businesses thousands and destroys trust between companies.
Freight Shipping Costs and Weights
What affects freight shipping costs?
When it comes to freight shipping, some of the most common questions involve the costs.
Prices can vary for a number of reasons, and in this section we look at the main parameters which determine the charges paid for freight haulage:
Shipping method: The mode of transportation is a weighing factor. For example, expedited shipping will usually result in additional charges.
Distance: The further the distance between origin and destination, the higher the rate will be. Being near a major city can also impact shipping costs.
Dimensions of the shipment: The volumetric dimensions (length, width, height) are important considerations for shipping companies as they determine how much space is available to them for placing other items inside the container or truck.
Weight of the shipment: This is a crucial factor, especially for air freight, but most calculations for ocean and ground freight are on the basis of volumetric weight (volume of pallet in meters multiplied by 167).
Value of shipment: The shipping company needs to buy insurance as well as taking handling precautions according to the value of the consignment. The same will apply to hazardous items.
Delivery schedule: Tighter delivery deadlines require quicker transportation, and will therefore increase costs. Slower deliveries will always be more economical.
💡 Pro tip: Round up dimensions, and make sure weight measurements are accurate, as this is key for carriers to meet DOT regulations.

💡 Pro tip: Pricing varies depending on the chosen freight method, but for each method this is true – the more you ship, the better your rates.
Estimate your freight shipping costs
When estimating freight shipping costs, we need to have an idea of all the factors listed in the previous section. A shipping price is comprised of the following breakdown:
Base price
Fuel surcharge (roughly 15%, depending on current fuel price)
Accessorial charges (tailgates, limited access pickups, etc.)
Taxes
Many freight shipping companies offer online cost calculators, which will give an accurate estimate of costs based on origin, destination and weight and/or dimensions of the freight.
The output of the freight calculator is determined by the input provided by the user. More advanced calculators it is possible to obtain quotes for different service levels, and customs clearance.
💡 Pro tip: Be as accurate as possible, inaccurate data can cause a shipment to be re-rated and incur fees.
How much does freight shipping cost?
The cost of freight shipping will depend on the origin country, destination country, mode of shipping, shipping distance, weight and dimensions of the shipment, cargo value and how quickly you want it to arrive.
Most companies will offer online freight shipping cost calculators to give an accurate idea of cost. The below rates will give an idea of how to calculate freight shipping costs:
Air freight
Rates are determined by the weight or volume, whichever is more expensive.
Rates typically range from $2.50-$5 per kg, depending on the cargo category and available space.
Sea freight
Rates for sea freight vary depending on whether you have a Full Container Load (FCL) or Less Than Container Load (LCL).
FCL is best for shipments of 10 cubic meters or more, and will range from $2,000 to $4,000 depending on distance. For LCL, you will pay a prorated amount for cargo space in cubic meters.
As an example, a 200kg LCL shipment from New York to London will be around $700-800.
Truck freight
Freight rates for ground shipping are usually charged by mile, and factors such as gasoline prices and cargo density can impact the price.
Expect to pay $2-$4 per mile for a Full Truck Load.
Common extra charges and how to avoid them
Unexpected extra charges are a common occurrence when shipping freight, so here we'll run through the most common mistakes that lead to additional fees, and how to avoid them:
Reclassification – ensure you have an accurate freight class for your commodity. You can determine this yourself through NMFTA, or find a shipping company that will do this for you. Don't be tempted to try and save money by using a lower class, as carriers will check the class provided against the actual commodity shipped.
Tailgate – this is relatively simple to solve, by just checking that the shipping company has the means to load or unload the cargo, such as a dock or forklift. If they don't make sure to request the tailgate service.
Limited access/residential fee – if a location cannot accommodate a 53' truck, has a gate at the entrance, is a non-standard business or is not open to the public during business hours, check with your shipping provider about how to proceed with the shipping.
Missed pickup/delivery – check hours of operations for both locations before booking a freight shipment. Confirm whether reference numbers are needed at either location, and make sure they are indicated on the BOL.
Freight Shipping FAQs
How long does freight shipping take?
The time taken depends on where the shipment is going, the mode of transport and the type of service selected. It could arrive the same day or weeks later. International shipments by air are much quicker than those via ocean shipping. And ground expedited shipments will travel quicker than a standard LTL shipment.
What can be shipped via freight?
Just about anything. With a wide range of carriers specializing in certain types of goods or shipping, and a variety of modes of freight, cargo can arrive when and where it is needed.
How is freight class determined?
There are 18 freight classes, determined by weight, dimensions, density, storage capability, ease of handling, value and liability (from instances like theft, damage, breakability and spoilage). As a standard shipping industry classification, freight class is also known as National Motor Freight Classification (NMFC). It is used to provide a standard comparison of commodities and simplifies the evaluation of billions of different goods shipped each year. A defined source of classification makes freight rate negotiations and logistics easier and more productive.