Bronto, a famous email marketing platform, is closing down. All brands that used to work with Bronto have to find new email marketing platforms – Bronto alternatives.
Oracle Bronto notified its customers of its 'End of Life' on March 3rd. They will be sunsetting the platform on May 31, 2022. They will no longer sell or update the platform.
It is unfortunate news for all Bronto users, on one hand, since they need to look for another marketing automation platform.
However, on another hand, it is a great opportunity for the Bronto customers since Bronto will start to lose the competitive edge in the industry lately.
That's why we decided to write this blog post to provide Bronto users some alternatives to Bronto's services and email templates.
But before we start, if you're looking to migrate from the Bronto marketing platform, we offer a free migration service from Bronto to Klaviyo, so you can start using Klaviyo in just 2 weeks, hassle-free.
Which Marketing Automation Platform Is Right for You?
There are hundreds and maybe thousands of marketing automation tools on the market. But which one is right for you?
When it comes to email marketing software, we strongly recommend Klaviyo. As an ESP specifically designed for online stores, Klaviyo offers robust features to help you sell, not just send emails.
In case you're also looking to connect with your customers through SMS, Klaviyo provides an SMS platform that works in sync with your emails, for even better results.
But let's compare Klaviyo with other platforms, such as:
Omnisend
Drip
ActiveCampaign
Hubspot
ConvertKit
Infusionsoft
Quick Overview
Here is a quick overview for you before we start the complete overview of each platform, its features, and pricing.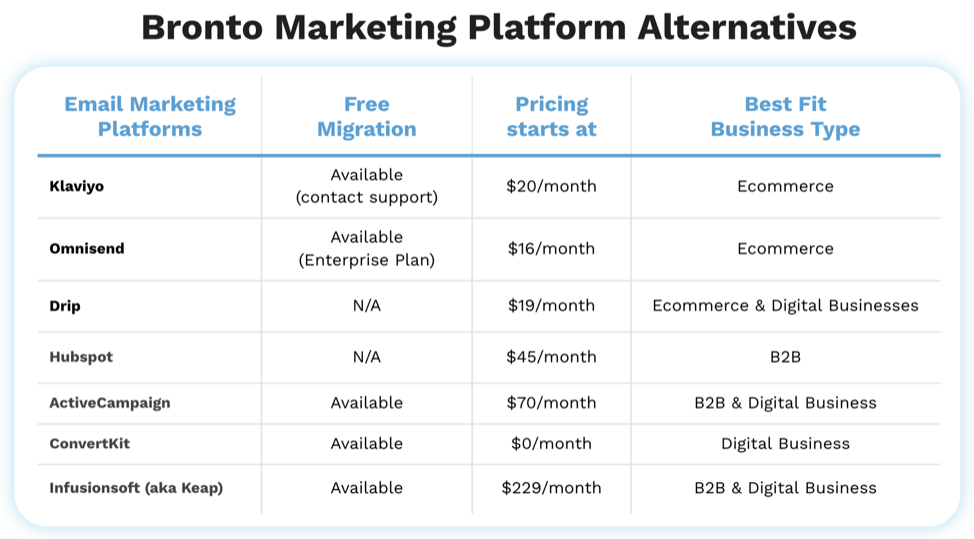 What is your business type?
Let's not get into nitty gritty details of business types. For simplicity purposes, let's divide the businesses into 3 categories:
Ecommerce
B2B
Digital Businesses
Bronto Alternatives : Email Marketing Platform for Ecommerce
If you are an eCommerce brand, we recommend you to migrate from Bronto to one of the following platforms:
Why? Let's do a little explanation of these platforms.
Bronto Alternative – Klaviyo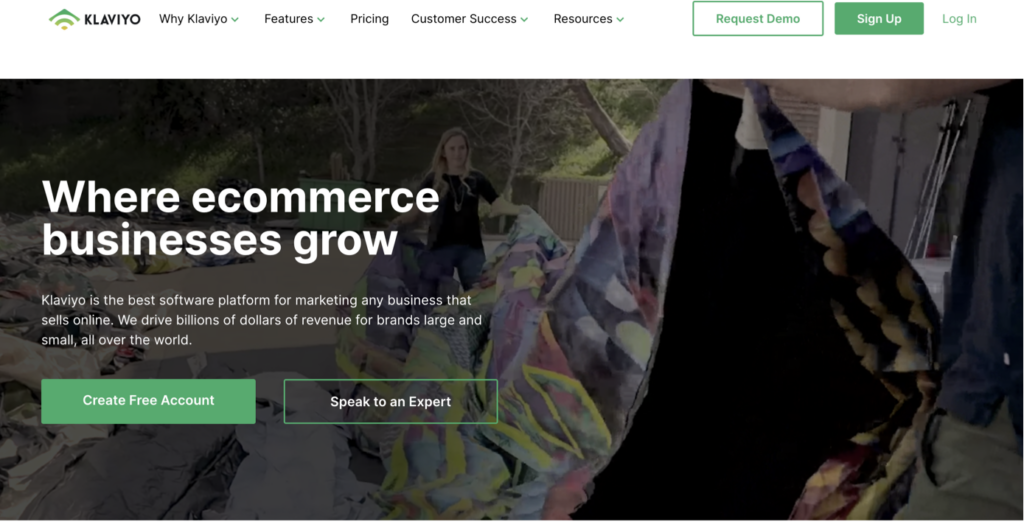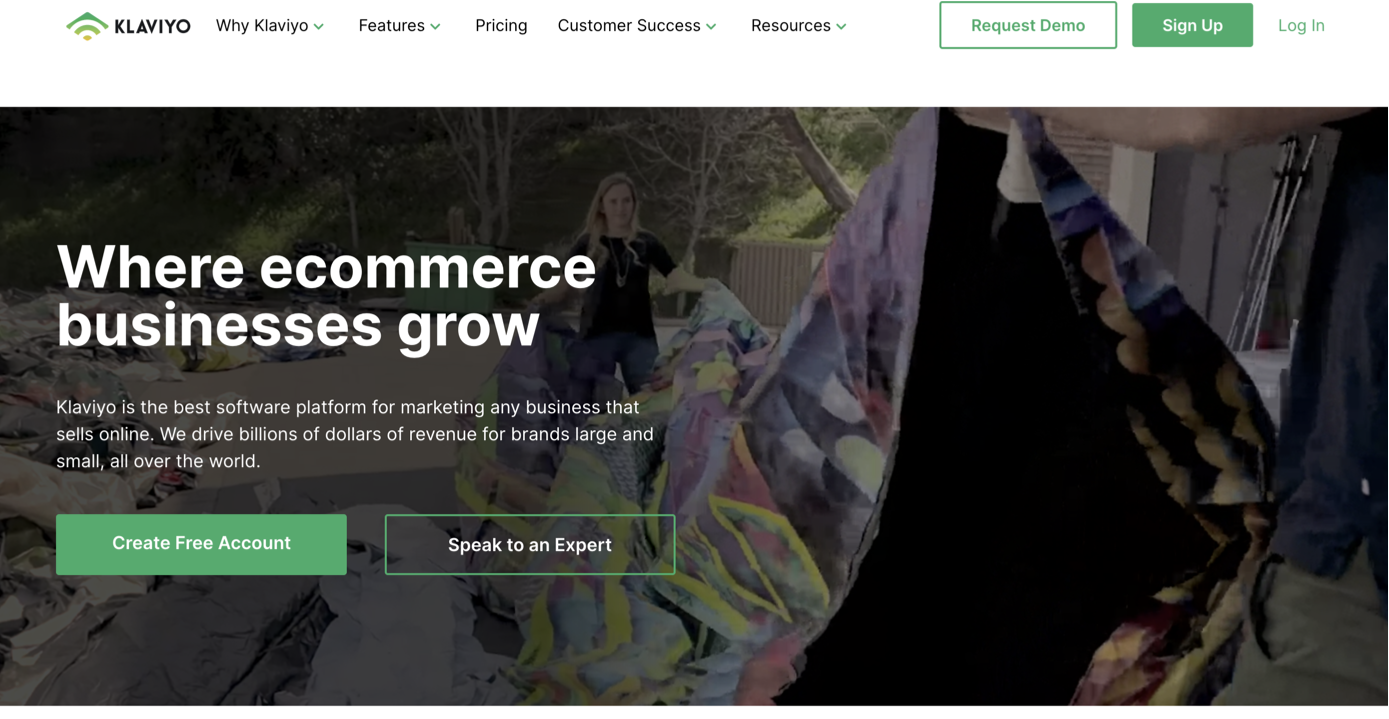 Klaviyo is a dedicated email and SMS marketing platform for ecommerce. It is possible to use Klaviyo for other types of business, but it wouldn't be efficient.
The Klaviyo team built the software to serve online retailers. Klaviyo is well known for its powerful segmentation, machine learning/artificial intelligence, and automation.
The main features which set Klaviyo apart from the competitors:
Powerful and almost limitless segmentation abilities
Transaction emails
Machine learning / artificial intelligence
Behaviour email / SMS automation
Free push notifications for your store mobile app
Bronto Alternative – Omnisend
Omnisend is very similar to Klaviyo, and it is their direct competitor.
Omnisend offers very similar features to Klaviyo, but they are losing on the segmentation side.
The bottom line is that you might consider Omnisend if you are just getting started with your business since Omnisend is cheaper than Klaviyo.
I like how The Digital Merchant described it when comparing Omnisend vs Klaviyo: "Bottom Line Up Front Summary: While Klaviyo can be more comprehensive in some respects, we found the easier to use, more automated, and affordable Omnisend pricing plans to be more approachable and scalable for smaller enterprises."
Apply for a consultation call here. 
Bronto Alternative – Drip
Drip is another email marketing platform that is good for eCommerce.
Originally, Drip started as an email marketing solution for all kinds of businesses, such as:
eCommerce
B2B
SaaS
Digital businesses
And others.
However, in the last few years, they took a different approach and changed directions and put a big accent on eCommerce.
Drip is good for any size of business. However, it might be a little higher priced than Omnisend but lower than Klaviyo. The detailed price comparisons you will see below.
Price Comparison
Feature Comparison
There are many similar features in these 3 platforms, so in the comparison below, I will show you where they are different and where you should pay attention.
| | Klaviyo | Omnisend | Drip |
| --- | --- | --- | --- |
| Limitless ability to segment subscribers | Yes | No | Limited |
| Transactional Emails | Yes | No | Yes |
| Predictive Analytics | Yes | No | No |
| Data Science | Yes | No | No |
| Industry and similar brand benchmark live reports | Yes | No | No |
Not Recommended for Ecommerce
The platforms which we do not recommend switching to:
Emarsys
Listrak
Dotmailer
Salesforce Marketing Cloud
Retention Science
These are other versions of Bronto. In the industry, we call them Marketing Dinosaurs. They are still alive but might die soon as well.
Why?
For all the same reasons why Bronto died. Such as:
High barrier of entry
Difficult to integrate
Commitment (you need to sign 1-2 year contract)
Limit of new features
It's hard to implement your ideas (it takes time and resources to test something)
Their sales demo is better than the actual platform research and development
Email Marketing Platform for B2B
Now, let's discuss the platform to which we would recommend switching to from Bronto. The platforms are:
Hubspot
ActiveCampaign
Infusionsoft
Bronto Alternative – Hubspot
Hubspot is the leader on the market in B2B vertical. They have the most powerful marketing automation and CRM platform.
Actually, they built their entire platform around B2B to help businesses sell better and service their customers in the best possible way.
One thing which I personally do not like as much about Hubspot is their pricing.
First of all, it is a little confusing, and you need to get on a call with them to understand which plan you need and how much it will cost you.
But if you put that to the side, they have everything you need for the business such as:
Forms
Landing pages
Marketing automation
Email marketing
Lead scoring
CRM
Etc.
Hubspot is good for any kind of business, but their prices are a bit on the higher side vs the other options below.
Bronto Alternative – ActiveCampaign
ActiveCampaign is a Hubspot alternative. They offer a very similar set of features.
We use ActiveCampaign internally for our agency, and we love it.
It has almost all of Hubspot's features, but it costs much less.
Bronto Alternative – Infusionsoft (aka Keap)
Another alternative to Bronto is Infusionsoft.
5-10 years ago Infusionsoft was the tool for marketing automation, but after new tools like Drip and ActiveCampaign started to develop, the popularity of Infusionsoft dropped.
However, it is still a very powerful tool and offers the same features as the other tools.
The downside of Infusionsoft is the complexity of the software. It is extremely difficult to use… You need to have a specialist on retainer to be able to manage the tool, or you need to hire in house.
Price Comparison
All the platforms have at least 3 different pricing tiers. We used one which offers the most similar features.
| | Hubspot Pricing (starter) | ActiveCampaign Pricing | Infusionsoft Pricing (max) |
| --- | --- | --- | --- |
| Up to 1000 | $45 | $70 | $229 |
| Up to 10,000 | $396 | $249 | $399 |
| Up to 25,000 | $936 | $399 | $499 |
| Up to 50,000 | $1,836 | Hidden price | Hidden price |
| Up to 100,000 | $3,636 | Hidden price | Hidden price |
Feature Comparison
There are many similar features in these 3 platforms, so in the comparison below, I will show you where they are different and where you should pay attention.
| | Hubspot (starter) | ActiveCampaign (plus) | Infusionsoft (max) |
| --- | --- | --- | --- |
| Lead Scoring | Yes | Yes | No |
| Payments | No | No | Yes |
| Live chat | Yes | Yes (As add-on) | No |
Email Marketing Platform for Digital Businesses
If you are a digital business, you can use either the same platform as for B2B we recommended above, or you can use ConvertKit.
ConvertKit is an email marketing platform that is famous for its simplicity, competitive features, and low price.
Frequently Asked Questions
Why is Bronto closing down?
The reason why Bronto is closing down is unsure. But we have a few thoughts on it. Probably due to the difficulty to integrate apps to it, to its high barrier of entry, to its commitment requirements, and other lacks in its service in the context of the always-changing digital landscape, the software just lost its competitiveness.
What are the best Bronto alternatives on the market?
In our opinion, the best alternatives to turn to after Bronto will be officially out, are Klaviyo for eCommerce and ActiveCampaign for B2B. We use it ourselves internally, and we love these services.
Will a Bronto alternative cost me more or less than Bronto?
A lot of alternatives are actually cheaper than Bronto. With Bronto, you had to sign up for at least 2-3 years and the amount went over thousands of dollars. With Klaviyo, for example, you pay accordingly to the number of subscribers you have. For less than 500 subscribers on your emailing list, you will only have to pay $20, and no commitment.