About the client
Our client was a brand new business in the Beauty and Cosmetics industry selling lash and brows peptide serums.
The owner saw email marketing as a promising opportunity, and approached Flowium to assist with email marketing strategy and implementation.
Client's goal
The client's goal was to have 15%+ of all online revenue come through automated email sequences.
How we helped our client achieve their objectives
Although this company did email marketing before Flowium stepped in, it was mostly occasional promo emails which brought in approximately 1% of their online revenue.
Our goal was to create an effective email marketing strategy and integrate it with the overall sales process.
Here's how we approached the project:
Performed an analysis of existing processes and opportunities. We were able to pinpoint three key opportunities – automated Lifecycle emails, highly targeted weekly campaigns and constant emails optimization
Developed designs of the emails to help our client stand out and effectively communicate with core target customers
Implemented a thorough email marketing strategy that connects the dots between generating a lead, signing up a new client, converting a potential client into a buyer and then a 1-time buyer into a repeat customer
Key Results
Within the first 3 months, automated flows (aka automated email sequences) were generating 20%+ of all online revenue. After introducing 1 campaign/week (up to 5 campaigns per month), we were able to get to 35%+ of revenue generated solely from Klaviyo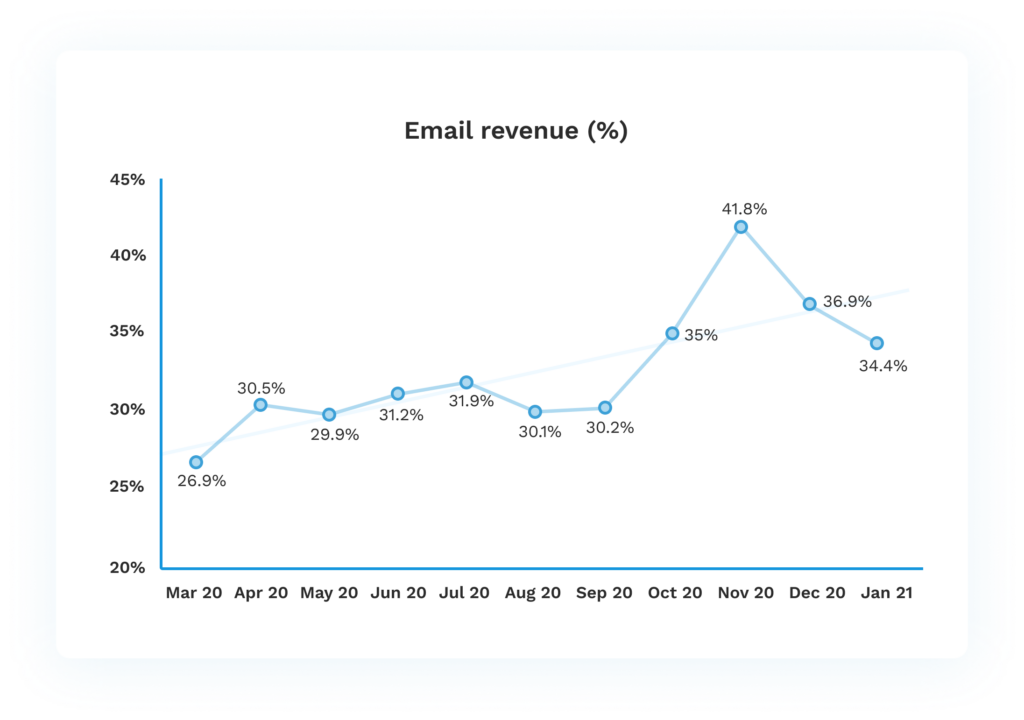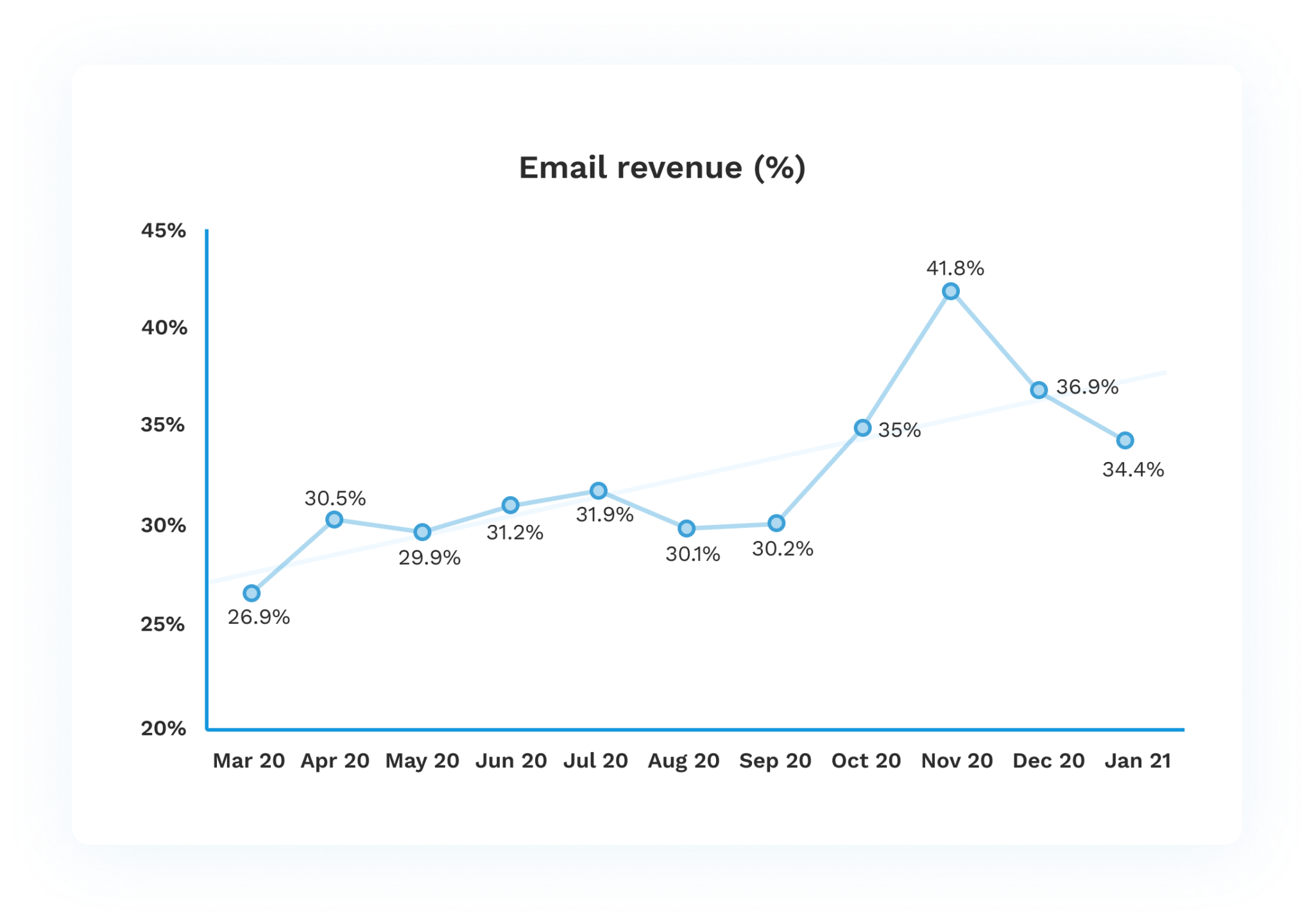 The industry benchmark for revenue from email is 30%. In this graph, you can see that we not only reach the benchmark, but also often exceed it – with our top result so far being 41.8% revenue.
Client's Open and Click-Through rates remain consistently high (over 31%+ and 2+%+ respectively with the industry benchmarks being 20%+ and 2%+)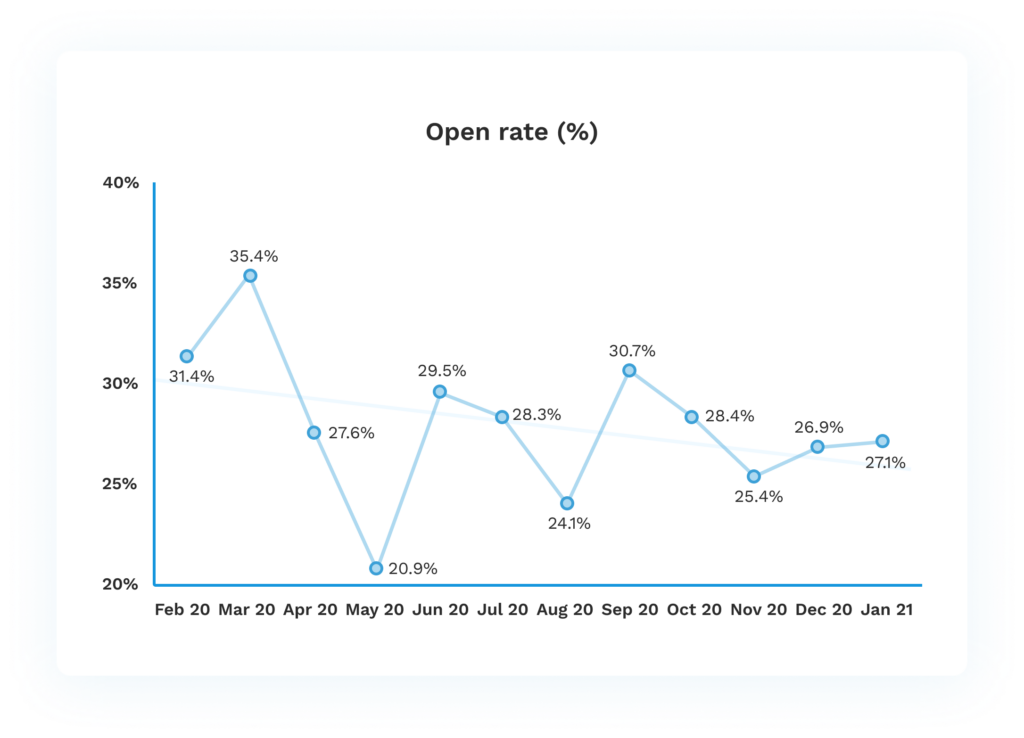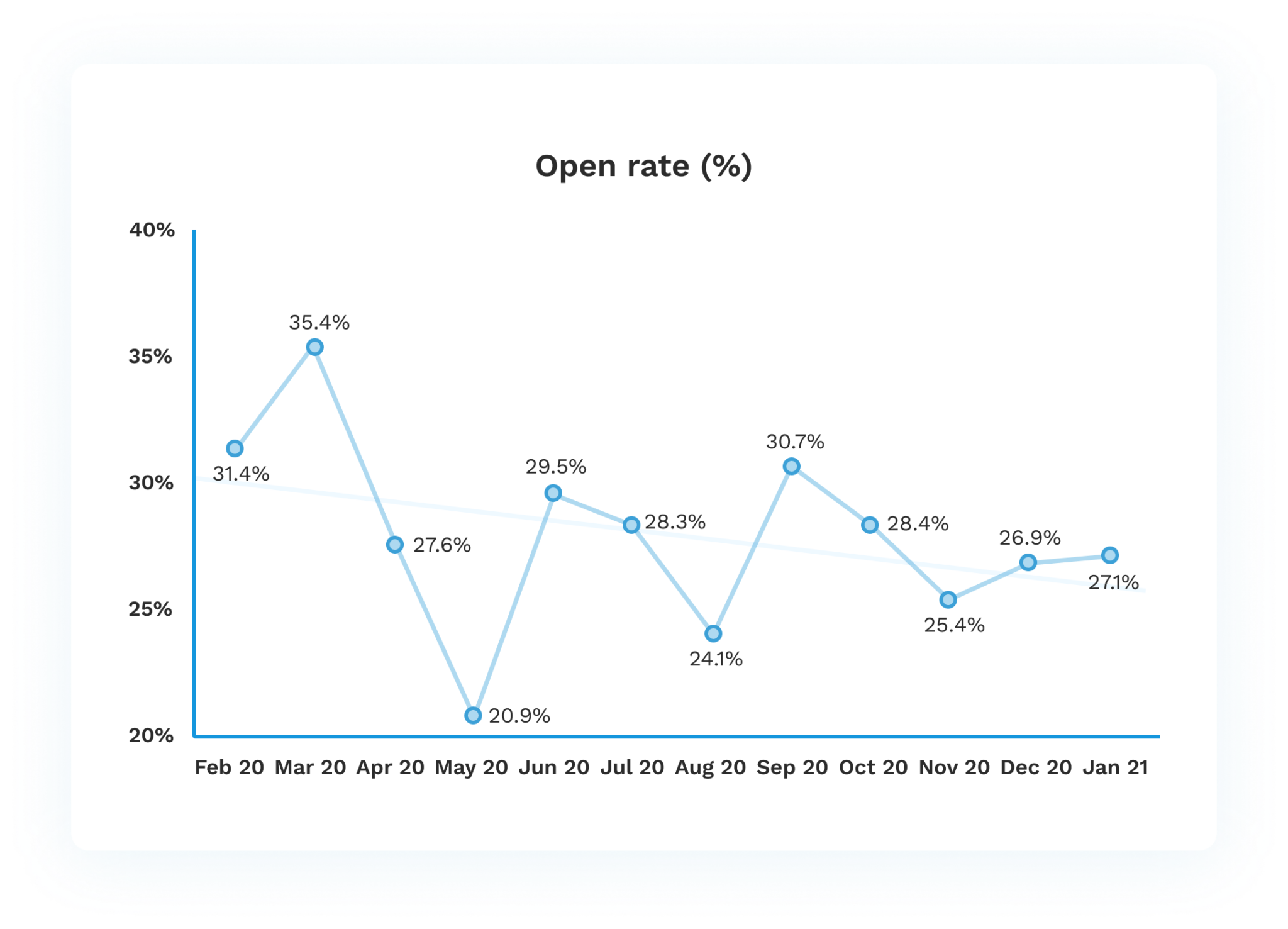 We achieved a greater interaction with both prospective and existing customers using automated flows
Using the new Benchmarks feature in Klaviyo, we discovered that our client's conversion rate is much higher than that of other similar brands in the beauty space.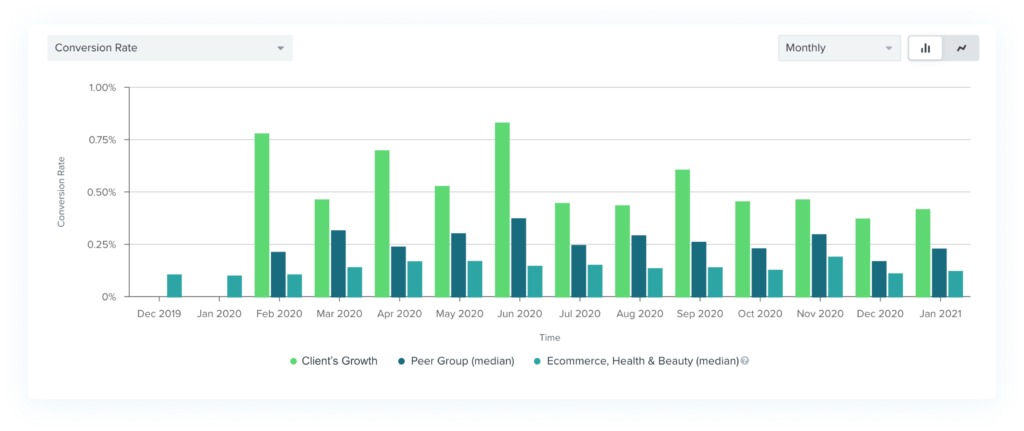 What we're working on now
We continue to introduce new advanced flows and optimize the existing ones, which allows us to continue to grow our client's business
At this stage of our collaboration with this client, we focus on testing, tracking, and tweaking campaigns to ensure ongoing profitability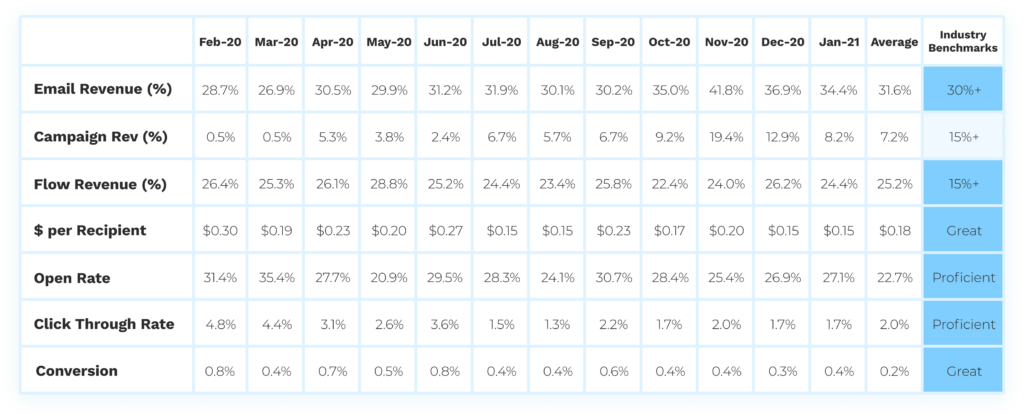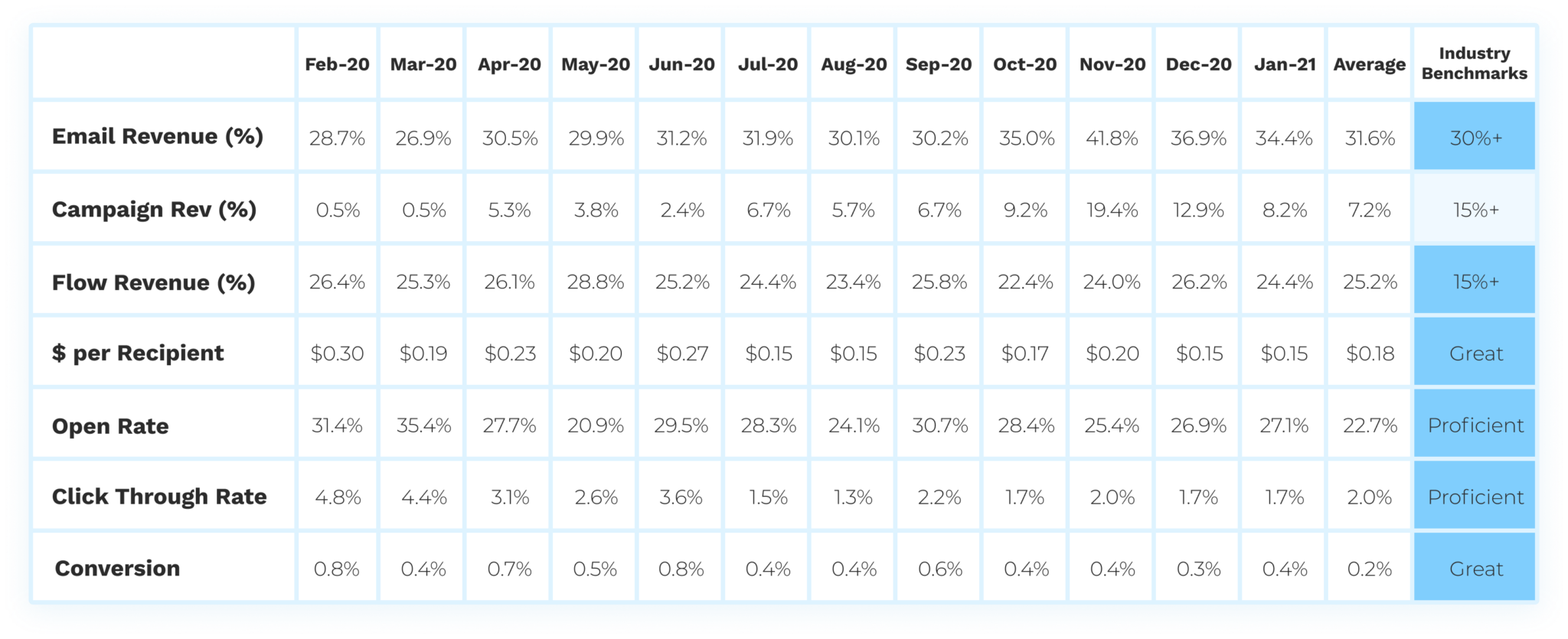 In this table, you can see the results throughout the year. On the right side, we also indicated the industry benchmark, so you can compare our results with the ideal outcome.
All of our results comply with the industry benchmark, sometimes exceeding it.
One area of improvement for this specific client is Campaign revenue, which right now stands at 7.2% with the industry benchmark being 15%.