An email campaign is a one-time send to a group of contacts — think regular newsletters, sale announcements, or promotional sends. An individual campaign can be created and sent immediately, or a campaign can be prepared and then scheduled to send at a later time.
In this episode, we walk you through how to schedule a campaign in Klaviyo.
When it comes to email marketing software, we strongly recommend Klaviyo. As an ESP specifically designed for online stores, Klaviyo offers robust features to help you sell, not just send emails. In case you're also looking to connect with your customers through SMS, Klaviyo provides an SMS platform that works in sync with your emails, for even better results.
The experience your customers have with your business doesn't stop once they make a purchase. What comes next is similarly important if you want to secure future sales and maximize the revenue you gain per customer.
Here's everything you need to know about improving the post purchase customer journey, from expert insights to actionable advice.
Give it a read and find out why writing post purchase emails is important and how to build a bond with your customers that keeps them coming back for more.
The Importance of the Client's Perspective
To understand why a customer's post purchase journey is so important, you'll need to step into their shoes.
These days, your target markets are overloaded with choice and have access to countless buying options.
In such an environment, it's not just the products that are likely to sway the consumer – the service they receive is also of the utmost importance.
After your customer has made a purchase, they will be expecting to be kept in the loop. Bear in mind that they have just parted with money and personal information to buy your product.
So, it's important you keep them informed and let them know that your company is on hand to deal with any issues relating to their purchase.
Beyond the more practical aspects of the post purchase customer journey, there is the potential to go the extra mile.
Give your target markets an incentive to shop with you again by providing them with well-targeted, well-timed email flows that build up trust and keep your company at the forefront of their mind.
The Advantages of a Post Purchase Email Marketing Strategy
There are some great advantages of creating a quality post purchase email campaign and marketing strategy.
Most notably, your consumers will be far more engaged. Post-purchase emails garner an impressive

40.5% average open rate

, so they offer a great opportunity to get into your customers' good books. 

As a direct result of increased engagement, sales are likely to skyrocket. Companies that put great post purchase customer service front and center have been found to generate 2.4 times more revenue than they did previously. That sort of increase is not to be sniffed at.
Improving Your Customer's Post Purchase Experience
There are a few things you can do to achieve these sorts of boosts to your company's numbers. So, if you want to improve the post purchase journey for your customers, follow these top tips.
Thank You Notes
As well as the standard confirmation emails, consider sending out thank you notes. These sorts of messages tend to be that bit more personal and make a much more favorable impression, showing that you value the customer and their engagement with your brand.
To make your thank you notes as effective as possible, set up automated flows so that none of your customers get forgotten about.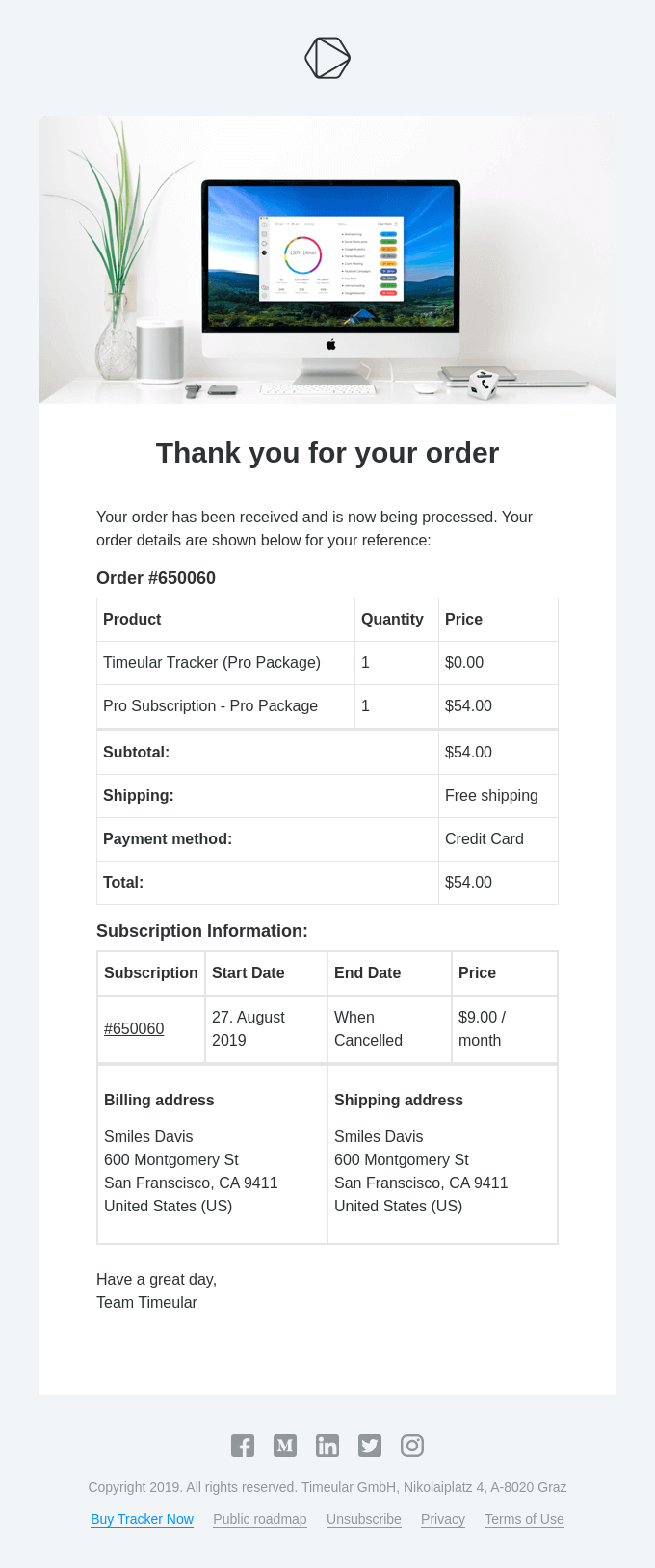 New Suggestions
Sometimes, customers need inspiration before they're tempted to shop with a brand again. So, why not send over some curated product suggestions based on their past browsing and buying history?
99% of companies
who put this sort of personalization into action have reported that it helps to advance customer relationships. Strong customer relationships are far more likely to encourage loyalty in the long term.
Calm Delivery Anxiety
Your customers need to know they can trust you at every stage of the post purchase journey. Shoppers will, inevitably, have some anxiety around whether their item will arrive or be right for them, particularly if they've never shopped with you before.

You can calm that anxiety by sending out relevant communications, confirmations, and updates.
Or, to take it one step further, you could also assure them that a refund will be available if there is a problem and signpost contact details for your customer service representatives. 
The Power of the Post Purchase Customer Journey Strategy
Any eCommerce company stands to gain an awful lot if they make good use of the post purchase customer journey.
By continuing to offer excellent customer service even after making a sale, your brand can build trust and continue to engage shoppers far into the future. The impact on sales can be considerable.
To Learn More about Post Purchase Emails
The Best Post Purchase Upsell Approaches for Shopify Stores
How to Set Up the Perfect Post Purchase Follow Up Email
How to schedule campaigns in advance in Klaviyo. 
Hi, this is Andrew from Flowium, and in today's video, I would like to share quick tutorial with you. How to schedule campaigns in advance. 
It's very easy to do, like you can do schedule but it's very important if you do some kind of campaigns in advance. Let's say in one week you want to send two campaigns, one campaigns to everybody and say the second campaign to non-openers. 
How can you do it? Because it's easy when you send it and after that's sent, you schedule another campaign. It's easy to do. You just exclude people who receive that email. 
However, when you do it in the future, both campaigns, there's some, not to trig, but some information you need to know, how to set it up. And in this video, I'll show you how to do it. 
Okay. So let's go to campaigns. And let's say, I want to do two campaigns. Correct? So let's do create a campaign. So let's do, I would say 'Black Friday Discount Intro.' Like calling them discount. So it's email number one. So we have that. Let's do this- this looks correct. 
So we have it and let's do another one. Let's do clone- clone Black Friday, email number two. Did not open email number one. Okay. So now we have two campaigns, correct? So this one, we'll send it to everybody to the list. Let's do new subscriber. Continue. Let's pick any segments we have, let's do this one. Save review and send campaign. Schedule. And let's do schedule for actual Black Fridays, which is November 27th, 2015. So let's do 7:00 AM EST. Okay, cool. And do schedule. Okay. 
So that campaign will be sent to everybody. Cancel. Okay. That campaign will be sent to everybody. But second campaign, this campaign you want to send only to non openers. It's very easy to create the segment. Let's say, Did not open x, y, and z campaign. 
So you do something like, um, for past campaigns, it's very easy to do it. You just do 'Open.' So now, if you need to put like, where's that place you go to? So this is how you do it. Open email, at least once over all time, where instead of 'campaign name,' you need to put message, 'Message' and you put that specific code, and you do update. And it should be zero members in this segment, since you did not send that first campaign yet. So let' just confirm. I set everything up right. 
Yes, this is correct. So now go back to your campaigns. So this one we'll send to everybody. And this one, we'll do everybody and exclude… How did i call this? Right, God, how I call this segment? Did not open X, Y, and Z. Okay. Let's rename it better. Did not… Did not opened Email number 1. Yeah. You can- you see what I did. Open email least once over all, where message equals blah, blah, blah. Okay. So in this case, we do open. Did not, did not update. One second. Yeah. Open emails your time. So this is good. Everything is good. 
One more thing, very important. For this thing to work. So let's do… Okay. So now you need to schedule a campaign. Let's do… So the first one we did twenty-seven on 7:00 AM EST. And let's do 7:00 PM. Seven PM EST But not now. It's very, very important. You need to check this box. I cannot stress enough. Like it's very important. If you do not check this box, everything else is like waste of your time, because you will not exclude anybody. So you, it's very important to determine recipient at the same time. 
So in other words, that segment will be updated. Klaviyo will update this segment before sending out this campaign, and then it will send out this campaign only to people who did not open that email number one. 
If you have any additional questions about this video or any other Klaviyo related topic or email marketing related topic, please leave them under this video below. And I will do my best to answer them all. And if you are not subscriber yet, please click, subscribe and hit the bell button and like.